Hide Bonus Offers
| | | | | |
| --- | --- | --- | --- | --- |
| #1 | BetOnline Sports | 60% Up To $1,000 | Visit Site | BetOnline Sports |
| #2 | Bovada Sports | 50% Up To $250 | Visit Site | Bovada Sports |
| #3 | BetUS | 125% Up To $2,500 | Visit Site | BetUS |
| #4 | Everygame | 100% Up To $500 | Visit Site | Everygame |
| #5 | MyBookie | 100% Up To $1,000 | Visit Site | MyBookie |
Who Will Be the Next Boston Celtics Coach in 2021? – Odds, Top Contenders, and Prediction

A new era is being ushered into TD Garden. Despite plenty of success compared to the rest of the league, the Boston Celtics are making changes on the bench.
Head coach Brad Stevens had reportedly been battered by the grind in recent years and welcomed a move to Boston's front office. With longtime Head of Basketball Operations Danny Ainge bowing out, Stevens is slated to take over his old role.
That signals a major change for Boston, as Stevens will hopefully excel in his new role. However, his first major task is to find a suitable replacement and then rebuild the Celtics in his image.
The oddsmakers have a favorite pegged, and you can bet on who will be the next head coach of the Boston Celtics. Let's check out the odds for the top options and come away with a prediction.
Odds for Next Celtics Head Coach
If you're wondering who will be the next head coach of the Boston Celtics, you can start with the list above. These 10 coaches boast the best odds, per BetOnline.
You shouldn't stop there, as some of the pricing is a bit surprising, and there could be value bets elsewhere. Just head over to BetOnline or whatever NBA sportsbook you call home and see who else is in the running.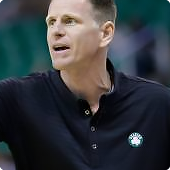 Looking at the top options based on pricing, Jay Larranaga tentatively pulls into the lead. His +300 odds declare him the mild favorite but also leaves the door open for an upset.
Larranaga stands out due to being the top assistant coach in Boston. If Stevens backs him and the organization wants to maintain continuity, promoting from within is a viable option.
Jason Kidd is also a massive name and has solid coaching experience. He's been itching to get a third crack at a head coaching gig in the NBA, and this could be his opportunity.
Options like Pierce and Atkinson would be of the retread variety, and neither feel all that deserving. Stevens has publicly praised Pierce and others, though, so keeping tabs on what he's said about certain candidates is a good idea.
If the Celtics want to really make a statement, they could also opt to become the first franchise to hire a female as head coach.
Becky Hammon has been the frontrunner in that discussion for years, but she's far from the only woman worthy of such a job. Lawson also stands out, especially since she was part of the Celtics coaching staff in 2019 and proved her worth by landing the top gig at Duke last year.
The issue with Lawson is that she's said in the past that she's "all in" with the Blue Devils, and she only was able to coach four games in her first season.
So, who will be the next coach of the Celtics? Let's go over the top candidates and sleeper bets before making a final prediction.
Top Contenders to Coach Celtics
I'm not going to simply list off the coaching candidates that have the best odds here.
Odds aside, I'm combing through the coaches I think make the most sense for Boston or at least be held in high regard by Stevens and the front office.
Jay Larranaga (+300)
I can't avoid Larranaga for two reasons; he's spent 12 seasons on the sidelines with Boston, and he's the current betting favorite.
The ties to the Celtics are clear, and Larranaga actually had a shot at interviewing for this gig before Stevens nabbed it. A loyal assistant to Stevens ever since, Larranaga looks to be a strong voice and bright basketball mind, and he's sure to get serious consideration at least.
Of course, you have to wonder if the Celtics want to dream a bit bigger here. Does staying in-house keep continuity like they want, or do they prefer to get a brand new voice and/or make a splash?
Jason Kidd (+500)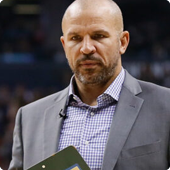 That could come via a bigger, more familiar name like Kidd. Currently wiping the tears away after the Lakers failed to repeat as champions this year, Kidd at least was on hand for a title last year and had some solid head coaching experience.
Kidd is a household name and would be a welcomed hire when considering his stellar playing career, which also included a championship.
His previous stops in Brooklyn and Milwaukee delivered mixed results, but Kidd would be a splashy move, and it's possible he's gotten better as an assistant over the past few years.
Becky Hammon (+1400)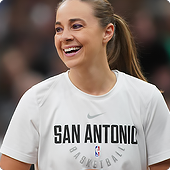 Hammon honestly projects as a bit of a sleeper when you look at her odds to become the next Celtics head coach. She's a fantastic candidate, though, and I'm placing her among the top contenders.
Earning her stripes in San Antonio the past seven years, the 44-year old Hammon has learned from one of the best ever, Gregg Popovich. It's possible she's being groomed to replace him eventually, but if offered the job, who turns down a gig in Boston?
Hammon would be breaking a barrier, with the Celtics getting the chance to be part of history. While Hammon has no direct connection to the guy making the decision (Stevens), he's had nothing but positive things to say in the past.
"Becky obviously is a terrific candidate. I don't know her well, but I know what people think about her, and I know how well she's respected all across the league by players and coaches."
Stevens isn't wrong here. Pau Gasol went public not too long ago, declaring that Hammon wasn't just one of the best female coaches he's been around, but one of the best coaches, period.
That's high praise, while Hammon has racked up enough experience to seriously throw her hat into the ring.
Value Bets Worth Targeting
While Hammon gets the conversation started in terms of elite betting value, I view her more as a top contender. There are a few other sleeper picks to coach the Celtics, as well as one interesting longshot.
Here are three value bets that could be worth your time.
Jeff Van Gundy (+1600)
Tony Bennett (+50000)
Larry Bird (+5000)
JVG is constantly brought up in head coach rumors just because he's a fantastic coach. He helped the Knicks reach the NBA Finals back in 1999, and in 11 seasons in the NBA, he led his teams to the playoffs 10 times.
He's been out of the league since 2007, but he's stayed sharp and involved as a stellar analyst. Van Gundy has also seemingly at least entertained the idea of a return but has often been hesitant to overstep boundaries and take a job that may have belonged to someone else.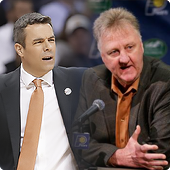 In this situation, JVG would be walking into a team built to win that may be one piece (or a new voice) away from making a huge leap. Boston has already vacated the gig, too, so there would be no concerns of stepping on toes.
The other two options are absolute of the longshot variety, but Tony Bennett is one of the best coaches in college basketball, and Larry Bird is a Celtics legend.
In the recent past, Bennett has been vocal about loving where he's at in Virginia. It'd take a special situation to pry him away, but there's no denying the Celtics have a solid roster to move forward with.
The 64-year old Bird is perhaps even less likely. However, Bird could give his classic "three-year" rule a try and give it his all until he's 67.
That could be the window this team needs to get where they need to go, and a Celtics legend could return and put a whole different stamp on his time in Boston.
Predicting Who Will Coach the Celtics Next
I don't mean to skip over the other viable candidates to be the next head coach of the Boston Celtics. For the record, Chauncey Billups, Sam Cassell, or Kenny Atkinson would be fine hires.
In the event they're available and are offered the job, I also wouldn't turn my nose up at Nate McMillan or Mike D'Antoni.
However, I don't see those hirings happening for a variety of reasons.
Not that coaches with little experience haven't been hired before, but Billups definitely lacks it. Cassell is probably the most intriguing option of the lot, while Atkinson doesn't jump off the page, D'Antoni (70) is getting up there in age, and the Hawks might want to hold onto McMillan.
Ultimately, I think Boston goes bold.
They could keep someone from Stevens' staff, but they need to do something big here. To me, it boils down to a big name like Kidd, or a deserving coach that can completely change the dynamic of this team.
That brings me to Hammon, who has put in the work, and is revered by players across the league. She also happens to offer insane value at this silly +1400 price tag.
Boston needs a new voice, and they need someone with experience, a new style, and a coach that can develop players. Hammon has proven herself in all of those regards, and she also ushers in a new (and needed) era in the NBA where female voices are both seen and heard.
Whether you're with me on Hammon as the next head coach of the Celtics or not, you can take a crack at this wager at the top NBA betting sites.