Who Should Replace Tom Brady If Super Bowl 53 Is His Last Game Before Retiring?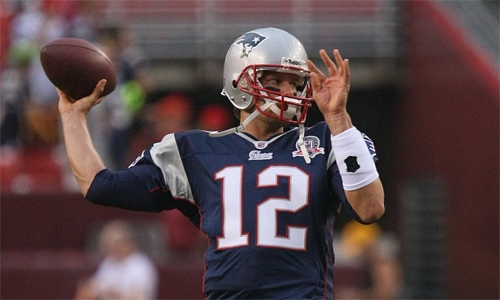 The New England Patriots have a chance at some pretty impressive history going into Super Bowl 53.
The franchise has a shot at their sixth NFL title, and nabbing that would also push head coach Bill Belichick and quarterback Tom Brady to the top of football's Mount Rushmore.
Based on how New England got here, it's worth wondering if this is their last hurrah, though.
There has been a reported tension between Belichick and Brady for over a year now, star tight end Rob Gronkowski seems ready to retire, and a once-sturdy foundation appears to have some cracks forming.
Tom Brady will be 42 years old when the 2019 NFL season starts. After already displaying mild signs of regression over the past few years, it's worth wondering just how much time he has left.
Brady himself has suggested he'll play for as long as his body allows. He's said he'd like to play until age 45, but there's no telling where his head will be at by season's end.
If the writing is on the wall that everything he's known in Massachusetts is slowly crumbling, and his Pats can send him out on top with a Super Bowl 53 win, why not go out on a high note and on his own terms?
Tom Brady and Rob Gronkowski Prop Bets
If you stumble upon any football betting sites offering a Tom Brady prop bet that asks whether or not he retires this year, I'd lean firmly on the "no" side.
Still, it's not out of the realm of possibilities. Brady isn't getting any younger, the schism reports aren't completely unfounded, and going out as a champion certainly is appealing.
That could tie into betting on Rob Gronkowski's future as well. The Gronk was rumored to be seriously considering leaving football last year, and not too long after, reports of him potentially being traded popped up.
Gronkowski quickly quieted trade talk by saying he'd never show up for another NFL team and that he only catches passes from Tom Brady. The two could be tied together to a certain degree, so monitoring what happens with either one could be worthwhile.
Rob Gronkowski prop bets to keep an eye out for concern whether or not he'll retire, what he'll do next for a career (making movies seems to lead the way), and whether or not he'll simply be traded.
Moving on from Brady
If the Patriots lose, I doubt Brady retires, and right now, New England isn't in any position to move on from their aging quarterback. Nor would they necessarily want to. While Brady is long in the tooth for a pro football player, he still looks plenty good and just got his Patriots to the Super Bowl for the third year in a row.
Athletic ability be damned, it's obvious Brady can still play, and he's clearly doing so at a very high level in terms of raw numbers and team success.
The problem is a myriad of reasons could lead him to wanting to be done with football.
The biggest one, in my opinion, would be the Patriots winning Super Bowl 53. Due to age and where he's at in every personal regard, it's not crazy to think Brady sees this as New England's last great chance to allow for him to perfectly cap a brilliant career.
I'm not saying Brady is done, but if New England wins, it wouldn't shock me all that much. I'm not alone in that regard, either, as one of Brady's former teammates thinks this could be it.
Should that happen, the Pats will need to move fast if they want to keep winning.
After all, Bill Belichick likely doesn't want Brady to retire, but if he did, the competitor in him would likely relish the opportunity to prove to the world he can win a title without the legendary passer.
Potential Tom Brady Replacements
Whatever the case, thinking about New England's immediate and/or long-term future under center is not just exciting, but it's also probably pretty necessary.
Assuming Brady does decide to call it quits, here are a few directions the Pats could go in for 2019 and beyond.
Promote In-House
The Patriots traded away Tom Brady's replacement last season when they opted to get some value in return for Jimmy Garoppolo, rather than pay him to stay in town.
The deal has favored the Pats thus far, as Jimmy G was lost for the year due to a torn ACL earlier this year. Long-term, it's surely a move the San Francisco 49ers aren't going to regret. However, provided the Pats get a couple more years out of Brady and find a replacement, they could be fine as well.
Of course, if Brady retires after another Super Bowl victory, the Pats will have their hands tied. They'll have to act fast to replace their prized passer, lest they turn to career journeyman Brian Hoyer.
Hoyer is a competent backup, and he can fill in for a few games if need be, but he's proven everywhere he's been that he's not a reliable starting quarterback.
Is Belichick egotistical enough to try to prove to the world that he can win a title with Hoyer leading his offense? Maybe, but I tend to doubt it.
With it being Hoyer or bust right now, the Pats will almost certainly have to scramble for their 2019 starting quarterback if Brady calls it a career.
Draft the Future
This is likely happening regardless of what Tom Brady decides about his future.
The Patriots would be doing themselves a great disservice to not finally pry another passing prospect out of the draft, and waiting until round six like they did with Brady might not be a luxury they really have anymore.
Whether Brady goes or stays, the Pats need a contingency plan, and Brian Hoyer simply won't cut it for much longer. This isn't exactly a loaded quarterback class at this point, but it's not a bad one, either.
Betting on Kyler Murray dropping to the Pats at the end of round one isn't out of the question, but even if he's not there, New England may want to consider a splash move with a late-first-round draft choice.
Aside from New England trading up, they'll have to work with what falls into their lap. Duke's Daniel Jones has seen his draft stock rise, but as things stand, he'd have a shot at lasting deep into round one.
Bring in Some Retreads
New England can't trust Hoyer, and even if they nab someone like Daniel Jones in the 2019 NFL Draft, he may not be ready to start from day one.
That could mean dipping their toes in the free agency pool, which actually looks rather deep. Josh McCown, Teddy Bridgewater, Tyrod Taylor, Ryan Fitzpatrick, Robert Griffin III, Brock Osweiler, and even Trevor Siemian all offer something good that could convince the Pats to take them on.
Bridgewater is easily the best of the lot, while he's even young enough still for New England to potentially view him as the long-term answer.
Regardless of whether or not Brady is done after Super Bowl 53, taking a look at Bridgewater is something the Pats should consider doing.
Sam Bradford is an interesting flier for the Pats to take a look at, too. He has knee issues and was abysmal last year, but he's still just 31 and was a former #1 overall pick. It'd be interesting to see if he could jumpstart his career in New England's amazing system.
Make a Splashy Trade
If the Patriots don't love what they see on their own roster, in the draft, and/or in free agency, they could always swing a big trade to upgrade under center.
Some really big names could eventually be cap casualties, or the Pats could dangle some draft picks to pry them from franchises that could be ready to go in a different direction.
Joe Flacco, Nick Foles, Blake Bortles, and Derek Carr stand out as some interesting trade pieces if New England is looking for a quick fix.
Foles and Flacco would make the most sense based on their ability to win within the pocket, while Carr would be a fine choice if the Pats wanted a young franchise passer to build a new future with.
Would New England just be looking for a 2019 replacement, or would they want someone they can grow with moving forward? They'll potentially have to answer difficult questions like that in the event Tom Brady retires.
Lure a Legend Out of Retirement
No, I'm not talking Brett Favre or Joe Montana. But just as the Patriots say goodbye to an icon, they could always opt to kick the tires on another.
Many quarterbacks leave the game on anything but their own terms, and even more exit pro football without winning a ring. For the right veteran quarterback, coming back for one more go-around could be worth it.
It'd be a one-off try as the Pats would attempt to get back to the Super Bowl for the fourth consecutive season, but it'd potentially be the greatest test of their system and team unity.
A few options that make some sense include Tony Romo, Kurt Warner, Carson Palmer, and heck, why not, let's actually throw Favre back in there, too.
This is the last-resort option, but I don't like the in-house candidates, the Patriots probably can't trust a rookie quarterback to fully execute their system, and the free agent options aren't appealing.
Needless to say, the Pats will probably need to make a trade for next year's starting passer if Brady abruptly retires. That, or hopefully he lets them know he's done after 2019, and that gives them one more year to groom his eventual replacement.
Betting on the Patriots
Fortunately, the Pats don't yet have to worry about what their future might look like without number 12 on the field. Because of him, New England walks into Atlanta as mild Super Bowl 53 favorites in a little under two weeks, and bettors may want to think long and hard before betting against them.
That's a scary notion in general, but the mere prospect of Brady and other Patriots looking at this as his final rodeo could boost New England and give them the extra juice they need to fend off the more talented Rams.
Of course, Brady's presence (or lack thereof) will also greatly impact how you'll want to bet on the Patriots when it comes to next year's Super Bowl, too.
Early indications are the Patriots are among the best Super Bowl 54 value bets, simply because of who they are and what they've accomplished. With Brady in tow, New England would feel like a massive steal at +1000 going into next season.
With Brady retired, of course, betting on the Patriots in any regard would feel like a much greater gamble than usual.
Then again, if you wait until Brady makes a decision on his future, his eventual retirement would likely cause Patriots Super Bowl odds to crater. Depending on how the Pats replaced their long-time signal caller, that could either equate to a harrowing trap or the best Super Bowl value bet of all time.
It's hard to know what Tom Brady will do or how things will unfold if he's done after Super Bowl 53. All I know for sure is the Pats are favored in the last game of the year, and I am inclined to believe they get the job done.