Hide Bonus Offers
| | | | | |
| --- | --- | --- | --- | --- |
| #1 | Bovada Sports | 50% Up To $250 | Visit Site | Bovada Sports |
| #2 | BetUS | 125% Up To $2,500 | Visit Site | BetUS |
| #3 | MyBookie | 100% Up To $1,000 | Visit Site | MyBookie |
| #4 | Everygame | 100% Up To $500 | Visit Site | Everygame |
| #5 | BetOnline Sports | 60% Up To $1,000 | Visit Site | BetOnline Sports |
White House Betting: Will VP Mike Pence Attend Another NFL Game This Season?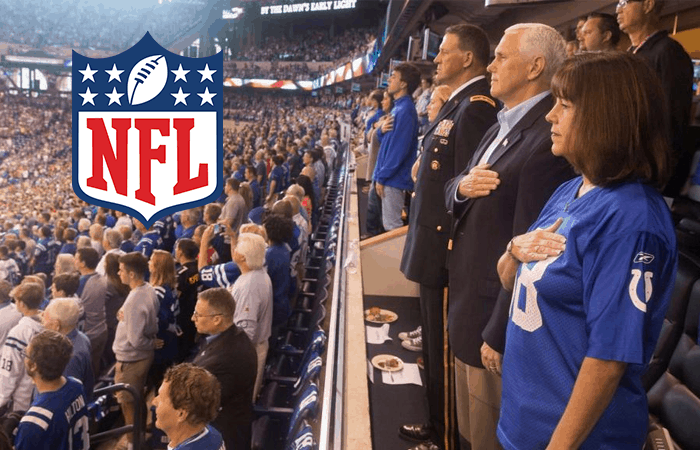 On Sunday, Vice President Mike Pence made headlines when he tweeted that he and his wife had left the Colts-49ers game due to players kneeling for the Star Spangled Banner. Pence went on to explain his decision by subsequently tweeting that he "would not dignify any event that disrespects our soldiers, our Flag, or our National Anthem."
I suppose we can just ignore the fact that Pence is completely missing the point of the protests altogether and just focus on the betting perspective. As they are prone to do, Paddy Power has jumped all over it and put up some props regarding the Vice President's future attendance of sporting events.
I left today's Colts game because @POTUS and I will not dignify any event that disrespects our soldiers, our Flag, or our National Anthem.

— Vice President Pence (@VP) October 8, 2017
There are only two bets up as of now, but let's break them down, shall we?
Which Game Week Will Mike Pence Next Attend an NFL Game?
Week 6-8 6/1
Week 9-11 8/1
Week 12-14 5/1
Week 15-17 5/1
Not to Attend Another Regular Season Game This Season 4/7
We know that Pence, in all likelihood, attended the Colts-49ers game with the intentions of leaving early. He tweeted a three-year-old photo of him and his wife, whom he calls "Mother" for some reason before the game with the caption indicating they were excited to see Peyton Manning get honored at halftime.
The Colts and local Indianapolis police had to take extra measures to make sure that the VP and the Second Lady would be safe attending the game, too. Fans were even told to arrive early in order to deal with the additional traffic caused by the Pences' presence at the game.
Despite that, Pence still decided to make a political point by protesting the players' right to protest. Or something. We aren't really sure what he was trying to accomplish here, other than putting one of President Trump's dumbest public fights back on front pages of newspapers.
Despite the White House waging war with the NFL, Pence has said in the past that he's a huge football fan. He has even bragged that he's good at the video game, Madden NFL. As the former Governor of Indiana, Pence has attended his fair share of Colts games in the past.
Pence not attending another game this season seems like the most likely scenario. He already stirred controversy by wasting $250,000 in taxpayer money for his childish publicity stunt over the weekend. In light of other stories regarding this administration's questionable use of taxpayer funds, one would imagine it would be in Pence's best interests to try and avoid more controversy. So, it seems unlikely that he'll go to another game.
If he does, you know it will be for some sort of victory lap. After the President made his inflammatory anti-NFL comments at a rally in Alabama last month, most NFL owners came out with public statements backing their players. However, it seems as though the tide is already turning the other way.
Look no further than Dallas Cowboys owner Jerry Jones, who infamously knelt with the entire team before their Monday Night Football game in Arizona a few weeks ago. While that sure looked like a public backing of the players' rights to protest, Jones has suddenly flipped the script. He said over the weekend, "If there's anything that is disrespectful to the flag, then we will not play. Understand? We will not…if we are disrespecting the flag, then we will not play. Period."
This can be taken a few different ways, but he clarified his comments to ESPN the next day. He said any player that decided not to stand at attention for the National Anthem would be made inactive for the subsequent game. Ok, then.
Now that Jones has essentially hopped into the same boat as Trump and Pence, could Pence (or Trump) attend a Cowboys' game in support of Jerry? It's certainly possible. Jones was a donor to the Trump campaign, and Trump evidently called Jones frequently after the protest controversy was reignited a few weeks back.
If Pence is to attend another game this season, we think it'll come toward the end of the season. The VP deciding against attending the game is still the most likely outcome, but we like the value on weeks 12-14 (5/1) or 15-17 (5/1) if you're going to wager on it.
Will Mike Pence Stay for the Entire NFL Game Next Time He Attends?
Even if Pence had honestly decided to attend the game for fun, it's not a guarantee that he would've stayed for the entire thing. NFL games are long, and Vice Presidents typically have lots of things going on. Pence was slated to be in Newport Beach, California, for a fundraiser on Monday, and he flew to Los Angeles after leaving the Colts game.
NFL games tend to be three hours long! It's quite the time commitment to go to a game. That's why they're way better to just watch on TV, but that's beside the point. We are thinking that Pence likely would not have stayed for the entirety of the game in any case. It also probably didn't help that the teams in the game were awful. The Colts and 49ers? You couldn't pay me to attend that game. No wonder he wanted out.
We don't think Pence will stay for the entirety of the game if he is to attend another game this season. We'll go with "no" at 5/6 on this one.