Which Cheap QB Should You Use in Daily Fantasy Football Week 11?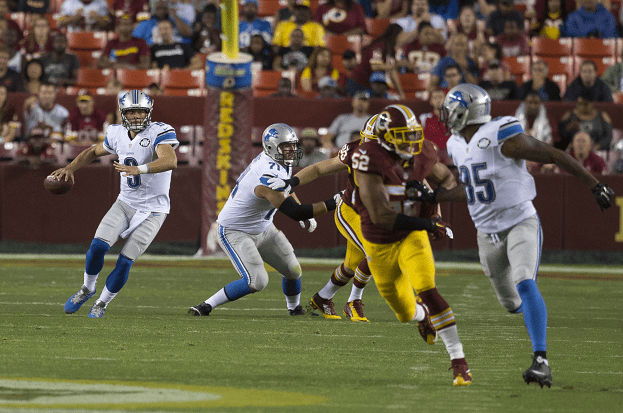 Peyton Manning might be down for the count, Nick Foles most certainly is and Tom Brady is so expensive at DraftKings that you're feeling the need for some value heading into week 11. Value is the word of the year in daily fantasy football in 2015, as some big names (Andrew Luck, anyone?) have cratered and injuries have ravaged the fantasy landscape.
Tony Romo is finally back this week, but we've seen in the past week alone Manning, Sam Bradford and Brian Hoyer all get hurt. Add the benched Nick Foles to the mix, too. If the Cleveland Browns weren't on a bye this week, we might even be able to add the recently promoted Johnny Manziel to the mix.
The point is, going cheap at the quarterback position can pay off. Doing so with the likes of Blake Bortles, Marcus Mariota and even Manziel (21 fantasy points last week!) has been the ticket for serious DFS success. That's been even more the case with guys like Luck, Manning and even Aaron Rodgers delivering less than desirable fantasy performances at times.
Week 11 is no different. In fact, we have a plethora of minimum-priced signal callers to consider ($5k at DraftKings). The question, of course, is which one do you choose? Let's break them all down and try to come to a conclusion:
Mark Sanchez, QB, Philadelphia Eagles
Sanchez was not half bad last week, as he relieved an injured Sam Bradford and put up 156 yards in about half of a game. He got the Eagles in scoring position twice and while he didn't score and did throw a pick, he showed enough to make us think he could be fine to solid in week 11. Facing a bad Buccaneers pass defense at home can't hurt, either.
Brock Osweiler, QB, Denver Broncos
Osweiler draws his first ever NFL start with Peyton Manning nursing a foot injury, and it's tough to say what we can expect. Osweiler has been a solid preseason performer in his career, while he posted a solid 10 fantasy points in garbage time after Manning got benched last week. He's on the road and things could easily go bad, but he's got a strong arm, nice athleticism and plenty of weapons. There is reason for optimism.
T.J. Yates, QB, Houston Texans
Yates could get the start this week thanks to a Brian Hoyer concussion. He stormed in late last week and got the Texans a touchdown to help them beat the Bengals on the road, and for that, he deserves some credit. While that was nice to see, he's still T.J. Yates and he'll be facing the New York Jets this week. He's probably not the cheap fantasy passer to use.
Case Keenum, QB, St. Louis Rams
Keenum replaced the benched Nick Foles and this might actually cause some excitement in St. Louis. First, because Foles had been absolutely dreadful. I'm talking, like 7 or fewer fantasy points in four of his last five games. Yuck, right? Keenum right off the bat can't be worse than that, while he flashed some nice potential during his days as a starter with the Houston Texans. He certainly wasn't perfect then, but he displayed gamer qualities and a penchant for chasing the big play. That could serve him well against a burnable Ravens pass defense this week.
Jameis Winston, QB, Tampa Bay Buccaneers
Winston is a rookie and therefore is not to be trusted. That being said, there is upside to be had in him this week when he takes on the Eagles in what is a big game for all parties involved. For all of the turnover talk Winston induces, he's actually only thrown a pick in a game four different times this year and owns a respectable 10:9 touchdown to interception ratio. Philly's pass defense is also fairly middle of the pack by the numbers and Winston has been a steady (albeit not elite) fantasy producer with 13+ fantasy points (17 per game on the year) in every game in 2015. Not spectacular numbers for the dive you're taking, but for a cheap, steady play, Winston could do the trick.
Alex Smith, QB, Kansas City Chiefs
The story is fairly similar with Smith, who is inexplicably the minimum at DraftKings this week, even though he dropped a stellar 27-point fantasy outing on the Lions just two weeks ago. He's as reliable as Winston, if not more so, as he also averages 17 fantasy points per game and has dropped below the 13 fantasy point mark just once all year. The Chargers have shown to be stingy against the pass in 2015 so his matchup isn't amazing, but Smith has been very good during a three-game winning streak. He's flying under the radar going into week 11 and it's arguable he shouldn't be.
Teddy Bridgewater, QB, Minnesota Vikings
Bridgewater himself has been pretty darn average in his second NFL season, producing a pedestrian 13 fantasy points per game and just one game with more than 18 fantasy points. He's not an elite play on the surface, but a matchup with the Packers in a huge divisional clash at home could raise his play a bit. Green Bay's defense has taken a serious dive and in the past four weeks have awarded a 500+ yard game to Philip Rivers, teased the world that Peyton Manning was still a thing, allowed Cam Newton to go off and let Matthew Stafford look several shades better than horrible. There's reason to suspect they could allow Bridgewater to do much the same.
Blaine Gabbert, QB, San Francisco 49ers
Honesty is a good thing to lean on in daily fantasy football, especially when you're talking about Blaine Gabbert. Here are the three things working for him: he's facing a Seahawks team that apparently isn't very good right now, he's as cheap as a quarterback can get and he actually looked pretty good in a week nine home win over the Falcons. That all sounds nice, but beating an angry Seahawks team in Seattle doesn't sound overly logical. Then again, what do we know? Perhaps Gabbert's 16.6 fantasy point outing was just the beginning of the most epic career comeback ever. That'd be cool, but we sincerely doubt it.
That is a whopping nine starting NFL quarterbacks at the total minimum at DraftKings this week, meaning if you pick the right guy (although let's be clear, they all COULD be awful) you could open up a ton of salary cap space to piece together a total dream team. Heck, Ryan Tannehill ($5.1k) and Tyrod Taylor ($5.2k) are almost that cheap.
The easy winner in our eyes? The Sanchize. Mark Sanchez is rarely inspiring but he put up 156 yards in about half of a game last week and also moved Philly's offense rather well. He did much the same in plus matchups as the starter in 2014, too, and this week he's at home against a very beatable Buccaneers defense. He does turn the ball over and he could implode, but there's enough here to think he could be a tiny piece to a big daily fantasy football winner this week. What you do from there, of course, is up to
you.