Where Will Philippe Coutinho Play Next Season?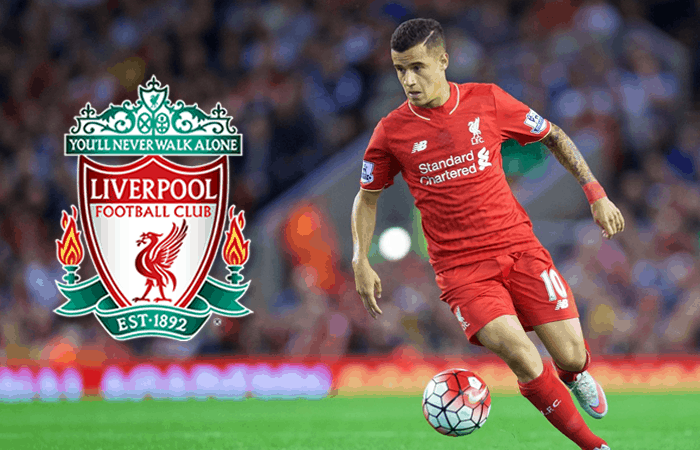 We're still very much in the midst of the 2016-17 Premier League campaign, and Liverpool are among the gaggle of clubs fighting to finish in the top-four. Doing so would earn the Reds just their second Champions League berth since 2010, so the urgency is certainly there for Jurgen Klopp's men.
LFC have been crushed by injuries all season long, and they're likely going to have to try and keep pace without the likes of Sadio Mane for the rest of the season. Without Mane's goalscoring presence, more of the responsibility will fall onto the shoulders of the likes of Philippe Coutinho, Roberto Firmino and either Divock Origi or Daniel Sturridge.
Whether LFC is able to survive a potential late charge from challengers like Manchester United, Manchester City and Arsenal may play a huge part in dictating how the club will line up to start next season. They clearly have the makings of a top-tier English club, but Klopp and the rest of the staff will have to focus this summer on filling out the squad with more talented complementary pieces.
One story casting a bit of a pall over the future of the club is Coutinho's future. In January, the Brazilian international signed a new long-term extension that will keep him on Merseyside through 2022. The deal doesn't have a release clause, and it made Coutinho LFC's highest-paid player.
Still, we know by now to take soccer contracts with a grain of salt. They're a bit like college football or basketball coaching contracts in that they're often torn up and restructured well before the original deal is slated to expire. This contract will certainly entice Coutinho to stick around with Liverpool from a financial perspective, but he's still free to attract interest from other clubs.
Bovada actually has odds for which club's shirt Coutinho will be wearing in September of this year. Let's take a deeper dive into whether the Brazilian will stick around with LFC or if he'll make a move to a bigger club elsewhere in Europe.
Liverpool (-150)
Considering they're his incumbent club, Liverpool are obviously the frontrunners to have Philippe on the roster come September. The best players are hungry to play in UEFA Champions League, and if LFC are able to qualify for next season then Coutinho's chances of staying with the Reds would be increased greatly.
Liverpool haven't won a domestic title since the Premier League was formed in 1990, but they're still one of the biggest and richest clubs on the planet. They've already undergone something of a rejuvenation since Klopp was hired in October of 2015, and their attacking, high-pressing style has made them one of the most fun teams to watch in the PL all season long.
With Coutinho, Firmino, Mane, Georginio Wijnaldum and Adam Lallana, the Reds boast a quick midfield capable of pulling off some stunning team moves. That obviously takes a hit whenever one (or more) of them is absent, but this core still has the makings of one that can do some serious damage over the next few years. If they all stay, that is.
Coutinho is certainly the crux of the attack, so losing him would be a serious blow to any hopes for long-term contention Liverpool may have. If he decides to leave for greener pastures they can't really do anything to stop it, as was the case with Raheem Sterling just two years ago. Coutinho has been saying and doing all the right things for quite some time now, so the odds of him leaving so soon feel rather slim.
Despite the injuries, Liverpool still have an excellent shot at staving off those aforementioned challengers and securing a spot in the UCL next season. If they do, there's no reason to expect Coutinho to depart. If they come up short, though, it's easy to see him casting his glance elsewhere.
There's an aura of inevitability here, though. Nowadays the allure of suiting up for Spanish giants Barcelona or Real Madrid is as tempting as it's ever been. Coutinho will probably stay with Liverpool for at least another season, especially if they're going to be participating in the top European competition. There have been murmurs about Barcelona's interest for quite some time now, so it won't be a surprise if/when he decides to make the move.
Barcelona (+175)
The upcoming summer could be a transformative one for the Catalans. They're still alive in Champions League, but they're going to need another insane comeback to overcome a 3-0 deficit to Juventus in the second leg. Even if they're able to somehow advance again, their La Liga hopes are on the ropes.
Manager Luis Enrique has already announced that he'll be departing after the season, and it'll be interesting to see who takes over and leads Barca into a new era. Lionel Messi and Luis Suarez feel likely to stay beyond the summer, but Neymar's future is a bit murkier. Manchester United is reportedly lurking and showing interest, though Barcelona has given no indication that they plan on parting ways with him.
Neymar and Coutinho have played quite often together for the Brazilian national team, and Neymar has repeatedly spoken highly of his compatriot's ability. If Neymar stays with Barca, could the allure of playing together tempt Coutinho to make the switch? Having Neymar as a potential recruiter certainly wouldn't hurt Barcelona's chances.
Barcelona certainly aren't afraid to splash the cash, as we saw just three summers ago when they raided Liverpool for Suarez for the price of over $80 million. Adding a player with the creativity and technical ability Coutinho possesses would add even more playmaking to a loaded Barca midfield.
The Catalans are clearly the favorites to land his services if he leaves England, but let's not overlook their chief rivals…
Real Madrid (+500)
So there haven't been nearly as many links from Coutinho to Real as their have been between Coutinho and Barca. Still, when you have as much money as Madrid does, you can never be counted out of the transfer market regardless of the player involved. There has been some light conjecture that Coutinho could come in and replace out-of-favor James Rodriguez, but that's pure speculation.
One would imagine Real would have interest in Coutinho if he were to hit the transfer market. They certainly don't want a player of his caliber joining Barcelona, so it would only make sense to assume that Madrid would be happy to steal him out from under the Blaugrana.
They would certainly have the funds to blow Liverpool away with an offer, but the same can be said for Barca, so it's likely moot. It will all come down to which situation Coutinho prefers, and Barcelona would seem to have an edge there with Neymar already in the fold. Madrid have a handful of Brazilians of their own, of course, but there doesn't seem to be much steam behind this one.
Paris St. Germain (+800)
Coutinho could throw everyone for a loop and shun both England and Spain by making a move to the premier team in Ligue 1, Paris St. Germain. Unlike with Madrid, there seems to be legitimate fire where the smoke is on the Coutinho front. Multiple reports came out late last year that the French giants planned to make a bit for Coutinho's services in the January transfer window, but nothing came of that. They were turned away by LFC when they made a $22 million bid for the Brazilian last summer, as well.
PSG haven't enjoyed nearly as much success this season as they have in previous years, due in large part to the absence of Zlatan Ibrahimovic. They're currently second in the league behind Monaco, and bowed out of Champions League in embarrassing fashion in losing dramatically to Barcelona. This is one of the richest clubs on the planet, and they won't take too kindly to failing to win the league title if that's what winds up happening.
They have the money to land just about any player they want, so it only makes sense that they'd have their crosshairs set on a 24-year-old talent in Coutinho. The squad isn't as strong as it's been in previous seasons, but PSG still have the makings of a world class midfield, and that obviously gets stronger with the potential addition of Coutinho.
While Liverpool will likely retain the Brazilian's services in the short-term, it may not be too long before he's donning another kit. It just won't be next season.