Hide Bonus Offers
| | | | | |
| --- | --- | --- | --- | --- |
| #1 | Bovada Sports | 50% Up To $250 | Visit Site | Bovada Sports |
| #2 | BetUS | 125% Up To $2,500 | Visit Site | BetUS |
| #3 | MyBookie | 100% Up To $1,000 | Visit Site | MyBookie |
| #4 | Everygame | 100% Up To $500 | Visit Site | Everygame |
| #5 | BetOnline Sports | 60% Up To $1,000 | Visit Site | BetOnline Sports |
2017 NFL Rumors: Predicting Where Jay Cutler Will Play Next Year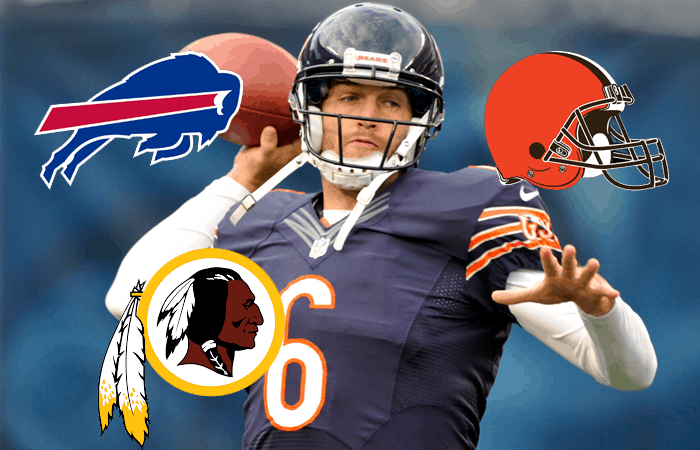 With the completion of the 2016 NFL season, we're already looking ahead to the moves and decisions that will formulate the 2017 NFL season. Part of the process should get going within the next two months, as teams will have to activate salary bonuses and franchise tag players they want to keep ahead of free agency.
That will likely call for the Chicago Bears to make a decision on the future of star quarterback Jay Cutler. Cutler's time in the Windy City seems to be coming to an end, as the Bears fell flat in 2016 and his stay has been long marred by injuries and erratic play.
As disappointing as Cutler's Chicago tenure has been, the 33-year old passer remains rather talented and could potentially be a fit for someone else. Unlikely to trade Cutler's massive salary, the Bears figure to release the veteran quarterback, allowing him to pick which team he calls home next.
One potential suitor figured to be the New York Jets, due to the team's hiring of former Bears and Broncos offensive guru Jeremy Bates.
I've been saying it for awhile now … the Bears are going to cut Jay Cutler, and he'll end up starting for the Jets in 2017.

— Michael Fabiano (@Michael_Fabiano) February 9, 2017
The connection to Cutler isn't likely to stick, however, as Jets beat writer Manish Mehta shot down the Jay Cutler Jets rumors rather quickly:
With the Jets out of the picture and Chicago soon to be in Cutler's rearview mirror, we're slowly starting to narrow down his options.
That one-time long list could be smaller than expected, of course, especially with an aging Cutler not showing in recent years he's the answer to an ailing team's problems. It begs the question; just how valuable is Cutler in the eye's of NFL scouts and GMs?
Regardless, Cutler is still talented and experienced and the need for a quality starting quarterback lives on for many franchises. Due to that, we've looked at the top teams with a big need at quarterback and narrowed down Jay Cutler's top five potential landing spots:
Cleveland Browns
Cleveland is not the place Cutler will freely go if he cares about winning, while it's also unlikely the Browns want to shell out a bunch of cash for yet another veteran quarterback. However, the Browns are coming off a 1-15 season and still don't have an answer under center.
The Browns should be embracing a full rebuild, but they just released Josh McCown and may still end up cutting ties with Robert Griffin III, as well. Whether they do or not, the Browns aren't going to leave their entire 2017 season in the hands of Cody Kessler and if they want to stay away from competing for an 0-16 season yet again, they probably won't trust in whatever rookie quarterback they nab out of the 2017 NFL Draft, either.
Cleveland's best move is to either spend an early pick on someone like Deshaun Watson and hope he's the real deal or go get an established veteran like Cutler. The release of RG3 should come first, while Cutler could then sign on as a one-year stop-gap while the Browns groom their successor. In the interim, Cutler could repair his on-field image as a rental and maybe get the Browns close to .500.
This isn't the perfect marriage by any means, but Cleveland badly needs to figure the quarterback position out and Cutler will need somewhere to play. Hue Jackson turned Andy Dalton into a star in Cincinnati and could do wonders with Cutler, even at almost 34 years of age.
Houston Texans
While Cutler drowning in a sea of sorrow in the Factory of Sadness feels ever so fitting, he might be a little more into the idea of winning than that. That could keep him from settling for the lowly Browns, and instead turning his sights to a team closer to competing.
Houston fits the bill, as they won the AFC South last year and have the defense and running game to potentially make a title run. They don't have a quarterback, however, and seem pretty content right now to enter 2017 with Tom Savage and Brock Osweiler duking it out for the starting gig.
That's a losing cause, of course, and if the Texans are serious about winning, they'll ditch that idea and bring in a seasoned veteran like Cutler or maybe even Tony Romo to compete for the job. Houston has already shot down the Tony Romo rumors, but perhaps Cutler could be a cheaper option. At worst, Cutler could come in and push Osweiler and Savage, with the best performing passer earning the starting job.
Cutler has never realized his full potential, but he's also rarely had an elite running game and elite defense around him. In addition, Cutler would have plenty of weapons in Will Fuller and DeAndre Hopkins at his disposal and could possibly thrive in Bill O'Brien's system. As crazy as it sounds, a focused and dialed in Cutler could come in and make Houston viable Super Bowl threats.
Washington Redskins
Perhaps Cutler could be an even better fit for D.C. The Redskins are surely pondering their options at quarterback these days, as Kirk Cousins is a free agent and has done just enough to warrant a long-term contract.
However, could chasing a veteran like Cutler or Romo be a better alternative than handcuffing the franchise to a quarterback who has been more numbers than substance in his two seasons as a full-time starter? It's quite possible, as the Redskins have an explosive cast of weapons in the passing game, an improving running game and a talented defense.
Redskins owned Daniel Snyder has never been afraid to make a bold, splashy move, and bypassing a severe commitment to a quarterback who may not be worth the risk could make sense. Cutler is probably only a mild upgrade over Cousins, but he is far more talented and has even more experience. He also could come at a much cheaper price and with far less commitment. That could give the Redskins a quality starter for 1-2 years while they continue to compete and find their true franchise passer elsewhere.
Buffalo Bills
A team that makes even more sense for Jay Cutler is the Buffalo Bills. The Bills seem extremely reluctant to pay Tyrod Taylor despite two decent seasons, but in their defense, he didn't get Buffalo to the playoffs and can't win consistently from within the pocket.
Cutler is turnover prone and has only reached the playoffs once in his career, but on paper he still looks like the superior option over Taylor. If Buffalo can get Cutler for cheaper, he could give them a better pocket passer and potentially give them their best shot at sneaking into the playoffs in years.
Buffalo is operating with an entirely new coaching staff and very well could be headed in a completely different direction, but they oddly are built to make a run right now. Their defense is loaded with talent, they have a strong offensive line, a stud running back and a burner in Sammy Watkins. If the Bills bring in Cutler and go get another option or two for the passing game, they could suddenly be a very viable threat out of the AFC East.
San Francisco 49ers
The proper mix of need and desire could reside in San Francisco. New GM John Lynch played with Cutler in Denver and new Niners head coach Kyle Shanahan's dad drafted Cutler when he was with the Broncos
Cutler didn't end up sticking in Denver due to Josh McDaniels not deeming him a fit, but it's quite possible Lynch and the younger Shanahan could see him as a perfect (and familiar) stop-gap option.
The harsh reality here is they might not even have a choice. Blaine Gabbert and Christian Ponder are both (thankfully) free agents and Colin Kaepernick is reportedly set to opt out of his deal to pursue work elsewhere. Just like that, the 49ers wouldn't have a single quarterback and could be stuck with a rookie quarterback digesting Shanahan's complex offense.
That seems like a job best handed to a veteran and Cutler knows how Shanahan works. This could be a perfect fit, and ultimately, seems like the right one.
Jay Cutler Prediction
The writing on the wall suggests Cutler is for sure done in Chicago. He's been banged up and hasn't won anything with the Bears in years, while his hefty salary has to be weighing the franchise down. That should call for a release, while the team may take its time while trying desperately to orchestrate some type of trade.
No trade will come to fruition here, which has the Bears eating Cutler's salary for one more year or letting him go completely. Our guess would lie with the latter move, which should give Cutler a chance to state his case for these five teams, among others.
The two best situations seem to be Buffalo and San Francisco.
The need is there with both sides and Cutler could actually be a great fit with either team. However, the connection he has with the shot-callers in the Bay Area has us thinking the Jay Cutler 49ers rumors end up making the most sense.