Hide Bonus Offers
| | | | | |
| --- | --- | --- | --- | --- |
| #1 | Bovada Sports | 50% Up To $250 | Visit Site | Bovada Sports |
| #2 | BetUS | 125% Up To $2,500 | Visit Site | BetUS |
| #3 | MyBookie | 100% Up To $1,000 | Visit Site | MyBookie |
| #4 | Everygame | 100% Up To $500 | Visit Site | Everygame |
| #5 | BetOnline Sports | 60% Up To $1,000 | Visit Site | BetOnline Sports |
Where to Bet on Super Bowl 53 – Comparing Offshore Betting Sites and the Alternatives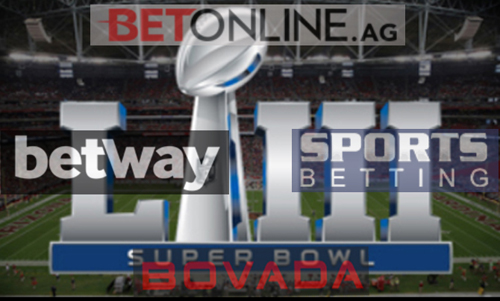 Most of the NFL regular season is now gone, and it's time to take a look at the ultimate prize.
Super Bowl 53 will take place on February 3rd. And if you consider how fast December and January usually go by because of the number of holidays, the NFL grand finale will be here sooner than you think.
I know that millions of US bettors love placing wagers on the Super Bowl, if only to add some extra excitement to the big game. If you are among them, there are some different betting options you should consider.
The focus of this post would be to explore what offshore betting sites provide and if they are safe enough for USA gamblers, but I will mention some other alternatives as well.
After all, the main target should be to find the best places to bet on Super Bowl 53.
Before I start, I will mention the fact that I spend some time out of the US every now and then, which allows me to use some European bookmakers.
So if you are not from the US but from a country with more liberal online gambling laws, there will be some special tips for you as well.
With that said, let's get into it – starting with a look at the main betting options for US sports bettors.
Brick-and-Mortar Sports Betting in the US
There are a couple of ways to place a wager on Super Bowl 53 in a brick-and-mortar sports betting venue if you live in the United States.
The one that works for everyone is to travel to Las Vegas and bet there. If you can afford it in terms of time and money, this can be an excellent option. You can have some fun, place some money, and enjoy life in Sin City for a little while.
Many of the casinos on and off the Las Vegas Strip have sportsbooks where you can legally bet on the Super Bowl (and other sports events).
Of course, making the trip to Nevada is not a viable option for everyone. Especially not if you like to place various Super Bowl wagers throughout the season and in the run up to the game itself. It's hardly practical to hop on a plane or take a long drive every time you want to get some money down.
If you live in one of the few states outside Nevada where sports betting has recently been legalized and regulated, like New Jersey or West Virginia, for example, you have some additional options.
These options vary from state to state, but the point is that you don't have to cross state borders to place your Super Bowl wagers.
The good news is that, since the repeal of PASPA earlier this year, a lot of other states are actively working on bills that could change the situation.
If everything goes well, more and more USA bettors will have easy access to betting locations in their own town. Many will have the option to bet online, too, at state-regulated betting sites.
While this is exciting, it doesn't help much for betting on Super Bowl 53 unless you live in Nevada or one of the other states that have already acted to introduce regulated sports betting.
Still, there is actually a better way to proceed with your Super Bowl betting action than going to Vegas or a local bookie, so stay with me on this one.
Online Gambling in the US
The situation with online gambling in the USA has been a bit messy ever since the introduction of the Unlawful Internet Gambling Enforcement Act (UIGEA) of 2006. It put all forms of gambling on the internet, including sports betting, in a knockdown.
Although this act didn't actually outlaw online gambling itself, it did make it illegal for banks and other organizations to process financial transactions related to gambling online. Which, in effect, amounted to the same thing.
A lot of gambling sites stopped working with American customers after UIGEA, and this has been the case up to recent years.
Things are not quite as bleak for gamblers in the US as they used to be, however. Some states have introduced legislation to legalize and regulate online gambling, and more are expected to follow.
However, the process is going quite slowly in many states and is non-existent in some. And even those who do have access to state-regulated gambling sites have quite limited options.
The good news is that there are viable alternatives. There are many offshore gambling sites accepting US customers, and these sites offer a range of online gambling activities, include sports betting.
Now, these sites are operating legally in the jurisdictions in which they're based. And many of them are regulated and licensed and are perfectly reputable and trustworthy. Because they're not specifically endorsed or regulated by the US government, though, a lot of Americans are worried about using them.
If you fall into that category but want to explore your Super Bowl betting options, keep reading, and I'll try to put your mind at rest.
Is It Safe to Use Offshore Betting Sites to Bet on Super Bowl 53?
This post is obviously dedicated to Super Bowl 53, but it also applies to pretty much every sport and event offered by the offshore gambling sites. The same principles work for the NBA, soccer, other NFL games, and more.
The big question for most Americans that want to place real money on sports is whether offshore betting sites are actually legal and safe.
The short answer is yes, although it's not super simple.
The majority of these offshore operators are licensed and regulated in the countries where they are based.
We're talking about places where online gambling is perfectly legal, and the local authorities are working hard to ensure a safe environment for internet betting.
Will your money and personal information be secure at these sites? Yes, providing you use the right ones. There are some shady ones, for sure, but there are also some that we have no hesitation in recommending.
Just because these sites are not regulated by the American government, it doesn't mean that you're doing anything wrong by using them. There is some level of risk for the operators themselves, but that doesn't really need to concern you.
There are two key points you need to know. The first one is that you are not breaking any American laws by using an offshore gambling site. I'm not a lawyer, so this shouldn't be considered professional advice. But I'm aware of no law in US legislation that explicitly makes it illegal to gamble online with these sites.
The second point is that, if you pick a legit site that is properly regulated in its jurisdiction, it's EXTREMELY unlikely that you're going to get scammed.
Pros and Cons of Using Offshore Betting Sites for Super Bowl 53
Now that you know it's safe to bet using offshore online bookmakers from the US, let's take a closer look at the pros and cons of going that route for your Super Bowl betting.
Advantages of Using Offshore Betting Sites
While most of the offshore online sportsbooks that accept American customers are not among the very best bookmakers on the internet, some are close enough.
For a start, you are most likely to find goods odds and low betting margins. On top of that, the sheer variety of Super Bowl 53 betting markets is great. You will find all the traditional options available, as well as a bunch of exciting prop bets.
As you may already know, the more opportunities you can pick from, the higher the chance of finding ones that represent good betting value.
Another reason to believe that it is worth it are the tons of promotions available to each customer. They can be separated into three groups.
Welcome deals

The online sportsbooks are in a constant war of acquiring new customers. As a result, they are forced to offer welcome deals such as bonuses and free bets to everyone that opens a new account
Ongoing promotions

Once you're done with the initial offer, you can usually take advantage of various other promos. Stuff like boosted odds, loyalty programs, and other regular specials can keep on giving
Exclusive Super Bowl 53 deals

All online bookmakers use big sporting events to attract players and get their betting action. It hardly gets any bigger than Super Bowl 53, so you can rest assured that you will find exclusive promotions for the game
As you can see, there are a ton of reasons to believe you will be able to enjoy a lot of extra value in terms of promos if you decide to use an offshore online betting site to bet on Super Bowl 53.
On top of everything else, you can find other traditional advantages online. You won't be required to travel to Las Vegas, for a start. You can place a wager from the comfort of your own home, and considering how low the minimum bets accepted online are, you can bet with any amount you feel comfortable with.
Disadvantages of Using Offshore Betting Sites
As you might imagine, there are some downsides of going for offshore bookies online from the US, so I feel it would be only fair to warn you about them.
For a start, you should be careful about the betting sites you are picking. While the majority of them are legit, some are actually shady and may not treat you the way you'd like. You won't have such an issue, though, if you go for any of our recommended online sportsbooks.
Our recommendations are all thoroughly tested and vetted, and I can assure you that they are legit companies that have no intention of stealing your money.
When it comes to payment options, they also do a good job under the circumstances, but it can still be a bit challenging to make deposits and withdraw any winnings.
Your best picks usually are credit cards, but a lot of offshore gambling sites accept Bitcoin. You can easily use BTC to bet on Super Bowl 53 if cryptocurrency is your thing.
The Best Offshore Betting Sites for Super Bowl 53
If you intend to use an offshore betting site for Super Bowl 53, but you are not exactly certain which one is good for you, I have some solid suggestions for you right here.
Bovada
One of the most respected online bookmakers that works with players from the US is Bovada.
This sportsbook has been around for ages, and the NFL is one of the competitions that is covered well. This is especially true when it comes to the Super Bowl, so this year's edition will surely bring a lot of betting opportunities as well.
The other advantages of Bovada include a good number of promotions, fast payments, and high betting odds. If you are interested, the links below will provide direct access and more information about the operator.
BetOnline
Another offshore bookmaker that is safe to use for Super Bowl 53 is BetOnline. The betting site not only accepts American players but also treats them well. You can get a huge $2,500 welcome bonus if you decide to join the ranks.
The company is also known for their large variety of markets, including the Prop Bet Builder feature that allows you to create your own bets. It will certainly be available for Super Bowl 53, so you can play with it a bit and use it to find the best bets.
BetOnline is known for its fast payments. The company works with crypto, too, so you can bet on Super Bowl 53 with Bitcoin.
SportsBetting.ag
My third suggestion for a sports betting site where US players are welcome is SportsBetting.ag. The operator is one of the best when it comes to all American leagues, so Super Bowl 53 will be one of the highlights of the year.
The variety of markets should give you plenty of options. If you add the $1,000 welcome bonus and the special Super Bowl 53 promotions that SportsBetting.ag offers each year, there are plenty of reasons to give the bookie a chance.
More Recommended Betting Sites for Super Bowl 53
If you are living in a country that doesn't have as restrictive internet gambling laws as the United States, you are in a great position to bet on Super Bowl 53 online.
You should have access to most bookmakers out there, which means you will find high odds, solid limits, and plenty of exclusive promotions for the event.
My favorite option is Betway, and I can certainly recommend it to you. It's one of the safest online bookmakers available, and the company has a flawless reputation. You can get a nice bonus when you join, and you can expect exclusive Super Bowl 53 deals once the event is near.
Add to that the huge variety of payment options, decent odds, and smooth platform, and you've got a great option all around.
Final Words
As you can see, there are plenty of options to bet online on Super Bowl 53 from the USA. It's natural to be skeptical about the offshore betting sites, but there really is very little to worry about. Just stick to proven names like the ones above, and you will be fine.
Finally, I have two more useful sources of information for you that can help you prepare for Super Bowl 53 and make some money.
You can check our Super Bowl betting strategy guide that will give you a lot of tips on how to find winning bets.
We also will regularly publish predictions and analysis for Super Bowl 53 on our blog. Make sure to follow the category, so you stay in touch with the latest betting markets and odds.