What to Expect from the MLB All-Star Game and Home Run Derby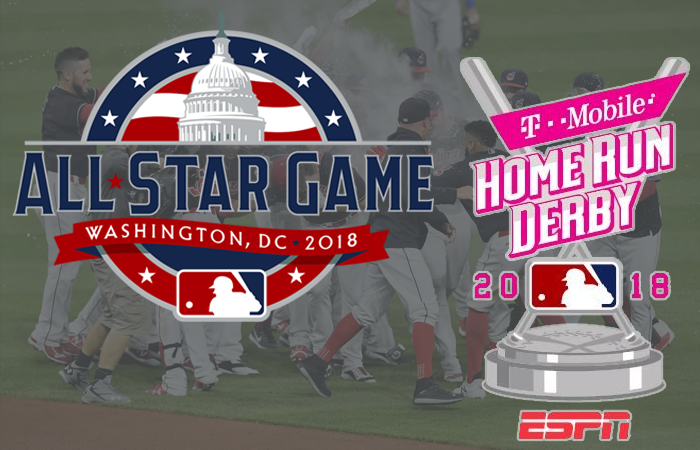 Get ready to buckle up, folks.
Starting tonight at 8:00 pm EST, we're going to see 8 men slug it out to see who will be crowned as the 2018 Home Run Derby champion. All you have to do is tune into ESPN.
You'll be able to see the likes of Bryce Harper and Freddie Freeman smashing balls over the right-field fence at Nationals Park in our nation's capital.
ESPN's own Karl Ravech and Mark Teixeira will be leading the coverage, along with MLB guru Buster Olney, who will be roaming around the field taking interviews as usual.
The action won't slow down in D.C. the next day, either, because on Tuesday, we get treated to the MLB All-Star Game on Fox. I can't wait for these two events to get underway.
I don't want you to have to search around the internet looking for information on who's participating and what the matchups look like. I want to cover everything you need to know right here, on one, organized page.
In this MLB All-Star Game and Home Run Derby preview, I'll start by taking a deep look into what we can expect to see in the Derby tonight. I'll then transition into Tuesday night's festivities, giving you a peek into what each roster will look like and which squad has the advantage.
Are you just a fan of Major League Baseball who plans on soaking it all up today and tomorrow? Or are you a serious sports bettor who is looking for an edge? In either case, this post will be informative.
Let's dive right in and start with the sluggers who will be pounding jacks in just a few hours' time.
The Home Run Derby
Where: Nationals Park, Washington, D.C.
When: Monday, July 16th, 8:00 pm EST
Let's take a quick look at the seeding. The 8 players have been placed in a bracket, featuring head-to-head matchups where the man with the highest HR total advances.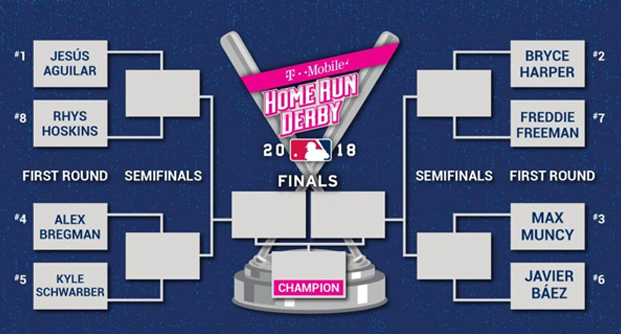 1 – Jesus Aguilar
Jesus Aguilar was a relatively unknown commodity over his first four seasons in the Majors, but boy, has he had his coming-out party in 2018. The Milwaukee first baseman is having a remarkable season for the Brew Crew.
Not only is he batting an electric .307, but he has smashed an NL-high 23 homers and has knocked in 67 batters through his teams' first 93 games.
Jesus might have won the vote to be the final man added onto the NL All-Star roster, but make no mistake about the 28-year-old Venezuelan. Aguilar is a beast from the right side of the plate, and his HR total has earned him the number-one overall seed in tonight's Derby.
2 – Bryce Harper
Fans at Nationals Park will be happy to see one of their own in tonight's Derby, although they'll want to see more from their star right fielder in the second half of the season.
Bryce might be hitting a lackluster .213 on the year, but he has still managed to belt out 22 home runs and is a threat to hit a homer every time he steps in the batter's box.
Perhaps a fun and playful night in front of his home fans is exactly what the Las Vegas native needs to get out of the slump he has found himself in as of late. Maybe it's a single swing of the bat tonight that propels him into an MVP-caliber 2nd half.
I know I'll be watching to see how it plays out.
3- Max Muncy
If you hadn't heard of 27-year-old Max Muncy before the 2018 MLB season began, you'd be in the same boat as almost all fans of the game.
I mean, considering he started the year with a career batting average of .195 over 245 plate appearances for the Oakland Athletics, why would anyone know who this guy was?
A short time later, he's in the record books for being the fastest Dodger to record 20 homers in a season. Dave Roberts has been reaping the rewards of the A's franchise letting this utility infielder go because he has been a blessing for the injury-riddled Dodgers all year long.
He's been running with the opportunity he has been given. I see no reason why he slows down tonight.
4- Alex Bregman
Talk about a talented young player in the Big Leagues; Houston Astros 3b/ss Alex Bregman's ceiling is off the charts. Known for his great awareness at the plate, he plays great defense and runs the base paths well.
Now he has hit as many home runs (19) in 92 games as he did in all of last year over 155 games. It looks like this infielder is going to be a 35+ homer guy, too, and that's just scary when you consider all of his other tools.
His 6', 180-pound frame might not frighten opposing pitchers, but I guarantee you that the pop in his bat does. I'm excited to see what Bregman does on the big stage tonight, because under the bright lights of last year's World Series, he was nothing short of marvelous.
5- Kyle Schwarber
Kyle Schwarber grew up as a standout catcher, but the Cubs organization quickly realized that Kyle's greatest asset was his raw power. That's why they transformed the Ohio native into a power-hitting left fielder.
After blasting 30 homers in just 422 at-bats in 2017, Kyle has sent 17 dingers over the wall so far in 2018 in 259 AB.
The left-handed-hitting outfielder might not a popular pick from the experts' opinions on who takes the cake tonight, but I wouldn't be surprised if Schwarber caught fire and went on a streak.
6- Javier Baez
Kyle Schwarber won't be the only Cub participating tonight, because his teammate and stud 2nd baseman Javier Baez is part of the field.
The 25-year-old who hails from Puerto Rico has always shown promise as an imposing batter but has lacked discipline at the plate. His 86 strikeouts in 88 games is certainly a bit more than skipper Joe Maddon would like to see, but the fact that he has 18 homers and 66 RBI helps smooth things over.
Pitchers can sometimes fool him during regular-season games, but that won't be the case tonight. Javy will know what pitch is coming each and every time, and I expect him to do plenty of damage.
7- Freddie Freeman
The Atlanta Braves first baseman isn't necessarily known for being a long-ball hitter, but don't be confused into thinking that Freddie Freeman lacks power and lacks upside in this competition.
Remember, he is a guy that batted over .300 in 2016 and 2017, and his .313 clip this year means he's right on track. Freddie is patient and draws a boatload of walks, but he'll be able to let the bat loose tonight.
I think of Freeman as one of the premier all-around players in this league, so I'm excited to see how he shows out tonight. Given how uber-talented this guy is, I definitely wouldn't count him out.
8- Rhys Hoskins
Rounding out the 8 contestants in tonight's Home Run Derby is Rhys Hoskins. Just 25 years old and in his second season in the Majors, Rhys has already inked his name on the list of big-time power hitters.
He launched 18 bombs in just 170 at-bats for the Phillies last season, as he didn't even receive his promotion until August 10th! Fans in Philly couldn't wait to see what Hoskins would do during his first full season with the team.
We knew he couldn't keep up his astounding home-run rate he had going last year, but his 14 knockers and 55 "ribbies" so far tell me that he has a long and bright future in this league. Having to face off against Jesus Aguilar in the first round is no easy task, but Rhys pulling the upset is more than a real possibility.
Fans are amped up for tonight, which is why exclusive coverage of the 2018 Home Run Derby has been made available. It's hard to predict a winner, as all of these players are more than capable of hoisting the trophy.
But if you are putting me on the spot, I'll go with the hometown guy. I'll say that Bryce Harper finds a swing thought that clicks, and the dude goes on an absolute tear.
The MLB All-Star Game
Where: Nationals Park, Washington, D.C.
When: Tuesday, July 17th, 8:00 pm EST
Tomorrow night is when we get to see the best players in the American League square off against the best in the National League. If you enjoy watching the superstars of the game compete, you'll love the game tomorrow.
If you can appreciate the best pitchers dueling against the best hitters, make sure you are tuned into FOX at 8:00 pm EST on Tuesday. If you are looking for a full list of the AL and NL Rosters, you can check that out here.
The All-Star Game is a happy time for Major Leaguers, and it's a day that should be celebrated. However, it doesn't mean there weren't some folks who were disappointed and felt disrespected when they didn't hear their name called to be part of the game.
A Few Snubs in the AL
For example, I see Boston Red Sox Andrew Benintendi, and I think I am looking at one of the top 10 overall players in the entire league. He hits for power and average, he steals bases, and he plays stout defense. Certainly, Benintendi can plead his case that he should be in D.C. this week.
On the pitching side, I see Tampa southpaw Blake Snell. I can't help but think that if he was on a team like Boston or New York, he would have been chosen for this team.
His 2.09 ERA leads the American League, and he's already won 12 games. Kind of a head-scratcher to me that he was left off.
Astros pitcher Charlie Morton has the stats to warrant a selection, but he was hurt by the fact that two other starters from Houston (Justin Verlander and Gerrit Cole) already had confirmed roster spots.
NL Story Lines – Contreras Starting over Realmuto?
I don't even want to spend much time here, but it's an absolute shame that J.T. Realmuto isn't starting this game. You can go across the entire board, and you won't find a relevant individual stat that Contreras is beating Realmuto in.
The National League has a ridiculously good roster with talent everywhere, so it's hard to have qualms about certain guys starting and others not making the team at all.
But there is no metric I see that warrants Willson getting the starting nod over J.T.
I guess I can chalk it up to the fact that the interest level in Chicago is far greater than down in Miami.
Contreras might start the game, but there's no debating who has been the top catcher in the Majors this season, let alone the National League.
It's Still Going to Be a Blast
Regardless of a few players not being as thrilled as others, it won't take away from how much fun this game will be for those who are involved. It's a memorable time, especially for those who are experiencing it for the first time.
Fans and spectators are in luck because the coverage will be wide and extensive. All you have to do is watch the game and enjoy the action. Let the players take care of everything else!
Remember
The Home Run Derby and All-Star Game are designed to bring entertainment to the viewers. Fans like yourself are a big reason why these two events take place, so don't forget that.
Sure, the players want to put on a show for their friends and families. Of course, they want to try and impress each other. But they get to do that on a daily and nightly basis from April-September.
Tonight and tomorrow are all about bringing lots of energy and exhilaration into the stadium so that everyone watching has a great time. I know I can't wait to watch these events unfold.
I suggest you set aside some time tonight and tomorrow and do the same!