Hide Bonus Offers
| | | | | |
| --- | --- | --- | --- | --- |
| #1 | Bovada Sports | 50% Up To $250 | Visit Site | Bovada Sports |
| #2 | BetUS | 125% Up To $2,500 | Visit Site | BetUS |
| #3 | MyBookie | 100% Up To $1,000 | Visit Site | MyBookie |
| #4 | Everygame | 100% Up To $500 | Visit Site | Everygame |
| #5 | BetOnline Sports | 60% Up To $1,000 | Visit Site | BetOnline Sports |
What to Expect from Jon Gruden and the Raiders in the NFL 2018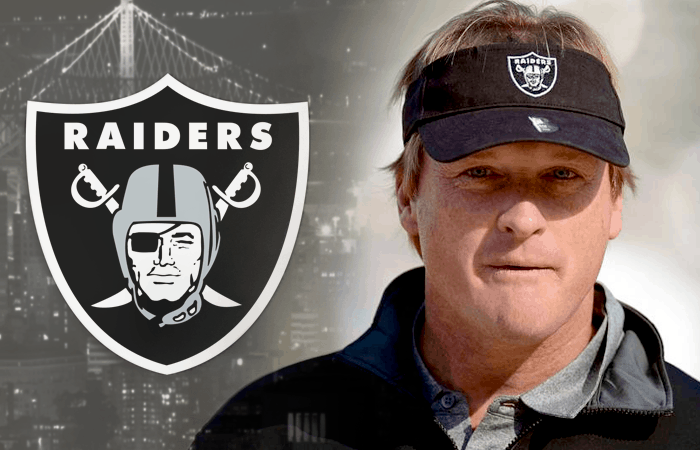 Raider Nation got what they wanted.
While not everyone in Oakland was thrilled when they heard that the Raiders were relocating to Las Vegas in 2020, they sure got excited when Jon Gruden signed on to coach this football team. That, I can promise you.
The future looks bright in Oakland, or Las Vegas, or wherever you want to call home for the Raiders franchise. For now, they'll be playing half of their games in the Oakland Alameda Coliseum, so the fans in the Bay area have plenty to be excited about.
But can the Raiders suddenly leapfrog the Chiefs and Chargers and win the AFC West Division? Does Derek Carr have enough talent and speed around him to lead this team to the Promised Land?
Relax and take a deep breath, because I plan on answering those questions and more in the following sections. I'll give you my perspective on what the upcoming season holds for the Raiders and give you some insight into some of the wagers you can place before the season starts.
Take a quick peek below at the lines on BetOnline and see if any are piquing your interest.
Perhaps after reading the segments on this page, you'll have a clearer picture of the direction that this team is heading in.
To Win the Super Bowl
+3300
Now it's time to dive in! Here's my explanation for what the future holds for this team during their first year under Jon Gruden's watch. Here's what I think will happen.
Derek Carr Must Take the Next Step
Anytime I have heard Raiders HC Jon Gruden speak about Derek Carr, all he does is gush about his 27-year-old quarterback. Part of the reason Jon Gruden was excited about taking the job in Oakland was that of the talent and potential he sees in the team's starting QB.
The former Fresno State signal-caller is entering his 5th season in the NFL and will be working alongside the best supporting cast he's ever had. I'm talking about the combination of skill-position players and the intelligent coaching and tutelage that's now scattered around him.
Some may say that Jordy Nelson's best days are behind him, and they'd probably be accurate. But his leadership and professionalism are going to rub off on Amari Cooper, Martavis Bryant, and the rest of this young wide receiver core.
Quite frankly, Cooper and Bryant have about as much raw skill as any young wideouts in the entire league. They just need a little boost in what it takes to be a consummate professional.
Watching Jordy's work ethic and how he prepares for games should expedite that learning curve for both Amari and Martavis, and I wouldn't be surprised to see the two of them have big years.
Derek doesn't have a three-down back who is going to make the Pro Bowl, and Greg Olson will be serving as a first-year offensive coordinator working with Carr. But let's not forget that this offensive line allowed the third-fewest number of sacks in 2017, and tight end Jared Cook caught a career-high 54 balls in 2017.
I think Derek has more than enough weapons surrounding him to take that next stride towards the upper echelon of NFL quarterbacks. He's not there yet, but a 4,000-yard season with about 35 touchdowns seems like it's in the cards for Carr in 2018.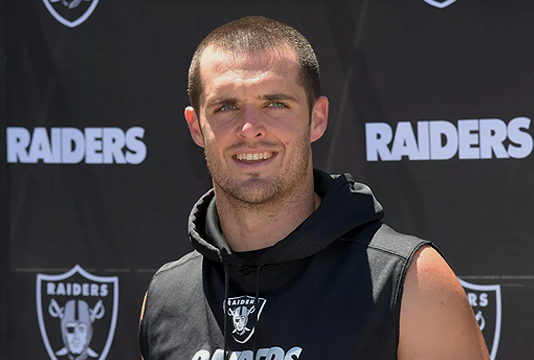 Speaking of the weapons around him, let's take a closer look at exactly who will be utilized in this offense.
Who's Going to Score the Touchdowns?
This is an extremely valid question. After losing Michael Crabtree to the Baltimore Ravens via free agency this offseason, who's going to be the red-zone threat in Oakland? After all, Crabtree hauled in 8 or more touchdown catches in each of his three seasons playing in the black and silver.
I've already alluded to the addition of Jordy Nelson and what I think his leadership will mean to this locker room.
It will be interesting to see how much production they can get on the field from the 33-year-old former Green Bay Packer, but knowing how tough this dude is, I expect him to at least be a reliable target.
Considering that Amari Cooper and Martavis Bryant should command most of the attention on the outside, Jordy actually has a chance to sort of reinvent himself.
Nelson can become a trusty option in the middle of the field for Greg Olson's unit.
Seth Roberts will open the season as the #4 WR, but don't be shocked if the Raiders use the undrafted speedster in most of their third-down packages. I mentioned that Jared Cook is coming off his most productive season as a tight end, so it seems as if Carr as enough pieces around him to put up some points.
So how about the running backs? Who will be shouldering the load in the backfield this year in Oakland?
Running Back by Committee
In 2017, Marshawn Lynch carried the ball 207 times for 891 yards and 7 touchdowns. I don't suspect that the 32-year-old native of Oakland will see 200 touches this year, as I fully expect Gruden to rotate 4 running backs on a fairly consistent basis.
Lynch figures to see the bulk of the work on 1st and 2nd down, but Tampa Bay transplant Doug Martin wasn't brought in just to hold a clipboard on the sidelines.
Also a native of the Oakland area, look for Martin to split the work on 1st and 2nd downs with Lynch, while another duo should handle the RB duties in passing situations.
DeAndre Washington saw some of the touches last year, but it was really Jalen Richard who excelled when given the opportunity. Jalen averaged 4.9 yards per carry (YPC) and also pulled in 27 catches for 256 yards in 2017, far more productive than Washington, who struggled in a similar sample size.
Marshawn Lynch and Doug Martin are receiving most of the attention in the preseason, but I actually think it will be Richard who winds up being the most effective running back for this team.
Watch for Carr and the Raiders to pull Richard "out of their back pocket" and unleash him when the time is right.
The Defense Needs Work
I haven't had the chance to pick apart the Raiders defense, but unfortunately, I'm a bit nervous that they'll be the side of the ball that holds this team back from getting to where they want to go.
Defensive end Khalil Mack is arguably the single-best defender we have in this league; it's just that he has very little help around him to rush the quarterback.
They brought in Derrick Johnson from divisional foe Kansas City, but at 35 years of age, it's a bit unrealistic to expect him to be the dominant middle linebacker he was during his heyday.
When you get to the back level of this defense, that's where the real concerns come pouring in.
For a team that gave up the 26th-most passing yards per contest in 2017, I'm a bit alarmed that they waited until their 5th pick in the draft to address their needs in the defensive backfield.
In fact, Wisconsin cornerback Nick Nelson (110th overall) was the only cornerback or safety that the Raiders drafted this past April. If I told you that I think other teams will struggle to throw the ball for big chunks against this Raiders defense, I'd be lying to you.
I don't want to do that.
Paul Guenther was handpicked by Jon Gruden and will be acting as a defensive coordinator for the first time in his career.
Sorry, Paul, but I think you are going to have your hands full during your first season. Be prepared to see Gruden get upset and raise his voice because teams are going to have a field day attacking these defensive backs down the field.
So How Does This Season End for the Raiders?
When you add all this up, what does it all mean? What does the future hold for Jon Gruden's team in 2018?
In terms of the bets you can make, I certainly wouldn't endorse wagering on this team to win the AFC Conference, let alone the Super Bowl in February. There is just too much work that needs to be done and too many problems that need to be ironed out. Plus, there's that quarterback in New England who's pretty good at leading his team to the big game.
Taking a flier on this squad to win the AFC West at +300 still has some merit to it.
Kansas City has a brand-new QB and lost a bunch of key contributors on their defense. The Chargers are the favorites, but we all know that Philip Rivers' team likes to shoot themselves in the foot when they have a golden opportunity to advance.
The Denver Broncos made a significant upgrade at the quarterback position, but Vance Joseph doesn't have this team anywhere close to being relevant in the AFC just yet.
So, you see? The Raiders winning this division isn't entirely out of the question, and in reality, it may be a pretty reasonable wager to place.
Heck, if you like their chances of winning the AFC West, then surely you won't mind laying -130 that this team wins more than 8 games.
Me, personally?
It's hard to predict, but I think that this team can get to 9-7, quite possibly even 10-6. I don't have enough faith in their defense to bank on them advancing in the playoffs, but I see this team scoring plenty of points.
It will take some time, but it won't take an eternity for Jon Gruden's regime to be fully implemented. When that happens, I see this improving significantly from their 6-10 mark a season ago.
A Brief Recap
So there you have it. The Jack Del Rio tenure is over, and it's time to welcome Jon Gruden back into the NFL coaching circle. Gruden lured longtime Packers Director of Player Personnel Reggie McKenzie to help shape the roster in Oakland, and so far, things are going according to plan.
Acquisitions like Jordy Nelson and Derrick Johnson tell me that bringing in veteran leadership on both sides of the ball was a priority for this team. They've beefed up their offensive line and added depth all over the lot.
The Raiders recently even inked well-known commentator Brent Musburger to be the "voice of the Raiders" for the next three years.
To say the future is bright in Oakland (and Las Vegas) would be an understatement, but it doesn't mean it all comes together right away in 2018.
Don't expect to see this team playing in Atlanta come February, but every indication points to this team getting substantially better in 2018.
Who knows? By the time they arrive in my hometown of Las Vegas, Nevada, they might be primed and ready for a legitimate run at the Super Bowl.
Only time will tell, but I know I'll patiently be waiting to see how it all pans out!