Hide Bonus Offers
| | | | | |
| --- | --- | --- | --- | --- |
| #1 | Bovada Sports | 50% Up To $250 | Visit Site | Bovada Sports |
| #2 | BetUS | 125% Up To $2,500 | Visit Site | BetUS |
| #3 | MyBookie | 100% Up To $1,000 | Visit Site | MyBookie |
| #4 | Everygame | 100% Up To $500 | Visit Site | Everygame |
| #5 | BetOnline Sports | 60% Up To $1,000 | Visit Site | BetOnline Sports |
What Every NBA Eastern Conference Team Needs to Do to Get Better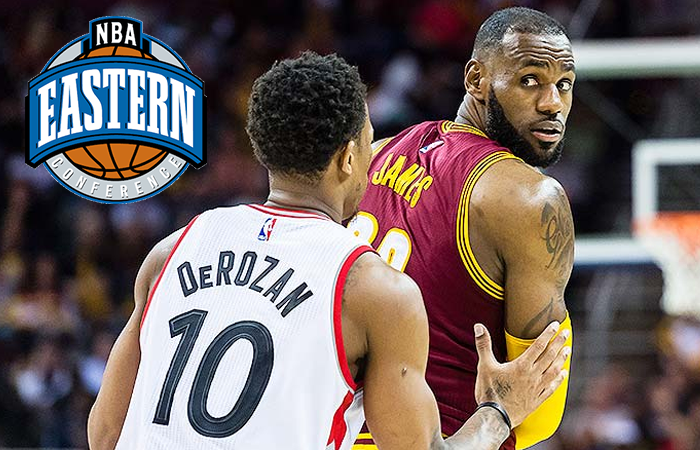 We still have a ways to go in the 2017 NBA Playoffs, but in just a couple of days we could know who the final four teams are that could be competing to go to this year's NBA Finals. It's almost certainly another Cavs vs. Warriors NBA Finals, too, so for pretty much all of the other 28 NBA squads, it's back to the drawing board.
That drawing board is a little more extensive for some, and part of the short-term plan is actually built into a long-term plan. NBA franchises always seem to have an idea of who they want and where they'd like to go, but only one team can win each year and if you make the wrong moves, you only fall further away from being the one that makes it to the promised land.
It's not easy, but every team can get a little bit closer if they make the right moves during the offseason. Whether it's short-term or long-term, free agency, the draft or trades, we've got the big moves every team in the Eastern Conference needs to make before next season rolls around:
Atlanta Hawks
The Hawks remain a competitive team in the Eastern Conference and could be better next year if they make the right moves. Dennis Schroder progressed as the starting point guard this year and the team has some nice young talent to work with, but big man Dwight Howard wasn't a snug fit in his first season with the team and versatile power forward Paul Millsap could opt out of his current deal.
If the Hawks are rolling with Howard, they need to convince him to be more of a DeAndre Jordan-style player and get further away from his former superstar mentality. He should dominate the glass and be a difference-maker defensively, but he only does so in spurts.
If Atlanta can do that, they have two key moves to make from there; keep Millsap and bring in a go-to wing scorer that doesn't mind defending. They have a few already, but guys like Kent Bazemore should be role players and not nightly stars. Someone like Tyreke Evans could be a value pickup if he can stay healthy.

Key Moves:
Change Dwight
Keep Millsap
Land Scorer
None of this for sure means the Hawks can morph into a title contender, but they're already solid. Their bread and butter needs to be a defense that starts with Howard being a true enforcer, Millsap needs to commit for the long haul and they need another guy to make their offense more stable. They still won't be a title threat, but they'll be closer than they are now.
Brooklyn Nets
There is no quick change to make the Nets even a hopeful playoff contender going into next season. A healthy Jeremy Lin provided a big boost for this team late in the year and they can run the floor and put up points, but this roster doesn't have the talent to do so consistently. This team also was garbage defensively and doesn't have the bodies in the right spots yet to change that.
With the Eastern Conference only getting better, the Nets are probably 2-3 years from hoping to climb back up the mountain. They mortgaged their future for failed acquisitions of numerous veterans years ago and they're finally paying the price for those silly moves.
The good news is Brooklyn has been slowly rebuilding with some solid young talent in Caris LeVert, Sean Kilpatrick, Rondae Hollis-Jefferson and Isaiah Whitehead. Whether any of it develops into something special, only time will tell, but the Nets could already have some building blocks on their roster.
Brooklyn also won't be losing anything that is out of their control in free agency, as just Randy Foye is set to come off the books. Sticking with Lin and Lopez as their top offensive players is probably a fine play, but at some point the Nets will want to ship Lopez out of town. They've turned the big man into a perimeter player and he's just wasting away on a losing club. Brooklyn should get rid of him, as he's their only real trade chip.
They can continue their rebuild from there, while they should also hand more minutes to their young players from the get go. RHJ leads the way in that grouping, as he has immense upside. It also probably wouldn't be a bad idea to go out and get a young player with some promise. Otto Porter, Nikola Mirotic and Alex Len are all interesting restricted free agents Brooklyn could try to lure into town. If the Nets are going to keep playing this run and gun style, they might as well add a wing or big that can help them do it. Porter can defend and hit the outside shot, Mirotic is a versatile scorer and Len is a talented big man just wasting away in Phoenix.

Key Moves:
Trade Lopez
Play Young Prospects
Land a Young Scorer
The Nets have to focus on not making huge mistakes and simply getting better. They can use Lin and Lopez temporarily for that, but eventually both will need to go and the youth needs to play more. If the Nets mature along the way, maybe they'll win more than they did a year ago. It'd take a bunch of crazy moves for anything more, though, and it's not yet worth the risk for a franchise that has correctly assessed they are nowhere near contending at the moment.
Boston Celtics
From a situation of sheer horror, we go to Boston, who currently are in the driver's seat to get to the Eastern Conference Finals. Odds are Boston won't get the the NBA Finals, though, so just like everyone else, they might have 1-2 more things to do if they want to take the next step.
Their next step is getting past the Cavs, so they probably need a second high level scorer to pair with Isaiah Thomas, while they also need to find a way to rebound and defend better. Jae Crowder, Marcus Smart and Avery Bradley can help slow down LeBron James and Kyrie Irving, while Crowder could even slide over and stifle Kevin Love. Boston gives up size when they roll with a lineup that has all three of those guys in it, however, so they might want to dream up a different option.
That may or may not involve landing a marquee superstar, such as Carmelo Anthony, Paul George or Jimmy Butler. Even Gordon Hayward would suffice, as they really just need a second go-to scorer that can also defend. To us, that takes Melo off the table. He's the oldest of these options and he's an ISO scorer that is really going to make Boston better offensively.
The play here is to trade for Jimmy Butler and give up as little as possible. One of Bradley, Crowder or Smart would surely have to go, though, while Boston could part with some picks and maybe someone like Jaylen Brown. It'd be worth it to land Butler, who is otherwise just wasting his best years on a bad Bulls team.
If that doesn't do the trick for the Celtics, they probably can't get past the Cavs. They should also dangle their 2017 NBA Draft pick (or whoever they take), as they're in a win-now position. Adding more size for rebounding and defense is necessary, too, so the Celtics should either retain guys like Amir Johnson, Kelly Olynyk and Jonas Jerebko or let them walk and pay up for someone like Serge Ibaka or keep an eye out for other defensive-minded stretch fours that could opt out (Millsap is another).

Key Moves:
Trade For Jimmy Butler
Keep Core Intact
Sign Serge Ibaka
This is a viable title contender right now if things break just right, but Boston is missing that second go-to guy that teams need to worry about. Adding Butler and bringing in extra size via someone like Ibaka would remake the Celtics into, quite possibly, sudden favorites out of the Eastern Conference.
Charlotte Hornets
The Hornets seemed like a viable playoff contender going into last season, but proved to be too inconsistent and fell back out of the playoff picture. They still have a solid roster with some nice pieces, though, and are led by a clutch performer in Kemba Walker.
Walker looks like he's turned into a borderline superstar at this point, so the main objectives will be solidifying the wings and making the Hornets a little more consistent down low. It's tough to know which path to take, as the Hornets have a collection of talented bigs in Marvin Williams, Frank Kaminsky and Cody Zeller, but none of them are consistent enough to trust on a regular basis.
This remains a very streak team and the only way to change that is to bring in another stud scorer and put emphasis on defense elsewhere. Kaminsky, Jeremy Lamb and Marco Belinelli provide solid sparks off the bench, which leaves the big problem in the starting five. The biggest issue might be the ever changing status of former lottery pick Michael Kidd-Gilchrist, who is an ace defender and can attack the rim, but does not have a reliable jumper.
Do the Hornets stand pat, or should they attack in free agency and seek a more stable option next to Walker and Nicolas Batum? If they choose the latter, they could go after guys like J.J. Redick, Otto Porter or P.J. Tucker. All three provide a nice set outside shot and can also defend. The best option could be Porter, who would be a huge steal from the Wizards as a restricted free agent.
The other big move could be to flat out upgrade at center, where nobody has stepped up and claimed that territory yet. Charlotte could be fine if they stand pat there, but it might make some sense to go after an offensive upgrade like Jahlil Okafor or Greg Monroe in a trade.

Key Moves:
Get/Stay Healthy
Add Wing Help
Search For Offensive Big
Considering where the Hornets are now, I'm not sure there is a quick fix to move them from fringe playoff contender to a legit title threat. They were in the playoffs two years ago, though, and ended up regressing due to a slew of nagging injuries to key players.
They can stabilize what they already have, though, and getting some outside help on the wing and down low can make up for the inconsistency they currently deal with on their roster. That won't make them a viable NBA Finals bet, but it could get them back into the playoffs next year.
Chicago Bulls
The Bulls are a weird team to gauge, as they benched Rajon Rondo in the middle of the year and looked like they were about to go off the rails. They rebounded, however, and Rondo eventually got back to playing pretty good basketball. A thumb injury ended his season after the Bulls took a 2-0 lead in their playoff series with the Celtics.
While Chicago wasn't a total waste this year, they were pretty close to being an utter disaster due to a lack of shooting and overall erratic play. The team simply has very little offense beyond Jimmy Butler and Dwyane Wade and after trading away Doug McDermott and Taj Gibson, they've taken a step back in the depth department, as well.
The fact that the Bulls made the playoffs could keep Wade in town, but he might opt out (and probably should) and Rondo is in limbo as the Bulls mull whether or not to buy him out. It sounds like for now he'll stick, so the only key player Chicago would have to work to hold onto is Nikola Mirotic (RFA). The Bulls can keep all of their main players if they want to, but that'd mean they think they can compete at a high level. As they stand, that simply isn't true.
To really improve, the Bulls need Bobby Portis to step up and be a key player and they'd need to bring in 2-3 shooters. They can do that in the draft (Luke Kennard comes to mind), but for a team trying to win now, that won't do. Instead, Chicago may want to consider going after the likes of J.J. Redick, P.J. Tucker, Otto Porter and others. They need shooters and they need wing defenders and if they can get one or two of those guys, that would have to be seen as progress.
There isn't long-term sustainability with how the Bulls are currently constructed, however. What they should really do is signal to Wade he should move on, buy Rondo out and trade Jimmy Butler for whatever they can get. The reality is the Bulls barely made the playoffs last year and they aren't close to the Cavs. They need to start the rebuilding process, pronto.

Key Moves:
Trade Jimmy
Ditch Rondo
Retain Mirotic
Any Jimmy Butler trade would be a good get for the Bulls, as it'd bring back some high level picks and a couple of useful players. A trade with the Celtics, for instance, could include as high as the top pick in the 2017 NBA Draft and guys like Jae Crowder and/or Marcus Smart. Those would be two starters if they came to Chicago in that trade, while the top pick could be Lonzo Ball or Markelle Fultz, both much more tantalizing long-term point guard options the Bulls haven't had since Derrick Rose was healthy.
Unless the Bulls actually think they can get some extra shooters and rally the troops to produce a better season, this is their best bet. If they unload Butler, they'll get a bunch of useful assets, while also shedding Rondo and Wade. Maybe they'll even deal Robin Lopez and open up more playing time for Bobby Portis. The point is the Bulls either need to go hard at improving their flaws or mail it in with a huge splash. I vote for said splash.
Cleveland Cavaliers
We needn't waste much time on the Cavs, who have cruised to an 8-0 roll to this point in the playoffs and feel like locks to get back to the NBA Finals for the third year in a row. They're probably winning, too, but no matter what happens to close out the playoffs, Cleveland still has LeBron James and will be back here again next year.
James remains a top three player in the league and he gets a ton of help from Kyrie Irving and Kevin Love, who due to the high level of success, aren't going anywhere. The Big 3 will stay on for at least one more season, leaving the Cavs to deal with low level decisions that ultimately probably won't impact another title run that much.
That being said, Cleveland will probably lose Richard Jefferson to retirement, while the likes of Kyle Korver, Deron Williams and Derrick Williams could all depart as free agents. That's almost a lock if the Cavs win, as these players will take their rings and try to finish their careers earning more dollars with a better role in another town.
Naturally, Cleveland either will need to talk some of these guys into sticking around Ohio, or they'll have to get other solid role players on the cheap. Big names like Taj Gibson, P.J. Tucker, J.J. Redick, Nene Hilario and Brandon Jennings are just a few that could make sense as viable replacements for those departing role players.
Cleveland is otherwise set and doesn't really need to bring in another big scorer. They have plenty of ammunition as they stand, so they either need to keep their bench guys from leaving or find eager title-seekers to take their spots. Odds are they'll have better luck with the latter.

Key Moves:
Retain Role Players
Sign Title-Seekers
There isn't much more that can be done. The Cavs have a locked and loaded starting five and depending on who sticks around, may not have that much work to do on their bench. Veterans who see the writing on the wall always spend their final years hunting a ring, anyways, so there could be other big names that pop up on Cleveland's radar even after next season starts.
Detroit Pistons
Detroit went from an up and coming playoff contender a year ago to an inconsistent team that missed the playoffs this season. The Pistons could not for the life of them get consistent production out of center Andre Drummond, while Reggie Jackson all too often proved to be an inefficient black hole at the point guard position.
As a whole, the Pistons have loads of length and athleticism, which allows them to matchup and defend anyone. Unfortunately, virtually everyone they have is streaky offensively and nobody can group together to get wins consistently on the road.
A major culture change wouldn't be a terrible idea, but the Pistons have a good head coach and have some nice pieces. They could use a more conventional point guard and going further away from Drummond being a center piece in their offense is likely the right move. That may lead to trade rumors involving both players and if the price is right, I say go for it.
Drummond can still be salvaged, but Jackson isn't as good as he thinks he is and he doesn't make this team better. Drummond at least can feast on the glass and score inside, while he has the size and strength to be an asset defensively eventually.

Key Moves:
Trade Jackson
Field Drums Offers
Sign Hill & Redick
Ideally, the Pistons unload Jackson and find a suitable replacement, while they also bring in a reliable shooter to make up for all the streaky options they currently have. They also should make sure they hold onto Kentavious Caldwell-Pope, who is erratic, but defends well and has a lot of upside as a scorer. Going out and getting guys like George Hill and J.J. Redick could really stabilize this offense and moves like that alone could get the Pistons back to the playoffs. The rest hangs on the continued development of guys like Marcus Morris, Tobias Harris and of course Drummond.
Indiana Pacers
Indy is another team that can't be sure of their future, as they made big moves last summer and really still got nowhere. Paul George remains a high level star, but additions in Jeff Teague and Thaddeus Young couldn't put this roster over the top. The Pacers did improve offensively and they held their own in round one with the Cavs, but they got swept because they still can't defend.
Bringing back Lance Stephenson actually could be a great move, but Indy has some work to do. Keeping Jeff Teague would be a good start, as he was inconsistent but still a huge get for the Pacers. Thaddeus Young never had a role offensively and feels rather expendable, however, while Monta Ellis doesn't make much sense on this roster anymore.
For the most part, the Pacers need to make a decision on PG-13. Can they lock him up to a long-term deal and make the right moves to rise up to compete with the Cavs? If so, great. If not, they need to trade him now and start over. They could still bring back Teague, unload Young and start building around quality two-way big man, Myles Turner.

Key Moves:
Re-sign Teague
Lock up PG-13
Add a two-way wing
I don't think the Pacers have to be done on Paul George. They just need to show him they're serious about winning. Stephenson coming back should help this team defensively going forward, but they probably need one more guy who can rotate in off the bench and both shoot and defend. The same guys keep popping up, and they are Porter, Tucker and Redick.
Indy also needs to make sure they don't take a step back at point guard, so they need to make sure Teague sticks in town. Beyond that, George needs to be locked up and Turner needs to take another step in his development. If that all happens, Indy should be better going into next season and suddenly could possibly be a mild problem for the Cavs.
Miami Heat
The Miami Heat are a tough team to project, as injuries really kept them from doing anything special last year. They looked like a resilient team all year and made a strong playoff push, but ultimately didn't have enough bodies or strength to get over the hump.
That could be a sign the Heat need to get rid of some of their veterans and rebuild, or that they're on the verge of being on to something. Goran Dragic and Hassan Whiteside formed a nice 1-2 punch, so the latter might not be crazy.
Dragic remains a very solid two-way lead guard and when healthy, the Heat have a stable of quality wing players in Tyler Johnson, Josh Richardson, Justise Winslow and Dion Waiters. They still don't have a reliable power forward to pair with Hassan Whiteside, however, while Whiteside himself seems to run with an inconsistent motor.
If Miami is going to make any actual noise, they need to tap into Whiteside's dark side more often, stay healthy and finally replace Chris Bosh. Adding another go-to scorer wouldn't be a bad idea, either, as guys like TJ, Waiters and Richardson could all arguably be better served coming off the bench on a regular basis.

Key Moves:
Move on From Chris Bosh
Get/Stay Healthy
Sign go-to scorer
Moving on from Chris Bosh is a must, and whether that just means they keep James Johnson (set to be a free agent) or spend up for someone like Serge Ibaka, it may not really matter. That move could solve their "go-to scorer" issue, but if it doesn't, perhaps someone like Tyreke Evans could be of interest to them.
Miami just needs to space out so they can freely operate on offense and defend at a high level. The return of Winslow could help that process in a big way, but that really remains to be determined. If the Heat return to full strength and are a more stable unit next year, they could again vie for the playoffs.
Milwaukee Bucks
The Milwaukee Bucks rose back up to respectability during the 2016-17 NBA season, overcoming numerous obstacles along the way. The Deer began the season without top shooter Khris Middleton and overcame their lack of outside prowess by attacking teams with efficient scoring via Jabari Parker and Giannis Antetokounmpo.
Milwaukee was starting to look like a real team to be reckoned with once Middleton returned, but got dealt quite the blow when Parker suffered his second torn ACL of his young career. Milwaukee kept trucking on, made the playoffs and even stole two games in a first round loss to the Toronto Raptors. Over the course of the season, we saw this team's resolve and depth in action, potentially paving the way for a very bright future.
The Bucks still have some serious issues to address. For one, they need to move forward as if Parker won't be back or won't be exactly the same player when he returns. That doesn't mean he can't be a key piece for them again as soon as next season, but leaning hard on him from this point on could be a grave mistake and end up crippling this team.
The Greek Freak officially arrived last year, but Antetokounmpo has to keep evolving his game. In the playoffs Toronto easily stopped him late in games by taking away his drive, so his shot needs to become much more reliable from the top of the key and beyond. On top of that, the Bucks need to get stronger down low defensively and pick up 1-2 extra shooters on offense.
Bypassing free agent Tony Snell for an established outside shooter might be advised, while veteran Jason Terry doesn't need to come back. Michael Beasley was a solid scorer off the bench, but if the Bucks can get someone who can give them maximum effort at both ends, replacing him might be the better call.
Overall, Milwaukee would do themselves a big favor by landing a true point guard, extra shooters and a defensive big. To get there, they might want to trade away Greg Monroe and look to the draft and free agency.

Key Moves:
Don't Count on Jabari
Sign Jeff Teague
Trade Greg Monroe
Sign Otto Porter
This is the first four-pack in our look at the Eastern Conference, as the first one addresses the dark cloud of Jabari Parker. He's a strong player and has a bright future if he can get/stay healthy, but the Bucks can't allow him to hold their roster hostage. He should be brought along slowly and probably won't even start playing restricted minutes until after the All-Star break. Because of that, Milwaukee needs to go into the new season preparing as if he never comes back at all.
Bringing in a strong veteran point guard like Teague would fulfill a wish of Jason Kidd's that he's had basically since he arrived in Mil-town. Antetokounmpo runs a lot of the offense and Malcolm Brogdon proved he can be effective in that role, but Brogdon might be best served as a role player and The Greek Freak can't have the ball in his hands all the time. Teague would bring needed shooting, creation and composure to the position that the Bucks really haven't had in years.
Moose remains a very effective interior offensive player, but he's not an asset defensively and costs a lot of money. I don't see how another team wants him for the cash he's owned, but if the Bucks can find a taker, they certainly should.
Otto Porter isn't the only wing player the Bucks could add, but he has to be the type of player they go after. Tony Snell is a super poor version of what Porter is, and that's a guy who knows his role, can knock down spot up three's and will defend. Bringing back Snell isn't an awful move, but Porter provides far more upside. Besides, it'd be quite a double-edged move to land Porter and also steal him away from the Wizards.
Milwaukee is on the rise with a ton of young talent and coaching, but if they make some of these moves, they may have a chance to win a series or two come playoff time next year.
New York Knicks
New York has one of the most obvious offseasons of anyone ahead of them. They need to simply look to the future, not overly worry about the playoffs and shed bad contracts. Kristaps Porzingis and Phil Jackson can be babies about how they handle meetings or how they view the long scope for this team, but the reality is Zinger shouldn't be going anywhere and Jackson tried to build a faux title contender with the wrong pieces way too quickly last year.
Jackson drafted Porzingis two years ago and that move looks brilliant now, but he's since added Derrick Rose and Joakim Noah and hasn't managed to turn Carmelo Anthony into anything more than the ISO scorer he's always been. That led to another losing season and has changes around the corner – as it should.
Melo is trying to play God in NYC thanks to still holding power via his No Trade Clause, but even he has to know this marriage doesn't work anymore. I suspect he'll give the Knicks the power to deal him to a team of his choosing this summer, and from there the Knicks can start working their way back to relevancy.
Anthony has to go first, while retaining Rose probably isn't a realistic option and Noah's woeful contract has to be shed in any way possible. The latter is going to be quite the feat, but one way or another Noah needs to be off the books or at least off the court so he's not holding back New York's solid young duo down low.
New York does have some nice young pieces in Chasson Randle, Ron Baker and Willy Hernangomez, but the idea here is to keep drafting and build around Porzingis or try to attract a big free agent or two.

Key Moves:
Trade Melo
Jettison Rose
Keep Adding Youth
The nice thing is, depending on where Melo gets traded, a lot of New York's problems could get solved in one deal. Melo won't bring back as much as he did when Denver traded him away years ago, but a player and a couple of picks certainly is doable.
Ditching Rose isn't a complete must, but he doesn't shoot well outside, isn't a good defender and has an awful injury history. He is simply not a good investment, across the board, and it might make more sense to draft a point guard and have him compete with Randle and Baker.
Getting more youth in general will help this team grow, and if the right free agent comes along and wants to sign, all the better. I don't see any huge free agents latching on with the Knicks until Melo gets dealt, though, so the Knicks may have to talk Porzingis into embracing the rebuilding process for a couple more years.
Orlando Magic
The Magic are in quite the mess, as they were stacked with young talent all over the place just a year ago, and suddenly they are down Victor Oladipo, Serge Ibaka, Ersan Ilyasova, Tobias Harris and Brandon Jennings. On top of that, they could lose Jodie Meeks and Jeff Green this summer to free agency.
Step one should probably be letting those guys go, as Meeks was never healthy and Green was never a fit that made much sense. For a team that hasn't been a realistic playoff contender and seems to be constantly stuck in a rebuild, the Magic need to simply stick to a plan and move on.
Starting with the main unit, the Magic need to decide if they're backing Elfrid Payton or not. They've been back and forth on him for his entire career and while he can't shoot or defend at a high level, actually supporting him might help him become a better player. He's still young and has a versatile skill-set, so I'm not against riding out his contract and seeing if he develops.
Orlando is fine elsewhere, as Evan Fournier is a fine two or three, Aaron Gordon is a versatile three or four and Nikola Vucevic is a solid starter. Nobody on this team can defend, so that's a problem the coaching staff will have to deal with. After all, would-be quick fixes in Ibaka and Bismack Biyombo didn't work, so they might have to just (gasp!) try to train these elite athletes into becoming better on ball defenders.
They could also blow the whole thing up and see what they can get for Payton. That's an option, but what could be better is simply keeping Terrence Ross at the three and rolling with this starting unit. Given time, it could have enough offensive upside to work. The defense will remain a problem and this roster lacks bench scoring, but this starting five isn't a terrible start. Nobody is coming to save the Magic in free agency, though, so Orlando either needs to make it worth with this unit or start making some big trades with their young talent.

Key Moves:
Back Elfrid
Maintain Continuity
Add Bench Scorers
You can certainly make an argument that Elfrid Payton won't ever be the star point guard he was hyped up to be coming out of college, but Orlando's success does start and end with him. If he can improve his jumper and turn into a passable defender, the rest of this unit could follow suit.
Orlando isn't going anywhere if they can't defend or get some shooters off the bench, though, and that all falls on the GM and coaching staff. They could vie for a playoff spot if they could maintain some cohesion, but even if things break just right, this still feels like a roster stuck in limbo after a slew of poor decisions.
Philadelphia 76ers
Few teams are in as nice of a spot as the Sixers, as their years of losing finally paid off last season. Joel Embiid suffered another injury (this time to his knee), but he was a total revelation and he will be ready to rock next year. At some point, he'll be off of a minutes limit, too, and it's pretty clear the sky's the limit for him and these 76ers when that happens.
Even better, is Ben Simmons will finally hit the court next year after missing his entire rookie season with a foot injury. Philly was wise to play it safe, as Simmons already lacked shooting touch and was young to begin with, so a year on the bench could allow for a very productive first NBA tour.
The Sixers have loads of usable talent elsewhere, too, as Timothe Luwawu, Robert Covington, Richaun Holmes and of course Dario Saric all proved mighty useful last year. This team is deep, balanced and riddled with talent across the board, which leaves on huge problem; finding the right role for everyone.
Philly does have a clear dilemma: precisely how to use Ben Simmons and who to start at the traditional point guard slot. T.J. McConnell was fine as the starter for a bad team, but for a Sixers team that could quickly improve and vie for a playoff spot in the near future, upgrading over him might be a must. Recent word that hometown product Kyle Lowry could head to the Sixers raises the eyebrow and makes you wonder just how quickly the 76ers could become relevant again.

Key Moves:
Unleash Embiid
Define Roles
Add Veteran Star
This team is going to be better next year simply based on maturation. Embiid, Saric and Simmons alone are a nasty trio and they will only get better as the games go on. Provided they all stay healthy and Philly can assign clear, defined roles, they all should thrive and feed off each other.
On top of that, adding one more star player to help balance things out could be a good move. It doesn't have to be Kyle Lowry, but it may be ideal for it to be a true point guard, just in case Simmons' transition to that position doesn't go as planned. Regardless, this team is stacked with talent and is already on the rise. If they merely stay the course, they'll be better next year and could be ready for a return trip to the playoffs.
Toronto Raptors
The Raptors were in the Eastern Conference Finals last year and won a series this year, but for all their efforts, they still can't figure out the Cleveland Cavaliers. They had virtually the same exact team they did a year ago, plus Serge Ibaka and P.J. Tucker, and they actually ended up getting swept by their arch nemesis.
The problem for Toronto will be deciding whether or not the team has hit a wall that can't break through, or if one more big move could put them over the top. Perhaps staying the course and retaining Tucker and Ibaka is the answer, plus a culture shift at the head coaching spot?
The options seem unlimited, but Kyle Lowry is scheduled to hit free agency along with Ibaka and Tucker and what those players decide could put Toronto in a considerable bind.

Key Moves:
Retain Lowry
Retain Ibaka
Head Coaching Change
Right off the bat, Toronto isn't going to get any better by losing quality players. Lowry has to return to balance out DeMar DeRozan and Ibaka has to be their answer to their long lasting power forward problems.
Those two staying in town completes a formidable starting five, leaving small forward to be figured out. DeMarre Carroll regressed, but Norman Powell could ascend to the starting five or P.J. Tucker could be brought back.
None of this really matters if the Raptors keep moving forward with predictable ISO ball, however. Their style works well enough during the regular season, but it helps defenses stop them in the playoffs and isn't championship material.
A coaching change might be best in the end, as Toronto needs to get more imaginative offensively, while also strengthening their defense. Who that coach ends up being is anyone's guess, but it'd be kind of hilarious if David Blatt ended up being the guy to get Toronto past Cleveland.
Washington Wizards
Last, but certainly not least, we have the Wizards. Washington probably won't beat the Celtics in their second round series, but John Wall and co. have been awesome all year and only have a few things to address to get even better.
Wall and Bradley Beal are phenomenal. They both can score at will and work perfectly with each other. The only thing you could ask is for Wall to keep getting better as a perimeter shooter and for both to raise their defensive intensity. Other than that, these guys are stars and they're why the Wiz actually aren't that far away from thinking about a run to the NBA Finals.
A few things are holding Washington back, however: porous defense, inconsistent effort down low and a shaky bench. The Wizards just don't defend very well as a team, even though individually they have some pretty good on ball defenders. They have the size, length and athleticism to be better defensively, though, so that could be more of a process than a lack of ability.
Down low, Washington needs to simply be more consistent. Markieff Morris can be nasty and both Ian Mahinmi and Marcin Gortat can defend when they want to. Collectively, this unit simply needs to be more cohesive and less erratic, overall.
The other big issue is a lack of reliable scoring off the bench. Washington traded for Bojan Bogdanovic and signed Brandon Jennings, but only Bojan is truly reliable and he alone isn't enough. The Wizards could use a better backup point guard and another shooter. Kelly Oubre has shown signs of life, but until he steps up on a consistent basis, this remains an issue for the Wiz.

Key Moves:
Keep Otto
Bring Back Bojan
Add Scoring
Otto Porter is an underrated asset in D.C., as he can defend and hit the open three ball. He's a restricted free agent and must be retained. In addition, Bogdanovic and Jennings are both free agents. I'd let Jennings go and find a more suitable backup point guard like Shaun Livingston, Deron Williams or Raymond Felton.
Bogdanovic can be replaced, but he provided a nice spark and was really a stud in the second unit. He can start in a pinch and really carry the offense on an off night. He's probably necessary – or at least someone like him – for the Wiz to take things to the next level. He alone won't do, however. Washington needs to keep him and Porter and bring in another shooter.
The real issue is Washington is great offensively with their starting five, but that unit carries most of the workload and then tires out to the point where they can't get defensive stops or lose effectiveness. Adding bench scoring could help both of their most troubling issues.