Westworld: 7 Actors We Would Love to See on HBO's Hit Show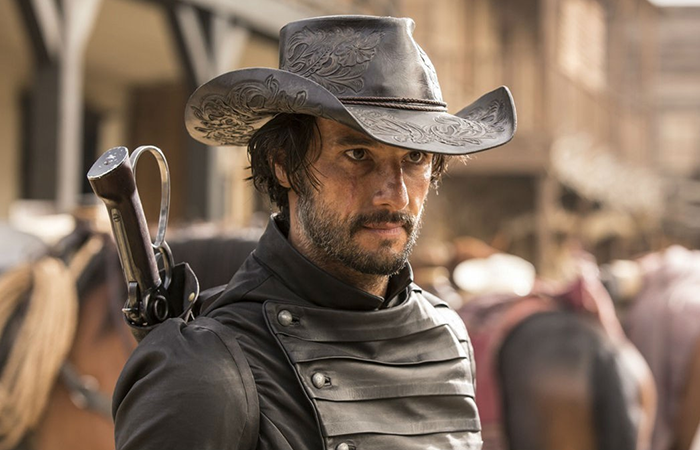 Very few things beat a truly engrossing television show that keeps you guessing and keeps you coming back for more. People who saw great, iconic shows like Lost, Breaking Bad or are still sitting on the edge of their seats each week during The Walking Dead know that feeling.
It's one thing to watch a show, to like it and even love it, but it's another thing to constantly be discussing it and thinking about the characters and stories being told when you're not even watching it.
Those are the shows that reel you in and, ultimately, are unforgettable.
Westworld is undoubtedly quickly becoming one of those TV shows – if it's not there already.
The adaptation from 1973 Yul Brynner classic has taken on a life of its own and while smart viewers probably think they know what might be coming next – they're often wrong.
That could be the case going forward, but beyond the twists, mystery and suspense is the amazing actors and character being developed right before our eyes.
Given the success the show has already found with excellent acting choices like Anthony Hopkins, Evan Rachel Wood, Ed Harris and so many others, we can't help but wonder what other iconic actors should grace Westworld in the near future:
The list we initially put together was a mile long, but here are our seven favorite picks:
Matthew McConaughey
No one does a southern drawl better than McConaughey, who just got done with a period piece, Free State of Jones. He also crushed it in True Detective season one and has never struggled to adapt his immense skill-set to any role presented to him.
He's dabbled in television already and while he has expressed the desire to avoid any one project taking up too much of his time, a Westworld appearance could be perfect for his eclectic resume.
McConaughey has played a cowboy hit man, a southerner, an astronaut and a detective. Roll that all into one, and you just might have one awesome cowboy.
Kit Harrington
We don't know necessarily what it means, but there was a Game of Thrones rumor involving Westworld swirling around for a while that suggested some type of crossover. How that would work is anyone's guess, but even aside from that, we'd like to see Jon Snow make an appearance on Westworld.
Harrington nails the role of Snow and with just two seasons left for GOT, it could make some sense for him to start getting more work on other prominent shows.
Maybe Westworld develops other themes that aren't strictly western characters, perhaps Harrington would be a story developer for the park, maybe he's a visitor or even a host we've never gotten to know. Whatever the case, we'd welcome him into our brave fake world.
Denzel Washington
The presence of Ed Harris and Anthony Hopkins tells us two things: this is one serious heavy-hitter of a show and big time icons are being drawn to it.
It's tough to top the impact from Harris and Hopkins, both of which in their own way are insanely dark, yet for the viewer still seemingly palatable. Why not Washington, who just got done with a successful run in the lead role of the latest The Magnificent 7?
Washington has played some pretty intense roles in his career, and he's orchestrated those characters all flawlessly. Besides, what project was ever harmed by bringing in Denzel?
Jeff Bridges
Speaking of guys who have nailed western roles, Bridges was a near-perfect pick to play John Wayne's old role in True Grit and he's delivered winning performances across most of the other characters he's played throughout his storied career, as well.
Bridges is aging and really isn't overly busy these days, but if Harris and Hopkins can hack it, so can he. Like Hopkins and Harris, Bridges has a stoic, seasoned feel to him and above all else, feels like a cowboy from the old west.
With the range and depth to play any character (although we'd prefer he's a host/visitor), Bridges would undeniably be an excellent addition to the show.
Andrew Lincoln
Few shows are hotter than The Walking Dead right now (are there any?) so it could make good sense to pry Rick Grimes from TWD when it isn't shooting. Lincoln is a british actor, but he's nailed the American accent and could probably do a mean southern accent, as well.
We've already seen Lincoln display numerous layers in a very complex character over six seasons on The Walking Dead, as he's been a dad, a husband, a cop, a zombie fighter and really, the list goes on.
Hopefully the makers at Westworld add "Westerworld character" to his acting resume in the near future.
Scott Eastwood
Getting Scott's father (Clint Eastwood) out there wouldn't make much sense, but paying some sort of homage to one of the original western stars would be all kinds of cool.
Eastwood looks a good deal like his father and even if it's just a fun cameo, it would be pretty neat to see him take on his pop's "Man With No Name" persona.
Christian Bale
We'll have Bale close this thing off, as he probably best personifies that ever growing list of unreachable elite Hollywood talents that would be perfect for Westworld, but probably would never seriously consider it.
The reality is, we've seen Bale player a plethora of different roles in his astonishing career, but more specifically, we saw him destroy his role in the western remake – 3:10 to Yuma.
Bale has been Batman, a prisoner of war, a tormented mind, a serial killer and so many other things and there's no doubt he'd have something crazy (and awesome) to offer one of the hottest shows going on TV right now.
You can throw in Jake Gyllenhaal, Leonardo DiCaprio, Matt Damon, Harrison Ford and 100 others names along with Bale.
The point? Westworld is awesome and we think it could be even better if a few splashes were made in season two. The cast, story, mystery and twists all already combine to make it one of the best TV shows you can watch. If they add one of our seven favorite actors, season two would just be that much more exciting.