Weird Online Slots – Ten Unusual Slot Games at Internet Casinos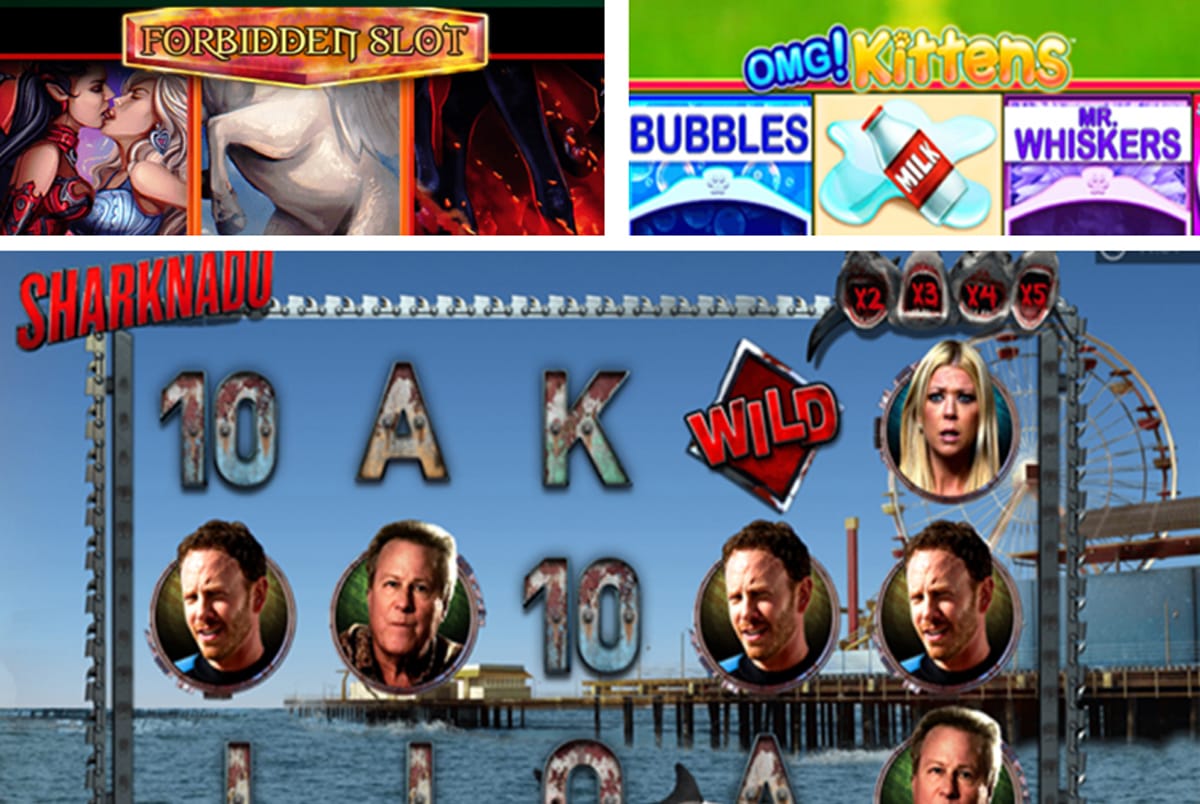 Before we get into what I find bizarre in the online slots world, let's talk about the slots that failed to make the grade, weird-wise.
These are standard slots games that, despite their blandness, have names that summon the image of a bored GS-11 employee sitting at the end of the slots machine assembly line, assigning names to each between bites of kruller.
"Hmmmm, let's call that one Curvy Magician. Next.
"Yeah, kind of a war on beauty going on here. War on Beauty it is, then. Next.
"Slots O' Fun. Damn, this is easy. Next."
Yeah. With all the creativity in the online slots world, it's hard to remember that, just like everywhere else in the world, some people are just killing time.
Okay, now that that pet peeve's out of the way, let's look at some online slot games that suffer from an entirely opposite malady, which I call Weird Slot Complex (WSC).
Ranging from funny to hilarious and all the way to bizarre and creepy with a side of ick, these slots represent creativity gone wild.
A little too wild, perhaps? You be the judge.
Forbidden Slot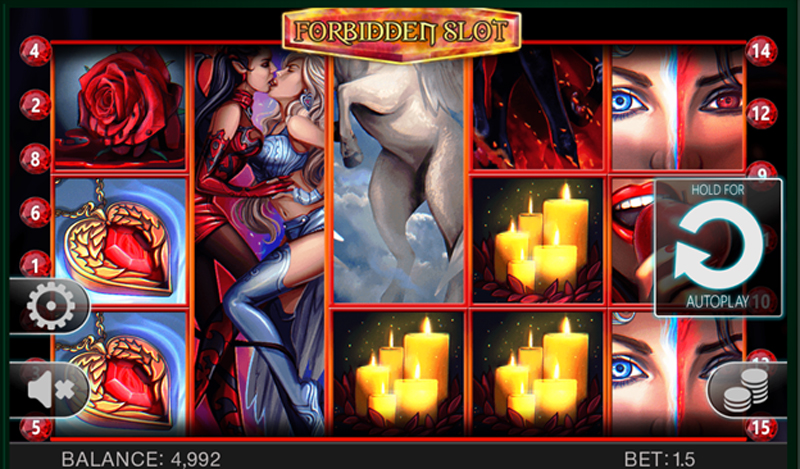 It's not the two women kissing that makes this slot weird. It really isn't.
I'd wager pretty much any slot that featured any like-gendered individuals kissing with an entirely unnecessary amount of tongue action would merit inclusion on this list.
Oh, and I especially like the title's play on words. And then there's the artwork on the reels. Something a bit, um, Georgia O'Keeffe-y about some of it, if you get my drift.
The slot is a creation of Spinomenal, which develops HTML5 software for the online casino industry.
It's probably the result of being introduced first to Forbidden Slot, but I looked at another of their games—Loot a Fruit—from entirely the wrong perspective. And don't even get me started about what I imagined Farm of Fun or Nuts Commander would be.
Santa's Kiss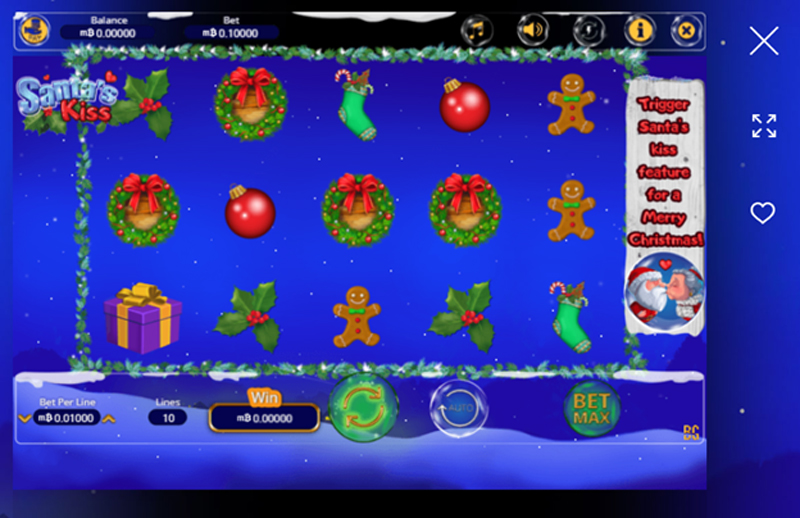 There is actually a whole subgenre of sexy Santa slots out there.
This one from Booming Games is on the very mild side, featuring nothing but a rather chaste kiss shared by Santa and who we must assume (if for no other reason than to preserve cherished childhood memories) is Mrs. Claus.
She certainly looks like she might be Mrs. Claus, but then again, maybe the jolly old elf just has a type.
Forty Shades of Santa
This is almost certainly the only fan-fiction slot based on a fan-fiction movie based on a series of fan-fiction "episodes" cobbled together by other fans into a fan-fiction novel.
It's a five-reeler mobile game—developed by Probability PLC back in 2012—and appears to have been limited (thank god) to Paddy Power casinos.
According to some pictures and comments made about the game, it featured some light sadomasochistic Santa stuff, along with symbols such as whips and masks on its reels. Now I know what's going on my next batch of Christmas cards.
Alas, Probability's website redirects to IGT now (it was consumed by the slots giant a few years ago), and IGT's website makes no mention of Forty Shades of Santa at all.
I can only assume that the slot was lost in some horrible boating accident. A fire, maybe. Perhaps a sudden attack of common sense.
Guess the world just wasn't ready for the sequel: "Santa Claus Is Really Going to Town."
Bible Slots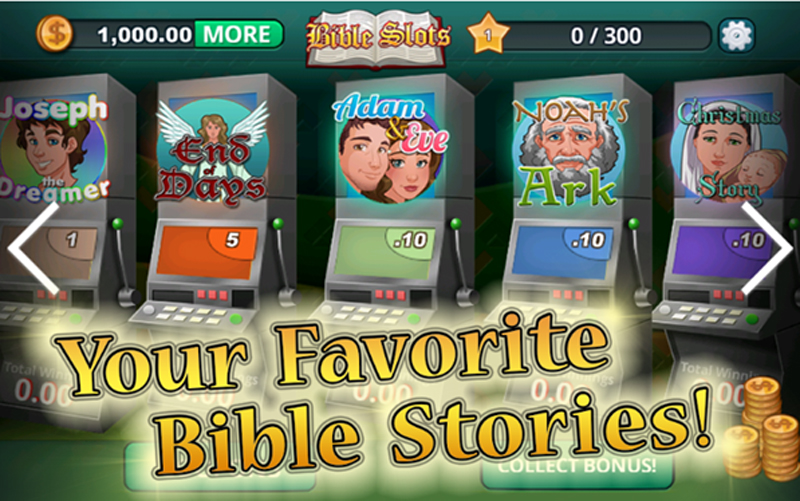 Speaking of odd subgenres, there is a plethora of slots based on Bible stories, all from a company called Super Lucky Casino.
These are all free downloadable mobile slots. I would have downloaded the game to my Android, but I stopped to read all the things Google Play told me I would be authorizing the app to access.
Allows the user to make purchases from within this app
Uses one or more of: accounts on the device, profile data
Uses contact information
Uses one or more of: files on the device such as images, videos, or audio, the device's external storage
Allows the app to view information about Wi-Fi networking, such as whether Wi-Fi is enabled and names of connected Wi-Fi devices
Allows the app to determine the phone number and device IDs, whether a call is active, and the remote number connected by a call
The first four are pretty standard as mobile apps go. It's those last two that concern me.
Why would a free mobile slots app need to know the names of Wi-Fi devices I was connected to, and more oddly, why would a free mobile slots app need to know my cell phone number, whether a call was active, and what the remote number calling me was?
So, after careful consideration, I decided not to download the app, so you'll have to be satisfied with a screen cap of their promo on Google Play. Sure hope that doesn't mean I'm going to hell. Although—to be honest—I was probably headed that way, anyway.
The Bible-themed slots game does include its own version of a Christmas story, which I suspect (and fervently pray) shares nothing in common with the Christmas story Forty Shades of Santa suggests.
OMG! Kittens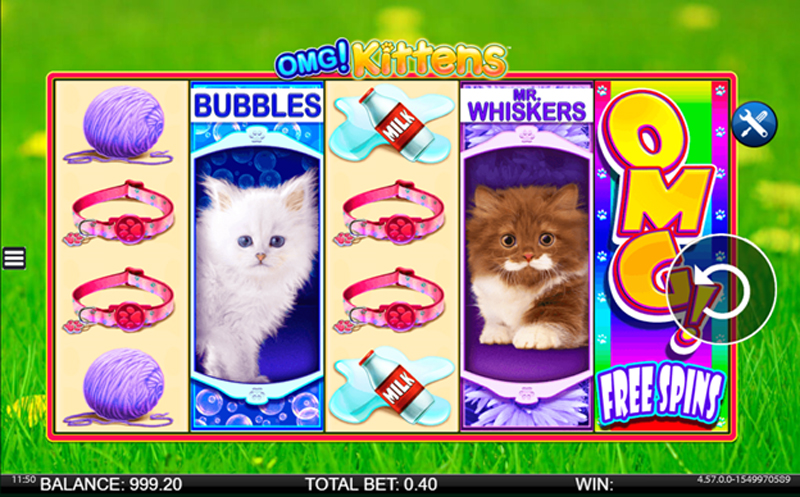 There's a bunch of slots based on various internet memes, as well.
My personal favorite is OMG! Kittens, which was created to cater to those who enjoy cats but can't abide kitty litter or the smell of cat food. Or the presence of actual cats.
There's also an OMG! Puppies slot out there, by the way, and I'm sure that—if there is a God—the next slot in this WMS Gaming series will be OMG! Why.
Another entry in the cute little kittens subgenre is Kitty Twins, the designers of which were, apparently, unclear on the dividing line between cute and creepy.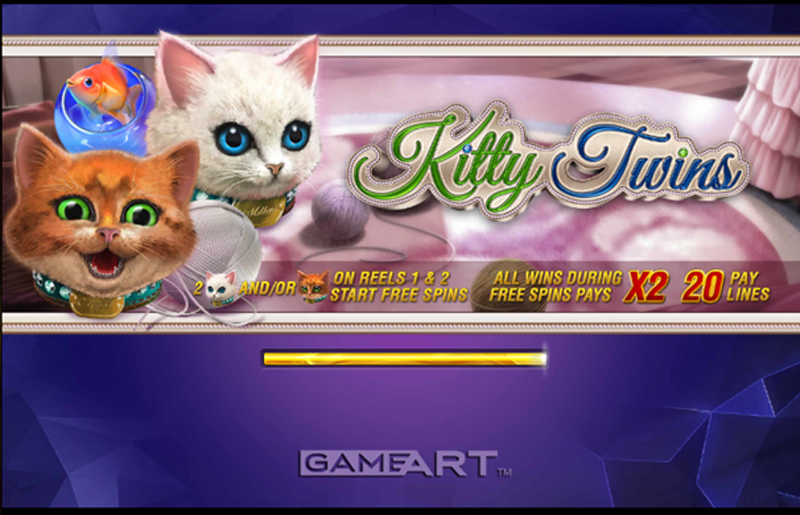 Featuring kittens with expressions that could only be described in polite company as "off-putting," this slot from GameArt challenges you to continue playing while staring into the eyes of what I'm pretty sure are fluffy cat-demons from hell.
Who knows? Maybe that's what they were shooting for.
Sharknado!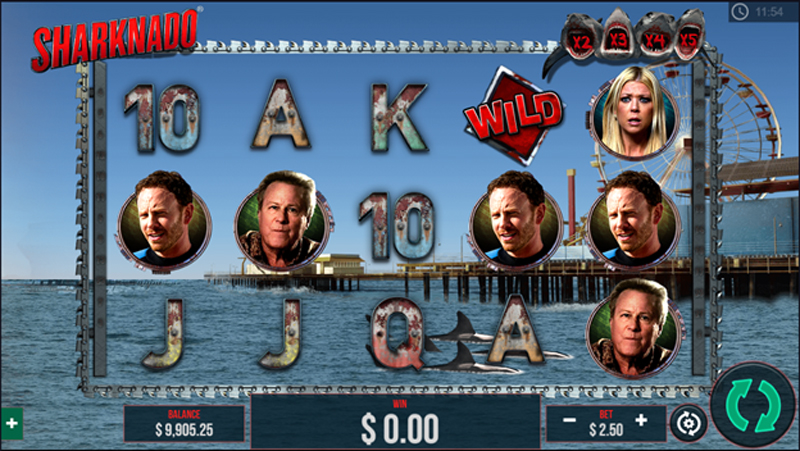 Is it really a weird slot if the developers actually set out to make it weird?
Of course it is!
Sharknado the slot, made by PariPlay, is licensed by Sharknado the movie and features reels with pictures of some of the hapless stars of the film, as well as hammerheads and great whites. Tornados, too. Oh, and chainsaws.
And let's not forget the shark leaping out of the water to take out an annoying helicopter, which happens all the time in real life, by the way.
But that's not the weirdest thing about the slot.
In the background, there's an animation of three sharks, their fins protruding from the water, swimming steadily by. Did you know sharks schooled? I sure didn't. And I have a sneaking suspicion that sharks didn't know that, either.
Planet Exotica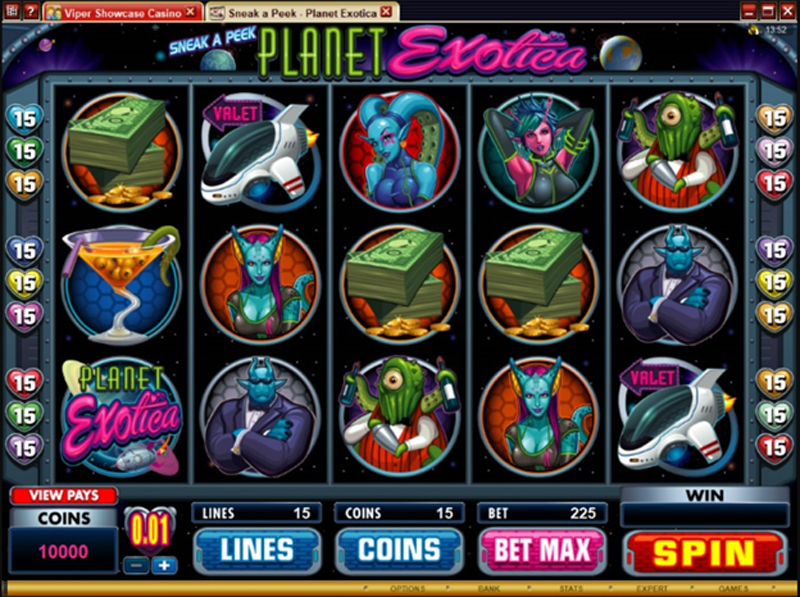 Where else but cyberspace could you find real live alien chicks who have reptilian scales for skin and yet have other, um, more mammalian characteristics? I'm not saying these characteristics are altogether unwelcome, you understand, just a tad confusing when affixed to reptiles.
From slots giant Microgaming, Planet Exotica features a bonus round that lets you get a gander at what passes for naughty bits on the Planet Exotica. How they get any work done on that planet is a mystery to me, but never mind…
The bonus round is called, you guessed it, Sneak a Peek.
During this round, an alien stripper appears, and you get to select tiles that reveal articles of clothing. Get three matches, and that article of clothing "disappears" from the alien stripper. If you get three bouncers (a blue bullish-looking dude who does NOT appear to be a party animal), you get booted from the round.
I wasn't able to find a functioning version of Planet Exotica online. Even Microgaming barely acknowledged it as one of its own with a simple image of the game screen. Alas. Now we'll never know what wonders were hidden under those bikinis.
Guess I'll just have to wait for the inevitable invasion of earth by outraged Planet Exoticans.
Very Big Goats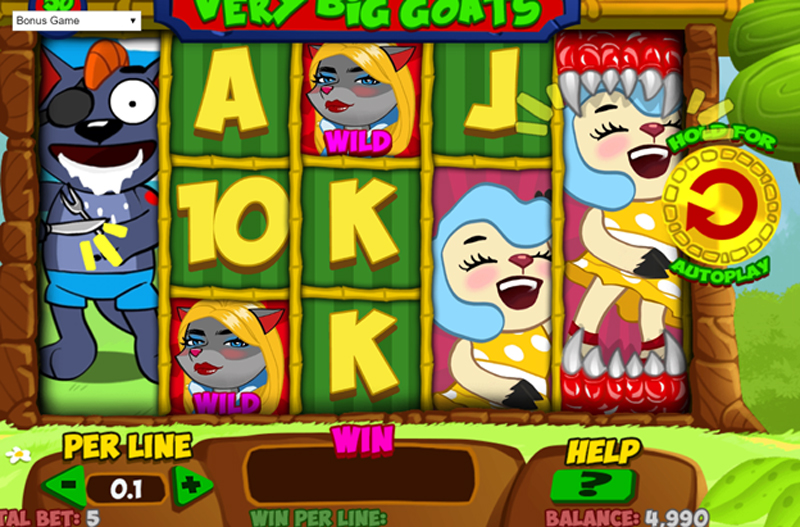 This slot marks Spinomenal's second game to show up in my research on weird slots games.
Either they're paying me to mention them, or something about the way their creative team thinks strikes me as weird.
Spoiler: They're not paying me.
Still, I suppose it's possible they heard about me researching this article and jumped into a time machine and created a number of games that would catch my eye.
It's kind of a mash-up of Billy Goats Gruff and Three Little Pigs (with just a dash of Little Red Riding Hood for that sense of impending doom we all look for in a slot machine). The game features the title characters and a wolf, who for some reason is wearing an eye patch.
The game plays in pretty much the standard way, until you catch a bonus round—signaled by a massive set of fangs chomping on one of the goats (let's agree to pretend that's not the goat's O face, shall we?).
A bonus mini-game features rolling a die to move your goat down a path of bonus multipliers, with the wolf hot on your trail.
If you land on a "game over" square, the wolf is allowed to catch the goat, and as the wolf approaches, your goat shoots streams of tears from its eyes.
Thankfully, we are mercifully spared the bloody scene of the goat-eating that those initial chomping fangs suggested (but now that we're thinking about it, were we really spared?).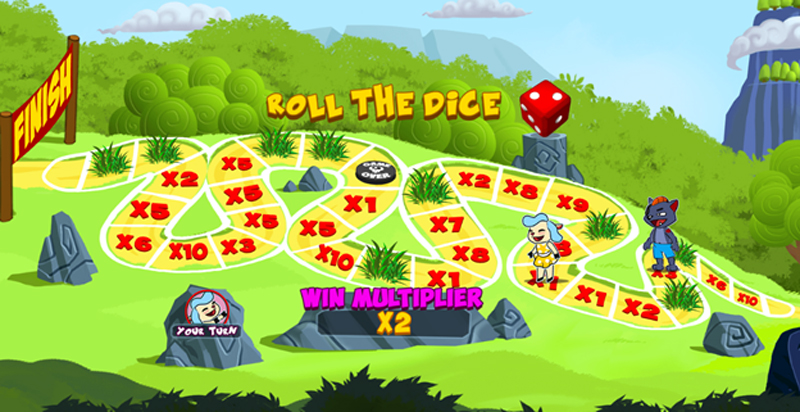 If your goat makes it to the finish line intact, by the way, the wolf shoots out a solitary stream of tears from the one eye that isn't covered by the eye patch.
Kinda sad, really. Almost makes you want to see how happy he'd be eating the goat.
Maybe in the sequel, eh?
Machine Gun Unicorn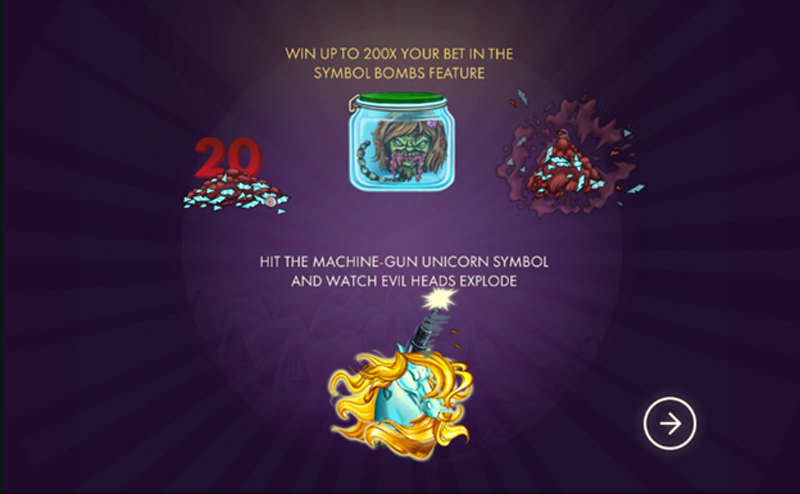 Okay, now I know they're just messing with us.
This slot from Genesis Gaming features the titular hero in a fight to save his (her?) land from—guess. I dare you. Did you say zombies? What, did you skip ahead or something?
Yes, Machine Gun Unicorn (for that is this hero's name) must fight the evil (or maybe just ugly) zombies with nothing but a single protruding horn that might look like the common garden-variety unicorn horn we can find in any respectable kitchen junk drawer but is actually a powerful and deadly machine gun.
Or at least it has many machine-gun-like qualities, not the least of which is firing bullets at zombies in a powerful and deadly fashion.
The bonus round is especially good fun because it features our hero using that machine gun horn to shatter glass jars containing zombie heads. And who doesn't enjoy that every now and then? Man, if I had a dollar…
Zombies, Like Bacon, Improve Everything They're In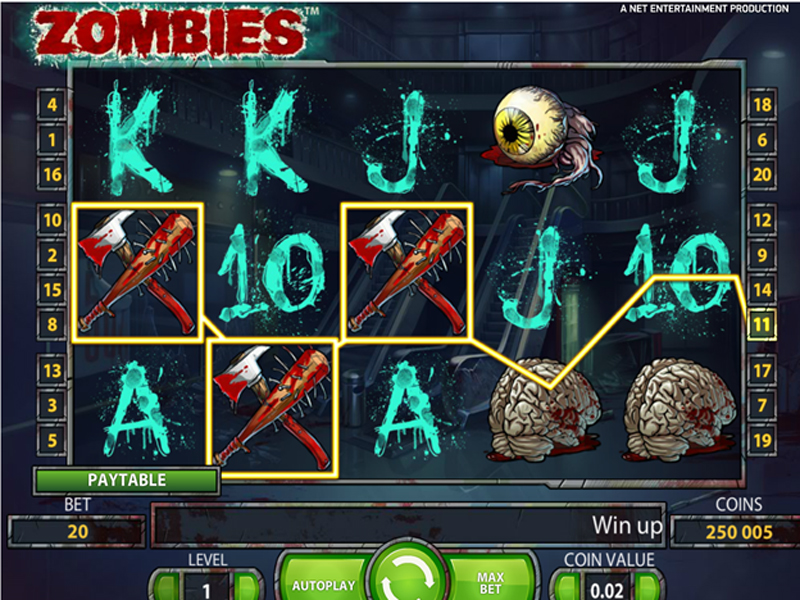 Every slot software developer out there has at least one slot featuring our favorite undead rotting corpse, the zombie.
From NetEnt's modestly titled Zombies to Fugaso's Fear the Zombie, or from RealTime Gaming's Zombies vs Cheerleaders (based, of course, on the TV movie of the same name) to IGT's Plants vs Zombies, even the most voracious of blood-and-gore fans will push back from the table and say "enough!"
Without exception, the symbols on the reels of all the various games are gruesome (but you expected that, right?), featuring bloody eyeballs, severed limbs, obviously rotted heads—pretty much everything you want in fine zombie entertainment.
Only a charter subscriber to Famous Monsters of Filmland could fail to be impressed.
It's all based, of course, on the incredible popularity of the Walking Dead television series. Or perhaps its source of inspiration is all those movies Hollywood's been churning out the past few decades, like Dawn of the Dead, Night of the Living Dead, Day of the Dead—maybe even Champagne Brunch of the Dead, for all I know (I call dibs on that title, Hollywood. Contact my agent).
And let's not forget the zillion other zombie movies like I Am Legend, World War Z, and the endless franchises known as Resident Evil.
Wow, maybe it's not the slots that are weird, after all. Maybe it's us…
Rule 34 Needs Some Revision
Without going into the specifics of Rule 34 (Google it, if you dare), it's obvious that the rule needs at least an addendum to include online slot machines. You like teh kittehs? We got teh kittehs. You like zombies? We got hella zombies.
You like hot cartoon alien ladies in various stages of déshabillé? Oh, mama, we got… wait a minute. Maybe Rule 34 already covers slot machines…
In any case, the weird games above were fun to play, if for no other reason than the winning combinations were invariably new and different, and often hilarious.
And when you spend hours staring at your computer screen, it's nice to know somebody out there—maybe somebody a little more bent than might be acceptable in polite company—is thinking of you.
Kinda warms those things attached to your heart in some creepy, insufficiently explained manner that nevertheless always manage to warm up whenever you think of something nice, doesn't it?
All that remains for us now is to make a choice: Do we want to live on Planet Exotica with its many odd but alluring charms, or do we want to visit Machine Gun Unicorn's world to slay zombies with the coolest weapon this side of the BFG 9000?
This question will no doubt still be the source of raging debate among philosophers and other liberal arts majors for generations to come, but as for me? I'm going to Machine Gun Unicorn's world. Oh, yes.