Week 9 NFL Betting Lines – Early Analysis and Free Picks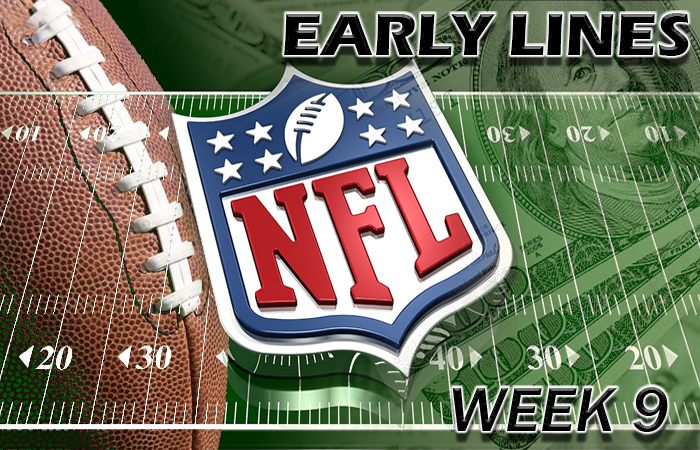 Week eight in the NFL was fairly anticlimactic. That's not very true when it comes to the afternoon games (Rams vs. Packers was fun as heck), but the schedule as a whole delivered disappointing results.
I will give that Rams/Packers game props, though. And even though Green Bay didn't give Aaron Rodgers the chance he deserved, the Packers at least tossed it back in Vegas' face, easily beating a thick +9.5 point spread.
Not to pat myself on the back, but I actually saw that coming. I strolled into week eight's NFL betting scene with a healthy 56-47-3 record and tacked on a nice 11-2 record (not counting week 8 MNF), and that included nailing the Packers as +9.5 underdogs.
It was a great week, and if you rolled with me, you should have done all right. Whether it was just week eight or as a whole (67-49-3 on the year), it's been a solid run throughout 2018.
Let's get ahead of everyone else and try to keep it going as we break down the early NFL betting lines for week nine.
All odds that are referenced in this post were taken from SportsBetting.ag on 10/28/2018. These odds may have changed since the time of this writing.
Oakland Raiders (+3.5) @ San Francisco 49ers (-3.5) Total: 47
The Raiders put up a valiant effort but fell yet again in week eight in a crazy shootout with the Colts. That drops them to 1-6 on the year, and at this point, they are awfully tough to get behind.
Jon Gruden is dismantling this team with each passing week, but as bad as the Raiders have been, this might be a week to target them.
The 49ers are without much reliable talent these days. I know they're at home, but they're just as bad at 1-7 and just got swept by the Arizona Cardinals.
It's not easy to mutter these words, but give me the value with Oakland to at least keep it interesting.
PICK
Oakland Raiders (+3.5)
-123
Detroit Lions (+6.5) @ Minnesota Vikings (-6.5) Total: N/A
The NFC North will start deciding things in week nine, as the Lions and Vikings – both fresh off of tough home losses – will send someone in this matchup closer to the bottom of the division.
Detroit is admittedly closer to that fate, but you at least have to give them a look. They have some solid wins on the year and have been competitive at nearly every turn.
I love the Vikings to win here, but this is a divisional clash, and the Lions will be desperate. Minnesota is the straight-up call, but the Lions should be able to stay within a touchdown.
PICK
Detroit Lions (+6.5)
-110
Kansas City Chiefs (-8) @ Cleveland Browns (+8) Total: 52
Aaron Rodgers and co. go into LA as +9.5 underdogs, and the 7-1 Chiefs are barely favored to win by a touchdown? That's rich.
Cleveland has largely been competitive this year, but they're no match for the Chiefs. The Browns were supposed to be strong defensively, too, and in recent weeks, they've gotten blasted for 45, 38, and 33 points.
Patrick Mahomes will probably go nuts in Ohio, and I highly doubt the Chiefs have a difficult time covering this palatable spread.
PICK
Kansas City Chiefs (-8)
-110
Pittsburgh Steelers (+3) @ Baltimore Ravens (-3) Total: 47.5
Baltimore took care of business at Heinz Field earlier this year, and in week nine, they will go for the sweep of the Steelers. Vegas likes them here, as they're on their own turf and badly need a win after dropping three of their last four.
The Ravens are dangerously close to falling out of the playoff picture, so I do acknowledge the value associated with them. Not only are they at home against a rival, but they already beat Pittsburgh.
The problem here is that the Steelers are the better overall team, and they're running hot at the moment (three straight wins). I appreciate where Baltimore is and the importance of this game, but these are two teams headed in very different directions.
Pittsburgh feels like a fun straight-up road dog, but I'll just bank on this one at least being a tight game.
PICK
Pittsburgh Steelers (+3)
-125
New York Jets @ Miami Dolphins Total: N/A
This is the only game for week nine that does not currently have any odds. That's because Miami isn't quite sure what they'll be doing at quarterback or wide receiver.
The Dolphins have been surprisingly competitive all year and will be at home, so even though they are kind of in limbo right now, I feel like they'll be a solid bet.
Fortunately, Vegas may not back them too hard due to their current issues. I just don't love the idea of rolling with a rookie quarterback on the road against a rival.
Sam Darnold can be great, but he turns the ball over quite a bit and really doesn't have many weapons to work with at the moment. Miami could be a sneaky play this week.
PICK
Miami Dolphins to Win
N/A
Tampa Bay Buccaneers (+6) @ Carolina Panthers (-6) Total: N/A
The Bucs are back to square one, as they benched Jameis Winston after a four-pick effort and nearly beat the Bengals with Ryan Fitzpatrick.
For at least one day, #Fitzmagic was a trending narrative on Twitter again, and the Bucs had some hope. Truly, they were toast in a 34-16 beatdown on the road, yet Fitzpatrick led them to an 18-0 run and nearly forced overtime.
That didn't happen, though, and now Tampa probably has a locker room divided. The Bucs are going nowhere, and I doubt a change under center rescues them from a tough spot in Carolina.
PICK
Carolina Panthers (-6)
-115
Atlanta Falcons (+2.5) @ Washington Redskins (-2.5) Total: 48
The Falcons are a very weird team, as they got off to an extremely slow start but are immensely talented and have been in just about every game this year.
Their schedule started easing up two weeks ago, and since then, they have won two straight and can make it three in DC this week. It's impossible to ignore what is happening with the 5-2 Redskins, but just how long can bettors actually trust Alex Smith and Adrian Peterson?
Washington has the framework of a playoff contender, and they've been good (3-1) at home, but Atlanta is easily the more talented team. With their season hanging in the balance, I have to think the Falcons stay hot and get back to .500.
Atlanta ATS is a fine play, but let's aim higher and go for the nice road upset.
PICK
Atlanta Falcons to Win
N/A
Houston Texans (+2.5) @ Denver Broncos (-2.5) Total: 47
Denver is merely a favorite in name this week. The Broncos did put up a heck of a fight against the mighty Chiefs in Kansas City, but that loss has to take the air out of this team.
Now 3-5, Denver is going nowhere in a hurry, and now they have to tackle the red-hot Texans (5 straight wins!). Houston could falter here, but I'm not ready to bet against Deshaun Watson right now.
Houston is also figuring out how to run the ball and defend. Case Keenum has an argument for the revenge narrative here, but I'll pass.
PICK
Houston Texans (+2.5)
-105
Los Angeles Chargers (+1.5) @ Seattle Seahawks (-1.5) Total: 48
The Bolts have historically been the bane of my NFL betting existence, but they've actually surprised with a sweet 5-2 record. Los Angeles has done that without the help of star pass rusher Joey Bosa, too.
I like the Bolts as they stand, but going on the road and taking down the Seahawks is a tall order. Seattle just scored a big road win over the Lions and at 4-3 looks like a potential playoff threat again.
LA is more talented and needs to hang tight if they want to take down the Chiefs in the AFC West, but this could be a trap game for them.
PICK
Seattle Seahawks ATS (-1.5)
-110
Los Angeles Rams (-1) @ New Orleans Saints (+1) Total: N/A
I felt the first loss could potentially come for the Rams last week. It didn't, but I'm ready to bite down on a big upset in week nine.
LA is stacked and probably one of the best Super Bowl 53 bets out there, but going on the road and taking down the red-hot Saints is just asking a lot.
Green Bay exposed some flaws in the Rams, and they've honestly had several close games already in 2018. They're undefeated and obviously ablaze, but they're facing a New Orleans team that is usually deadly at home and is looking pretty unstoppable themselves with six consecutive wins behind them.
If the Saints defend their home turf here, they get a signature win and suddenly look like the new favorite in the NFC. Even if the latter doesn't last, I do love the value associated with New Orleans as a home dog this week.
PICK
New Orleans Saints to Win
N/A
Green Bay Packers (+6) @ New England Patriots (-6) Total: N/A
The Packers did a terrific job beating a gaudy +9.5 point spread last week. Their defense showed real potential, and had it not been for some painfully conservative play-calling and a brutal fumble, perhaps we'd be talking about an amazing upset.
That didn't happen, and now I have to think Green Bay is on full tilt. That was a potentially season-changing road win, and they have to turn right back around and go face Tom Brady on the road?
I'm not digging that at all, so while I would normally jump at Aaron Rodgers as an underdog, this is more about the Packers (and the Pats) as a whole.
PICK
New England Patriots (-6)
-115
Tennessee Titans (+4.5) @ Dallas Cowboys (-4.5) Total: N/A
The last game of the week goes down in Jerry World, where the Cowboys will lick their wounds stemming from last week's loss to the Redskins.
Dallas doesn't have much time to reflect on the past, though, as they need to try to regain their footing in the NFC East. I'm rarely into doubting Dallas at home, and I haven't trusted the Titans much at all in 2018.
Dak Prescott gets to play with new toy Amari Cooper, and I'm guessing any amount of success down the field works wonders for Ezekiel Elliott and the ground game. That being said, I don't trust Dallas to win by five. The price isn't amazing, but give me Dallas to simply win this one.
PICK
Dallas Cowboys to Win
N/A
Summary
This sets up as a very fun week. I think it's very important to take this early look at NFL lines, and that's going to be the case whether you actually act on those odds right away or not.
For week nine, there is plenty to get excited about. My favorite play of the entire week might be the Saints being loudly doubted at home against the Rams.
Is Los Angeles for sure the superior team? I'm not even sure. They arguably have more talent, but Sean Payton has a terrific system, and I tend to trust the veteran Drew Brees over Jared Goff.
I'm positive it'll be a terrific showdown, and in all, this shapes up as a fantastic week. Whether you roll with my week nine NFL picks or not, hopefully I shed some light on a few of these games and set you up for success.
Either way, good luck this week, and enjoy the games!