Hide Bonus Offers
| | | | | |
| --- | --- | --- | --- | --- |
| #1 | Bovada Sports | 50% Up To $250 | Visit Site | Bovada Sports |
| #2 | BetUS | 125% Up To $2,500 | Visit Site | BetUS |
| #3 | MyBookie | 100% Up To $1,000 | Visit Site | MyBookie |
| #4 | Everygame | 100% Up To $500 | Visit Site | Everygame |
| #5 | BetOnline Sports | 60% Up To $1,000 | Visit Site | BetOnline Sports |
Week 7 Thursday Night Football Preview: Bears vs. Packers Betting and DFS Advice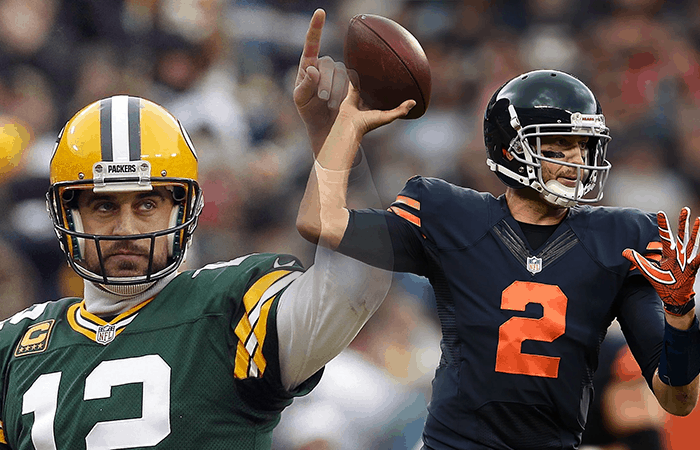 One of the NFL's nastiest rivalries takes center stage on Thursday night, when the Chicago Bears head to Lambeau Field to take on the Green Bay Packers on Thursday Night Football.
The first game of the new week offers plenty of excitement and storylines, and also gives us a chance to work on our NFL betting chops before the rest of the week arrives on Sunday.
Tonight's kickoff signals the start to a new daily fantasy football week, too, as DFS fans will ponder whether or not Brian Hoyer can carve up a banged up Green Bay secondary or if Aaron Rodgers can bounce back from two off weeks in a row to destroy the Bears.
The even bigger question? What if both happen?
Bears vs. Packers Odds
Betting sites like Bovada don't seem to think that will be the case, as Chicago enters as the clear underdog:
Packers to Win -380
Bears to Win +290
Green Bay may not be looking their best, but they're still at home and have a strong history over the Bears. To be more specific, Green Bay had won four straight before losing a tight 17-13 game last year and has secured wins in 10 of the last 12 meetings.
The Bears do own a 94-92-6 historical edge in a pretty insane series, but Green Bay has had the Bears' number for quite some time now.
Aaron Rodgers is a big key to this game and this series, in general, as he tends to be just about flawless at home. Rodgers has specifically taken care of business at Lambeau Field against these Bears, posting an elite 6-2 record. Even in the two losses, Rodgers at least kept the Packers in the game, with neither loss being decided by more than 7 points.
Needless to say, if the Bears are to give Green Bay a scare, we can safely expect a close game and with the lack of elite defense on either side, we can confidently bet on the Over when it comes to the Total.
It's not all roses for the Packers, of course. Chicago has seen their play rise with Brian Hoyer under center (no, really), and they've been in three of the four games they've lost. Hoyer has actually put up a ton of yardage through the air and against a severely banged up Green Bay secondary, it's possible he has a field day.
If so, both teams could be forced to take it to the air and regardless of the outcome, we should get the Over met.
The spread is the chief concern for most people considering doing any NFL betting tonight, though. Chicago (+8.5) isn't being given much of a chance by betting sites like Bovada, while the Packers (-8.5) are still the rightful favorites at home against a seemingly far inferior rival.
Maybe we shouldn't be slamming Chicago so hard or beefing up Green Bay so much.
Not only have the Bears been strangely competitive in 2016, but this series is notorious for close games. In fact, five of the last seven meetings have been decided by precisely 8 points or less. At the +8.5 mark, betting on Chicago to at least beat the spread doesn't seem crazy at all.
Betting Against Packers
While Green Bay looks like the easy call to win tonight, there is a valid argument against them. Actually, there are several.
Eddie Lacy and James Starks, the team's top two running backs, are both out. The team will also be without their best three cornerbacks, with Sam Shields being placed on injured reserve this week and both Damarious Randall and Quinten Rollins sitting with groin injuries.
The madness can be seen here with a laundry list of key inactives for the Packers:
Eddie Lacy, Jared Cook, Damarious Randall, Quinten Rollins, James Starks, Chis Banjo and Jared Abbrederis are all out for Thursday #Packers

— Wes Hodkiewicz (@WesHod) October 19, 2016
There is also the case of the Brett Favre impact. Green Bay has honored the former Packers great twice already over the past couple of years and both times the Packers lost with Favre on hand:
Disturbing: Packers are 0-2 the last two seasons when honoring Brett Favre, averaging just 14.5 points. All other games at home? 25.6 points

— JennaLaineESPN (@JennaLaineESPN) October 17, 2016
Two bad games with Brett Favre hanging around might be more of a coincidence than an actual thing, but it's worth pointing out. Favre is again being honored by the Packers at Lambeau Field tonight, and it's worth noting that he was here for a night game against the Bears last year, one in which Green Bay lost.
None of this is good news for the Packers. They have a former player hovering over them like a potential dark cloud, rivalry games tend to be toss-ups in general and they're severely depleted on both sides of the ball.
If you don't believe in the likelihood of Aaron Rodgers going nuts tonight, betting against the Packers might seem like a good move.
Packers/Bears Daily Fantasy Football Targets
If you don't care about these teams or feel like placing bets, perhaps you'll want to consider using some of the top players in daily fantasy football leagues that kick off tonight. Let's break down the top targets at each position to see which guys you should consider in week 7 NFL DFS leagues at DraftKings:

Quarterbacks
Aaron Rodgers – Packers ($7.1k)
Brian Hoyer – Bears ($5.9k)
Hoyer's price is slowly creeping up, as he's been pretty darn stable with 22+ fantasy points in three of four starts and still a decent 15 fantasy points despite not scoring last week.
That's more than Rodgers can say, as he owns just two 20+ fantasy point outings on the year.
Hoyer has been better in a vacuum, but Rodgers is at home and is the far better talent. Odds are Hoyer hits a wall (he kind of already started last week) and Rodgers takes flight. For his elite upside, A-Rod is a bit of a sick value at DK this week. You might want to take advantage of that.

Running Backs
Jordan Howard – Bears ($6k)
Aaron Ripkowski – Packers ($3k)
This doesn't require analysis, really. Howard has been a solid starter for Chicago the past few weeks and has a chance at meeting value this week. However, he was a bit of a disappointment last week and playing on the road against a team that has been elite against the run is far from ideal.
You can't even consider any Packers running backs, though, as fullback Aaron Ripkowski is the only option listed at DraftKings tonight. Don Jackson was signed from the practice squad and he's in line to share some work with Knile Davis, who the Packers recently traded for.
Those guys wouldn't even be DFS locks, though, as wide receivers Ty Montgomery and Randall Cobb played out of the backfield as running backs a ton last week.
Howard is the only actual option here, but there is better value in daily fantasy football this week. He's not the worst play, but we're fading.

Wide Receivers
Jordy Nelson – Packers ($7.8k)
Alshon Jeffery – Bears ($6.9k)
Randall Cobb – Packers ($5.8k)
Cameron Meredith – Bears ($4.7k)
Ty Montgomery – Packers ($3k)
Every single one of these guys are in play. Nelson heads a list of strong value in what could very easily be a shootout. Jeffery might be the top play due to a very friendly price, but you could make a strong case to support everyone here.
Meredith might be the best true value, as he's been targeted a ton in his only two starts and has posted 30 and 25 fantasy points the last two weeks.
Montgomery also gets a big boost due to having such a big role with the running backs being banged up. He is a GPP must if you want to stack elite talent on your roster.

Tight Ends
Zach Miller – Bears ($3.8k)
Richard Rodgers – Packers ($2.8k)
Tight end is brutal tonight. Rodgers gets another start with Jared Cook still nursing a foot issue, but he's been absolutely dreadful in his stead. Like, 8 catches all year, kind of dreadful.
Rodgers can't be considered, but Zach Miller isn't a terrible value. Green Bay hasn't been good against tight ends and Miller has good chemistry with Hoyer. With 8+ targets in three of his last four games, he's as good a try as any value tight end this week. Just monitor his status before plugging him in, as he's questionable going into tonight:

Defenses
Packers ($3.3k)
Bears ($2.3k)
There is no denying that playing a super cheap Bears defense isn't as crazy as it may initially sound. Green Bay's offense is banged up and has been suspect more than not in 2016. Chicago itself has been fairly steady, with 4+ fantasy points in five of their six games. Not amazing, to be sure, but not the end of the world for such a low price.
The play here is Green Bay, obviously, but we just don't love their price. The Packers tend to stop the run and get after the passer (2+ sacks in every single game), but they're down their top three corners and have given up 20+ points in three of their five games. If I'm paying over $3k for my defense, I need elite upside. Facing Hoyer offers the possibility, but I wish the price was lower.