Hide Bonus Offers
| | | | | |
| --- | --- | --- | --- | --- |
| #1 | Bovada Sports | 50% Up To $250 | Visit Site | Bovada Sports |
| #2 | BetUS | 125% Up To $2,500 | Visit Site | BetUS |
| #3 | MyBookie | 100% Up To $1,000 | Visit Site | MyBookie |
| #4 | Everygame | 100% Up To $500 | Visit Site | Everygame |
| #5 | BetOnline Sports | 60% Up To $1,000 | Visit Site | BetOnline Sports |
Week 7 NFL Power Rankings: Packers Lose Steam as Super Bowl Contenders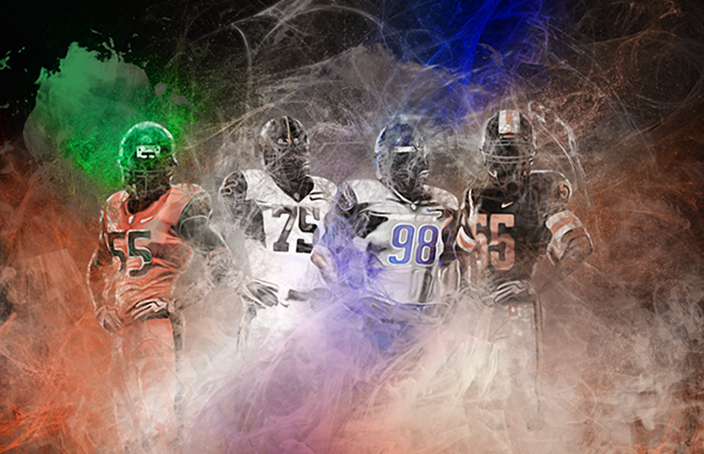 The state of the NFL is usually a pretty clear one after the first third of the season. With six weeks in the bag, we're officially a third of the way through the league schedule and we're starting to see which teams are truly high level contenders and which may start to be exposed as pretenders.
So far, the Patriots, Falcons, Vikings and perhaps the Seahawks look about as legit as it gets. The Steelers, Broncos and Packers – albeit still in the mix – have been sharply exposed in recent weeks.
Green Bay may be the most compelling team to regress, as they began the 2016 NFL season with the second best Super Bowl odds at Bovada. Despite mustering a so-so 3-2 mark through their first five games, they still have solid +1200 odds to make the magic happen.
The problem is, it's tough to see them figuring things out suddenly. They don't have a consistent running game, their secondary is non-existent and Aaron Rodgers has been dipping his toe in mediocre waters for the better part of the last two seasons.
With Eddie Lacy not 100%, Rodgers struggling and Green Bay's would-be stout run defense being woefully exposed in week six, it's quite arguable the Packers are quickly turning into a farce.
Needless to say, they tumble down our week 7 NFL power rankings a bit. Read on to see where your favorite team lies, as we rank and analyze all 32 teams ahead of week seven:
1. Minnesota Vikings 5-0 (Last Week: 1)
Minnesota keeps the top spot despite sitting out week six on their bye. They still have to answer questions about a seemingly capped offense, but they have what figures to be the best defense in the league and Sam Bradford has been insanely efficient. It'll take a loss to knock them from the top spot – if that.
2. New England Patriots 5-1 (Last Week: 3)
Tom Brady and co. might actually be the most impressive team in the NFL right now, especially with two straight offensive demolitions following Tom Terrific's return. Their defense and run game still aren't elite, though, so the Pats have some work to do.
3. Seattle Seahawks 4-1 (Last Week: 8)
Seattle definitely benefited from a late "no call" in week six, but they still held on for a huge home win against a very good Atlanta team. Their defense got a little exposed in the passing game in that matchup, but dealing with Julio Jones is a special case that can be forgiven. If Christine Michael is here to stay, the Seahawks are quickly becoming a serious problem in the NFC.
4. Atlanta Falcons 4-2 (Last Week: 4)
The Falcons got boned last week, and either way, they played Seattle hard on the road and almost pulled out a win. They still have defensive lapses and we can't ignore their week one home loss to the Buccaneers, but this looks to be a very good and balanced team.
5. Dallas Cowboys 5-1 (Last Week: 10)
Dak Prescott finally tossed his first career interception in week six, but overall held it together in a huge road win over the Packers. The real story for Dallas is Ezekiel Elliott, of course, who is currently on pace to top the league's rookie rushing record. The Cowboys may need that happen to continue on this torrid pace, but getting to 5-1 without the help of Tony Romo or Dez Bryant is quite the accomplishment.
6. Pittsburgh Steelers 4-2 (Last Week: 2)
The Steelers definitely have the offense to go toe to toe with anyone, but their run defense got supremely gashed in week six and they've now gotten shut down twice in blowout losses. Losing Ben Roethlisberger (knee) for any amount of time can't be a good thing.
7. Denver Broncos 4-2 (Last Week: 5)
The quarterback play has fallen off a cliff over the past two weeks in Denver, while the Broncos are even struggling to run the ball or play strong defense. Truth be told, the Falcons dismantled them in week five and San Diego outsmarted them in week six. The defending champs are slowly fading.
8. Buffalo Bills 4-2 (Last Week: 13)
The Bills have taken serious advantage of some nice spots, but you can't talk away a four-game winning streak. LeSean McCoy is ablaze, Tyrod Taylor is doing all the little things the right away and Buffalo's defense is showing us why Rex Ryan was once dubbed a defensive genius. There are bigger games ahead, but considering this team was dead in the water at 0-2, this turnaround is beyond impressive.
9. Oakland Raiders 4-2 (Last Week: 6)
Oakland's offense finally hit a wall in week six, as the Chiefs were a buzzsaw that would not be stopped. The Raiders still have serious issues on defense and with their running game, and this last game showed us that if Derek Carr and co. aren't up to the task, this team will struggle. It's just their second loss, but that's a red flag for a prospective playoff team.
10. Arizona Cardinals 3-3 (Last Week: 18)
Arizona badly needed wins the last two weeks and they were able to lean hard on their defense and stud rusher David Johnson to get the job done. Carson Palmer still looks like a guy that's shell shocked from a NFC title game implosion, but at least this team is back on the right path, as a whole.
11. Green Bay Packers 3-2 (Last Week: 7)
Green Bay looked passable in wins over the Jaguars and Lions, but when facing even remotely solid defenses, their offense has looked completely lost. Eddie Lacy isn't healthy, Aaron Rodgers is missing key throws and last week Green Bay's "elite" run defense may have gotten exposed. The Packers aren't dead, but they're slowly looking like a faux title threat.
12. Houston Texans 4-2 (Last Week: 12)
Brock Osweiler still leaves a ton to be desired, but it was nice to see Lamar Miller step up and show the Texans why they paid him the big bucks in free agency. Masking Osweiler and riding Miller is the only way this team makes any noise this year, after all. Luckily they're in a the horrible AFC South, where they already seem to be the runaway threat to win the division crown.
13. Washington Redskins 4-2 (Last Week: 16)
You like that? Seriously, Kirk Cousins has rebounded nicely from an ugly 0-2 start and has looked like a more than competent presence under center during four straight Redskins wins. Matt Jones has even busted out over the last few weeks, and Washington's defense seems to be turning a corner. Dallas is the talk of the NFC East, but it's entirely possible last year's division champ is the team to beat.
14. Kansas City Chiefs 3-2 (Last Week: 17)
The return of Justin Houston seems to have been a pretty big deal, as an erratic Chiefs defense buckled down and stifled a good Raiders defense on the road. The running game stepped up, too, with Spencer Ware and a healthy Jamaal Charles forming a dynamic duo. If the Chiefs can rinse and repeat, this is a playoff formula that just might make them a viable title contender.
15. Detroit Lions 3-3 (Last Week: 19)
The Lions are a tough team to figure out, as they're just 3-3 but have been in every single game this year (all six games decided by 7 points or less). They still don't have a reliable rushing attack and their defense just got torched by the Rams of all teams, but you have to admire their refusal to quit.
16. Philadelphia Eagles 3-2 (Last Week: 9)
The Eagles looked like a fun playoff team after a nice 3-2 start, and since then they've crumbled in two straight losses. They haven't looked remotely good in the process, either, as rookie quarterback Carson Wentz has unraveled. Bouncing back against the mighty Vikings defense in week seven isn't overly likely.
17. New York Giants 3-3 (Last Week: 14)
Just when you thought the G-Men were ready to mail it in with their fourth loss in a row, Odell Beckham Jr. finally showed up. Giants fans probably wondered where that play was through the first five games, but now that it's here, the Giants suddenly feel dangerous again.
18. Baltimore Ravens 3-3 (Last Week: 11)
How quickly the mighty can fall. The Ravens looked like a prime bounce back candidate after a 3-0 start, but are falling apart at the seams with three straight defeats. They still have a chance to attack the AFC North with ben Roethlisberger down, but injuries are completely dismantling this team for the second season in a row.
19. Cincinnati Bengals 2-4 (Last Week: 15)
The Bengals haven't been able to make up for serious offensive losses in 2016, as star tight end Tyler Eifert can't make it back to the lineup soon enough. Cincy isn't toast just yet, but this was supposed to be a Super Bowl sleeper. Through six weeks, their vaunted defense has been a disappointment and their offense settles for too many field goals.
20. Tennessee Titans 3-3 (Last Week: 24)
Beating the winless Browns isn't a great accomplishment, but you have to give credit where credit is due: Marcus Mariota has really turned it on the past two weeks and the Titans have gone from a lost 1-3 team to one that just might contend for the AFC South crown. The defense and running game are there. Now it's up to Mariota to turn this recent hot run into continued success.
21. New Orleans Saints 2-3 (Last Week: 25)
It's probably true that we can't trust the Saints on the road, but they took down a desperate Panthers team in week six, keeping themselves in the mix for a playoff run. That took something special, and for stretches there they actually got solid play out of their defense. It probably fades in a huge road clash with the Chiefs in week seven, but for the moment, Who Dat Nation can dream.
22. Tampa Bay Buccaneers 2-3 (Last Week: 22)
Tampa Bay stays idle during their bye, after earning brownie points for a big win over the Panthers in week five. They're still too erratic to trust, but perhaps the eventual return of Doug Martin will help them piece themselves back into a viable playoff threat.
23. Los Angeles Rams 3-3 (Last Week: 21)
In a week where Case Keenum went absolutely nuts (300+ yards and 4 TDs), the Rams' defense completely let this team down. That type of maddening inconsistency is what will keep the Rams from making any true noise in the brutal NFC West.
24. San Diego Chargers 2-4 (Last Week: 26)
San Diego has to be one of the unluckiest teams ever. They've endured injury after injury and choked away four losses this year. Despite the horrors they've seen, they stood firm last week and beat the Broncos at home. Just like that, the dead have life again.
25. Indianapolis Colts 2-4 (Last Week: 20)
Indy gave up another game they should have won this past week, further displaying Chuck Pagano's inability to lead. Andrew Luck keeps shouldering the blame for a bad Colts team, but he can't pass protect, run the ball or defend. This team is inferior in three major facets of the game almost every week, yet because of Luck we can't totally write them off just yet.
26. Jacksonville Jaguars 2-3 (Last Week: 27)
Jacksonville moves up one spot for somehow beating the Bears in Chicago. The Bears dominated all game, only to give the game away on a broken play to a guy who hadn't scored since 2011. Still, the Jaguars hung tight and got a big road win they absolutely needed. Like them or not, they're 2-3 and remain in the hunt for the AFC South crown.
27. Carolina Panthers 1-5 (Last Week: 23)
Carolina has tons of talent and good coaching, yet here they are at 1-5 with their season virtually over. The Super Bowl hangover is alive and well, and as hard as the Panthers try, they just can't seem to get out of their own way. A late-season rally wouldn't be shocking, but you don't lose five out of six games because you're a good team. Carolina regressed in 2016 and will have to do all they can to avoid the bottom of the NFC South.
28. Miami Dolphins 2-4 (Last Week: 29)
Few people gave Miami a chance to keep their week six battle with the Steelers even competitive, let alone control and win it. Jay Ajayi was the ticket here, as he absolutely dominated Pittsburgh to the tune of 200+ rushing yards and two scores. Miami's defense also stepped up, but Ajayi is the Fins' meal ticket. If he's not getting 20 touches per game going forward, the Dolphins are crazy.
29. New York Jets 1-5 (Last Week: 28)
Ryan Fitzpatrick was brutal yet again, and the Jets dropped to 1-5. Raise your hand if you're shocked. Truth be told, the Jets were never beating an equally desperate Cardinals team in Arizona, but they didn't even show up. Fitzpatrick isn't alone, either. New York can't run the ball and their once elite defense looks awful.
30. Chicago Bears 1-5 (Last Week: 30)
Hats off to the Bears for at least remaining competitive yet again in week six, but shame on them for letting the Jaguars off the hook. Brian Hoyer and co. were ultimately too conservative, burning a once 13-0 lead at home. Chicago obviously isn't very good, but they could just as easily be 3-2 if they managed games better. Fans would probably love to blame Jay Cutler for another terrible season, but Hoyer is just 1-3 as the starter.
31. San Francisco 49ers 1-5 (Last Week: 31)
In any other year, the 49ers would be dead last. They found a way to win in week one, however, and the recent switch to Colin Kaepernick does give them mild life moving forward. It couldn't keep the competitive in week six, however, when they crumbled in Buffalo and experienced their fourth blowout loss of the year.
32. Cleveland Browns 0-6 (Last Week: 32)
In terms of effort and coaching, the Browns are absolutely not the worst team in football. Hue Jackson has pieced together some masterful game plans that have kept a seriously talent-sapped Cleveland team in contention in four of their six losses. Losing is losing, but this team deserves credit for playing hard despite being so undermanned. That first win is (hopefully) coming soon, and when it does, the Browns won't be stuck down at 32.