Hide Bonus Offers
| | | | | |
| --- | --- | --- | --- | --- |
| #1 | Bovada Sports | 50% Up To $250 | Visit Site | Bovada Sports |
| #2 | BetUS | 125% Up To $2,500 | Visit Site | BetUS |
| #3 | MyBookie | 100% Up To $1,000 | Visit Site | MyBookie |
| #4 | Everygame | 100% Up To $500 | Visit Site | Everygame |
| #5 | BetOnline Sports | 60% Up To $1,000 | Visit Site | BetOnline Sports |
Week 7 NFL Betting – Top Picks for the Weekend's Games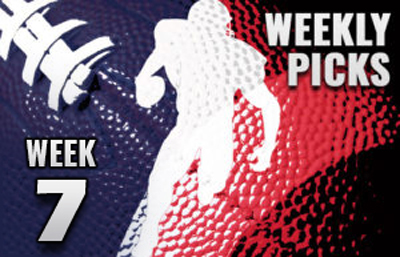 Which game are you most looking forward to this Sunday?
Can the Rams keep it rolling against the 'Niners and remain undefeated? What's going to happen when the Saints' high-octane offense clashes with the Ravens' relentless defense?
The Panthers and Eagles are poised for an intense battle in Philadelphia while the Cowboys and Redskins go toe to toe in an important NFC East showdown.
As you can see, there will be no shortage of drama. Or big plays or controversial calls.
Chances are you are looking to spice up your Sunday afternoon by sprinkling in a few wagers to make watching the games even more exhilarating.
The good news is you've landed on the perfect page because I have already scanned the prices at the top NFL betting websites. While I'm not in love with everything I see, there are a few games that have been piquing my interest all week long.
I'm here to divulge the 4 games that I'll be targeting in my week 7 NFL betting, and it's up to you to get on board.
Let's jump right into it so that you don't miss these attractive lines before they go away.
The odds referenced in this post were taken from BetOnline.ag on 10/17. They may have changed subsequently.
New Orleans Saints at Baltimore Ravens
Drew Brees has had a remarkable career,and he'll have a first-class ticket straight to Canton, Ohio, when he decides to hang it up for good. But here's an interesting tidbit.
The NFL's all-time leader in passing yards has beaten every single team in the NFL except for one. Heeven beat the Saints when he was a member of the San Diego Chargers, but there is one squad he has never captured a victory against.
That would be the Baltimore Ravens, but he'll have a chance to cross them off the list this Sunday.
It won't be easy playing in M&T Bank Stadium, as the fans in Charm City will be going wild trying to propel their team to 5-2. And while the Ravens defense was undeniably stout a week ago against Tennessee, they'll be facing a whole new beast when they take the field this Sunday.
Let's just be honest. The Titans offensive attack is inept at best, while the Saints have playmakers and speedsters everywhere you look.
I'm not saying Drew Brees is going to throw for 400 yards and 4 touchdowns or anything silly, but at the same time, it's a bit ignorant to think that the Ravens defense will shut Brees and his weapons down completely.
When I look at this matchup, I don't believe that Baltimore has enough on the offensive side to pull away, as you'll never see me put Joe Flacco and the word "reliable" together in the same sentence.
However, I will concede that at home, the Ravens should be able to run the ball and move the chains against a suspect Saints D. Although don't be surprised to see Baltimore stall out near and in the red zone and even commit a turnover or two.
I'm not naïve to the fact the New Orleans performs much better when playing in the Big Easy, and I understand how tough it is to travel to Baltimore and pick up a road victory.
But I trust that Sean Payton can scheme up enough creative plays and score enough points to stay competitive and perhaps pull off the upset.
In the end,I see Drew Brees taking on Joe Flacco in a game where the home team is favored by 2.5. It sounds to me like the bookies are hoping we latch onto the favorites, so you can catch me riding in "underdog lane"for this one.
Cincinnati Bengals at Kansas City Chiefs
The Chiefs played on Sunday Night Football in Week 6 and put on an absolute show in Gillette Stadium. They fell just short of escaping with a W, but putting up 40 points and playing the way they played confirms to everyone that this team is a legit Super Bowl contender.
On the other hand, the Bengals are 4-2, and on paper, they're putting together a solid season. But I've been watching the NFL for a longtime, and Cincy's starting quarterback didn't earn the nickname "Daytime Dalton" for no reason.
Cincinnati has been awful in primetime spots since Andy took over – so bad that they're actually winless in 5 attempts. Also worth noting, the Bengals are 1-4 against the spread (ATS) in those 5 instances.
Now throw in the fact that the Chiefs are 6-0 ATS in 2018, and you can see where I am going here.
Actually, you can throw those numbers out the window for a second and just focus on the fact that the Chiefs are going to be playing at Arrowhead Stadium live on NBC with millions watching on television.
Do you honestly think that the Bengals can match the level of hype and intensity that Patrick Mahomes and company will march onto the field with on Sunday evening?
Bill Belichick had 10 days to scheme for the Chiefs offense, and Mahomes still lit them up for 40. Now you want me to believe that Marvin Lewis will have more success on shorter notice while playing on the road?
No thanks!
I think the energy and atmosphere in the crowd will be overwhelming, and I suspect it will lead to the Chiefs building a substantial lead. As much as the Bengals will be trying to hang around, I just don't think it happens Sunday night.
I'll roll with KC to pound the Bengals into oblivion and further cement their status as one of the elite teams in all of the National Football League.
Minnesota Vikings at New York Jets
Say what you want about Sam Darnold and the New York Jets, but the fact of the matter is that "Gang Green" has a chance to win their third straight game and get to 4-3 on the season.
They'll be playing at home against an opponent who will also be looking for their third consecutive victory, so we should be in for a dandy.
Kirk Cousins will likely have to rely on #19, just as he's routinely done so far in 2018.
Adam Thielen is on pace to set the single-season reception record after hauling in 58 balls through the first 6 games. The undrafted 28-year-old has emerged as the most dependable target in the NFL as he has an uncanny ability to find open holes in the middle of the field.
With that being said, playing on the road at MetLife Stadium isn't exactly the easiest task a team can be assigned. Just ask the Broncos and the Colts, each of whom suffered a loss there over the past two weeks.
The Jets fan base should be rocking and rolling for this game and able to disrupt the rhythm of Minnesota's offensive game plan.
When New York gets the ball, I'm not convinced they'll find as much success as they have experienced over the past couple weeks, as the Vikes finally started establishing a pass rush in Week 6.
Albeit it was against the futile Cardinals, but Minnesota recorded 6 sacks, forced 2 turnovers, and didn't allow a single 3rd-down conversion to be completed (0-10).
Sure, Sam Darnold has looked adequate at times. I'll admit I've seen him look poised and make some high-level throws.
But the bottom line is that Sam is completing under 60% of his passes on the year and ranks 26th in passing yards per game. His 9/7 TD/INT ratio is nothing to write home about, so I'm still a little curbed on some of the premature excitement I hear surrounding the former USC Trojan signal-caller.
After really taking a step back and looking at how I envision this matchup playing out, I'm starting to sense it'll be more of an ugly, slug-it-out type of brawl than a high-flying act filled with loads of touchdowns.
I'd give the edge to the Vikings, but I wouldn't be shocked to see it go either way. What would be surprising was if this game turned into a shootout. For that reason, I'll grab the under 47 and be rooting for lots of punts!
Buffalo Bills at Indianapolis Colts
I know, I know.
How in the heck is a team that is 1-5 and losers of 4 straight favored by more than a touchdown? Like, how can that be real?
Allow me to divulge.
Bills QB Josh Allen is in a brace and won't be in uniform on Sunday, leaving Sean McDermott with the unenvious decision between choosing Nathan Peterman or Derek Anderson as his new leader.
It appears that Derek Anderson will get the nod, as Peterman didn't help his case by throwing for just 61 yards and a pair of interceptions in relief of Allen last Sunday.
In any case, the prospect of Buffalo's offense this weekend isn't looking very good, even against a Colts defense that is – how should I say this politely?– ummm, not very good.
The Bills offensive unit hasn't just been bad in 2018; it's been unequivocally dreadful.
They're dead last in offensive production (12.7 points per game), and only the Cardinals average fewer yards.
Anyone who thinks that 35-year-old journeyman Derek Anderson is suddenly the answer to all of Buffalo's problems is sorely mistaken, as I expect it to be a rough outing for everyone involved with the Bills organization.
Meanwhile, Indy's offense has caught fire recently, averaging 30.7 points per contest over the past 3 weeks.
Andrew Luck has tossed for an incredible 1,130 yards over that stretch (376.7 yards/game) as well as has thrown 11 touchdown passes during that span.
After two straight road games, now Luck will be playing at Lucas Oil Stadium and will be getting his primary target back in the lineup.
T.Y. Hilton is expected to be "all systems go" by the time this game kicks off at 1:00 pm EST on Sunday afternoon, and I can assure you that the Colts offense will welcome him back with open arms.
Not only do I think the Colts break their current 4-game skid, but I think they handle the Bills without any qualms whatsoever.
The Summary
I hope that some of these wagers caught your attention because this weekend promises to be full of excitement.
Even if you're a Steelers or Packers fan, and your team is on a bye, you can still have an eventful Sunday watching football.
Because once you start betting and winning football games online, you won't want to stop.
If you enjoy these game-by-game breakdowns, then you'll really want to come back to our blog section on Monday morning for my full and detailed preview of the MNF game between the Giants and the Falcons.
Until then, have fun this weekend, and good luck with your betting!