Hide Bonus Offers
| | | | | |
| --- | --- | --- | --- | --- |
| #1 | Bovada Sports | 50% Up To $250 | Visit Site | Bovada Sports |
| #2 | BetUS | 125% Up To $2,500 | Visit Site | BetUS |
| #3 | MyBookie | 100% Up To $1,000 | Visit Site | MyBookie |
| #4 | Everygame | 100% Up To $500 | Visit Site | Everygame |
| #5 | BetOnline Sports | 60% Up To $1,000 | Visit Site | BetOnline Sports |
Week 6 NFL Power Rankings: Minnesota Vikings Take Over Top Spot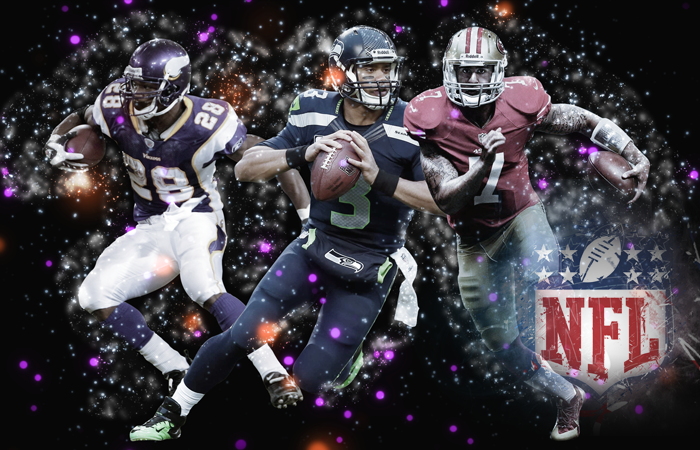 Five weeks into the 2016 NFL season, the picture is finally starting to clear up. The Denver Broncos still look capable of repeating as Super Bowl champs, but rising teams like the Falcons, Vikings and Raiders look very much like the real deal.
As impressive as they all have been, it could still all be moot with the return of Tom Brady giving an already solid Patriots team a significant boost. New England doesn't take over the top spot in our week six NFL Power Rankings, though. At least not yet.
That's Minnesota's role, after riding an elite defense and an incredibly efficient Sam Bradford (70% completion rate) to the league's only perfect mark:
Let's take a look at Minnesota's status atop the NFL and check in with all 32 teams as we reflect on week five and the season thus far:
1. Minnesota Vikings 5-0 (Last Week: 2)
Minnesota's defense has it on a Super Bowl trajectory and Sam Bradford is quietly playing the best football of his pro career. The Vikings aren't winning pretty and still need to improve their running game, but they're making good offenses look pedestrian and remain unbeaten.
2. Pittsburgh Steelers 4-1 (Last Week: 3)
Pittsburgh has wiped away the memory of getting destroyed by the Eagles and has looked terrific in two straight wins. We still don't know if this defense is title worthy, but there's no doubt the offense is.
3. New England Patriots 4-1 (Last Week: 4)
The Pats already looked good, going 3-1 without Tom Brady. Then he returned and he quickly reminded us (400 yards, 3 TDs) just how good they truly are.
The defense needs to round things out eventually, but this team is about as dangerous as anyone.
4. Atlanta Falcons 4-1 (Last Week: 5)
Beating the Broncos in Denver is the real deal. The Falcons showed they can dominate in all facets, as they've dismantled elite defenses on the ground, through the air and on the road. They're quietly turning into a very real (and complete) Super Bowl threat.
5. Denver Broncos 4-1 (Last Week: 1)
One loss doesn't kill your chances at repeating, but the top portion of the league looks strong – possibly too strong. Denver's offense fell flat with rookie passer Paxton Lynch under center, but even more disturbing were several hiccups by their usually elite defense. If the latter becomes commonplace, the Broncos could sink further.
6. Oakland Raiders 4-1 (Last Week: 6)
Oakland isn't a dominant team and it's still clear their defense isn't ready to be elite, but you have to be impressed with this hot 4-1 start. Their only loss on the year is still a close shootout with a suddenly very impressive Falcons team. All that preseason playoff chatter is growing louder.
7. Green Bay Packers 3-1 (Last Week: 7)
Green Bay has not looked awesome as a whole in 2016, but give credit where credit is due: they barely lost to the Vikings and have grinded their way to 3-1. Their offense should eventually get better, but the big takeaway is how solid their defense is. If that continues, they'll be in the mix for a deep playoff run.
8. Seattle Seahawks 3-1 (Last Week: 8)
Normally getting your bye week early in the year can be annoying, but it could be what saves the Seahawks. Russell Wilson and Thomas Rawls had a full week to nurse their wounds and could be markedly more healthy by the time week six rolls around. That's problematic, since this team has struggled and is still 3-1.
9. Philadelphia Eagles 3-1 (Last Week: 11)
Losing to the Lions drops Philly two spots, as they got off to a slow start and their usually dominant defense simply didn't show up. This one is on Ryan Mathews, however, who fumbled a win away late.
10. Dallas Cowboys 4-1 (Last Week: 15)
The great debate now becomes Dak Prescott vs. Tony Romo, but with the Cowboys standing in at 4-1 and looking as balanced as ever, why would anyone dare change a thing?
Perhaps a huge NFC showdown in Green Bay will reveal a new narrative this week.
11. Baltimore Ravens 3-2 (Last Week: 9)
Baltimore was looking like a title contender for a second there, but after two straight losses they feel rather exposed. Firing offensive coordinator Marc Trestman probably doesn't change the fact that they play down to their level of competition, don't run the ball and are leaning too hard on a 37-year old wide receiver to carry them. They're good, but they're not that good.
12. Houston Texans 3-2 (Last Week: 13)
With J.J. Watt gone, Houston's once elite defense isn't so elite anymore. The offense is in shambles, too, which has the Texans a bad game or two from completely falling apart. A week six date with the Colts just might tell us which way this team is headed.
13. Buffalo Bills 3-2 (Last Week: 16)
The Bills looked lost during an 0-2 start, but you have to commend Rex Ryan for grabbing hold of this team and getting them to react. A 3-0 run and a suddenly elite defense has the Bills in the mix for the AFC East title and a playoff spot.
Oh, and their next few games are beautiful:
Whether they actually pull through and get back to postseason play is anyone's guess, but the last three weeks have been nothing but positive.
14. New York Giants 2-3 (Last Week: 10)
New York looked like a team with an improved defense and the ability to close out games en route to a 2-0 start. Now they just look like a floundering team that barely beat the Cowboys and Saints before dropping three in a row. They still have talent (and life), but a week six clash with the Baltimore Ravens just turned into a massive game.
15. Cincinnati Bengals 2-3 (Last Week: 12)
The Bengals looked the part of a tough, balanced playoff contender after a week one win, but since then their lack of offensive punch has been painfully exposed. Suddenly this team is close to hitting the panic button and a week six contest with the Patriots isn't about to help.
16. Washington Redskins 3-2 (Last Week: 22)
Say what you will about Kirk Cousins and these Redskins, but they have shown serious resilience by ripping off three big wins after a lousy 0-2 start. They still might not be for real, but it's nice to see they have some fight in them.
17. Kansas City Chiefs 2-2 (Last Week: 12)
Through four weeks the Chiefs have been an enigma. Their constant bouts with inconsistency need to stop if they are to have any hope of winning the AFC West – a division that is now incredibly competitive again. Jamaal Charles getting back to full strength in week six could help right the ship.
18. Arizona Cardinals 2-3 (Last Week: 17)
Arizona got a tough win on TNF without Carson Palmer and that probably saved their season. Palmer should return in week six to face the Jets, and there we may finally learn the truth: is this guy going to turn this around and get them to a Super Bowl, or is he still haunted by his NFC title game meltdown of a year ago?
19. Detroit Lions 2-3 (Last Week: 20)
The Lions were left for dead before they took on the undefeated Eagles last week, yet Matthew Stafford torched them and the Detroit defense held firm. The Lions don't feel like a legit threat and their running game is non-existent, but it's clear they'll be a tough out going forward.
20. Indianapolis Colts 2-3 (Last Week: 23)
Barely beating the Bears shouldn't get you any points, but the Colts have pushed back against a slow start to stay relevant in the increasingly pathetic AFC South. For all of their issues, they can take over first place with a big win over the Texans in week six.
21. Los Angeles Rams 3-2 (Last Week: 19)
There is no denying the talent of Todd Gurley or how dominant this Rams defense can be. But they're still hitching their wagon to Case Keenum, who tossed a pick-six that kept them from going 4-1. Jeff Fisher doesn't get enough credit for keeping a bad team in games, but it's clear this team isn't going anywhere without a competent quarterback.
22. Tampa Bay Buccaneers 2-3 (Last Week: 24)
It's sweet irony that the Bucs had their season saved by their rookie kicker, who many were calling to be benched or even cut. It probably won't matter in the grand scheme of things, but Tampa Bay fought hard and staved off a 1-4 start. The rival Panthers can't say the same.
23. Carolina Panthers 1-4 (Last Week: 18)
Beating the Bucs without Cam Newton was always going to be a tough test, but the Panthers really blew this one. A depressingly slow start killed them this week and now they're facing an impossible 1-4 hole. The Super Bowl hangover is alive and well, folks.
24. Tennessee Titans 2-3 (Last Week: 29)
Shredding the Miami Dolphins isn't impressive, but Marcus Mariota and this offense badly needed to get back on track. A win's a win, too, while DeMarco Murray continues to look great and this Tennessee defense looks strong and keeps building confidence. If this passing game can ever really get going, the Titans might seriously have something here.
25. New Orleans Saints 1-3 (Last Week: 25)
New Orleans better have used their week off to figure out their defense and commit themselves to Mark Ingram in the running game. If not, their spirited win to stave off an 0-4 start will end up being for nothing.
26. San Diego Chargers 1-4 (Last Week: 26)
You have to feel just awful for Philip Rivers, as he puts so much into each game, only to see the Bolts cough away wins. San Diego could easily be undefeated right now, but their inability to close out games reveals they just aren't that good. At some point you are what your record says you are, after all.
27. Jacksonville Jaguars 1-3 (Last Week: 27)
Blake Bortles and co. are still in the running for the AFC South after nabbing their first win of the year in week four. Starting in week six, that much-hyped defense needs to start showing up if the optimism is to stick around.
28. New York Jets 1-4 (Last Week: 21)
That time missed while holding out is really coming back to bite Ryan Fitzpatrick and these Jets. As bad as the offense has been, though, the defense has been even worse. New York is already sunk and we've only seen them through five weeks.
29. Miami Dolphins 1-4 (Last Week: 28)
There is just not much to get excited about in Miami right now. Ryan Tannehill is an erratic mess, yet rookie head coach Adam Gase feels handcuffed to him. The defense tries, but it has to know it can't hold up long enough to see the offense hold up its end of the bargain. At 1-4 in a division with two good teams, the Fins appear clipped.
30. Chicago Bears 1-4 (Last Week: 30)
There's no denying Brian Hoyer gives the Bears more than Jay Cutler had been, but it's still resulted in losses in two of the last three weeks. The reality is Chicago just isn't very good from top to bottom, and no one should expect more than competitiveness going forward.
31. San Francisco 49ers 1-4 (Last Week: 31)
If you were unsure how bad off the Niners were after the first five weeks, just realize that turning to Colin Kaepernick is now seen as a good thing.
This is one bad team, folks, and they're dangerously close to sliding all the way to our 32nd spot.
32. Cleveland Browns 0-5 (Last Week: 32)
Oh, but being dead last is a special tag only the Browns can appreciate, right? No one expected them to work any actual magic against the Pats with Tom Brady returning, but a blowout loss still can't be fun. Cleveland is a hot mess these days, but usually they at least compete. That wasn't the case in week five, as they sunk to new depths as the league's only winless team.