Hide Bonus Offers
| | | | | |
| --- | --- | --- | --- | --- |
| #1 | Bovada Sports | 50% Up To $250 | Visit Site | Bovada Sports |
| #2 | BetUS | 125% Up To $2,500 | Visit Site | BetUS |
| #3 | MyBookie | 100% Up To $1,000 | Visit Site | MyBookie |
| #4 | Everygame | 100% Up To $500 | Visit Site | Everygame |
| #5 | BetOnline Sports | 60% Up To $1,000 | Visit Site | BetOnline Sports |
Week 6 Daily Fantasy Football: 5 Matchups to Exploit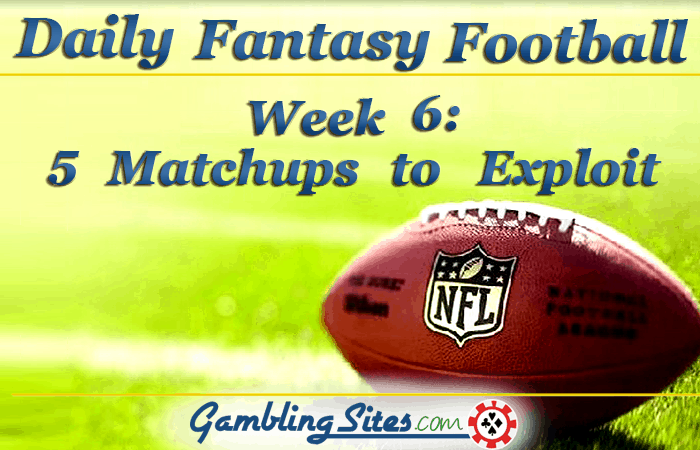 Exploitation is key in daily fantasy football. Whether you're talking about a defense being flat out bad in all regards, a team being downgraded in general due to injuries or a specific position advantage, DFS players need to maximize the data as best as possible.
Every now and then we'll step in and do some of the work for you, and week six has us doing that again. Of course, keep in mind that having someone else look at the numbers or just taking rankings and state at face value isn't always the best thing to do.
Two great examples: Jordan Cameron with a strong matchup against a Tennessee Titans defense that ranks poorly overall against the tight end position and Jacksonville Jaguars wide receiver Allen Robinson's strong weekly averages.
A closer look reveals Cameron's blistering matchup isn't so great, after all. Tennessee's poor tight end ratings are negatively impacted by Austin Seferian-Jenkins going nuts in week one – almost solely in the fourth quarter. The other tight ends the Titans have faced this year are Coby Fleener, Gary Barnidge and Charles Clay. Clay and Barnidge combined for two catches, while Fleener had moderate results and no scores. Clearly, this is a skewed ranking and we need to be sure to avoid these.
As for Robinson, he was a total stud in week two and five, as he scored all four of his 2015 touchdowns (2 each) in these games. He was a dud in week one (one catch for 27 yards), however, and didn't score in any other game. In fact, in the three games where he didn't score, he never topped 12 fantasy points.
We can look at these two examples in a number of ways but the key take away is this: Allen Robinson is a boom or bust player, if not a little inconsistent. We know that and we assume the risk. And Cameron is a heck of a talent, but he's operating in a thus far dysfunctional system and facing a Titans defense that, week one aside, has actually been quite good against his position.
Keep things like that in mind, and you'll be a better daily fantasy player. Now for five specific matchups to exploit in week six, read on:
Broncos vs. Browns Defense (General)
We'll get more specific with some matchups, but overall you may want to fire up Denver Broncos players this week. Not only are most of them (specifically Peyton Manning and C.J. Anderson) going to have low ownership percentages, but they have a dream matchup across the board. The Browns rank dead last in fantasy points allowed to the running back position and are 28th against the quarterback position. They're slightly better against wide receivers, but with Joe Haden and Tashaun Gipson out this week, I really don't care.
Owen Daniels burned everyone last week so forget him, but I'm all about the Broncos otherwise. And if they can't take advantage of this amazing matchup, this should probably be the last week you roll with them.
49ers Passing Game vs. Ravens Pass Defense
Baltimore's pass defense just let Josh McCown drop a career-high 457 yards on them. He added three touchdowns in an overtime win for good measure. Yuck, right? But that wasn't just a one-week slip-up. Baltimore has been probably the worst pass defense in the league ever since stifling the Broncos in week one. Since then, they've given up 351+ passing yards in three of their last four games. The only game they looked respectable was in week four versus Michael Vick, and well duh.
This week they're on the road and will take on Colin Kaepernick. Sure, that could completely work in their favor, or last week's revival of San Francisco's passing game is enough to get the Niners' mojo back. That only needs to be the case for one week, anyways.
Eagles Tight Ends vs. New York Giants
The G-Men can't figure out the tight end position. On the year, they've allowed the most receptions to the position, the third most targets, the second most yards and tie for second in touchdowns allowed (4). They stink against tight ends, man.
A closer look suggests it's a running trend, too, as Jason Witten scored on them twice in week one, Jordan Reed dropped 90+ yards on them in week three and Charles Clay burned them for 100 yards in week four. Heck, last week Garrett Celek even caught a touchdown. Zach Ertz is insanely cheap on daily fantasy football sites and even had his best game of 2015 last week (five catches). Brent Celek also could be in play here, but Ertz is shaping up as one of the top sleepers of the week.
Vikings Passing Game vs. Kansas City Chiefs
I don't have a ton of faith in Teddy Bridgewater and figuring out who is going to go nuts between Mike Wallace, Charles Johnson, Cordarrelle Patterson or Stefon Diggs is probably a total nightmare. But this isn't a matchup to be ignored. KC has gotten absolutely thrashed by wide receivers on the year, as they rank dead last in total points allowed per game to the position (over 6 points higher than the next team!). In fact, they haven't allowed less than 230 passing yards yet this year, while the 11 touchdowns allowed to receivers on the season leads the league. Yikes. I can't tell you who will benefit from this the most in Minnesota, but someone is bound to. Target this matchup.
Target Lions and Jaguars Run Defenses
Basically, build some teams with Matt Forte and Arian Foster as your top dogs at running backs. There is plenty of logic supporting that argument even without rankings and stats, but there is a lot of support there, as well. A closer look beyond them both rating poorly against the run shows that both the Lions and Jaguars have given up at least six rushing touchdowns, while Detroit has been crushed to the tune of 548 yards on the ground.
Jacksonville is the overall better matchup, of course, as they have allowed over 400 rushing yards and also give up receptions to RBs quite easily (5th with 37 allowed). That makes Foster the top play between the two elite backs, while both are solid prices ($7k and $7.1k) compared to the top guy, Le'Veon Bell ($8.5k).
That's five solid situations to exploit, with one general defense in the Browns, a tight end spot, a receiver spot and two targets against running backs. That's six matchups, actually. Use them as you will, and as always, good luck in daily fantasy football this week!