Hide Bonus Offers
| | | | | |
| --- | --- | --- | --- | --- |
| #1 | Bovada Sports | 50% Up To $250 | Visit Site | Bovada Sports |
| #2 | BetUS | 125% Up To $2,500 | Visit Site | BetUS |
| #3 | MyBookie | 100% Up To $1,000 | Visit Site | MyBookie |
| #4 | Everygame | 100% Up To $500 | Visit Site | Everygame |
| #5 | BetOnline Sports | 60% Up To $1,000 | Visit Site | BetOnline Sports |
Week 5 NFL Betting: Which Winless NFL Team Will Win First?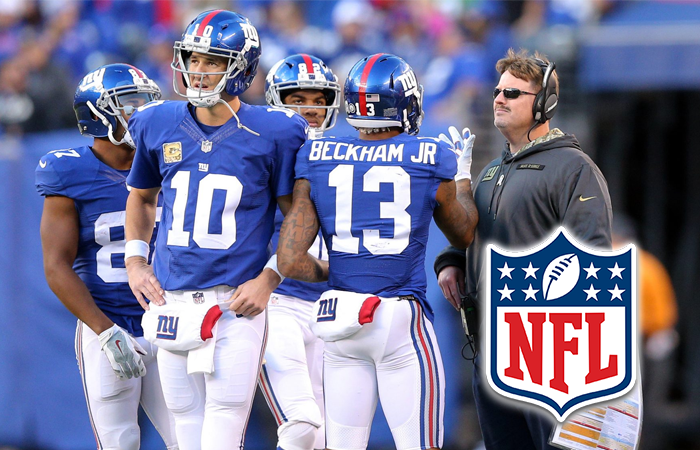 Most people are talking up the undefeated Kansas City Chiefs as we approach week five in the NFL. That, or we're all left wondering if teams like the 3-1 Buffalo Bills or 3-1 Detroit Lions are for real.
That's all understandable, too. However, just as interesting as discussions involving the best teams in the league are, few things are as grabby as noting the worst the NFL has to offer.
It's rather startling, too, as playoff contenders like the Los Angeles Chargers and New York Giants are among the league's winless teams. Some felt the Bolts and G-Men had the goods to make a run at Super Bowl 52, but after a 0-4 start, those aspirations have quickly dried up.
The Chargers and Giants aren't alone, of course. Joining them on their path to sheer horror are the 0-4 San Francisco 49ers and 0-4 Cleveland Browns. Shockingly, the Chicago Bears already have a win and the New York Jets (gulp*) have two victories.
That's right, after four weeks, just four teams have yet to find that elusive first win and two of them are teams nobody expected to be here.
Winless Prop Bet
As fun as it is to marvel at the path that got these four sorry franchises to a winless start, it could be more enticing to bet on how they perform from here. One such bet exists at BetOnline, where we can wager which of these four teams earns a win first.
Vegas clearly doesn't have a great feel for who will win first, as every team offers +165 odds or better. There is both upside and value to be had here. Take a look:
New York Giants +165
Cleveland Browns +275
San Francisco 49ers +300
Los Angeles Chargers +350
To properly break this bet down, it's important to note the status of each team, as well as what they're up against in week four.

New York Giants
The Giants weren't supposed to be the winless New York team through four weeks. Here they are, though, after looking horrendous through the first two weeks. Their would-be elite defense really hasn't been that imposing at any point in 2017, but their offense was what really held them back initially.
An Odell Beckham Jr. injury didn't do them any favors, but the G-Men also haven't had much success running the ball and their offensive line hasn't performed well. Eli Manning and co. have picked it up over the last two weeks, however, and New York seems to be working their way to that first win.
In week four they get the winless Chargers at home and per Bovada, are solid -190 favorites to take the win. It's hard to knock that logic and Vegas shows their loyalties again with this bet. At +165, the Giants make plenty of sense as the best overall bet to get a win this week.

Cleveland Browns
The next best bet lies with the Browns, who have not been great defensively but have really struggled due to shaky quarterback play. Rookie passer Deshone Kizer has flashed a strong arm and big-play ability, but he's also been erratic and turnover-prone.
Kizer's issues are clearly hampering the Browns and it's kept them from stealing a win in a couple of close games. They had a winnable game last week against the Colts and fell flat. While things haven't looked great, Cleveland probably has their best chance to nab a win in week four, when they take on the 2-2 Jets at home.
Their game with New York is set up as a true pick'em at most NFL betting sites. That's tough to disagree with, considering New York has inexplicably been competitive in 2017 and even beat the Jaguars last week.
This is still probably our next best play with this prop bet. If the Giants don't win, Cleveland offers some value at home against a team that was perceived to be amongst the worst in the league coming into the season.

San Francisco 49ers
Next up are the Niners, who have actually been really competitive and just haven't found a way to close games out strongly. San Francisco got housed by the Panthers in week one but played the Seahawks, Rams and Cardinals extremely tough – even taking Arizona to overtime in week four.
San Francisco has shown some gritty on defense, Carlos Hyde has been a beast for the running game and Kyle Shanahan's offensive system has proven effective at moving the ball. Unfortunately, Brian Hoyer hasn't executed in scoring position and the offense stalls too much and settles for field goals.
The good news is the 49ers aren't quite as awful as their record suggests. They've hung tight with three solid teams in 2017 and they could be getting closer to a win. That very well could come in week five, when they take on a beatable Colts team in Indianapolis.
Indy almost beat the Cardinals in week two and got a win in week three, but got absolutely destroyed in their other two games. The 49ers enter as +105 underdogs, but they aren't the worst sleeper bet in week five and with fun +300 odds for this specific NFL special, they're not a bad bet.

Los Angeles Chargers
To be frank, if we're placing money down on this wager, we need to target this Giants/Chargers game. An unlikely tie aside, a winner is coming out of this game, one way or another.
Could the Browns and 49ers both win? Sure, but they're not facing each other. The Giants and Chargers give us a for sure winner, provided the game doesn't go into OT and end in a tie.
That being said, I'm not very interested in siding with the Bolts. Philip Rivers and co. have remained ridiculously competitive, but they got crushed in week three and in their other three games they just couldn't come up big late.
L.A. now has to travel across the country to take on a Giants team that is just as hungry. Doing this on the road against a team just as desperate as they are looks to be bad news for Los Angeles. Vegas tends to agree, as most NFL betting sites list them as the clear underdogs, as we touched on earlier.
Los Angeles clearly offers the most upside here, but I can't stomach them this week.
Who Wins First?
The hard part here is three of the four teams listed here could come away with wins. How is BetOnline deciding how that bet is played out? It's not clear, but I would imagine the time of the games and order of the wins is how we get the answer.
All three of the games we'll want to track sound off at 1 pm ET, however, so it's going to be luck of the draw, both for picking the right winner and having their game end first. Worst case, if there are multiple winners and you pick correctly, we could be looking at a push.
I don't mind the upside of the Chargers, but I like the safety/upside combination we get with the Giants. I never love favoring teams traveling across the country, while the Chargers are road underdogs and have proven several times this year they can't finish games.
New York should finally get a big win this week and get off the winless path. Here's to hoping they do that and both the Niners and Browns keep losing. If that happens, we get solid value at +165.
Pick: New York Giants (+165)
Most Losses Before a Win
There is another NFL prop bet at BetOnline that ties into this bet, and that's of these four teams, which will lose the most games before finally getting a win:
Los Angeles Chargers +200
Cleveland Browns +250
San Francisco 49ers +275
New York Giants +300
This bet doesn't necessarily have to align with the way you bet on the first wager, but for us, it probably will. That rules the G-Men out this week for us, even though their value here is quite enticing.
I do think it's highly possible the Browns and 49ers both get wins this week, but if we look down the road, they're probably the likely picks to pile on the losses before getting that first win.
Both of these teams have the inferior quarterback play and totaled 3 wins combined in 2016. The Bolts make sense considering we're picking against them this week, but ultimately the Browns seem to offer the most value.
After all, this is the only team in this list with a raw rookie passer and if the Browns can't get past the Jets this week (at home, mind you), it's fair to assume their losing streak could increase as the weeks go on.
Pick: Cleveland Browns (+250)