Week 4 NCAAF Betting – Free Picks for Selected College Football Games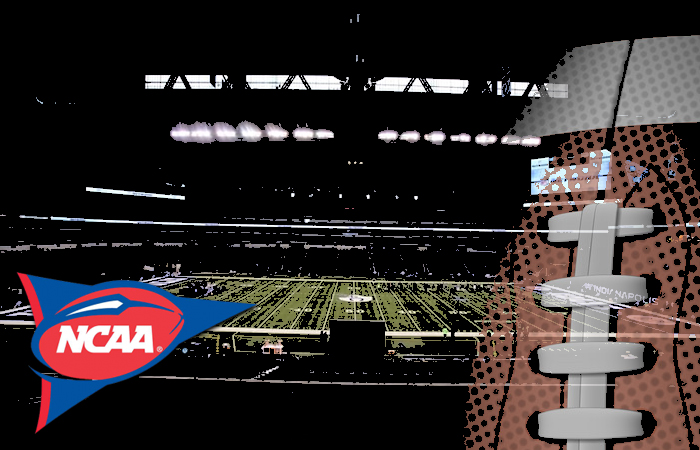 Three weeks into the college football season, and things are starting to become clear.
I see Alabama. I see Georgia.
And then I see everybody else seemingly playing in a different league.
Not only is it looking like these two SEC powerhouses are on a collision course to meet again in the National Championship Game, but it doesn't even appear that they are going to be tested. Both teams have already gone on the road in conference and throttled their opposition.
For crying outloud, Alabama is playing a Jimbo Fisher-coached squad that's ranked in the top 25 this week, and they're a whopping 27-point favorite!
Can Texas A&M hang with Nick Saban's crew? Or is this going to be another Crimson Tide game where the score gets out of hand by halftime?
I wouldn't be surprised to see 'Bama embarrass the Aggies, but it's not the clearest value I see on the board. Follow along below, and I'll break down which lines I think we can take advantage of this coming Saturday.
The odds referenced in this article were taken from SportsBetting.ag on 9/19.
TCU at Texas
We have an exciting game this Saturday at Royal Texas Memorial Stadium with Big-12 bragging rights on the line. TCU is coming off a tough loss against a talented Ohio State team, while Texas enters this game on the heels of an emotional victory over USC.
We all saw the Horned Frogs get beaten by the Buckeyes while the Longhorns were dismantling the Trojans. Surely the public will be heavy on the team who looked "great" on Saturday.
So you can guess where I'm going.
See, I wasn't as impressed with Texas' victory last weekend versus USC, as I think Clay Helton's squad in La La Land has lots of holes up and down their roster. Meanwhile, I watched TCU outplay the Buckeyes in the first half of a primetime game, only to let their lead slip away after a series of unfortunate events midway through the 3rd quarter.
When you take away Alabama and Georgia, Ohio State is arguably the best team in the nation with loads of players who will be playing on Sundays. The fact that TCU didn't look overmatched and hung in the game tells me that Gary Patterson's group is for real.
In fact, I think the disappointing loss at AT&T Stadium only adds fuel to the Horned Frogs fire.
Shawn Robinson is an electrifying quarterback with dual-threat capabilities, Darius Anderson is averaging 8.9 yards per rush, and Jalen Reagor and KaVontae Turpin represent legitimate weapons on the outside.
Texas might have only surrendered 17 points to USC this past Saturday, but I don't suspect defensive coordinator Todd Orlando will have a repeat performance this time around.
As far as the offense goes for Texas, they have had no problem scoring points thus far, clocking in at 31.3 points/game. But they have yet to face an elite defense like TCU and could be in for a rude awakening when they step onto the field Saturday afternoon.
The fact that all the sites have held steady on the 3.5-point line has me intrigued. Anytime I see "3.5," I feel like the bookies are begging me to take the underdog. To the average bettor, 3.5 points sounds so much better than 3 points, so most cannot resist.
Quite frankly, I don't believe TCU will experience issues handling the Longhorns, so I'll lay the 3.5 and be happy I'm paying -102 instead of -110.
Texas Tech at Oklahoma State
Every week during the college football season, I scope the betting sheet up and down, searching for what I call "hidden value."
When I saw this game and this line, I almost stopped dead in my tracks. After opening -13 against Texas Tech, Oklahoma State is now sitting as a two-touchdown favorite against the Red Raiders.
The way that the Cowboys are playing right now, I could see them terrorizing Kliff Kingsbury's team in front of their dedicated fanbase this weekend.
Just look at what the two squads have done so far and tell me how you think this game sets up.
Oklahoma State is not only 3-0, but they have also won convincingly each and every week. This includes a 23-point dusting of the 17th-ranked Boise State Broncos this past Saturday in which they looked like the far better team.
When you take into account that Texas Tech allowed Ole Miss to put up 47 points and Houston torched them for 49, you'll see why I'd be nervous if I was Kliff Kingsbury this weekend.
Playing on the road at Boone Pickens Stadium in front of thousands of screaming fans is no easy task, and the Texas Tech players will find that out in due time. Oklahoma State HC Mike Gundy has an efficient quarterback and a plethora of receivers that can make big-time plays.
The team in Stillwater should have no problems scoring touchdowns at will, as Texas Tech simply has no answer for what OC Mike Yurcich will be throwing at them. Even if the Red Raiders score some "pity touchdowns" late in the second half, this game should be put away with the Cowboys well out in front.
PICK
Oklahoma State – 14
-110
South Carolina at Vanderbilt
Most are expecting the South Carolina at Vanderbilt game to be an absolute dogfight.
After all, both teams play in the SEC East, and both teams are looking for a big victory. On paper, it could be anyone's game. Usually, in situations like this, I like to side with the guys playing in front of their home crowd.
In this case, that'd be the Commodores.
Vanderbilt is coming off a hard-fought loss on the road against a top-10-ranked team in Notre Dame. They held their own against the Fighting Irish in a hostile environment, and I believe what transpired in South Bend will only make this team stronger in the long run.
Now they get to come home to Nashville, which should be extremely beneficial for Derek Mason's program. When the Gamecocks emerge from the visiting locker room at 1:00 pm local time on Saturday, Vandy will be excited to have the stadium filled with faithful fans cheering in their favor.
South Carolina is a gritty opponent, but this Commodores group is nothing to balk at.
The Commodores utilize a steady rotation of proficient running backs, and wideout Kalija Lipscomb is among the nation's leaders in receptions. It won't be easy for QB Kyle Shurmur to move the chains against a stout Gamecocks defense, but I think they'll manage just fine.
South Carolina had to cancel last week's game against Marshall due to implications from Hurricane Florence, so I'm sure that Will Muschamp's players will be eager to take the field. But when they see a team who has given up just 39 points through three games, they'll find out that scoring touchdowns isn't going to come so easy.
This isn't a game where one opponent is necessarily "way better" than the other.
But the leadership and attention to detail in place at Vanderbilt combined with playing on their home field is enough to get me to buy in.
Also worth noting, the "2.5" number tells me that the bookies are wanting the betting public to be on South Carolina. Just like in the first example with the TCU/Texas line holding at 3.5, the casino operators sometimes generate such numbers by design.
The average fan assumes they are getting a bargain by laying 2.5 points as opposed to 3, so that's generally the side they take.
But I imagine the sharps will be on Vanderbilt and the +2.5 points here, so that's where you can find me!
Georgia at Missouri
Let me preface this by stating that I think Drew Lock is a fantastic quarterback, andI believe Missouri is heading in a positive direction. But home games against UT Martin and Wyoming and a road tilt at Purdue can't come close to replicating what the Tigers will face on Saturday afternoon.
As I mentioned in the introduction, Georgia, along with Alabama, are in a class by themselves. When an undefeated SEC team is playing at home and is still a two-touchdown underdog, that should tell you all you need to know.
Missouri is coming off a thrilling road win, one where they kicked a field goal as time expired to knock off the Boilermakers. But before that, this team hadn't really played anybody worth noting.
On the other hand, all Georgia has done is blow through their competition in three straight weeks, hardly breaking a sweat in the process.
Jake Fromm has completed an incredible 80.4% of his passing attempts through three weeks, while Georgia deploys a stable of desirable running backs.
This team can and will attack you from every direction, and I am just not convinced that Missouri HC Barry Odom will have an answer.
There is an abundance of great coaches around the country. But guys like Kirby Smart don't grow on trees.
There aren't many like Kirby who know exactly what buttons to press in order to lead and motivate his players and coaching staff. But whatever he's doing is working, as I see this team on a mission to get back to the College Football Playoff to avenge their loss in the title game last year.
Despite liking Missouri as a whole, I'm not ready to say that the Tigers have what it takes to challenge the Bulldogs. I look for Georgia to slow down Drew Lock while having no qualms putting up points. I'll take Georgia here because they're that much better of a team than Mizzou.
The Synopsis
Saturdays are meant for hanging out on the couch and watching some college football.
Don't tell my fiancée I said that, but she knows what I'll really be interested in doing when I wake up Saturday morning.
Watching the games is entertaining enough, but putting money on the contests takes the viewing experience to a whole new level.
You can browse the top college football betting sites and see if there are any other wagers that catch your eye. But after spending a diligent amount of time doing research, this is what I came up with.
Hopefully, it leaves me smiling when it's all said and done!