Hide Bonus Offers
| | | | | |
| --- | --- | --- | --- | --- |
| #1 | Bovada Sports | 50% Up To $250 | Visit Site | Bovada Sports |
| #2 | BetUS | 125% Up To $2,500 | Visit Site | BetUS |
| #3 | MyBookie | 100% Up To $1,000 | Visit Site | MyBookie |
| #4 | Everygame | 100% Up To $500 | Visit Site | Everygame |
| #5 | BetOnline Sports | 60% Up To $1,000 | Visit Site | BetOnline Sports |
Week 4 Daily Fantasy Football Strategies to Consider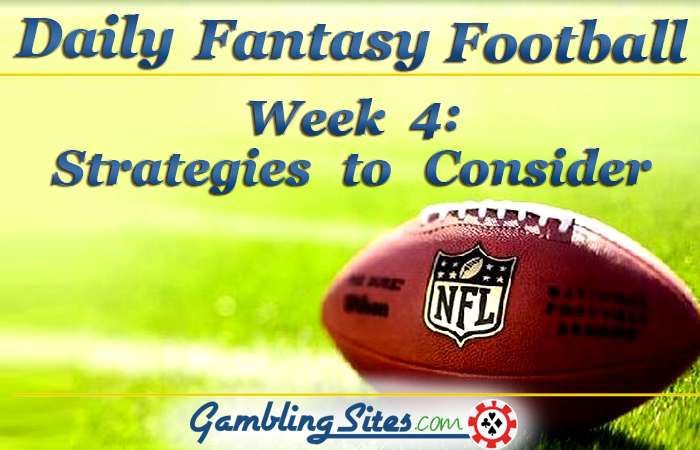 There is an endless list of things to consider when finalizing your daily fantasy football team. You always need to consider matchups, injuries, player roles, weather and so much more. Every single aspect of the game can, at least in some way, be somewhat gauged, and as a person trying to win money playing DFS games (and putting your own money on the line), it's up to you to figure out what information is useless and what information is absolutely crucial to your success.
The most annoying part of that is that both can be right. Some days no amount of research or projecting will do. You're destined to be spared by the elite options you use and the only NFL players that go nuts are guys you would have never dreamed of playing. Other weeks you'd wing it and throw caution to the wind, but with a little more research your logic may have actually prevailed.
Balance is found through preparation. Losing is part of gambling and it's certainly part of daily fantasy football. What sports you choose to play and what types of games you enter is part of your long-term plan, just as is the amount of time you commit to knowing every angle of that sport in any given day or week.
This, my friends, is the beginning of a strategy. Daily fantasy football can be won by accident here and there. Anyone CAN luck into a random roster that wins them millions. But to win consistently, day to day and week to week, you need to hone your craft, stay on top of the basics and shift/alter/adapt your daily fantasy football strategy.
What your strategy is, where it stems from and where it goes is ultimately up to you. But here are four basic DFS strategies to get the ball rolling:
Go For Broke
Building a daily fantasy football lineup can be a beating at times, but when you're playing in a GPP game, it's sometimes wise to just aim high. The "go for broke" strategy doesn't mean you need to drop in your entire bankroll (never do that), but based off of salary cap game pricing, it means to load your team with as many elite (sure thing) players you can get your hands on, and then fill out the rest of your roster with cheap sleepers you're high on.
Going for broke can take on two different forms, as you can just pick random cheap players to fill in the remaining holes, or you can pick cheap players you actually researched and feel good about. You're risking it either way, and depending on the week, both could very well end up turning a profit.
Keep it Balanced
Balanced daily fantasy football teams are probably the best way to go most of the time, as you're assuming far less risk and you should for the most part feel pretty good about every fantasy option on your team. Instead of reaching for a Coby Fleener to make up for the cost of an Odell Beckham Jr., you would instead use Greg Olsen and settle on someone like Amari Cooper at wide receiver. This curbs your overall upside a bit, but it's much safer and still gives you two very good players who also have a decent amount of upside.
Going the balanced route is best for head to head and 50/50 battles, where you'll always have no worse than a 50% chance of winning. Riskier rosters tend to bottom out in these types of situations, as one bad pick can destroy your roster. Keep it safe and simple with a balanced team and watch your bankroll climb in H2H and Double Up games.
Stack'Em Up
There is the aforementioned stacking of elite players, but the other stack job is when you hone in on a specific team and set of players. This is "stacking" when you, for example, target the Packers against the 49ers and start your roster by selecting Aaron Rodgers, Eddie Lacy, Randall Cobb and James Jones. How deep your stack goes is one key decision you always have to make, as well as which specific players you use.
Using the Packers as an example, it's entirely possible Lacy doesn't crush the Niners, but Rodgers and the wide receivers might. Of course, you also have to gauge which of Rodgers' receiving weapons will thrive the most. Cobb is an easy pick, but Jones could easily take a backseat to the likes of Davante Adams, Ty Montgomery, Jeff Janis or even tight end Richard Rodgers.
The overall point is if you see a matchup you have to attack, then use multiple players against that matchup and stack up the points that you feel confident in. Even doing it just as a duo with a quarterback/wide receiver combination you feel is can't miss is a great strategy. That is, if it's successful.
Mr. Contrarian
A strategy you can use within all other strategies is the contrarian play, when you don't just try to build the best team in your own vision, but try to select one or more players you like AND don't think many other people will use. The less owned a player is in a game, the bigger advantage you hold if they go crazy. If you go cheap at quarterback with Derek Carr and he matches what Aaron Rodgers does in that given week, you suddenly save over $3k in salary cap and can fill out the rest of your roster as you please. The more contrarian you go, the bigger the edge. Of course, the more contrarian you go, the greater the risk, as well.
These are just four daily fantasy draft strategies and there are more to consider. The idea is to play around with a mix to see what works the best. Eventually you'll find the right combination and after building up your bankroll in the 50/50 games, you'll finally win big in a giant GPP. Who knows, maybe this is your week.