Week 3 NFL Betting – Free Picks for the Weekend's Games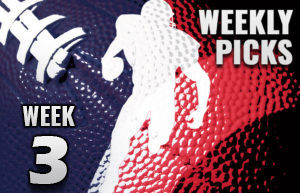 After a wild Week 2 in the NFL, here we are again.
We have a full slate of NFL action this Sunday, with 14 games on tap, to be exact. With lots of exciting matchups and plenty of intriguing point spreads to ponder, it's time to start figuring out how to attack the betting sheet.
Yes, it's still early. And boy, is there a lot to be learned.
But it's obvious that teams like the Rams and the Chiefs are going to be hard to stop, while squads like Buffalo and Arizona might have trouble staying competitive.
So does that mean we can just pound LA and KC all year long? Is it a good strategy to wager against the Bills and Cardinals regardless of who they're playing?
Well, not necessarily. I wish it was that easy, but the oddsmakers are smarter than that.
Every week is unique, and the best approach is to study each matchup independently. Try and gauge how each game will play out, and that'll help you project the outcome. After combining my diligent research with what I've seen take place through the first two weeks, here's what's catching my eye!
The odds referenced in this post were taken from BetOnline.ag on 9/20. They may have changed since the time of writing.
Denver Broncos at Baltimore Ravens
So, I get it.
The Broncos are 2-0, and the Ravens looked atrocious last time they took the field against the Bengals. So why is Baltimore the 5-point favorite in their Sunday afternoon matchup?
Allow me to fill you in.
While Denver has gotten off to a 2-0 start, let's examine what they really have accomplished.
Sure, Case Keenum threw for 329 yards in a Week 1 victory over Seattle. But that game was at home, and after watching the Seahawks get punked by the Bears, it's obvious that Seattle's defense isn't capable of stopping anybody.
I know the Broncos kicked a last-second field goal to beat the Raiders in Week 2, but if you watched that game closely, it actually looked like Oakland was the better team for the majority of the game.
I'm sure it was nice playing a couple of "cupcake" opponents on their home field to open the year. But the sledding is going to get much tougher when Denver shows up in Baltimore to play an angry and restless Ravens squad.
John Harbaugh got embarrassed on Thursday night in Cincinnati, and now his team will have had 10 long days to mull things over. After torching the Bills 47-3 in Week 1, people around the league started clamoring about the Ravens' Super Bowl chances.
But coming out unprepared and letting A.J. Green score three touchdowns off the bat has now tempered the expectations in Baltimore.
In terms of the Ravens' task at hand this week, I think what transpired on Thursday night will only help this team get focused. I've seen Baltimore lay some eggs before, but it's extremely rare that a John Harbaugh-coached team lays two in a row.
I don't see Vance Joseph having a creative enough game plan in place to be able to score touchdowns on the road, and I expect the Ravens to be able to win this one somewhat comfortably.
Indianapolis Colts at Philadelphia Eagles
Well, what do you know? The Eagles looked horrendous last Sunday in Tampa Bay, allowing a 35-year-old journeyman QB to light the house on fire for 400+ yards and four TDs.
At the same time, the Colts were dominating the Redskins on the road and actually looked like a legitimate NFL squad. So, surely this means that the Colts will hang around in this one, quite possibly even pull off another upset, right?
Not exactly- at least, not the way I see it.
Playing on the road in the NFL is tough. Playing on the road in back-to-back weeks is even tougher, especially when you consider that the Colts' opponent on deck is the defending Super Bowl champs.
Now that Carson Wentz has been medically cleared and will be back under center, the Nick Foles experiment is over. Not only does this mean that Philly has their MVP-caliber signal-caller back at the helm, but having him back in the huddle is going to rejuvenate the other 52 men on the active roster.
I expect Doug Pederson's club to come out guns blazing on Sunday in front of their home crowd, and I'm not sure there will be anything that Frank Reich can do to stop it. You might think that the Colts head coach would have an edge playing against the team he was the offensive coordinator for in 2017, but I'm not really seeing it that way.
I see an Eagles team that looked awful last Sunday, and I know that DC Jim Schwartz will be keen on getting his unit back on track.
I'm happy that Andrew Luck is smiling again and in uniform, but I'm worried that for his sake, he won't have much to smile about in this one.
New York Giants at Houston Texans
The New York Giants travel to Houston this weekend to battle the Texans in a game that features a pair of "0-2" teams.
Unless this game ends in a tie, one of these franchises will get off the schneid and break into the winner's circle.
I give the edge to the Texans, but quite frankly, I expect this to be a pretty ugly game.
Rather than try and predict who will come out of this game with the victory, I spent some time contemplating how this game is likely to play out.
Although the sample size is early, it's pretty evident that the Giants offense isn't going to blow anyone out of the water. Yes, Odell Beckham Jr. can make plays, and Saquon Barkley is a versatile weapon out of the backfield.
But this offensive line can't protect Eli, and it won't get any easier on the road against a feisty Houston bunch. Look for the Giants to struggle to move the chains, which will likely result in a few turnovers and not a lot of points.
Meanwhile, everybody in Houston is waiting for Deshaun Watson to get back to the electrifying form he displayed as a rookie last year before getting injured. The problem is, it's not going to happen.
Watson has only completed 59% of his attempts through the first two weeks, and while the Giants defense isn't littered with All-Pros, they should have enough to slow down the Houston attack.
This is the home opener for the Texans, and part of me thinks that the Texans can exploit the Giants and score plenty of points in what will be a raucous atmosphere. But the more I think about it, the more I see this being a defensive battle with more punts than exciting plays.
New Orleans Saints at Atlanta Falcons
The Saints started the year by getting whooped by the Buccaneers in their own stadium. If it weren't for some kicking woes from the Cleveland Browns last week in the Big Easy, the Saints could be in a disastrous position.
But New Orleans gutted it out and escaped with the victory, hopefully gaining some positive momentum in the process.
While that was taking place, the Falcons were busy handling the Panthers, winning a hard-fought divisional game 31-24. Now they have to try and do the same thing by knocking off another NFC South rival on their home turf.
The problem is, Atlanta hasn't looked all that sharp, and the injury bug has bitten them hard.
First, they lose a pair of Pro Bowl defenders in safety Keanu Neal and linebacker Deion Jones, both of whom have been placed on injured reserve. But then they lost starting running back Devonta Freeman, who is still nursing a knee injury and won't be back for a couple weeks.
Then, to make matters worse, it was recently revealed that their starting left guard, Andy Levitre, has torn his triceps and will also be out for the foreseeable future.
Missing the two key pieces on defenses will especially hurt when Alvin Kamara rolls into town, as the speedster RB can line up in the slot and out of the backfield and beat you in a variety of ways. The Saints offense has sputtered at times through the first two weeks, but I think the depleted Atlanta defense will allow Drew Brees to find his rhythm.
I'm not saying the Saints will necessarily come in and win this game convincingly, but I do expect them to keep it tight at the very least.
Over the last 5 years, these two teams have played in Atlanta exactly 5 times.
While the Falcons are 3-2 over that stretch, no game has been decided by more than 6 points, as it generally comes down to whoever has the ball in that final possession.
There is enough data here to make me think this is another one of those tight ball games, and it probably gets decided late in the fourth quarter.
It's hard to envision a scenario where the Falcons run away with this game, so I'll side with Brees and the Saints and take the 3 points as my insurance.
Chicago Bears at Arizona Cardinals
I've been ragging on the Cardinals all year long as they have looked despicable through the first two weeks. Head coach Steve Wilks doesn't appear to have control or respect in the locker room, because the product that Arizona has displayed thus far has been nothing short of appalling.
This is a team that has scored 6 points in two games and has been outscored 54-6 in total.
On the other hand, surely they'll eventually figure things out and start putting together some drives.
The issue is, trying to patch things together and right the ship with Khalil Mack and the Bears defense on the other side of the line of scrimmage isn't exactly going to be easy.
In fact, it's likely to be downright dreadful.
Sam Bradford has looked, well, kind of like what you'd expect him to look like when you consider the cast of surrounding talent, especially on this offensive line.
With just 243 passing yards (no touchdowns and 2 interceptions) through 2 weeks, it's only a matter of time until Josh Rosen is thrown into the fire. When you take into account that 22 QBs threw for 243 or more yards in Week 2 alone, you'll quickly realize that "Sammy B" isn't getting it done.
But please, Steve Wilks, I'm begging you.
Don't throw the rookie out of UCLA in against this fearsome Bears defense, as Rosen would just be used as a "sacrificial lamb."
This Bears defense is ferocious and hungry, and the inefficiencies in the Arizona offense should give them plenty to snack on.
While the Cardinals defense isn't as debilitated as its offense, I suspect Matt Nagy will be plenty imaginative to scheme up some plays that will push the ball down the field.
I like what I have seen out of Mitchell Trubisky, as he strikes me as the type of guy who isn't afraid to be bold, yet he seems grounded enough to be able to learn from his mistakes.
After a couple of tough encounters with the Packers and the Seahawks, look for the Bears to put a stranglehold around the Arizona offense and keep the Cardinals from having an opportunity to win this game.
The Rundown
Week 3 in the NFL promises to be full of exhilarating moments and dramatic finishes.
The lines will be moving up and down all the way until the balls are kicked off, so if you see a price you like, go ahead and head over to BetOnline.ag now!
You'll see me targeting the five games I detailed above, but feel free to go with your gut.
Being a successful NFL bettor is all about putting the work in and spotting the advantageous lines.
And of course, it never hurts to get a little lucky!
I'll be back on Monday for my take on the MNF bout between the Steelers and the Bucs, and boy, is there a lot to get to in that one!