Week 2 NFL Power Rankings: Steelers, Jaguars and Raiders Move Up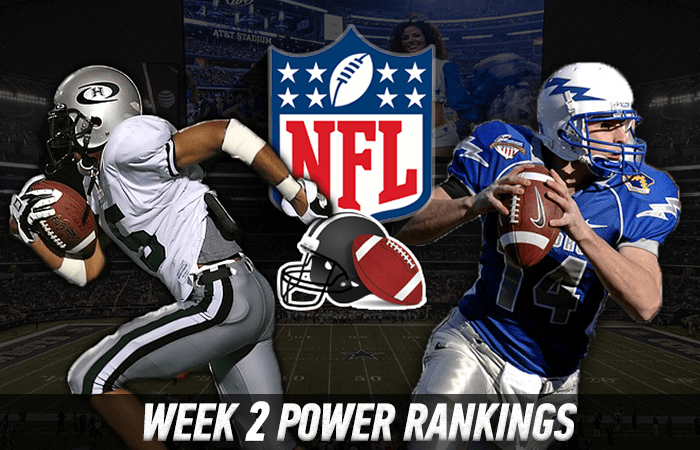 The first week of the 2016 NFL season is officially in the books, with a few startling upsets and numerous thrilling endings taking us through the ringer to get the season rolling.
Ultimately, the best teams largely prevailed in their week one tests, but we're still witnessing some major shifts as we look ahead to week two with our update NFL Power Rankings.
Potential title contenders like the Cardinals and Panthers both lost their season openers, while possible playoff teams like the Jets, Bills and Redskins all fell short in week one.
Here's our latest look at where each of the 32 NFL teams rank going into week two:
1. New England Patriots 1-0 (Last Week: 2)
No Tom Brady or Rob Gronkowski and they go into Arizona and get the win? Yeah, this team is good. The scary part is they might be unstoppable once at full strength.
2. Pittsburgh Steelers 1-0 (Last Week: 8)
It's just the Redskins, but a road blowout win is always impressive. The way they dominated on both sides of the ball was even better. To think this team didn't have Martavis Bryant or Le'Veon Bell and dropped 38 points on the road is pretty amazing. They're legit.
3. Arizona Cardinals 0-1 (Last Week: 1)
Any home loss is going to be tough, but it has to hurt that much more when you had a chance to win. They still have a good passing game, a dynamic runner and an elite defense. They lost by a hair in week one and will regroup in week two.
4. Green Bay Packers 1-0 (Last Week: 4)
Are they for sure the top NFC team after going 1-0? No, not yet. Mike McCarthy's conservative playcalling actually almost doomed them again, too. Thankfully their defense stepped up in a big way. Either way you look at it, they're 1-0 and went on the road and beat a solid, rising squad. They're still a top title contender.
5. Cincinnati Bengals 1-0 (Last Week: 6)
Andy Dalton didn't have three of his top weapons from 2015, yet absolutely shredded the New York Jets in week one. It was a tight game, but a win against a solid team on the road is always worth writing home about. The Bengals look sharp as they prepare for a massive week two clash with the hated Steelers.
6. Denver Broncos 1-0 (Last Week: 9)
The jury is still out on Trevor Siemian, but he did enough in week one to make us think he can be a capable game manager. It's C.J. Anderson and that elite Denver defense that has the Broncos feeling reasonably confident about their odds to repeat as Super Bowl champs.
7. Carolina Panthers 0-1 (Last Week: 3)
It was a tale of two halves for the Panthers, who looked pretty darn good for a half and then fell apart on the road against a good Broncos team. We'll give them a mulligan. They still are one of the most balanced teams in the league and should be able to turn it around quickly.
8. Seattle Seahawks 1-0 (Last Week: 5)
A 12-10 week one win over Miami isn't what anyone expected, but a win is a win. Still, Russell Wilson is banged up and they barely beat a team they should have crushed. Is anyone else a tad worried?
9. Kansas City Chiefs 1-0 (Last Week: 7)
The resilience to fight back and steal an overtime win is impressive, but KC was supposed to destroy a middling Chargers team. They still have a balanced offense and strong defense, but they don't get points for barely beating an inferior team at home.
10. Houston Texans 1-0 (Last Week: 10)
Ditto for Houston, who let the Bears hang around far longer than they should have. Houston's new pieces (Lamar Miller, Brock Osweiler and Will Fuller) all passed the eye test, but it was one home game against a bad team. We'll need to see more.
11. Minnesota Vikings 1-0 (Last Week: 12)
Minnesota's defense is legit. The big problem is no running room for Adrian Peterson and zero threat through the air so far. If that doesn't change, the Vikings could be in serious trouble. A week to home battle with the Packers will tell us a lot about this team.
12. Oakland Raiders 1-0 (Last Week: 15)
The hype train was coming in hard and fast for Oakland, and they responded with a clutch road win in a shootout with the Saints. Their defense wasn't good and they need to prove they can run the ball consistently, but a 1-0 start against a tough road opponent is impressive.
13. Baltimore Ravens 1-0 (Last Week: 16)
Holding the Bills to just 7 points may have shown us the old Baltimore defense has returned. The offense didn't deliver enough, but it still has time to figure things out. After last year's brutal start, a 1-0 record after week one has to feel good for John Harbaugh and co.
14. New York Giants 1-0 (Last Week: 19)
The Giants did prove they can run and play defense in week one. The only problem is, they did it against Dak Prescott and Ezekiel Elliott. A road divisional win is nice, but they beat two rookies by a point. We'll need to see a lot more from this erratic squad.
15. Detroit Lions 1-0 (Last Week: 25)
Detroit's defense looked like it fell off a cliff in week one, but facing an explosive Colts offense on the road couldn't have been easy. Their offense at least showed up and a clutch road win can't go ignored. There are questions left to be answered, but Detroit looks as good as they did when they closed out 2015 on a high note.
16. New York Jets 0-1 (Last Week: 11)
The Jets lost by one at home to a strong team, so we can't knock them too hard. That being said, their vaunted defense got absolutely shredded by an undermanned team. They'll face a must-win game immediately in a week two Thursday Night Football clash with the hated Bills.
17. Buffalo Bills 0-1 (Last Week: 14)
Beating the Ravens on the road was never going to be an easy task, but producing just one score all game was beyond disappointing for the Bills. Their defense showed up, but a hindered Sammy Watkins held back their offense. It will be interesting to see if Watkins' bum foot will prove fatal or if Buffalo can get to 1-1 on TNF.
18. Indianapolis Colts 0-1 (Last Week: 17)
Indy's defense is as bad as ever and an 0-1 start doesn't look good, but Andrew Luck and this offense can ball. Their backs are already against the wall going into a tough week two date with a menacing Broncos defense.
19. Washington Redskins 0-1 (Last Week: 13)
The Redskins didn't defend or run the ball in a rough home loss to the Steelers in week one. Nothing about what they did was encouraging and huge off-season acquisition Josh Norman didn't impress. Is it too early to call last year's playoff run a fluke?
20. New Orleans Saints 0-1 (Last Week: 18)
New Orleans can ball offensively and probably should have won in week one, but we already knew that. Their defense remains flat out awful, and we already knew that, too. If their road woes continue in week two, they won't be going anywhere in 2016.
21. Jacksonville Jaguars 0-1 (Last Week: 21)
Jacksonville still has some work to do if they want to make a playoff run, but losing to a good Packers team by just four in week one felt like a step in the right direction. Even in the loss, we saw a promising defense and a more in control Blake Bortles. Both will need to step it up to get out of San Diego at 1-1 this week.
22. Dallas Cowboys 0-1 (Last Week: 20)
Dallas had two key rookies starting on offense and still almost edged out the Giants in week one. They get a brownie point for keeping it close and almost pulling it out. Both Dak Prescott and Ezekiel Elliott need to grow up in a hurry if Dallas is to avoid free falling down our weekly power rankings, however.
23. Tampa Bay Buccaneers 1-0 (Last Week: 27)
We liked the Bucs as a playoff sleeper going into 2016 and they did not disappoint with a big road win over the Falcons in week one. Their defense still can be passed on and only time will tell if they can be a consistent unit, overall. Still, a 1-0 start against a divisional foe on the road is about as good as it gets.
24. Miami Dolphins 0-1 (Last Week: 22)
Miami left a lot to be desired offensively in week one, but losing by two on the road against the Seahawks isn't an easy accomplishment. This defense just might be for real, and if so, this won't be the last we've heard of Miami. The offense needs to pick it up in week two against the Pats, however.
25. Atlanta Falcons 0-1 (Last Week: 23)
Atlanta still has the tools on both sides of the ball to turn into a viable playoff contender, but getting smoked by the visiting Bucs in week one was a bad start. Dan Quinn better find a way to get Devonta Freeman going to his defense can be more rested going forward.
26. Philadelphia Eagles 1-0 (Last Week: 29)
Philly is going to need to do a lot more than beat the Browns at home to move much further up on this list, but they couldn't have asked for a better debut for rookie passer, Carson Wentz. If Wentz and this defense are legit, the Eagles could be worth talking about. Now we wait.
27. San Diego Chargers 0-1 (Last Week: 26)
San Diego shocked pretty much everyone when they went up big on the road against the Chiefs, then shocked no one when they blew their lead and lost in overtime. If that weren't crippling enough, they lost star wide receiver Keenan Allen for the year to a torn ACL. And just like that, the Bolts went away…
28. Tennessee Titans 0-1 (Last Week: 28)
There is a lot to like about the Titans, who sport a promising running game and a much improved defense. Turnovers doomed them in a week one game they should have won. It will be interesting to see if they have the resolve to learn from their mistakes and get back to .500 this week.
29. Chicago Bears 0-1 (Last Week: 30)
Chicago was left for dead before 2016 even started, yet they hung tough with the Texans for most of week one. The defense was a little better than expected and Jeremy Langford might be the real deal at running back. We won't learn a whole lot from their week two battle with the Eagles, but it's a game they obviously need to win.
30. San Francisco 49ers 1-0 (Last Week: 31)
Blaine Gabbert is not an NFL quarterback, but he did enough in week one to look miles better than Case Keenum. If the Niners defend and run the ball like this going forward, they could be a tough out. Beating a dreadful Rams offense to a pulp moves them up one spot.
31. Cleveland Browns 0-1 (Last Week: 32)
The promise RG3 and the Browns displayed in the preseason came and went so very quickly. Losing on the road to the Eagles (by a lot) hurts, while losing RG3 to a shoulder injury might hurt even more. Like usual, Cleveland is wallowing in it's own sorrows and remains one of the worst teams in the NFL.
32. Los Angeles Rams 0-1 (Last Week: 24)
Case Keenum can't be the starting quarterback moving forward. The Rams generated zero offense and without any threat through the air, never got Todd Gurley going. The Rams went from an able playoff contender to the worst team in the league in a blink of an eye. Seattle is up next in week two. Our condolences, L.A.