Week 17 Sunday Night Football Preview: Green Bay Packers vs. Detroit Lions Betting Advice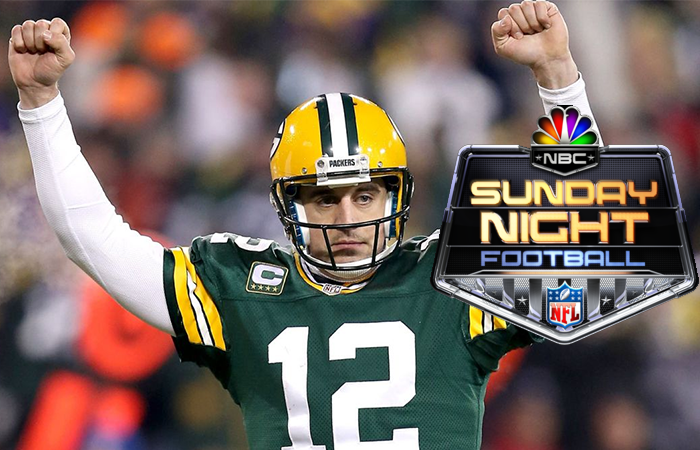 Who: Green Bay Packers (9–6) vs. Detroit Lions (9–6)
Where: Ford Field. Detroit, Michigan
When: Sunday, January 1, 2017. 8:30 PM (EST)
When Week 16 rolled around this 2016/17 season, there were only four teams who had secured a playoff spot: The Cowboys, Patriots, Seahawks, and Raiders. With ten teams yet to clinch playoff spots, the entire field felt ripe with possibility, and there were a host of potential outcomes.
While we'd like to say that Week 17 holds just as much interest, the truth is that almost all of the potential playoff spots have been decided. There are ten teams that are guaranteed to go into the postseason, and only three (technically four) teams competing for the final two spots.
However, while this may mean more uninteresting games than usual this Week 17, it just so happens that the two teams playing in the final 2016/17 edition of Sunday Night Football could very well be the final two teams to clinch those two remaining playoff spots. (Almost as if the NFL planned it that way! Wink wink.)
It's the Green Bay Packers vs. the Detroit Lions, playing a rivalry game for the division title on the first day of 2017, and it doesn't get much better than that. Let's consider the playoff picture as it relates to this game.
With no Monday Night Football Week 17, the New Year's Day prime-time game between the packers and Lions will serve as the conclusion to the NFL season. As it's a night game and the final game of the season, the entire playoff picture will be fully decided before the game starts, leaving fans and gamblers alike in suspense on what the completed playoff picture will look like until after the conclusion of the night game.
For the Lions and Packers, the outcome of this head-to-head matchup is the most important thing they have to worry about for the playoff picture. If you're Green Bay or Detroit, it's win and you're in: Whoever wins this game takes the NFC North title and gets either the #3 or #4 seed. But in addition, there is one other game that helps determine whether these two teams make it. That game is the Giants @ Redskins game, at 4:30 EST on Sunday.
Here's how things would shake out: If the Giants beat the Redskins, then both the Lions and the Packers would have a better overall record than the 'skins (the loser of Detroit/Green Bay would be 9–6 to Washington's 8–7–1). This means that Washington would be out, and both Detroit and Green Bay would make the playoffs – the winner with the #3 or #4 seed, the loser with the #6 seed.
If the Redskins beat the Giants, then things get a little more interesting. Provided that the Lions/Packers game does not end in a tie, the Redskins take the Wild Card spot (their 9–6–1 beating out the loser's 9–6). If the game did tie, there would be complicated tiebreaking procedures called into play, but we think that's highly unlikely.
(We're obligated to say, here, that when we said above that there are technically four teams competing for this Wild Card spot, we were referring to the Packers, Lions, Redskins, and finally the Buccaneers, who need the outcomes of 7 different games to fall in their favor in order to take the second Wild Card spot. As the odds of this happening are well below 1% and the required outcomes include a Giants/Redskins tie and a Seahawks loss to the 49ers, we're not giving it any serious attention here.)
So what this means is that by the time their game starts, the Lions and Packers players will know whether or not they could potentially miss the playoffs. If the Redskins win, then it's lose and you're out for Green Bay and Detroit.
However, even with the idea of missing the playoffs potentially on the line (depending on the outcome of Redskins/Giants), these two NFC North rivals will not need any additional motivation to play this game tough. The Lions haven't won the NFC North in 23 years, (at which point it wasn't even called the NFC North), and haven't won a single playoff game during that stretch, rattling through at least a dozen different regular starting quarterbacks and half a dozen different head coaches.
During this same period of time, the Packers have taken the NFC North 11 times, have won 19 playoff games including two Super Bowls, and have only missed the playoffs five times. These down seasons centered exclusively around the transition between the Packers' two head coaches (Mike Sherman to Mike McCarthy) and two regular starting quarterbacks (Brett Favre to Aaron Rodgers), a multi-year transition that occurred in the middle of the 2000s in Green Bay.
So in summary, the Lions have not been relevant in a very long time, and will be very hungry Sunday night to make it back to the playoffs and prove themselves. The Packers, on the other hand, will be just as motivated to spoil their hated rivals the opportunity as well as to prove to themselves that they have what it takes to make a run deep into the playoffs.
As we said above, it doesn't get much better than a divisional rivalry with the NFC North title on the line; the last game of the regular season on New Year's Day; win and you're in, lose and you could be out. It's the Green Bay Packers vs. the Detroit Lions, and it should be an incredible game.
Not only should it be enjoyable to watch, though: There is also definitely value to be found in this game, for interested parties. Below we'll review all of the ways that you can bet money on the outcome of this Packers/Lions matchup, including the moneyline odds, against the spread betting, the total score bet, and any individual prop bets that may hold value in this matchup.
Packers vs. Lions Betting
MoneyLine
In picking games for straight-up moneyline odds, our theory is that whichever team has the will to continue fighting for the full 60 minutes ends up winning the game. In our experience, the team that is able to keep up the drive and determination all the way to the final whistle generally finishes on top.
While we clearly demonstrated above that both teams have everything to play for in this game (particularly is the Redskins win), we still think it is very clear that the visiting Green Bay Packers will maintain the drive to keep battling much more than the home team will, and that the Packers will end up winning this game. Let us explain why.
Importantly, when everything is on the line, you throw out things like which team is at home, what the divisional record or head-to-head records are, what the weather is like, which team is more accustomed to the conditions, which team has "more to play for," etc. All of these things may have some slight impact, but they're not going to sway the outcome of the game.
When two teams have everything to play for (particularly division rivals), it really comes down to which team comes into the stadium with the confidence that they will win the game before the game even kicks off. To quote The Art of War, "Victorious warriors win first and then go to war, while defeated warriors go to war first and then seek to win."
We believe that the Green Bay Packers will have already won the game before the game kicks off because they have two things that the Detroit Lions do not: confidence, and momentum.
First of all, as we mentioned above, the Detroit Lions have not won a playoff game in decades; the players and the organization in general is not very well-practiced in what it takes to win the important games in December and January when everything is on the line.
On the other side, the Packers have been here before. The Packers have made the playoffs each of the last seven seasons, winning a total of seven playoff games in that time including a Super Bowl. In particular, several players (including team leaders Aaron Rodgers, Jordy Nelson, Clay Matthews and others) were on the team during the 2010 Super Bowl run, in which the Packers made the playoffs on a Wild Card and went on an improbable run to end up winning it all.
Furthermore, when Aaron Rodgers calmly told reporters after the Packers' horrible four-game losing streak in November that he thought this team could run the table, nobody believed him. But now, after five straight wins, people are starting to believe.
So the Packers and their leader Aaron Rodgers have absolute confidence in their ability to win important games and to go on a run deep into the postseason, while the Lions have simply never done that before. But not only do the Packers have the edge in confidence, they also have the edge in momentum.
As we just mentioned, the Packers completely turned their season around in Week 12. After a historically bad four-game stretch in which the team gave up 153 points in a month, getting some key players back from injury on both sides of the ball enabled them to get hot in December, winning five straight games and going from a –6 turnover ratio to a +7 turnover ratio in less than a calendar month.
This is the type of momentum they will bring into Ford Field. Meanwhile, the home team is fresh off of a two-game losing streak, which happened to be against the only two teams the Lions have played against since October that currently have winning records. It's been several months since the Lions beat a good team, and it's possible they just never had the ability to do so at all.
These seeds of doubt have certainly been planted in the minds of Lions fans and players alike, particularly during these last two games – both road losses for Detroit. The Lions played a very stout defense in the New York Giants and were held to only 6 points, ending up losing by 11 points, and subsequently gave up four consecutive touchdowns late in the game against the Dallas Cowboys to lose by 21.
After leading the division for months, the Lions have now been imploding for weeks, and given that the Lions have the opportunity to miss the playoffs, we think that it would be simply fitting for the Lions to do so, given how little they have been able to do to prevent the skid during the last few weeks.
In conclusion, the two teams that head into this matchup may have a roughly equal statistical argument to win this game, win the division, and make the playoffs. However, considering the fact that the Packers have all of the confidence and momentum heading into this matchup and the Lions have none, we think it is an absolute lock that the Green Bay Packers retain the will to win this game throughout, illusory fourth-quarter Lions comebacks be damned, and we think that the Packers end up on top.
Pick: Packers to win
Spread
Packers -3.5 (-110)
Lions +3.5 (-110)
With our pick of the Green Bay Packers to win this game established, we now turn our attention to whether or not we believe the Packers will win by more than three-and-a-half points. In picking games against the spread, our philosophy is to look at the offenses (and in particular the quarterbacks) involved and see if they have what it takes to pile on points, in victory, or to keep games from getting out of hand, in defeat.
In the case of Aaron Rodgers, we think there is an absolutely unassailable argument that he has what it takes to put up major numbers in this game. Statistically, Rodgers is up there with the top quarterbacks in the league once again, with 36 touchdowns to 7 interceptions on the season, along with over 4,000 yards and a passer rating of over 100.
If you look at his numbers since the return of key offensive personnel like tight end Jared Cook in Week 11, Rodgers' last six games have been almost unbelievable. Over the last 6 weeks, Aaron Rodgers has thrown for 14 touchdowns and thrown 0 interceptions; he has averaged 23 completions per game for 286 yards (8.6 yards per passing attempt) at a rate of 70% completions; despite getting sacked 12 times he has an average QB rating of 119.2; and on top of all of this he has tacked on 100 yards rushing and a rushing touchdown despite having to overcome both hamstring and calf injuries that previously had him hobbled (Rodgers is now fully healthy).
Even more incredible was Rodgers' performance last game against the Vikings, in which Rodgers' threw for four touchdowns, ran for one, and with two touchdowns to Jordy Nelson became one half of the most prolific quarterback-receiver combination in the long history of the Green Bay Packers. After the game, when asked about his performance, Rodgers simply said that he had a "heightened awareness and focus;" that he was "in a different headspace;" that during the game he was "seeing things better and playing slower in [his] mind."
So let's get this straight. Aaron Rodgers, one of the best quarterbacks of all time, puts up amazing numbers for 6 straight games. He finally gets completely healthy. He gives some vague existential report of how he's seeing the game clearer than ever. He is one of the most creative offensive minds (as far as personnel packages) in the league, and currently has six healthy, contributing wide receivers (two of which are top five in touchdowns in the entire league), two healthy tight ends, two healthy fullbacks, as well as two legitimate options at running back, one of whom is a converted wide receiver that can catch passes out of the backfield. And this is the player who's spotted only a three-and-a-half-point deficit when playing in his first indoor game in over a month.
In case you couldn't already tell, yes, we do believe that Aaron Rodgers and the surging Packers' offense have what it takes to turn this game against the Lions into an absolute blowout.
But do Matthew Stafford and the Lions have what it takes to keep this game close? Can Stafford go toe-to-toe with Rodgers in this game?
Much has been made of Matthew Stafford's historic number of comeback games this season. The Lions have come back to win eight games this season when they were down on the scoreboard during the fourth quarter, supposedly indicating their ability to hang tough and play clutch football when it counts.
However, we find this statistic completely out of context, and irrelevant. If you look at the Lions' schedule this season, we find it remarkable that they allowed 8 teams to stay ahead in the fourth quarter! Playing the woeful AFC South as well as the Bears (twice), the Eagles, Rams, and Saints, it's astonishing to us that Stafford needed to bring his team back from eight deficits in the first place.
The reasons for this poor offensive performance throughout the season were exposed for all to see on national television last Monday in the Lions' 21-point road loss against the Dallas Cowboys. It was painfully obvious that the Lions have no running game, and thus no ability to control the clock.
This makes sense, as the Lions were starting three rookies in the game against the Cowboys that are integral to the run game: a rookie center, a rookie left tackle, and of course a rookie running back. Despite being up by 7 points, the Lions then gave up 28 straight points to the Cowboys and were unable to control the clock at all, letting Dallas run all over them.
Throughout the entire season, in fact, the Lions' passing game has served like a run game, with short dump-off passes serving to keep the Lions in manageable down and distance. This is one of the primary reasons that Stafford's numbers are so good this season (combined with the fact that he has played against mostly bad defenses). Stafford has 3,720 yards on the season, with 22 touchdowns and 8 interceptions on an overall efficient 66.3% completion percentage and a 95.8 passer rating.
So in summary, while Stafford's numbers are good, a broader look at the Lions offense indicates a very one-dimensional and potentially suspect unit; one that could very easily be shut down after the half-time adjustments are made, like what happened last week against the Cowboys.
On the other side, Aaron Rodgers is hot as a pistol, and the Packers offense could very easily cover a 3.5-point deficit. We like the Packers to not only win this game but also to cover the spread.
Pick: Packers to win by more than 3.5
Total Score
Over 49.5 (-115)
Under 49.5 (-105)
With our picks established that the Green Bay Packers will win this game, and will win by more than 3.5 points, let's now consider whether we think this game will be generally high- or low-scoring in order to pick whether the game will go above 49.5 total points. In order to make this assessment, we believe that it's most important to consider the defenses involved, and whether or not they will be able to keep the game close.
In the case of the Lions, we think that they will have some serious difficulties matching up against the Packers' offense, which we outlined immediately above. Darius "Big Play" Slay, one of the top cornerbacks in the league and the leader of the Lions' team in passes defensed by a wide margin, is officially listed as questionable, and is likely to miss this game.
Last week, in Slay's absence, Dak Prescott and the Cowboys went after his replacement Johnson Bademosi, and it's very likely that Aaron Rodgers would do the same. The only other injury news for the Lions is linebacker and team leader DeAndre Levy, who is also listed as questionable.
On a more general level, the Lions' defense is built primarily to stop the run. The Lions are ranked 16th in passing yards allowed and 26th in passing touchdowns allowed across the entire league, while maintaining a relatively stout and well-disciplined run defense. Detroit has been in the top 5 all season for number of rushing touchdowns allowed, and has the lowest number of missed tackles in the league.
This works out just fine for the Packers, who despite now have a legitimate rushing attack with converted wide receiver Ty Montgomery and mid-season acquisition Christine Michael (combining for over 200 yards and 2 touchdowns two weeks ago against the Chicago Bears), would nonetheless be just as happy to shred defenses with their future-Hall-of-Fame quarterback and strong receiving corps.
So if the Lions will have little ability to hold the Packers to a low score on defense, the question becomes whether the Packers could spoil a bet on the over in this matchup by limiting the Lions to few points.
We don't believe that the Packers defense will have what it takes to keep the Lions out of the end-zone for two reasons. First, they are light on personnel in the secondary. After top cornerback Sam Shields was lost for the season, the Packers have had serious difficulties at the cornerback position. The biggest reason behind their astonishingly bad defensive play in the month of November (averaging over 38 points given up per game) was that the Packers were entirely depleted at the cornerback position, and they're not out of the woods yet.
For this matchup against the Lions, #1 cornerback Damarious Randall, #3 cornerback Ladarius Gunter, as well as starting third-down coverage linebacker Joe Thomas are all listed on the injury report. All three players should play, but if any of them are limited or need to step out of the game at any point, there could be some serious holes in the secondary for Matthew Stafford to exploit.
The pass rush of the Packers has started to surge in recent games after the increase in snap count for ageless veteran Julius Peppers, the increase in health for star linebacker Clay Matthews, as well as the return last week from a broken hand for sack leader Nick Perry. With linebacker Jayrone Elliott back this week and the return of tall defensive tackle Mike Pennel from suspension pending, we think the Packers should definitely be able to get to the quarterback in this game.
However, we don't think that the Packers' pass rush will be quite enough to allow them to get off the field on third downs and to be able to keep the Lions out of the end-zone, and we think it very possible that the Lions put up some points in this matchup. Additionally, if Rodgers shreds the Lions' defense as we anticipate, then there is a definite possibility for Stafford to get a touchdown or two in garbage time, like Sam Bradford were able to do last week.
In summary, we don't believe either team will be able to limit the opposing offense to a small point total, so we foresee this game being a high-scoring shoot-out that is ultimately overpowered by the talent and health of Green Bay's offense. There's no way that the Lions will give up the fight in this meaningful game, so some garbage time or 4th-quarter points are definitely in play. We advise pounding the over in this game, listed at 49.5 points at the Bovada sportsbook, and our pick is given below.
Pick: Lions 20, Packers 38
Prop Bets
Now that we've established our overall view of the game as a high-octane shoot-out with the Packers offense being the surest bet, it's time to consider any individual prop bets that might hold value in this matchup.
In our minds, this game offers one of the most "sure things" that we've seen in weeks in the NFL. We're so confident in our appraisal of how this game will turn out that we find immense value in the individual player prop bets, and believe that many of them could pay off big.
Before we start in on the many individual prop bets we think hold value, let's first briefly consider the global props. The time for NFC North title bets is officially over, as the outcome of this game serves as a proxy of that bet and the odds are not favorable. For those of us lucky to have snatched up the Packers odds to win the NFC North in November, payoffs for a Packer win in this game could be as high as 3- or 4-to-1, rather than the -200 moneyline currently listed at the Bovada sportsbook.
Needless to say, betting on the Lions is a very bad idea – they could just as easily miss the playoffs as they could make the NFC Championship game. The Packers are currently getting +900 Super Bowl odds to the Lions +5000, and the Packers are currently getting +500 NFC Championship odds to the Lions +3300. If you believe that the Packers can continue their run, you're not likely ever to get better odds than you will before the beginning of Week 17. With a Packer win on national television, their stock should go way up, and thus the value of betting on them should go way down.
With these global bets covered, let's turn our attention to individual player prop bets. In summary, we like the Packers' offensive players a lot, and we would avoid any bets of any sort on the defenses involved in this matchup. We'd stay away from betting on the Packers' receiver Randall Cobb because it's unclear whether he will play at all, nursing an ankle injury, and if he does play it's unclear whether he'll be able to perform.
Beyond that, as far as the Packers' receivers, here are the bets that we believe could hold value:
Total Receiving Yards – Ty Montgomery: Over 20.5 (-125), Under 20.5 (-105)
Total Receiving Yards – Randall Cobb: Over 35.5 (-125), Under 35.5 (-105)
Total Receiving Yards – Jordy Nelson: Over 80.5 (-125), Under 80.5 (-105)
Total Receiving Yards – Jared Cook: Over 35.5 (-125), Under 35.5 (-105)
Total Receiving Yards – Davante Adams: Over 63.5 (-125), Under 63.5 (-105)
Total Receptions – Ty Montgomery: Over 2.5 (-140), Under 2.5 (+110)
Total Receptions – Randall Cobb: Over 3 (-125), Under 3 (-105)
Total Receptions – Jared Cook: Over 3 (-110), Under 3 (-120)
Total Receptions – Davante Adams: Over 4.5 (-125), Under 4.5 (-105)
The difficulty in betting Packers' receivers in this game is that while we do believe that someone will have a big game, it's not so easy to determine which someone that will be. Over the last 6 weeks the pattern with the Packers has been that one player has a big game (Jared Cook in Week 11; Davante Adams in Week 12; Ty Montgomery in Week 15; Jordy Nelson in Week 16), and then the following week they are targeted by the defense, leaving somebody else open.
Purely based on our gut-level assessment of how these teams match up, we think that Jordy Nelson or Davante Adams are due for a big game, particularly if Darius Slay is out. The only surprise bet we could see is the return of Randall Cobb, back strong from his injury after being held out of last week's game, but we wouldn't feel comfortable wagering on that.
The anytime touchdown bets are as follows:
Jordy Nelson (-150)
Ty Montgomery (-130)
Davante Adams (EVEN)
Randall Cob (+175)
Jared Cook (+200)
Aaron Rodgers (+300)
With Aaron Rodgers running for a touchdown last week, we think it unlikely that he would do it two times in a row, and once again with the injury to Randall Cobb we wouldn't call that a safe bet. As far as what we do like, it's important to note that this season, the Lions have given up 9 touchdowns to tight ends, good for 4th-highest amount in the league. With Jared Cook being withheld from the end zone for several weeks now, he could be a good bet for an anytime touchdown scorer.
As far as receiving yards, the possible bets are as follows:
Total Rushing and Receiving Yards – Ty Montgomery: Over 79.5 (-125), Under 79.5 (-105)
Total Rushing Yards – Ty Montgomery: Over 58.5 (-125), Under 58.5 (-105)
Total Rushing Yards – Aaron Rodgers: Over 16.5 (-125), Under 16.5 (-105)
We don't necessarily feel confident in Ty Montgomery's ability to have another breakout game against the Lions. As we mention above in our discussion of the Lions' defense, they have been stout against the run all season, and there's no reason to believe that the Packers would rely on the run unless they were up against a particularly good passing defense, which is not the case in this matchup.
However, the bet for Aaron Rodgers to scramble for more than 16.5 yards is one of our best bets for the entire game. With Rodgers no longer limited by his injured calf or hamstring, his ability to extend plays and to pull off a first-down run when he needs to is now back at full capacity. We like the idea of him rattling off at least two 10+ yard runs in this game, and we would definitely wager on it.
Continuing with other quarterback bets, we find the following on the Bovada sportsbook:
Total Interceptions Thrown – Matthew Stafford: Over ½ (-160), Under ½ (+130)
Total Touchdown Passes – Aaron Rodgers: Over 2.5 (EVEN), Under 2.5 (-130)
Total Completions – Aaron Rodgers: Over 24.5 (-115), Under 24.5 (-115)
Total Passing Yards – Aaron Rodgers: over 270.5 (-125), Under 270.5 (-105)
We like Matthew Stafford to throw an interception in this game for two reasons. First, because he has thrown four over the last three games (to Rodgers' zero). Second, we believe that Stafford will be playing from behind yet again in this game, and throwing the ball a lot. When he tries to make something happen late in the game by throwing long bombs down the field, the opportunistic Packers' defense (which has accounted for 14 turnovers over the last 5 games) could easily take advantage.
The only other bets we think could hold value for passing the ball in this matchup is to gamble on Aaron Rodgers, whose amazing play over this stretch of 6 games was covered above. The only caution we would add in betting on Aaron Rodgers is to remember that it's possible he could be pulled from the game if it's a blowout, and it's also possible that the run game will flourish for the Packers if it needs to, taking some of the points, yardage, and completions away from Rodgers.
Finally, let's now turn our attention to less individual-level and more game-level prop bets. These props cover the ways in which you are able to gamble on the overall development of the game, holistically, and include the following three bets:
Total Touchdowns: Over 5.5 (-125), Under 5.5 (-105)
Longest Touchdown Yardage in the Game: Over 42.5 (-115), Under 42.5 (-115)
Margin of Victory:

Packers by 1-6 points (+325)
Packers by 7-12 points (+450)
Packers by 13-18 points (+650)
By betting the over in total touchdowns, you're betting on this game to be a shoot-out, which we predict it to be. By betting on a touchdown of more than 42.5 yards, you're betting on a blown defensive assignment or a poor play from a secondary player, which we believe could easily happen to either team (particularly if Darius Slay is out and if any of the Packers' corners are out or playing injured).
And for our final prop bet, as well as one of our best bets of the game, we like a bet that covers the waterfront of multiple different Packer victory margins. With better than 3-to-1 odds in all three of the margin of victory bets, so long as you spread your money evenly between the three bets you're guaranteed a positive return so long as the Packers win. While we picked the Packers to win by 18, with odds this good you're very safe if you evenly distribute the wager between these three options.
Summary: Best Bets
In summary, the final game of the 2016/17 season should be one of the best (and potentially most lucrative) matchups we've seen. The Detroit Lions and Green Bay Packers have a division title, a potential Wild Card playoff berth, and a heated rivalry at stake, and will play their hearts out. We like the Packers' offense to prove the difference in the game, led by the unbelievable play of future-Hall-of-Fame quarterback Aaron Rodgers in recent weeks, and we're picking the Packers to win big in a high-octane offensive showdown between two teams with struggling pass defenses.
We believe this game holds some of the best value for gamblers among any of the games in recent weeks. Here are our best bets for this matchup:
The Packers' moneyline (-200)
The Packers against the spread (-3.5, -110)
The over in the total score bet (49.5, -115)
Jordy Nelson over 80.5 total receiving yards (-125)
Davante Adams over 4.5 total receptions (-125)
Jared Cook to score a touchdown (+200)
Aaron Rodgers over 16.5 total rushing yards (-125)
Matthew Stafford over ½ interceptions (-160)
Aaron Rodgers over 2.5 touchdowns (EVEN)
Over 5.5 total touchdowns (-125)
Over 42.5 yards for the longest touchdown yardage in the game (-115)
Packers to win by between 1 and 18 points