Week 17 NFL Power Rankings: Defending Champs Bow Out of Playoff Chase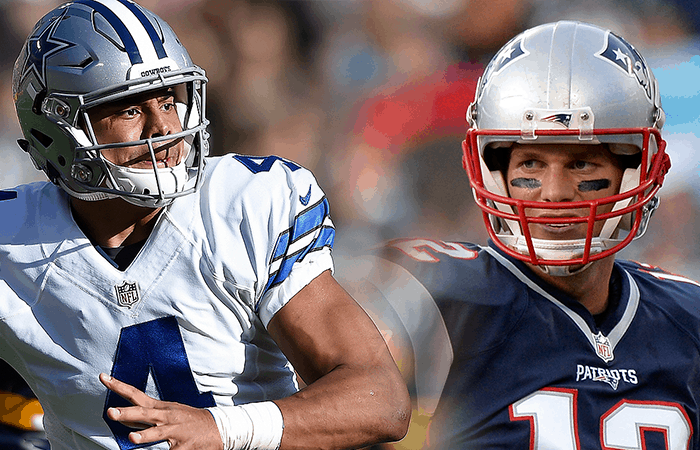 The 2016 NFL playoff picture got much clearer following week 16, as the entire AFC is accounted for and just two spots are left to be decided in the NFC. Another week of NFL action saw both teams from Super Bowl 50 exit the playoff chase, while we got one step closer to knowing every team and seed for this year's run to the Super Bowl.
The New England Patriots and Dallas Cowboys maintained their dominant holds in their respective conferences, while numerous teams saw their playoff hopes get dashed. The NFC still has a few things to sort out before the final week of the regular season dries up, but the league is saving the final nail in the coffin for the last game, with the Packers vs. Lions contest being flexed to Sunday Night Football.
Week 17 promises to be one for the ages, but let's preface that drama by seeing how every NFL team stacks up in this week's NFL power rankings:
1. New England Patriots 13-2 (Last Week: 1)
Tom Brady and the Patriots stick up top, as they remain tied for the league's best record and continue to sport the best Super Bowl odds. New England boasts the best scoring defense, a solid running game and arguably the best quarterback in the game. What's not to like?
2.Dallas Cowboys 13-2 (Last Week: 2)
There was a mild rough patch for a second there where the Tony Romo chants were heating up, but Dak Prescott has responded nicely with two wins in a row. No rookie quarterback has ever won the Super Bowl, but Prescott has been so good, it's fair to wonder if that changes this year.
3. Kansas City Chiefs 11-4 (Last Week: 3)
Are the Chiefs really the third best team in the league? Maybe not, but their defense has been lights out and they may have just enough offense to be a true title contender. The Broncos proved that recipe can work last year and if everything breaks just right, KC could win the AFC West and ride into the playoffs with a first round bye.
4. Oakland Raiders 12-3 (Last Week: 4)
Oakland is probably the third best team in the league, but let's consider a few things: several of their wins have been quite close, they got swept by the Chiefs and worst of all, they just lost Derek Carr to a broken leg:
The Raiders were starting to look like legit Super Bowl threats, but without Carr, they might not win a single playoff game. Matt McGloin will show us just how bad off Oakland is in the team's week 17 regular season finale.
5. Atlanta Falcons 10-5 (Last Week: 6)
Atlanta has been all over the place in 2016, but we can't take this away from them: they're NFC South champions. Last year's NFC South winner made it to the Super Bowl and Matt Ryan and co. certainly do possess one of the more dynamic offenses in all of football. The only issue? A suspect defense that hasn't been all that suspect over the last three weeks (all wins).
6. Pittsburgh Steelers 10-5 (Last Week: 7)
We have to give even more credit to the Steelers, who were as clutch as ever in a must-win game against the hated Ravens. Big Ben showed up when the Steelers needed him the most, securing a win that pushed Pittsburgh to the AFC North title. It wasn't always pretty, but suddenly the Steelers have a chance to make good on all that preseason Super Bowl hype.
7. Miami Dolphins 10-5 (Last Week: 9)
Miami is arguably the most unlikely playoff team right now, as they rode into the playoffs behind backup quarterback Matt Moore the last two weeks. It's still worth wondering if Miami can make any serious noise without Ryan Tannehill healthy and under center, but perhaps Jay Ajayi and a solid defense will be enough. Even if it isn't, no one can knock the job Adam Gase has done in his first year on the job.
8. Green Bay Packers 9-6 (Last Week: 14)
Green Bay was left for dead five weeks ago, but now they're one of the hottest teams in the league following five straight wins. Only the Patriots and Steelers have won more games (6) in a row, and with one more win next Sunday, the Pack steals the NFC North and sneaks into the playoffs. If that happens, something tells me no one will want to run into a red hot Aaron Rodgers.
9. New York Giants 10-5 (Last Week: 5)
The G-Men choked on Thursday night, as Eli Manning had probably his worst game of the year and the Giants made sure the Cowboys would win the NFC East. New York is still getting into the playoffs, but now they might be backing in, instead of entering with confidence. The defense has still promoted serious confidence for a deep playoff run, but the question now is whether or not we should trust in Manning.
10. Detroit Lions 9-6 (Last Week: 8)
Detroit was doing everything right for a while there, but suddenly has put their season at serious risk with two straight losses. They can rectify that with a big home win over the Packers, of course. If they can get the job done in week 17, they'll win the NFC North crown for the first time since the league realigned in 2002.
11. Seattle Seahawks 9-5-1 (Last Week: 11)
The Seahawks have not been the dominant force we've been used to over the last few years, but they're limping into the 2016 playoffs as a bit of a sleeper. Their defense has looked far from elite after giving up 34 and 38 points in two of their last three games, but it will be tough to count them out completely come playoff time.
12. Houston Texans 9-6 (Last Week: 16)
Houston is another team backing into the playoffs, even though they've squeaked out two straight wins. The Texans have ridden a solid running game and a quality defense for much of the year and like them or not, are again back in the playoffs for the second straight season under head coach Bill O'Brien. An early exit is likely.
13. Tampa Bay Buccaneers 8-7 (Last Week: 10)
Tampa Bay really had us going for a second there, as they rode to an 8-5 record behind a balanced offense and stifling defense. The wheels have come off during a two-game losing streak, however, and now the Bucs need a ton of help to get into the playoffs.
14. Washington Redskins 8-6-1 (Last Week: 17)
Ditto for the Redskins, who have a tall enough order ahead of them in taking down the New York Giants, but then need some help to sneak back into the playoff picture. It's their own fault, though, as Kirk Cousins and co. haven't been amazing over their last five games (2-3).
15. Baltimore Ravens 8-7 (Last Week: 12)
Week 16 provided a playoff atmosphere and the Ravens almost made good on it, barely losing a tight game to the rival Steelers. It was the worst possible time for Baltimore's defense to turn up lame, but it shouldn't have come as much of a surprise, given that the Ravens entered Heinz Field with an abysmal 2-4 record on the road. The Ravens have a lot of thinking to do going into 2017, and it may start with replacing the likely retiring Steve Smith Sr.
16. Tennessee Titans 8-7 (Last Week: 13)
Tennessee choked away their playoff chances against the lowly Jaguars this week, but that wasn't before losing star quarterback Marcus Mariota to a broken leg. The Titans were going to be in a tough spot when it comes to their playoffs hopes even with a win, but can at least build on a solid finish and hopefully get even better in 2017. Head coach Mike Mularkey almost certainly will stay on after solid improvement across the board.
17. Denver Broncos 8-7 (Last Week: 15)
The Denver Broncos have a lot of questions to answer after a disappointing 2016 season. The Broncos were 8-4 with a real shot to win the AFC West, but caved down the stretch, dropping three straight and losing huge games to the Raiders and Chiefs (twice). A lethargic running game held Denver back, while the defense imploded in a crucial week 16 game. It also has to be evident that Trevor Siemian isn't the answer under center.
18. New Orleans Saints 7-8 (Last Week: 22)
New Orleans continued their hot and cold 2016, as they staved off a 9-loss season for at least one more week with a nice home win over the Buccaneers. The Saints could have had a real shot at the playoffs had it not been a for a mini-implosion two weeks ago. Regardless, they head into 2017 with an aging quarterback and a still suspect defense.
19. Indianapolis Colts 7-8 (Last Week: 18)
The Colts fell well short of expectations after they were officially eliminated from the AFC playoffs in week 16. Andrew Luck and co. swept the Titans and scored some impressive road wins on the year, but couldn't beat the Texans and too often were done in by a shaky defense. Head coach Chuck Pagano publicly took the blame for the down year and could end up getting axed.
20. Buffalo Bills 7-8 (Last Week: 19)
What's worse than getting swept by the Dolphins and missing the playoffs yet again? How about canning your head coach after just two years on the job?
The Buffalo Bills just fired both Rex and Rob Ryan, the team announced. So Rex doesn't get one last shot at his old Jets team Sunday.

— Ralph Vacchiano (@RVacchianoSNY) December 27, 2016
It's true that Rex Ryan is loud and full of empty promises, but he wasn't atrocious (15-16) and arguably didn't get enough time to show he could get the Bills over the hump. Regardless, Buffalo marches into another offseason with a head coaching search and a lot of questions on the horizon.
21. Carolina Panthers 6-9 (Last Week: 20)
The Panthers suffered severely from the Super Bowl hangover in 2016, and that bled into a horrible week 16 performance. Cam Newton and co. just didn't click for much of the year and were unable to find success in a 33-16 loss to the Falcons. Carolina still has the recipe to turn things around quickly in 2017, but head coach Ron Rivera is likely on his last legs.
22. Minnesota Vikings 7-8 (Last Week: 21)
The Minnesota Vikings didn't show up for the second week in a row on the defensive side of the football, as the Packers handed them their second blowout loss in as many weeks. Talk of defensive players going against Mike Zimmer's game design sparked mutiny chatter, which further darkened a dispiriting 2016 run that saw the Vikings go from 5-0 Super Bowl contenders to 7-8 pretenders.
23. Arizona Cardinals 6-8-1 (Last Week: 25)
Bruce Arians got the Cardinals up for their week 16 road date in Seattle, as Carson Palmer and co. showed up and handed the Seahawks their first home loss of the season. It was a case of "too little, too late" for Arizona, but the win showed the team still had some life. Arians and Palmer are both due back for 2017, so it's possible the team could use the big road win as a building block for a turnaround next season.
24. Philadelphia Eagles 6-9 (Last Week: 26)
Philly will look to build off of their week 16 performance, as well, as Carson Wentz played well and snapped an ugly 5-game skid against the Giants. Not only did the Eagles help keep the G-Men from playing for the NFC East crown, but they got a big win against a rival in the process. The Eagles won't be going to the playoffs in January, but could still carry a two-game winning streak into the offseason.
25. Cincinnati Bengals 5-9-1 (Last Week: 23)
It's worth wondering if the end of the line has finally come for Bengals coach Marvin Lewis, who saw a Super Bowl contender take a serious nose dive in 2016. Andy Dalton and co. were still competitive for most of the year, but the team lost again in week 16 and really never recovered after losing two key wide receivers and their offensive coordinator. If Lewis doesn't see his head roll this offseason, he could be at serious risk in 2017.
26. San Diego Chargers 5-10 (Last Week: 24)
Speaking of rolling heads, it's going to be extremely hard to quiet the chatter around Chargers coach Mike McCoy, especially after the Bolts fell to the winless Browns. With the Chargers potentially leaving San Diego, it may make sense for the franchise to make a big move at the head coach spot. There's no denying McCoy's genius nor the rough luck with injuries the Chargers have endured, but it's tough to get around the Cleveland loss, as well as their latest four-game skid.
27. Jacksonville Jaguars 3-12 (Last Week: 30)
The Jaguars already knew they'd be in for a new head coach going into week 16, but they responded nicely under interim coach Doug Marrone, as they toppled the Titans, 38-17. That doesn't cement the job for Marrone, but Blake Bortles played some of his best ball of the year and Jacksonville found a way to score its third win of the year. The 2016 season is still a disaster by all accounts, but Marrone may be in the lead to nab the team's head coaching gig.
28. Chicago Bears 3-12 (Last Week: 27)
Matt Barkley and the Bears had been playing competitive football, but Chicago took a dive in all respects in week 16, as they got dismantled by the Redskins. Chicago's 2016 has been regrettable across the board, but Barkley had been one of the few bright spots. After a nice string of solid performances, it's worth wondering if his last one (five interceptions) will leave the lasting mark.
29. New York Jets 4-11 (Last Week: 28)
The New York Jets hit rock bottom in week 16, as Bryce Petty went down with an injury and the team could muster just one score in an embarrassing 41-3 blowout loss to the Patriots. Ryan Fitzpatrick came on in relief and reminded everyone why he was benched in the first place, while the Jets lost for the fourth time in their last five tries. Todd Bowles may not get canned, but he'll surely be on the hot seat heading into 2017 and the Jets still don't have a quarterback.
30. San Francisco 49ers 2-13 (Last Week: 31)
The 49ers found a way to win for the first time since week one, as they beat the only team they'd beaten all season. The second meeting was much closer, however, as the Niners needed some seriously clutch play out of Colin Kaepernick, who tossed a touchdown and ran in a 2-point conversion to give the team their first win in their last 14 games. While the Niners were surely happy to get a win, barely beating the Rams was a blinding reminder of how far away this team is from being competitive.
31. Los Angeles Rams 4-11 (Last Week: 29)
The Rams led for most of week 16 and blew it late, while Jared Goff somehow looked worse than he did in Seattle a week ago. The Rams have a litany of questions to answer going into 2017, as they need serious improvement out of Goff and a coach that can maximize some underrated talent. Getting swept by the Niners was unacceptable.
32. Cleveland Browns 1-14 (Last Week: 32)
You know you've had a rough season when you win and you can't move up in the weekly NFL power rankings, but such is life for the lowly Browns. Hats off to Cleveland for getting their first win and not going 0-16, though, as they actually did it in front of their home crowd against a solid Chargers team. Still, 1-14 isn't anything to be excited about and Hue Jackson's crew has a ton of work to do to improve in 2017