Week 16 NFL Power Rankings: Patriots Still Lead the Pack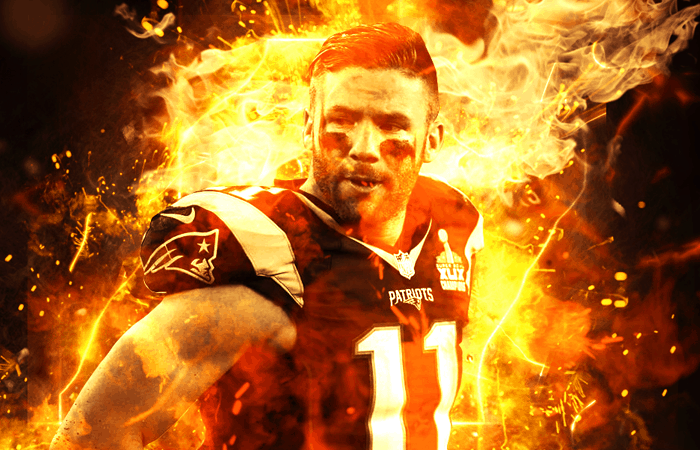 The NFL landscape is changing in some ways this year, as the Dallas Cowboys and Oakland Raiders are back in the playoffs and look like very real title threats. On the flip side, it still feels like this is New England's football world and we're all just living in it.
The Patriots have survived a Rob Gronkowski injury and some key defensive losses to storm to a 12-2 record, tying the Cowboys for the best mark in football. Because of that, top betting sites like Bovada still give them the best Super Bowl odds (+220).
The next closest AFC team are the Pittsburgh Steelers (+1000), which likely paints a clear picture for us: the only way the Pats are crumbling down is if the Cowboys, Seahawks or some other NFC team ends up being better than we think they are.
It's still tough to gauge exactly how good some of the teams beyond the Patriots are. Dallas has wavered over the past couple of weeks – so much so that we again are hearing calls for Tony Romo. And behind Dallas, there are some very pesky threats like the Falcons, Buccaneers and perhaps even the Packers, that could rise up at some point in the playoffs and have us rethink everything we thought we knew.
For now, we know the Patriot and Cowboys have the best records in the NFL and even sides from their records, they've been two of the most impressive teams in pro football. New England still stands head and shoulders above the rest of the AFC, though, and at least for week 16, that's enough to keep them atop our NFL power rankings.
Let's see how the rest of the league shakes out as the regular season continues to wind down:
1. New England Patriots 12-2 (Last Week: 1)
What's to hate about the Pats? They've ripped off five wins in a row, with their last being a decisive win over a desperate Broncos team sporting an elite defense. Now they're in position to get the #1 seed in the AFC and from there, it's tough to deny where Vegas slots them when it comes to the 2016 Super Bowl odds.
2. Dallas Cowboys 12-2 (Last Week: 2)
This weekly questioning of Dak Prescott is getting ridiculous. He's had a couple of rough outings against solid defenses in the Vikings and Giants, and suddenly we need to hear about Tony Romo again. Perhaps Prescott's fine outing in a win over a good Buccaneers team will quiet the masses.
3. Kansas City Chiefs 10-4 (Last Week: 3)
Just when you start believing in the Chiefs, they cough up a loss to the Titans and let the Raiders back into first place in the AFC West. This is probably still a playoff team, but they're quickly showing us they aren't one that can easily be trusted.
4. Oakland Raiders 11-3 (Last Week: 4)
Getting swept by the Kansas City Chiefs still holds them back, but the Raiders took care of business in week 15 and are now sitting atop their division with a playoff spot locked up. Al Davis would be proud.
5. New York Giants 10-4 (Last Week: 6)
There is something about the G-Men that is inherently impossible to trust, but what we're seeing here is a good team learning how to be great. The defense is legit, the passing game can compete with anyone and their ability to defend their turf 7-1 at home) is impressive. Now, about that running game…
6. Atlanta Falcons 9-5 (Last Week: 8)
It's getting increasingly more difficult to call these Falcons soft. They just ripped off two massive wins in a row, largely due to an improving rushing attack and an impressive defense. They trounced the Rams and 49ers, but still.
7. Pittsburgh Steelers 9-5 (Last Week: 9)
The Steelers had major issues punching the ball into the endzone last week, but divisional battles can do that to you. What's most important is they snuck past the Bengals and stayed in front of the Ravens for first place in the AFC North. That sets up a crucial game against Baltimore on Christmas Day. With a win, the Steelers could punch their ticket to the playoffs.
8. Detroit Lions 9-5 (Last Week: 5)
The real Lions may have shown up in week 15, as Matthew Stafford and co. couldn't get anything going in a 17-6 loss to the Giants. The Lions are still a threat to take the NFC North, but now they may have to win out to do it.
9. Miami Dolphins 9-5 (Last Week: 12)
Hats off to rookie head coach Adam Gase, who has not just maneuvered his team to a winning record after a nasty 1-4 start, but also just put up 34 points in a win with Matt Moore under center. It's tough to buy Miami doing much if they do get into the playoffs, but if things break just right, this could be an 11-5 team we're talking about.
10. Tampa Bay Buccaneers 8-6 (Last Week: 7)
The critics are coming down on the Bucs hard for falling to the 11-2 Cowboys on the road. The reality is that they ran into a better team that needed to win just as badly as they did. Tampa Bay has still displayed a rising defense and competent play on offense. And with a huge showdown coming up with the Falcons, they still have a road to the NFC South title (and the playoffs).
11. Seattle Seahawks 9-4-1 (Last Week: 10)
Seattle feels like a forgotten unit as they slowly slip down our power rankings, but that will happen when you lose a star safety like Early Thomas and proceed to get smoked by the Packers. That being said, the Seahawks still bounced back by dismantling the Rams and will be in the playoffs as the NFC West champs. As up and down as they've been in 2016, there's no doubt nobody wants to face them.
12. Baltimore Ravens 8-6 (Last Week: 14)
The Ravens bounced back from a tough week 14 loss to keep themselves in position to steal the AFC North. There are still major questions about the consistency of this offense, but there's no denying Baltimore's elite defense. If that unit shows up this week against the Steelers, that could push the Ravens to the division lead and one step closer to postseason play.
13. Tennessee Titans 8-6 (Last Week: 16)
For the longest time the Titans seemed like they were overachieving, but with two impressive wins over the Broncos and Chiefs, they suddenly look like a threat. That week 17 regular season finale against the 8-6 Houston Texans just got a lot more interesting.
14. Green Bay Packers 8-6 (Last Week: 17)
Green Bay took their foot off the gas and almost paid for it in Chicago, but when they needed it most, Aaron Rodgers put on his MVP cap and led them to victory. It hasn't always been pretty, but a Packers team many left for dead has now won four straight and controls their playoff destiny. Two more wins, and the NFC North (and a playoff spot) is theirs.
15. Denver Broncos 8-6 (Last Week: 11)
The Broncos have been seriously disappointing over their last two games, as their offense has come up remarkably short, while their defense has given up 29 total points. The same formula that won Denver a title a year ago is slowly but surely pushing them further out of the playoff picture.
16. Houston Texans 8-6 (Last Week: 18)
The benching of quarterback Brock Osweiler was probably hard for Houston to swallow, but it was also long overdue and ultimately the right move. It's anyone's guess if the switch to Tom Savage will save the Texans this year, but it sure did in week 15. Like it or not, this team still has a good defense, a solid running game and is tied for the lead in the AFC South. If Savage is even close to the real deal, this team could suddenly have something…
17. Washington Redskins 7-6-1 (Last Week: 13)
Washington's last gasp at a second consecutive playoff run likely ran out in front of the nation, as Kirk Cousins and co. came up lame at home on Monday Night Football. It was a regrettable performance, which likely closes the door on a respectable season.
18. Indianapolis Colts 7-7 (Last Week: 19)
Indianapolis is the definition of inconsistency in 2016, as they didn't show up in a massive divisional battle in week 14, yet proceeded to destroy a good Minnesota defense in week 15. The Colts are impossible to trust, but Andrew Luck can still ball and Indy could still have life if they can just win out. They'll need a few things to break their way, of course.
19. Buffalo Bills 7-7 (Last Week: 20)
Buffalo is another team that seems down and out but is still technically in the mix for a wild card playoff spot. For the moment, the Bills have to at least be happy about two things: they made it back to .500 and they didn't lose to the Cleveland Browns. Now if they can win out and see the Dolphins, Broncos, Ravens and Titans all collapse, they just might have a shot at the playoffs.
20. Carolina Panthers 6-8 (Last Week: 24)
The Panthers are out of playoff contention, so we should all admire their fight, as they battled back against the idea of caving and played spoiler on MNF. A big road win over the Redskins isn't much for a team that can only finish 8-8 at best, but it could serve as a confidence booster for 2017.
21. Minnesota Vikings 7-7 (Last Week: 15)
Adrian Peterson's speedy return from a torn meniscus was spoiled in an ugly blowout loss to the Colts. Peterson looked rusty and even lost a fumble in a game Vikings fans would love to forget. Peterson can still help Minnesota spoil Green Bay's playoff dreams next week, but a season that started with title aspirations is now mathematically over.
22. New Orleans Saints 6-8 (Last Week: 26)
The Saints are out of the playoff race, but they remained extremely competitive in week 15, as they hung an inane 48 points on the Arizona Cardinals. Drew Brees and co. got their mojo back about two weeks too late, but the Saints still destroyed a good defense and did so on the road. Their plight to get back to 8-8 continues over the final two weeks with tough divisional bouts against the Buccaneers and Falcons.
23. Cincinnati Bengals 5-8-1 (Last Week: 21)
The light went out of Cincinnati's playoff hopes in week 15, as they couldn't put away the Steelers in a tight game at home. The Bengals were behind the 8-ball all year due to key losses and some big injuries, but they remained competitive, throughout. A 7-8-1 finish isn't ideal, but that's what Andy Dalton and company will strive for over their last two games.
24. San Diego Chargers 5-9 (Last Week: 22)
Philip Rivers and the Bolts fell short yet again in week 15, as they lost to a good Raiders team, 19-16. The story hasn't changed for San Diego all year, as they've battled back against 18 players lost to injured reserve, yet have remained a tough out almost every single week. Their record doesn't show that, of course, and it could unfortunately mean the end of head coach Mike McCoy's tenure.
25. Arizona Cardinals 5-8-1 (Last Week: 23)
The last nail went into the coffin for Arizona this week, as even their defense finally didn't show up in a must-win game at home against the Saints. The Cardinals fell apart over their last five games (1-4), as they routinely started slow and couldn't finish games late. The team hopes to have Carson Palmer and Larry Fitzgerald back for 2017, but it's fair to wonder if this team missed their title window.
26. Philadelphia Eagles 5-9 (Last Week: 25)
The Eagles dropped their fifth straight in Baltimore this week, largely thanks to a gutsy 2-point conversion call with four seconds left. Carson Wentz's pass fell incomplete and the Eagles's bid to upset the Ravens fell with it. Philadelphia sure has fallen far (and hard) since a 3-0 start, but the development of quarterback Carson Wentz has been front and center. Due to that, there's a decent chance this Eagles team comes back as a dangerous unit in 2017.
27. Chicago Bears 3-11 (Last Week: 28)
You have to admire the fight out of the Bears, who were getting ripped by the Packers, yet scored 17 straight points to nearly force overtime. Green Bay pulled it out in the end, but that makes five straight games where John Fox's crew kept fighting until the bitter end. It's unlikely this competitive run tabs Matt Barkley as the franchise's future under center, but his steady play has also been impressive (and surprising).
28. New York Jets 4-10 (Last Week: 27)
New York gets a little bit of credit for showing up in a win over the 49ers two weeks ago, but for the most part, this team seems to have checked out to close out the year. That was the case in a blowout loss to the Colts in week 13 and that seemed to be the case again in week 15 against the Dolphins. Todd Bowles and co. have a lot of questions to answer going into 2017.
29. Los Angeles Rams 4-10 (Last Week: 29)
Jared Goff and the Rams missed some very nice opportunities in week 15 that could have easily made their game with Seattle much closer. That's the story of the year for L.A., however, as they couldn't seal the deal with Case Keenum under center and little has changed since Goff has taken over. If the Rams can see any kind of progress out of Goff to end the year, however, it might all be worth it.
30. Jacksonville Jaguars 2-12 (Last Week: 30)
The last of Gus Bradley was seen in week 15, as his Jaguars screwed him over by blowing a 13-0 lead to a backup Texans quarterback. Jacksonville has been one of the most competitive teams all year, but their defense could never make up for the horrible play of would-be franchise passer, Blake Bortles. What the Jags do at quarterback and the head coach spot will be very interesting going into 2017.
31. San Francisco 49ers 1-13 (Last Week: 31)
Not much can be said about the 49ers. They lost their 13th straight game in week 15, and did so in horrific fashion (41-13). In such a disastrous season, it's fair to wonder if the Niners won't can head coach Chip Kelly and start over at multiple positions. The silver lining is two-fold, however. The Niners will have a high draft pick going into the 2017 NFL Draft and they're not the Browns.
32. Cleveland Browns 0-14 (Last Week: 32)
No one has it worse than Cleveland, who are dangerously close to tying the Detroit Lions for the worst record (0-16) in NFL history. It's tough to see them avoiding it, as they get a feisty Chargers team in week 15 and the Steelers in Pittsburgh to end the year. This season hasn't even necessarily been great for development, as the Browns still don't have a quarterback and several holes on defense. At least they'll get the top pick in the draft.