Week 13 NFL Power Rankings: Can the Green Bay Packers Make the Playoffs?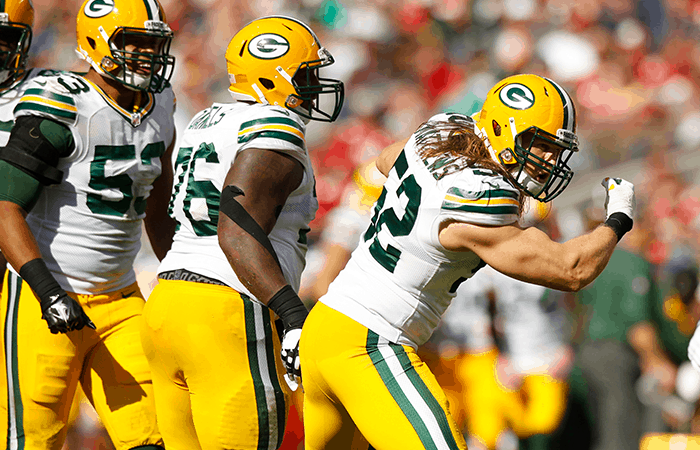 Most of us probably left the Green Bay Packers for dead. Mike McCarthy needed to be fired. Ted Thompson had lost his way. Aaron Rodgers wasn't the same guy.
All of that (or at least some of it) might still end up being true. But for one night, McCarthy called a gem of a game, Thompson's inability to make moves in free agency or via trade didn't seem relevant and Aaron Rodgers looked like Aaron Rodgers again.
Because of that, Green Bay was able to sustain numerous lengthy drives, score early and ultimately, get plays and points when they needed it most. In turn, their normally awful defense was just fresh enough to make some big plays (four sacks, one interception) and hold the Eagles to just 13 points on their home field.
We probably shouldn't just shrug this off, either. Rodgers looked very good on the road against a better than average Eagles defense. This same Philadelphia defense made Ben Roethlisberger look pedestrian. They man-handled the Vikings and even stifled one of the best offenses in all of football in the Atlanta Falcons, a team to be reckoned with.
Rodgers sized them up and ripped them apart and everyone on the Packers followed suit.
The big question, of course, is if this will just be a blip on the radar – a stopping of the bleeding – or if Rodgers can continue to dominate and lead the Packers out of their former 4-6 hole.
The path is clear. Green Bay now sits in third at 5-6 in the NFC North, one game behind a Vikings team they lost to by three points earlier this year and two games behind a Lions team they already beat. With dates remaining on the schedule with both divisional foes and both the Lions and Vikings enduring brutal schedules to close the year, the division is still very much in play. Now it's on the Packers to keep the ball rolling.
Does that mean Green Bay sees a huge spike in our week 13 NFL Power Rankings? Read on to find out:
1. Dallas Cowboys 10-1 (Last Week: 1)
The Washington Redskins gave Dallas a mild scare on Thanksgiving Day, but Dak Prescott and co. never wavered. For every strike the Redskins provided, the 'Boys had an answer.
That's the way this team has been all year, as they've ripped off 10 wins in a row and have proven in the process to be the league's most complete team. Whether that leads to a Super Bowl title is anyone's guess, but it's hard to refute them at the top spot in our week 13 NFL Power Rankings.
2. Oakland Raiders 9-2 (Last Week: 2)
Oakland has certainly played with fire a lot in 2016, but they survived yet again in week 12, as they beat the Panthers at home despite fully coughing up a 24-7 halftime lead. Derek Carr and co. have ice running through their veins and are 100% legit.
The Raiders are still getting by on late game heroics too often, however, so it's fair to wonder when their luck will start to run out.
3. New England Patriots 9-2 (Last Week: 4)
The Patriots didn't make it easy on themselves, but they came up big in the clutch and disposed of the Jets to stay tied for the best record in the AFC. Tom Brady (knee) wasn't 100%, but he still made the key plays when New England needed him most.
Brady's veteran presence is a huge reason why the Pats continue to look like a top threat to Super Bowl 51. Now, if only their defense can tighten up and their roster can get healthy.
4. Kansas City Chiefs 8-3 (Last Week: 5)
Kansas City is another team that goes back and forth by the week in regards to whether or not they're a believable contender. A week after blowing a home game against the Buccaneers, the Chiefs needed OT and some controversy to take down the Broncos.
Lucky or not, KC is now just one game back in the AFC West and they'll get the Raiders again after beating them earlier this year. They still have the coaching, defense and balanced offense to make a deep playoff run. They just need to make sure they get out of an insanely deep division first.
5. New York Giants 8-3 (Last Week: 7)
The Giants make you question their playoff validity about twice a week, but when it was all said and done, the G-Men pulled away in week 12 and the Browns remained winless.
New York lacks an emphatic running game and they endure lapses on both sides of the ball, but this team is different than the ones we've seen the past few years. So far, at least.
6. Seattle Seahawks 7-3-1 (Last Week: 3)
Seattle decided to follow up some of the best play they showcased on the year with a truly brutal performance in Tampa Bay. The Legion of Boom started slow, but didn't allow the Buccaneers to score after the first quarter. It was Russell Wilson and co. who lost this one (3 offensive points), as the Bucs harassed them in all facets all day.
This might be more about Tampa Bay right now than Seattle, but the Seahawks couldn't run, block or throw. The defense is still strong and Wilson provides upside, but we have to wonder if week 12 creaked a door open to who the Seahawks truly are.
7. Atlanta Falcons 7-4 (Last Week: 8)
The Falcons have been very up and down in 2016, but they stepped up in week 13, turning a close home battle with the Cardinals into a blowout and maintaining control of the NFC South.
A huge battle with the Buccaneers is looming and we still don't know if this is a new Atlanta squad, but so far they look the part.
8. Denver Broncos 7-4 (Last Week: 6)
It's tough to push Denver too far down the ranks, as they lost an overtime battle to a good team and have generally been very good defensively in 2016.
The Broncos slipped in week 12, but remain in the fight for the AFC West. With dates with both the Chiefs and Raiders coming up, they still have the talent and opportunity to get the division back.
9. Miami Dolphins 7-4 (Last Week: 9)
At what point are we going to take Miami seriously? Barely beating the 49ers might not be it, but the Dolphins have still crawled out of a 1-4 hole and have ripped off six straight wins.
That's not easy, and even with the AFC East looking like New England's to lose, the Fins have a playoff spot locked up if they can just stay the course. They still have to fend off the pesky Buffalo Bills, but right now they look like a dangerous wild card team.
10. Detroit Lions 7-4 (Last Week: 11)
It's uncanny how the Lions keep surviving, as they've been behind in the fourth quarter in all seven of their wins. That's either incredibly fortunate or undeniably impressive. Perhaps it's both.
Regardless, Detroit is far from done yet, as they hold first place in the NFC North but still have a nasty schedule featuring battles with the Cowboys, Saints (this week), Giants and Packers.
11. Pittsburgh Steelers 6-5 (Last Week: 15)
The Steelers did well to take advantage of a beaten up Colts team in week 12, as Ben Roethlisberger torched Indy for three scores on Thanksgiving Day. That puts the Steelers in first place with the Ravens, giving us a two-team race for the AFC North.
It's been an ugly ride and an even uglier division, but Big Ben and co. still have a division title within their grasp. They can't afford many more losses to secure it, though, while a December 25th date with the Ravens could end up deciding their season.
12. Washington Redskins 6-4-1 (Last Week: 12)
The Redskins can't be faulted for losing to a great Dallas team on the road this past week. We may have learned they're not quite good enough to take down the Cowboys, but we also learned Kirk Cousins is pretty legit and this isn't a team anyone will want to face in the playoffs.
Of course, getting there may not be the tough part, as this recent loss dropped the 'Skins firmly behind the Giants.
13. Houston Texans 6-5 (Last Week: 10)
Houston is incredibly lucky they're playing in the awful NFC South, as they've dropped two in a row and still hold the top spot in the division. Brock Osweiler was the main reason they fell on their face in week 12, and the Texans are getting painfully close to an awkward decision under center.
For now, the Texans still hold their own fate in their hands, as the Titans and Colts nip at their heels.
14. Minnesota Vikings 6-5 (Last Week: 14)
The wheels have come off the Sam Bradford experiment, as Minnesota struggled yet again to score the ball and has now gone 1-5 in their last six games. All hope is not lost for the Vikes, as they're still just one game out of the NFC North lead. That being said, they got swept by the Lions and they've been trending in the wrong direction for a while.
15. Indianapolis Colts 5-6 (Last Week: 16)
Getting crushed by the Steelers this past week isn't a surprise or a season-ender, seeing as Indy had Andrew Luck (concussion) on the sidelines. He should be back and ready to fire off in a must-win game against a bad Jets defense, which could be the turning point the Colts need to inch closer to the top of the ugly AFC South.
If Indy can patch up and truck on, a massive rematch with the Texans in two weeks could decide their playoff future.
16. Tennessee Titans 6-6 (Last Week: 17)
The Titans bounced back from a second loss to the Colts to take down the Bears, but in the process we saw their defense get exposed. Anytime you let Matt Barkley torch you for 300+ yards and three scores, people are going to wonder about your ability to defend.
Tennessee can still run the ball and has an exciting young passer in Marcus Mariota, however, so they're still in the mix for their division if they can put a winning streak together.
17. Buffalo Bills 6-5 (Last Week: 18)
It's tough to gauge which version of the Bills is the real one in 2016, but right now Rex Ryan has the good one back in action with two straight wins. Their recent roll may mean nothing if they can't upset the Raiders in week 13, but beyond that they may have the schedule to promote serious optimism in regards to their wild card playoff chances.
A win this week gets the Bills to 7-5 and a week 16 clash with Miami could decide which team gets in and which team stays home. One thing is for sure, we can't count these Bills out just yet.
18. Tampa Bay Buccaneers 6-5 (Last Week: 19)
Don't look now, but the Buccaneers have staged two straight killer upsets and are over .500. Just like that, they're one game behind the Falcons for the NFC South lead. Having already beaten Atlanta in week one, we need to start seriously considering Jameis Winston and co. as a potentially dangerous playoff threat.
19. Philadelphia Eagles 5-6 (Last Week: 13)
Few thought the Eagles were going to the playoffs this year, but at 5-5, they still had mild playoff life. That evaporated with a home loss to a desperate Packers team, however, as Philly's defense was arguably exposed and raw rookie Carson Wentz unraveled at the worst possible time.
The future is bright for Doug Pederson's group and an 8-8 finish can still be reached, but now it's all about evaluating talent.
20. San Diego Chargers 5-6 (Last Week: 21)
The Chargers simply cannot be counted out, regardless of the situation. A crushing loss in week 11 to the Dolphins probably ended their playoff hopes, yet Philip Rivers and co. trucked on and took down the Texans in week 12.
The playoffs still seem like a pipe dream, but record aside, this might be one of the best sub-.500 squads the league has ever seen. Godspeed, Bolts.
21. New Orleans Saints 5-6 (Last Week: 22)
Ditto for the Saints, who don't have a clear path to the playoffs, but continue to fight as hard as anyone. That led to a huge home win over the hapless Rams and suddenly they have life again for a wild card playoff game.
In fact, even the NFC South isn't off limits right now. With two games against the Buccaneers and a season finale versus the Falcons, winning out could land the Saints at the top of the division.
22. Baltimore Ravens 6-5 (Last Week: 23)
The Ravens have been wildly erratic all year, but took care of business in a tense showdown with the hated Bengals this week. It wasn't pretty (it rarely is), but Baltimore stayed atop the AFC North and continue to hold their playoff fate in their own hands.
That control will be tested greatly in the coming weeks, as Baltimore takes on a red hot Miami team and the Patriots in the next two weeks.
23. Green Bay Packers 5-6 (Last Week: 26)
Green Bay looked to be completely dead in the water a week ago, as they dropped four straight in horrendous fashion. There are still serious question marks regarding the Packers' health and defense, but going into Philly and saving their season shouldn't be taken lightly.
The schedule remains tough to close the year, but the division could still easily be theirs if the Packers can find a way to win out, and/or the Lions and Vikings collapse. Given the tough schedules for everyone in this division to close the year, we might get as bad as an 8-8 winner in the NFC North. Perhaps it will be the green and gold, after all.
24. Carolina Panthers 4-7 (Last Week: 20)
Carolina's proud fight to stay alive in the NFC South was valiant, but it drew to a close in a loss to the Raiders in week 12. Last year's NFC champs simply suffered too many close losses and the loss of Josh Norman crippled a once stout defense. They recovered and were competitive late, but Cam Newton and co. will have to wait until 2017 to get back to the playoffs.
25. Arizona Cardinals 4-6-1 (Last Week: 25)
The same can be said for Carson Palmer and the Cardinals, who have gone from a trip to the NFC title game to a mediocre team that simply can't close out games. That wasn't really the case in week 12, though, as all hope left Arizona during a disappointing blowout loss to the Falcons.
Arizona's 2016 run is over, but the bigger question is whether their title window has closed. That could bring questions regarding the future of Carson Palmer and Larry Fitzgerald, among others. The silver lining, perhaps, could be the team has discovered a total sensation in star running back David Johnson.
26. Cincinnati Bengals 3-7-1 (Last Week: 24)
The Bengals blew yet another amazing opportunity to crawl back into the thick of the AFC North, but fell to the Ravens in what ultimately ends up being their fourth straight non-win.
Andy Dalton has been solid for most of the year, but he hasn't been able to make up for a sulking defense and a slew of injuries across the board. Perhaps it's finally time to move on from Marvin Lewis?
27. Los Angeles Rams 4-7 (Last Week: 27)
Jared Goff seemed to make serious strides in his second NFL start, as he tossed three touchdowns in an explosive first half against the Saints. He ended up unraveling in a blowout loss, but that was to be expected from a rookie on the road.
The Rams aren't going anywhere this year, but the marked improvement out of Goff has to be promising. The hope will be steady progress from here and perhaps a run at the post-season in 2017.
28. New York Jets 3-8 (Last Week: 28)
The same isn't the case at all for the Jets, who need to start over at quarterback and don't even have the elite defense they thought they did. Despite that being true, Gang Green still almost fended off Tom Brady for a huge upset.
The Jets staying competitive is nice to see, but it's fair to wonder what they're even building towards. This team has a lot of questions to answer once the season is over.
29. Jacksonville Jaguars 2-9 (Last Week: 29)
Speaking of season's being over, the Jags have remained competitive (lost by 7 points or fewer in four straight), but they've still dropped six games in a row and are out of the playoff picture.
That's not good for business, but what makes it worse is that Blake Bortles hasn't looked like a franchise passer and an expensive and much-hyped defense hasn't been elite. Changes are sure to come in Jacksonville for 2017, but hopefully they can at least muster up some wins and close the year out strong.
30. Chicago Bears 2-9 (Last Week: 30)
Matt Barkley put up over 300 yards and three scores, so there's that. In a season where nothing is going right, the Bears can hang their hat on Barkley not being completely abysmal.
Who knows, maybe Barkley has something here. Chicago couldn't do much worse at the position going forward, so it wouldn't be shocking to see Barkley help the Bears try to lose their way to a top-three pick.
31. San Francisco 49ers 1-10 (Last Week: 31)
One of those top-three picks for the 2017 NFL Draft surely belongs to the Niners, who got stuffed at the goal-line last week to hand them their 10th loss in a row.
That's a brutal ending, but it's ever so fitting for how this season has gone. San Francisco has actually been fairly competitive at times this year, so there could be light at the end of the tunnel. It just isn't coming this year.
32. Cleveland Browns 0-12 (Last Week: 32)
Nothing is coming this year for Cleveland, who are still in search of their first win through 12 weeks. That's horrifying, especially when you look at their final four games versus the Bengals, Bills, Chargers and Steelers.
The Browns could turn to Robert Griffin III this week, however, as they prepare to take on the Bengals. Cincinnati has been reeling themselves, so perhaps that elusive win pops up in week 13. Of course, we wouldn't bet on it.