Week 12 NFL Power Rankings: Oakland Raiders Make Push For Top Spot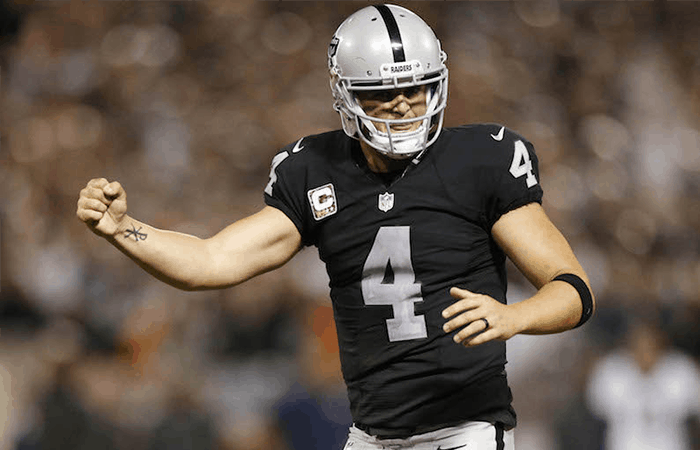 There isn't a hotter team in the NFL right now than the Dallas Cowboys. There's no denying it, as it's literally a fact at this point. Dak Prescott and co. lost in week one, and they haven't lost since, ripping off nine consecutive wins.
If you're look for a challenger for that "hottest NFL team" title, however, you'd find it in the Oakland Raiders.
Derek Carr tossed three touchdowns on Monday night in a big win over the Houston Texans, which gave the Raiders their fourth win in a row and seventh win in their last eight games.
Oakland is winning games in impressive fashion, too, displaying raw clutch ability with tight wins. While they're not blowing many teams out, the Raiders are exhibiting a playoff mentality and with eight wins already through 10 weeks, they appear to be locks for the playoffs for the first time since 2002.
Needless to say, Oakland remains near the top of our Week 12 NFL Power Rankings – higher then where they were in week 11. Just how high? Read on to find out:
1. Dallas Cowboys 9-1 (Last Week: 1)
Dak Prescott can apparently do no wrong. The Cowboys seem to meet each successive challenge head on and so far have come out each time unscathed. Seriously if not for a one-point home loss in week one, we could be talking about an undefeated team right now.
I'm still not sold on their defense and Prescott could still unravel late in the year, but right now it's tough to see anyone else as the best team in the NFL.
2. Oakland Raiders 8-2 (Last Week: 3)
Okay, so the Raiders don't make it all the way to the top spot, but we have to give this team some respect. New England lost more recently and they've just been proving themselves over and over again this year.
I'm not sure they're better than the Pats if they meet in the playoffs, but right now they might be.
3. Seattle Seahawks 7-2-1 (Last Week: 5)
I don't know if Seattle is actually better than the Patriots, but they did beat them two weeks ago. They've now looked fantastic in each of the last three weeks and are slowly starting to look like the real threat in the NFC.
Dallas owns that title for now, but it will be very interesting if these two teams meet up in the playoffs.
4. New England Patriots 8-2 (Last Week: 2)
The Pats shouldn't dip at all after winning yet again this past week, but they did let a bad 49ers team hang around more than I would have liked to see. The Pats also got exposed defensively two weeks ago.
They're probably better than the Raiders (and they might be the best team in football), but I want to see more. Hey, at least they're in the top four, right?
5. Kansas City Chiefs 7-3 (Last Week: 4)
It is beginning to be very difficult to properly assess these Chiefs. They had a great chance at home this past week to beat a shaky Bucs team and put pressure on the Raiders, but instead they take a step back.
If they're not careful, they could lose their spot in the race for the AFC West and a playoff spot.
6. Denver Broncos 7-3 (Last Week: 6)
Denver used the bye week to rest up after a shocking win over the Saints in week 10. Now they'll gear up for a massive clash with the division rival Chiefs. The winner could get one step closer to the AFC West crown, while the loser could quickly find themselves spiraling out of an AFC playoff spot.
7. New York Giants 7-3 (Last Week: 8)
Even after a nice five-game winning streak, it's still tough to trust the Giants. That being said, they're 7-3 and don't appear to be slowing down. If they can pull off a season sweep of the Cowboys (they won in week one), they could still take down the NFC East.
8. Atlanta Falcons 6-4 (Last Week: 7)
Atlanta drops down in favor of the Giants, but they still look like a strong contender as they come out of their bye. Atlanta needs to quickly nurse their wounds after a road loss to the Eagles, as a tough schedule awaits. They're not even a lock to take down the NFC South, as the Bucs are just one game back and the Panthers refuse to give up.
9. Miami Dolphins 6-4 (Last Week: 9)
Miami's hot run continues (barely) with a tough win over the Rams. It wasn't pretty, but Miami is suddenly 6-4 behind an impressive five-game winning streak. A tasty date with the Niners awaits in week 12. With a win, the Fins are suddenly a legit playoff contender at 7-4.
10. Houston Texans 6-4 (Last Week: 11)
Houston could ill afford to lose to the Raiders in week 11, yet they blew it on the biggest stage in the league. They still carry their own fate in their hands in the weak AFC South, but the Texans may not be able to protect themselves from Brock Osweiler's ineffective play for much longer.
11. Detroit Lions 6-4 (Last Week: 12)
Nobody thought they'd be here, but the Lions are suddenly 6-4 and playing for sole possession of first place in the NFC North. Someone is coming out of week 12's showdown with the Vikings at 7-4, and it just might be Detroit.
12. Washington Redskins 6-3-1 (Last Week: 13)
We like that, Kirk. Cousins and co. went nuts against a beaten up Packers defense on Sunday Night Football this past week, affirming their place among the serious NFC playoff threats. It seems Cousins has found his footing in the league, and so have the 'Skins, who are now 6-1-1 since an 0-2 start.
13. Philadelphia Eagles 5-5 (Last Week: 10)
Philly still has the trimmings of a fringe playoff team, as they've beaten some serious heavy-hitters but have had dangerous bouts with inconsistency. Their playoff hopes are grim at 5-5, but a big win over a sliding Packers team in week 12 could keep them alive.
14. Minnesota Vikings 6-4 (Last Week: 14)
Minnesota looked like a dead team walking over the past several weeks, as they free fell from a 5-0 start during a four-game skid. They came back to life with a huge win last week, however, and it just may have saved their season. Now the Vikes need to complete the turnaround in week 12, where a massive showdown with the 6-4 Lions awaits.
15. Pittsburgh Steelers 5-5 (Last Week: 17)
The Steelers didn't impress in week 12, but they did what had to be done: beat the Browns to get back to 5-5. Pittsburgh has without a doubt been one of the grander disappointments in the league this year, but the AFC North remains wide open. If they can finally kick their offense into high gear, the division could easily be theirs.
16. Indianapolis Colts 5-5 (Last Week: 22)
It's tough to know just what the Colts have in their team right now, but getting two straight wins over the Packers and Titans certainly showed they have some fight left. Now they just need to hope Andrew Luck suits up this week for a ridiculously crucial battle with the Steelers.
17. Tennessee Titans 5-6 (Last Week: 15)
Tennessee didn't get the job done in a must-win game against the Colts last week, but in a competitive AFC South, they still have hope. This is a young team with underrated talent and some serious promise. If they keep trucking on, things might just break their way, yet.
18. Buffalo Bills 5-6 (Last Week: 21)
Ditto for the Bills, who fell asleep at the wheel during a potentially devastating four-game skid. Rex Ryan got them back on track with a huge win over the Bengals last week, however. Now only the Jaguars are keeping them from a 6-6 record and a chance at making up for their mistakes.
19. Tampa Bay Buccaneers 5-5 (Last Week: 26)
It's interesting to see each week which Buccaneers team will show up. They started 2016 off with a bang by winning in Atlanta, and now hold wins over the Panthers and Chiefs, as well. The Bucs' main issue continues to be consistency, however, as their recent upset win over Kansas City still has them at just 5-5.
Despite their erratic season, they remain one game out of the division. Beating the Seahawks this week isn't likely, but if they can stage one more upset, the Falcons might start to worry.
20. Carolina Panthers 4-6 (Last Week: 24)
The story isn't the same for the Panthers, who got off to a sluggish start and had it not been for a collapse against the Chiefs, could be riding an impressive four-game winning streak. It certainly hasn't been an easy ride for Carolina, but as bad as things have been, they're still within striking distance in the NFC South. Their resolve and refusal to give up keeps them going too far down our week 12 NFL power rankings.
21. San Diego Chargers 4-6 (Last Week: 19)
Talk about resolve. The Chargers have been arguably the most banged up team in 2016, having lost numerous key starters on both sides of the ball. Despite being torn apart by injuries, they've remained insanely competitive, with all of their losses coming by just 8 points or less.
It might finally be time for this team to cave, but if they fight to the bitter end we wouldn't be all that surprised. It's simply in their nature.
22. New Orleans Saints 4-6 (Last Week: 20)
The Saints may have received their fatal blow in their latest loss, which came against a resurgent Panthers team that has now surpassed them in the NFC South ranks. Drew Brees and co. still cling to mild division title hopes, but it's looking bleak for a team is just 2-3 on the road and still has three more games away from the Superdome.
23. Baltimore Ravens 5-5 (Last Week: 23)
Baltimore is another back and forth team that is tough to gauge this year, as a week ago they had a firm grasp on the AFC North and now they're back to being neck and neck with the Steelers. Losing on the road to Dallas isn't unacceptable, but at some point the Ravens need to make it known that they are a threat. Right now, they simply aren't.
24. Cincinnati Bengals 3-6-1 (Last Week: 25)
The AFC North has been a grand disappointment in general this year, with no team sitting better than 5-5 at the moment. That might be Cincinnati's saving grace, even after losing A.J. Green and Giovani Bernard to injuries in week 11. Cincinnati hasn't been the Super Bowl contender we saw a year ago, but in this trash division, they may not have to be.
25. Arizona Cardinals 4-5-1 (Last Week: 16)
The same may not be the case for Arizona, who many pegged as a title contender in the preseason, only to see them bury themselves into a hole of mediocrity. Time is running out for Carson Palmer and co., who are now 4-6-1 since beating the Packers in the second round of the playoffs last season.
26. Green Bay Packers 4-6 (Last Week: 18)
Speaking of the Packers, Green Bay is in about as bad of a situation, as they've lost four in a row and look nothing like the Super Bowl threat many figured them to be. Injuries have completely drained this team, that was once in a solid spot at 4-2, but hasn't won since.
Green Bay still has Aaron Rodgers and a clear path to the playoffs through the NFC North, but they probably need to win out. Battles ahead with both the Vikings and Lions make that possible, but their recent play probably doesn't.
27. Los Angeles Rams 4-6 (Last Week: 27)
The Jared Goff era nearly ended in an unlikely win, but it wasn't nearly as sentimental as some might think. Goff was average to embarrassing on almost every play, and while he wasn't a whole lot worse than Case Keenum, he offered the Rams absolutely nothing through the air. This team is still somewhat in the hunt, but with Goff under center, their playoff drive is all but over.
28. New York Jets 3-7 (Last Week: 28)
New York is another team that is toast as far as the playoffs go, but Todd Bowles and co. will try to remain competitive by sticking with Ryan Fitzpatrick under center. Considering it's led to a sea of turnovers and a 3-7 start, we doubt it ends well.
29. Jacksonville Jaguars 2-8 (Last Week: 29)
The Jaguars continue to fight hard as they tumble down the power rankings, but there is no saving this team from the awfulness of Blake Bortles. It has to be rather sobering to realize the future of this franchise is horrendous and there is absolutely nothing they can do about it.
30. Chicago Bears 2-8 (Last Week: 30)
The Jay Cutler era looks to be finally ending in Chicago, which could be the lone bright spot in a lost 2-8 campaign. The Bears could quite easily lose out to close the final six weeks, which would at least give them a shot at finding a future franchise quarterback.
31. San Francisco 49ers 1-9 (Last Week: 31)
The Niners have been somewhat competitive lately, but Colin Kaepernick still isn't a good quarterback and the Niners only inch closer to a top-two pick in the 2017 NFL Draft. They still haven't won since week one.
32. Cleveland Browns 0-11 (Last Week: 32)
The Browns can do the Niners one better, as they have yet to win even once in 2016. The team is forced to turn back to Josh McCown due to injury, though, and despite his own struggles, that just might save them from an 0-16 season. The top pick in the 2017 NFL Draft is destined to be theirs, however.