Hide Bonus Offers
| | | | | |
| --- | --- | --- | --- | --- |
| #1 | Bovada Sports | 50% Up To $250 | Visit Site | Bovada Sports |
| #2 | BetUS | 125% Up To $2,500 | Visit Site | BetUS |
| #3 | MyBookie | 100% Up To $1,000 | Visit Site | MyBookie |
| #4 | Everygame | 100% Up To $500 | Visit Site | Everygame |
| #5 | BetOnline Sports | 60% Up To $1,000 | Visit Site | BetOnline Sports |
Week 10 NFL Power Rankings: Raiders Inch Closer to the Top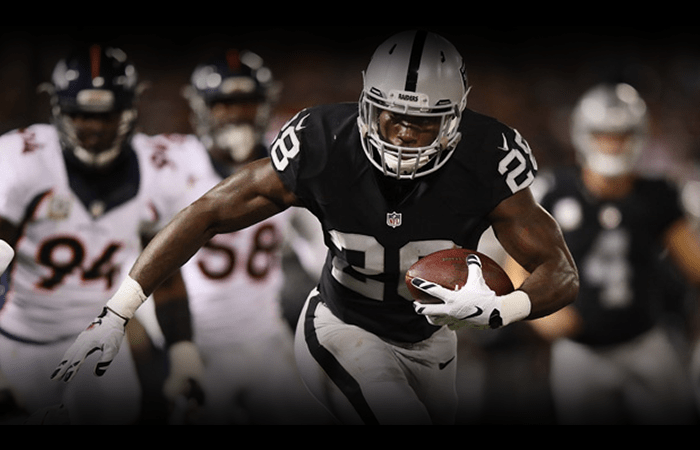 The top of the NFL is a lonely place these days, as the New England Patriots come out of their bye as the only AFC team with just one loss, while the Dallas Cowboys enter week 10 with the only NFC team with an identical record.
The Cowboys and Patriots certainly look like potential Super Bowl representatives at the moment, but the Oakland Raiders, now 7-2 and leaders in the AFC West, might have something to say about it before all is said and done.
One thing is certain: the NFL playoff picture is starting to become crystal clear and while the Pats remain the odds-on favorite to win it all this year, they just might have some competition behind them, after all.
There's more to the 2016 NFL season than the top three teams, of course. Let's break it all down as we dive into our week 10 NFL Power Rankings:
1. New England Patriots 7-1 (Last Week: 1)
There are a lot of movers and shakers this week in our NFL power rankings, but no one makes a serious case to overtake the Pats, who stick at #1 despite being on their bye. The reality is we're judging this team as they are with Tom Brady, and since he's been back they're 4-0 and don't look very beatable. The scary part is they might just be getting started.
2. Dallas Cowboys 7-1 (Last Week: 2)
I'm not entirely sure how far a team can go with two key offensive rookies leading the way, but it's probably fair to say few felt Dak Prescott and Ezekiel Elliott would be here, at 7-1. Dallas has ripped off seven straight wins and they've looked so good that Tony Romo probably won't be starting for this team again. Are they true Super Bowl threats? Long-term, who knows? But right now, heck yes.
3. Oakland Raiders 7-2 (Last Week: 6)
Ditto for the Raiders, who already were impressive during a hot 6-2 start, but then convinced us all with a huge home win over the hated Broncos. Just like that, Oakland is back to just winning, baby. A 14-year playoff absence seriously might be coming to an end this season, and it's nothing but exciting to have the Silver and Black relevant again.
4. Atlanta Falcons 6-3 (Last Week: 3)
Atlanta could have caved and taken a huge step back the past two weeks, but they dug deep and bounced back from a 4-3 start. Now they look like a top-four team in the entire league and look to be the favorite to take the NFC South crown. That doesn't mean they're title contenders, but it certainly means we need to keep watching them.
5. Kansas City Chiefs 6-2 (Last Week: 5)
Anytime you can get two straight wins without your top running back or quarterback helping you out, it's impressive. Kansas City has built a nice foundation of a balanced offense, good coaching and elite defense. Now, if they can just get Alex Smith, Spencer Ware and Jamaal Charles back at full strength, they might really have something here.
6. Seattle Seahawks 5-2-1 (Last Week: 8)
Seattle still is having serious defensive mental lapses, but their offense really stepped up in week 9 to show everyone that this is still a contender. Russell Wilson looked fresh, mobile and for stretches even dominant. If the Seahawks can ever get their ground game going again, they could end up being as dangerous as ever.
7. Denver Broncos 6-3 (Last Week: 4)
The elite defense still resides in Denver, but serious issues with bad quarterback play and an inconsistent rushing attack are finally being exposed. It's fair to wonder if the Broncos should seriously consider a switch to Paxton Lynch under center in the near future.
8. Minnesota Vikings 5-3 (Last Week: 7)
This is where the good teams drop off in our weekly NFL Power Rankings, as Minnesota is supposed to be elite, but they've now dropped three games in a row. The defense is sulking, the running game is trash and the passing game isn't generating enough good plays. Slowly but surely, that Vikings Super Bowl talk is going away.
9. Miami Dolphins 4-4 (Last Week: 22)
Miami was dead in the water at 1-4 and suddenly they decided to run the ball. Perhaps it wasn't easy to turn away from Arian Foster and limit Ryan Tannehill's role in the offense, but Adam Gase's move to lean hard on Jay Ajayi not only looks genius, but might make the Fins viable playoff threats. He said he won't ever go away from Ajayi, and if he sticks to his word, Miami could be a team to fear.
10. Philadelphia Eagles 4-4 (Last Week: 9)
See what we're talking about here? After Minnesota, the talent pool thins out, as the Eagles were once an impressive 3-0 squad, but have since just gone 1-4. Carson Wentz is playing like a rookie, this team isn't running the ball and their defense is suddenly getting carved up. If they keep this up, they'll be lucky to sniff the playoffs.
11. Pittsburgh Steelers 4-4 (Last Week: 10)
The story is similar for the Steelers, who have endured some bad injuries and suspensions in 2016, but have still crumbled with three straight defeats. Big Ben's return wasn't enough to save them last week, but the AFC North remains insanely wide open. Is it too late for their Super Bowl hopes to regain life?
12. Green Bay Packers 4-4 (Last Week: 11)
Here's another case of how the mighty have fallen. Green Bay was a Super Bowl favorite going into the new year, yet injuries and lethargy have doomed them through their first eight games. Their losses are mostly fine, but a dispirited loss at home to the Colts is an eyebrow raiser. No running game and a ravaged defense suddenly have the Pack in desperation mode.
13. New York Giants 5-3 (Last Week: 17)
We're all still just waiting for the G-Men to fold like lawn chairs, but so far they've responded well to a rough start by ripping off three straight wins to keep themselves in the race for the NFC East. Eli Manning and co. hold the series lead over Dallas, who they get one more time this year. If they can pull off the sweep, they seriously could still take this division.
14. Arizona Cardinals 3-4-1 (Last Week: 12)
Arizona is another Super Bowl darling that has been drowning underneath injuries, a rough schedule and ridiculous expectations. Still, there is no excuse a team this talented is struggling so much. All of a sudden, a week 10 battle with the 49ers is a must-win game. If Arizona comes up short there, they can kiss their title hopes goodbye.
15. Houston Texans 5-3 (Last Week: 13)
Never has a 5-3 team gotten so much disrespect, right? It's true, but it is so difficult to get behind the Texans when they don't have J.J. Watt or a competent quarterback. Perhaps Watt returns and Brock Osweiler figures things out, but for now, they just feel like a placeholder atop a terrible AFC South.
16. Detroit Lions 5-4 (Last Week: 15)
How crazy is it that one of the most erratic teams in the league is within striking distance of the NFC North? Detroit can't defend or run the ball, but Matthew Stafford has been so freaking clutch that this team is still hanging around. Another win and they might start running away with this division for good.
17. San Diego Chargers 4-5 (Last Week: 20)
Talk about a team with zero quit. San Diego has immense fight in them, as they've fought off a collapse numerous times and have taken down some big opponents in 2016. They truly could be undefeated if the endings of some games bounced the other way, but regardless, Philip Rivers and co. are 4-5 and just barely still in this thing.
18. New Orleans Saints 4-4 (Last Week: 21)
The case is similar for Drew Brees and the Saints, who could have given up after a brutal 0-3 start, but a 4-1 run has them back in the mix for their division. They still can't win on the road or play any defense, but their passing game is as good as ever. We won't be counting Brees and co. out just yet.
19. Washington Redskins 4-3-1 (Last Week: 16)
Kirk Cousins and co. drop down a few spots on an idle week, but we need to give credit to this club for bouncing back from an 0-2 start. They're still in the mix for a playoff spot if they can just figure out their running game and close out games in the clutch.
20. Buffalo Bills 4-5 (Last Week: 14)
This year has been brutal for the Bills, who should be in such a better spot despite an 0-2 start. Injuries have held this team back, yet there they were again in week 9, in position to get a big win. Consistency has been their downfall, as they ripped off four wins, only to drop three more in a row. Rex Ryan's bid to turn this thing around gets real serious real quick in week 10, when the Bills battle the Bengals.
21. Tennessee Titans 4-5 (Last Week: 18)
The Titans are increasingly becoming known for not being able to finish games, as they've blown it late in five close losses in 2016. Marcus Mariota has played fairly well and DeMarco Murray has been a beast on the ground, but the issue is mental. This team has to find a way to play better in the fourth quarter if they're serious about cracking their way into the playoffs.
22. Carolina Panthers 3-5 (Last Week: 24)
Cam Newton and co. have the unenviable job of crawling out of a 1-5 hole, but two straight wins offers a glimmer of hope for Panthers fans. Newton's production really isn't there, but the defense has at least turned it on lately. If Carolina's offense can find a way to follow suit, this team might still have legs.
23. Cincinnati Bengals 3-4-1 (Last Week: 19)
Cincy takes a mild hit during their bye week, but their struggles have been obvious all year: they have been extremely short-handed and they haven't been the same (1-3) on the road. Andy Dalton is quietly having a terrific year again and Tyler Eifert is back, though, so the Bengals just might be able to turn their year around yet.
24. Indianapolis Colts 4-5 (Last Week: 27)
Chuck Pagano said ahead of last week that a huge road game versus the Packers would tell him what kind of team he had. Apparently it was one that refused to quit, as the Colts got a huge road win in a very tough place to play. Indy still has a lot of issues with pass protection, their ground game and their defense, but for one game, everything clicked. As amazing as it sounds, that keeps them very much in contention for the AFC South title.
25. Baltimore Ravens 4-4 (Last Week: 28)
Baltimore looked toast after dropping four games in a row, but all they needed was an intense rivalry game at home with the Steelers to ignite the flame again. Baltimore is still struggling to run the ball, but Joe Flacco is slowly getting the deep ball back and the defense is playing lights out. If Terrance West can ever get the ball rolling on the ground, the Ravens could still be a team to watch.
26. Tampa Bay Buccaneers 3-5 (Last Week: 23)
Jameis Winston may have a bright future with the Buccaneers, but through two years his career has been marred by inconsistency. Tampa Bay had a perfect opportunity last week to knock the Panthers out of the playoff picture and get back to .500, but instead they took another step back. They show glimpses of upside, but this team just isn't there yet.
27. New York Jets 3-6 (Last Week: 26)
The Jets probably needed to beat the Dolphins for any shot at the playoffs this year, but they failed in a tight divisional battle. Ryan Fitzpatrick just wasn't up to the task in week 9 (or in 2016) and this Jets defense fell apart at the seams. There is still a ton of talent on both sides of the ball, but New York's 2016 run is probably over before it ever really got going. A quarterback change in 2017 should do them some good.
28. Chicago Bears 2-6 (Last Week: 29)
Jay Cutler to the rescue? It sure feels that way, as the veteran passer looked cool and collected while leading the Bears to a weird win over the visiting Vikings last week. That isn't going to turn Chicago into a playoff contender suddenly, but in just one game this team went from disastrous to competent. It probably won't stick, but a big performance out of Cutler against the Bucs in week 10 could suddenly have this team back to thinking positively.
29. Los Angeles Rams 3-5 (Last Week: 25)
The Los Angeles Rams faked everyone out with a nice three-game winning streak after an 0-1 start, but after four straight losses, it looks like the real Rams team has shown up. This team is going nowhere and it's truly befuddling that they haven't turned to rookie quarterback Jared Goff yet.
30. Jacksonville Jaguars 2-6 (Last Week: 30)
Jacksonville actually gave the Chiefs a decent fight late in week 9, but it was more of the same in the end, as the Jags dropped their third game in a row. Blake Bortles continues to have some serious issues with a funky delivery, timing and decision-making. The bright spot? Jacksonville was a little better defensively and actually ran the ball decently. This season as a whole has been a grand disappointment, but if they can improve defensively and run the ball more, they could at least rise in our weekly NFL Power Rankings.
31. San Francisco 49ers 1-7 (Last Week: 31)
Colin Kaepernick put up some nice numbers in week nine, but it wasn't nearly enough as the Niners fell to 0-3 under his command and dropped their seventh straight game. Chip Kelly might not be long for the NFL and this team simply is lacking serious talent. A quick turnaround isn't likely on the horizon.
32. Cleveland Browns 0-9 (Last Week: 32)
Cleveland failed to be even remotely competitive against the Cowboys in week 9, further showcasing the very real possibility this team doesn't win a game all year. It's not all bad for Hue Jackson and co., however, as the Browns got Corey Coleman and Cody Kessler back and can still continue to build for the future.