Hide Bonus Offers
| | | | | |
| --- | --- | --- | --- | --- |
| #1 | Bovada Sports | 50% Up To $250 | Visit Site | Bovada Sports |
| #2 | BetUS | 125% Up To $2,500 | Visit Site | BetUS |
| #3 | MyBookie | 100% Up To $1,000 | Visit Site | MyBookie |
| #4 | Everygame | 100% Up To $500 | Visit Site | Everygame |
| #5 | BetOnline Sports | 60% Up To $1,000 | Visit Site | BetOnline Sports |
Week 1 NFL Betting Recap: The Odds Were Stacked Against You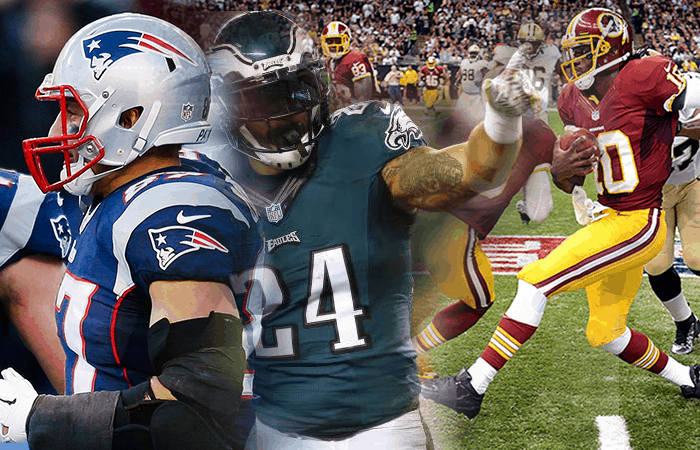 Our condolences if you threw down some hard cash in NFL betting in the first week of the 2016 season. Week one pro football betting is always a little risky, to be sure, but this first week (Monday night's slate not included) was, to put it bluntly, just not fair.
We're not ones to call out the NFL or Vegas or suspect anything is ever "rigged". We do, however, have to point out just how zany this first week of pro football truly was – specifically for NFL betting purposes.
If you didn't get the sour taste of defeat, you either didn't bet this past week or you got incredibly lucky. That, or maybe you're just smarter than we are.
Regardless, week one deserves a breakdown, so let's see the many ways we all probably failed with out NFL bets this past week:
Upset Special
Week one wasn't jaw-dropping for upsets, but it did produce four upsets based on Bovada's spreads. The Buccaneers, Lions, Patriots and Raiders all scored upset wins as underdogs, and what is arguably even more shocking is they all did so on the road.
4 Big Upsets
Tampa Bay's win perhaps could have been seen coming, seeing as they know the Falcons from the NFC South. Detroit usually struggles on the road and Indianapolis put up a ton of points, so it was a little odd how efficient they were in a very tight win. Detroit also scored a safety late in the game, which fortunately didn't end up impacting the game.
The same can be said for Oakland's week one situation, as they crawled out of a 24-10 third quarter hole and instead of settling for OT, put the pressure on the Saints by going for a two-point conversion (and the win) late. New Orleans was a -1 favorite and wasn't able to score again.
The Pats closed out Sunday with a big road win despite not having either Tom Brady or Rob Gronkowski, too, which was pretty crazy considering they were under-manned and on the road against a very good Arizona team. The Cardinals were favored with a -6 spread, so betting on New England just to beat the spread would have worked out, even if Arizona had won on a late field goal try.
Road Kill
The road team was highly successful overall in week one, going a strong 8-5 through Sunday's 13 contests. There were even teams that pushed the home teams to their limit, as the Chargers, Dolphins and Bills all lost their road battles by a touchdown or less.
Needless to say, even with the true upset number being low, a lot of people lost some big NFL bets in week one based on the home field aspect.
Spread Bad Beats
It was even worse when you looked at spread betting, as we had some serious bad beats in week one, as well as some troublesome pushes.
That bad luck actually got started in the Thursday night rematch between the Panthers and Broncos, which had Denver fending off Carolina, 21-20. Carolina was the favorite going into the night and the Total was set at 41, so anyone betting on the Panthers or the Total either lost or got a push. The only bet that won was the Broncos beating the spread or winning straight up.
The bad beats continued into Sunday, with an astonishing seven contests resulting in spread losses or pushes. The most staggering outcomes were without a doubt one-point wins by the Bengals and Giants, while Green Bay and Seattle both won, but did not fulfill their 6 and 10-point spreads.
Of course, a lot of the bad beats could have been avoided if you simply stayed away from some of the games that were more up in the air.
Oh, that's the logic, at least.
Teams like Seattle, Arizona, Kansas City and Green Bay felt like obvious calls, both as straight up picks to win and also picks to cover. None of them covered, however, while Arizona even lost.
Of all those disappointments, the Seahawks were probably the biggest. They were massive -10 favorites at home against a Miami team no one (especially not Vegas) seemed to respect. Miami kept things tight throughout and even took a 10-6 lead late in the game. Seattle still ended up being a successful straight up bet, but betting on them ATS was a bad move. The Dolphins, meanwhile, would have oddly been a terrific ATS pick, as they only lost by two.
Total Recall
The Total was the place to bet in week one, as just three games really missed the mark (failed within two points or less) and the majority of the games were way over or way under. Defensive battles could be seen a mile away in cases like the Ravens/Bills, while guaranteed shootouts like the Saints/Raiders and Lions/Colts easily got the Over and should have seen many bettors cash out.
Overall, week one was still pretty crazy and it cast some doubts going into the second week of the new season. We need to be on guard when it comes to vulnerable home teams, we need to always consider division and rivalry showdowns, all injuries need to be considered and we need to consider all narrative angles.
With everything considered, we'll leave you with all of the shocking betting moments from week one:
Pats winning sans Gronk/Brady
Eagles blowing out the Browns
Seahawks only scoring 12 points
Chiefs missing out on spread due to OT win
Giants meeting spread exactly