Hide Bonus Offers
| | | | | |
| --- | --- | --- | --- | --- |
| #1 | Bovada Sports | 50% Up To $250 | Visit Site | Bovada Sports |
| #2 | BetUS | 125% Up To $2,500 | Visit Site | BetUS |
| #3 | MyBookie | 100% Up To $1,000 | Visit Site | MyBookie |
| #4 | Everygame | 100% Up To $500 | Visit Site | Everygame |
| #5 | BetOnline Sports | 60% Up To $1,000 | Visit Site | BetOnline Sports |
Ways to Think More Strategically When You're Gambling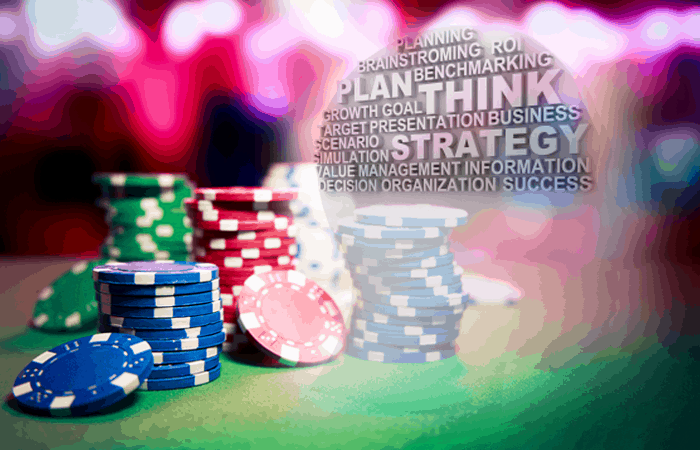 Strategic thinking is the process of figuring out how to be successful in a competitive environment or game.
Strategic thinking is often used in the business world to rise above the competition. It can also be applied to several gambling games too.
And if you use strategic thinking in the right manner, you can gain an edge on your competition.
Let's examine how to apply this thinking to your gambling hobbies and what advantages it offers. Specifically, you and I will discuss more on strategic thinking, gamblers who employ this concept, games where strategic thinking applies, and examples of using it in gaming.
What is Strategic Thinking?
The Business Directory defines strategic thinking as the ability to come up with effective plans based on an organization's objectives. This thinking process helps managers set goals, determine probabilities, and identify potential opportunities that'll improve the company's success.
Again, strategic thinking is heavily used in the business world. But it can apply to a number of other endeavors.
Here's a table that shows how strategic thinkers differ from conventional wisdom:
| Strategic Thinking | Conventional Thinking |
| --- | --- |
| Investing in today for better outcomes tomorrow. | Doesn't account for long term goals when taking action. |
| Willing to try new strategies and techniques. | Stick with conventional methods out of fear. |
| Look for opportunities and predict change. | Not being proactive and waiting to be told what to do. |
| Focus on projects with the greatest potential for a high return. | Not accounting for the long-term value of a project. |
| Seek knew knowledge and skills. | Avoid learning new strategies or methods. |
| Try unorthodox methods to find a better way. | Stay on a familiar path. |
Gamblers Who are Strategic Thinkers
The table above shows that a strategic thinker is bold and willing to try new concepts. Their goal is to find the most-effective ways of doing things and opportunities that offer the greatest return.
Many gamblers have embodied these principles to win big profits. Here's a look at some of the biggest strategic thinkers in gambling history.
Tom Dwan started his online poker career in the mid-2000s with a $50 birthday present. He's since increased his bankroll to millions of dollars and has become one of poker's biggest names.
What helped Dwan become such a prominent player is his ability to innovate. He rose to the top of internet poker through aggressive tactics and out-thinking fellow pros.
Dwan now spends most of his time playing private cash games in Asia. But he played a big part in changing how players think about poker strategy.
Joseph Jagger was a British engineer who lived during the eighteenth century. He used his engineering background to figure out that some roulette wheels favor certain numbers.
Dubbed "wheel bias," this occurs when wheels undergo wear and tear. The trick is finding biased wheels so one can bet on the favored numbers/sections.
Jagger hired six clerks to travel to Monte Carlo's Beaux-Arts casino and record data on roulette spins. When the clerks returned, he analyzed the data and found a biased wheel.
Jagger traveled to the Beaux-Arts casino himself in 1873 and won £60,000, which is worth over £5 million today.
John Montagu was a British statesman in the eighteenth century and an avid gambler.
But unlike other gamblers on this list, Montagu didn't use his strategic thinking to win profits. Instead, he used ingenuity to create the sandwich.
The 4th Earl of Sandwich would ask his servants to bring him slices of meat between two pieces of bread. His gambling friends began ordering what "sandwich" was having, hence the name.
Mathematician Ed Thorp didn't invent blackjack card counting. But he was the first to publicly prove that card counters can gain an advantage through his book Beat The Dealer.
The former math professor also put research into devising his own card counting techniques to ensure more accuracy. He used an IBM 704 and eventually developed a profitable counting method.
Thorp put his tactics into practice by counting cards at Nevada casinos in the 1950s. He was quite successful and decided to share his secrets through Beat the Dealer in 1962.
Thorp remains a strategic thinker today by developing hedge fund techniques for financial markets.
Haralabos "Bob" Voulgaris is a Greek-Canadian sports bettor who's made millions of dollars in his career.
Voulgaris started wagering on the NBA in the 1990s. He spotted and took advantage of game-management techniques used by coaches Eddie Jordan, Byron Scott, and Jerry Sloan.
By the time Voulgaris was 25, he was regularly placing NBA bets worth over $1 million. He's since become a mini-gambling celebrity and has appeared on Bill Simmons' podcasts.
Billy Walters started out as a successful car salesman in Kentucky. But he eventually left the business so that he could pursue a gambling career in Las Vegas.
He co-founded the "Computer Group," a gambling team dedicated to developing successful strategies through computer technology.
The Computer Group made millions of dollars by applying extensive data to college basketball and football wagers.
Interestingly enough, the team also used roulette wheel bias to make millions of dollars off Atlantic City casinos in the mid-1980s.
First Step to Being a Strategic Thinking Gambler: Learn Existing Strategy
Being a strategic thinker means walking the fine line between learning from others while still thinking outside the box.
You don't want to get stuck in the rut of only following the strategies of others. But you can't reinvent the wheel if you don't even know basic strategy concepts for the game that you're playing.
It's also good to know what strategies everybody else is using so that you can potentially expand upon them.
I recommend that you spend plenty of time learning basic strategy for your favorite gambling games if you haven't done so already.
Here's an example of things that you can do to learn common poker strategy:
Watch Twitch streams – Many poker pros stream their online sessions through Twitch and offer helpful advice while playing. The nice thing about Twitch is that you don't have to pay to watch.
Training videos – Poker training sites let you watch videos from pros who describe how they play hands and handle specific situations. The catch is that you must pay to join subscription sites.
Read articles – The internet is filled with poker articles. These are great for when you want to jump right into a topic that you're struggling with.
Read books – Poker books usually feature a single pro offering in-depth analysis of their strategy.
Again, the key to being a strategic thinker is innovating and doing what others aren't. But it certainly helps to have a strategy base in the beginning.
This is why it's good to learn some of what already exists before you move on to advanced concepts and blazing your own trail.
What Casino Games Can You Use Strategic Thinking with?
Certaincasino games don't lend themselves to strategic thinking. The reason why is because they have static strategy (if any) that can't be changed without cheating.
Some of these games include:
Baccarat
Big six
Casino war
Craps
Keno
Three-card poker
Video poker
Baccarat, craps, three-card poker, and video poker all contain strategy. But there's nothing you that can do to improve your chances of winning in these games that hasn't been done.
You need to look for gambling activities with open strategy in order to apply strategic thinking. Let's cover some of these games below and how you can influence the strategy.

Blackjack (Card Counting)
Card counting has been around since the 1950s, so there's not much room for strategic thinking.
Counting systems are as good as they're going to get. And the team concept has been well documented dating back to the 1970s.
But card counting is still an open concept that has room for improvement.
The best area to find this improvement in is how teams work to avoid being detected by casino security.
You can already find a lot of good information on this concept through internet research. But you may also develop your own techniques through experience and innovative thinking.

Daily Fantasy Sports
Daily fantasy sports (DFS) strategy has accelerated rapidly ever since the activity became popular in the mid-2000s. And there are more DFS materials today than ever before.
But this game still has a long ways to go until the strategy is capped out.
One of the best ways that you can incorporate strategy thinking is by using software to identify trends and quality picks. This allows you to create your own systems, much like Walters and his Computer Team did in the 1980s.

Poker
No gambling game has lent itself to strategic thinking more than poker over the years.
Games like Texas hold'em and Omaha feature abundant strategy because you're dealing with human opponents and changing tendencies.
Poker also features more existing strategy than any other game thanks to Twitch, training videos, books, and articles.
But given that certain pros are still making profits and beating opponents, there's still some room for strategic thinking.

Sports Betting
Sports wagering is similar to DFS and poker in that you're dealing with incomplete information. And this allows you to put your own twist on the strategy.
The sports betting world offers many different software programs that you can use to analyze data and create your own strategy.
You can also look for tendencies within the games themselves such as Haralabos Voulgaris did. Spotting a recurring tendency by a coach or athlete(s) could be the key to your success.
Example of Applying Strategic Thinking to Gambling
The games above all offer room to create your own strategies and do something different that other gamblers aren't.
But how do you actually use strategic thinking in a gambling game?
Let's begin by recapping ways that strategic thinkers differ from conventional wisdom:
Investing time and / or money into today for a better outcome later.
Willing to try new methods and strategies.
Look for opportunities instead of only taking what's in front of you.
Focus on projects that'll provide the highest return.
Seek new knowledge and skills.
Try unorthodox methods to succeed.
You can apply these concepts to any of the games that we discussed in the section above. But I'll use poker as an example of how you can incorporate these strategic thinking aspects.
Watching Twitch Streams
Let's say that you have an edge in online poker and can make consistent profits by multi-tabling $0.50 / $1 NL holdem (a.k.a. 50 / 100).
This is certainly a good accomplishment because it's hard to gain an edge in online poker these days. But you can always take things further by studying how pros think and play.
You can watch a Twitch stream by a better multi-tabler to see what they do differently than you. This falls under the concept of investing time for a better outcome later.
Sure, you can make guaranteed profits by continuing to grind in 50 / 100 NL holdem. But you can invest time now for more potential profits in the future.
Trying New Strategies against Opponents
It's good to employ a tight-aggressive style as a beginning poker player so that you learn the game while developing your skills.
But strategic thinking dictates that you eventually try new strategies as you observe opponents' tendencies.
This could be something as simple as raising more often from late position when you notice an opponent fold in these situations. Or it could be more complex like 5-betting when you think the opponent who 4-bet will fold.
In either case, you're employing new strategies in an effort to improve your ability to beat opponents.
Looking for the Most Profitable Games
Again, it's nice to grind out consistent profits in a game you know can be beaten. But it's also good to search for even easier competition so you can increase your profit margin.
I read about an extreme example of this involving poker pro Chad Power and his team. Power's team moved from Baltimore's Maryland Live to Hanover's (DC area) MGM National Harbor in search of the juiciest cash games.
You may not be willing to move from city to city to find the best poker games. But you can at least spend time scouting out different tables to find games that offer a higher edge.
This is where looking for new opportunities instead of what's in front of you comes into play.
Looking for Opportunities Outside of Poker
What's fun about poker is that there's always room to move up in stakes as your skill and confidence grow. But what if there are ways that you can make more money outside of the game?
Strategic thinking is, after all, a concept that's often discussed in business circles. And some poker pros have figured that it's more worth their time to parlay poker profits into outside investments – rather than trying to gain a tiny edge in the game.
I heard high stakes pro Dan 'Jungleman' Cates discuss this concept once during a podcast with Joe 'ChicagoJoey' Ingram. Cates said that there was more wealth to be gained outside of poker than by finding another small poker edge.
And this embodies the concept of searching for projects with the highest return.
Conclusion
The best place to start with skill-based casino games is basic strategy. After all, you don't want to be crushed by opponents before you have a chance to employ strategic thinking.
Furthermore, it's good to have a strategy base to work off of so that you can develop more-advanced concepts later.
The goal of gambling's strategic thinking is to gain an edge and make big profits.We discussed some of the gamblers who've done this, including Tom Dwan, Billy Walters, Haralabos Voulgaris, and Ed Thorp.
Of course, you don't have to become a millionaire gambler just to use strategic thinking. But these people show what's possible if you're dedicated and willing to think outside the box.
In Summary
Learn the most you can about basic and advanced strategy. But also be willing to break from the mold and think differently when you have the chance.