Hide Bonus Offers
| | | | | |
| --- | --- | --- | --- | --- |
| #1 | BetOnline Sports | 60% Up To $1,000 | Visit Site | BetOnline Sports |
| #2 | Bovada Sports | 50% Up To $250 | Visit Site | Bovada Sports |
| #3 | BetUS | 125% Up To $2,500 | Visit Site | BetUS |
| #4 | Everygame | 100% Up To $500 | Visit Site | Everygame |
| #5 | MyBookie | 100% Up To $1,000 | Visit Site | MyBookie |
7 Ways Casino Players Sabotage Their Chances of Success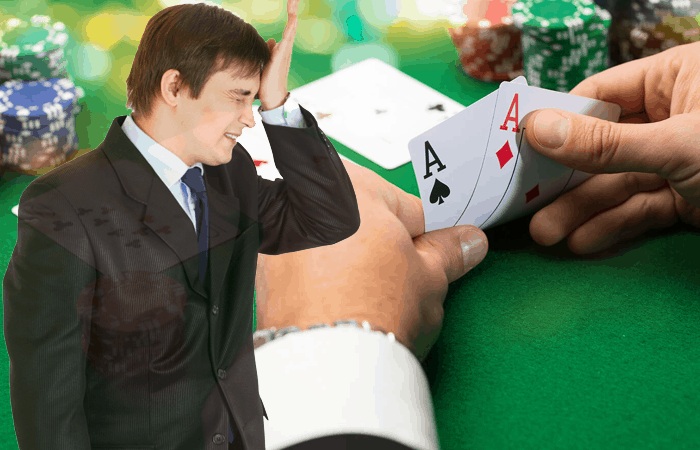 Whether it's your very first time, or your third trip of the week, walking onto the casino floor is always a thrill.
Truly the casino is a unique place where everyone is welcome… but that doesn't mean that everyone walks away a winner.
Indeed, that's the rub when it comes to the casino gambling lifestyle. The house holds an inherent edge in every game it spreads, and while that edge can vary wildly from game to game, the house always has the odds on their side.
Of course, certain games like blackjack and video poker allow players to apply skill and knowledge, which work to whittle the house edge down to manageable terms. But the most popular casino games – slot machines, craps, baccarat, and keno – are all games of pure chance that leave players at the mercy of probability and random variance.
Accordingly, many players who experience that thrill when walking into a casino walk out a few hours later with nothing to show for their effort.
I'm a big believer in the idea that gambling should be a source of entertainment, not income. After all, if you're willing to risk money on a negative expectation gamble, you should be willing – and should even expect – to lose it, too.
With that said, I also want to win every time I play, as I'm sure my readers do as well. Human beings are competitive by nature, and even when we're taking on the house and its healthy edge, the goal is to come out on top.
To that end, I do everything in my power to put myself in a position to win in the long run. I'll surely encounter some short-term losses here and there – that's just the nature of the beast when it comes to casino gambling. But by using common sense and a cautious approach, I endeavor to excel whenever I sit down for a casino gambling session.
That game plan is a product of my many years of experience playing every casino game under the sun. But unfortunately, many gambling beginners who lack that crucial experience manage to undermine their own chances right out of the gate. Playing unbeatable games, visiting the wrong venues, and making incorrect plays are just a few of the mistakes every gambling rookie will inevitably make.
To help you avoid those self-inflected wounds, take a look below to learn about seven ways casino players manage to sabotage their chances of success.
1. Playing Sucker Games
Think for a moment about the games that first come to mind when you envision a trip to the casino.
If you're like most people, you're picturing the slot machines, the craps table, the roulette wheel, and maybe some table games like blackjack and baccarat.
All of these offerings are fun and entertaining in their own ways, which is why they've risen through the ranks to become the world's preferred gambling games.
But depending on where you take your action, you can be faced with relatively tiny odds against, or a house edge so high that the game is practically unbeatable over the long run.
The best example of this divide occurs right when you walk into any casino. In most major gambling halls, you'll encounter a big spinning wheel a few feet from the entranceway. Known as the "Big Wheel" or "Big Six," depending on the venue, this wheel game looks like something straight out of The Price is Right. Players simply guess a number from those on the wheel, watch it spin, and hope to hit – that's it, and that's all.
For most recreational gamblers, the first game they see is the first one they'll try – and the house knows this quite well. That's why they put the Big Six Wheel – and its enormous house edge rates – right there near the entrance. Depending on the number you choose, the Big Six Wheel carries a house edge between 11.11 percent and 22.22 percent – some of the highest in the gambling world.
In fact, those odds are more akin to a scratch-off lottery ticket than a true casino game.
The fact is, nobody in their right mind would play a game like the Big Six Wheel if they knew how badly the odds were stacked against them. But, as the casinos know quite well, most casual gamblers don't know a lick about the odds.
To help you avoid this common pitfall, check out the table below, which lists house edge rates for the majority of casino games and wagers:

Casino Games and Wagers by House Edge
Game
Bet / Rules
House Edge
Craps
Odds — 4 or 10
0.00 percent
Craps
Odds — 5 or 9
0.00 percent
Craps
Odds — 6 or 8
0.00 percent
Blackjack
Liberal Vegas rules
0.28 percent
Blackjack
Dealer stands on soft 17
0.40 percent
Video Poker
Jacks or Better (Full Pay)
0.46 percent
Catch a Wave
0.50 percent
Spanish 21
Dealer hits soft 17
0.76 percent
Super Fun 21
0.94 percent
Baccarat
Banker
1.06 percent
Baccarat
Player
1.24 percent
Craps
Don't pass/don't come
1.36 percent
Craps
Pass/Come
1.41 percent
PaiGow Poker
1.46 percent
PaiGow Poker
1.50 percent
Craps
Place 6,8
1.52 percent
Heads Up Hold 'Em
Blind pay table #1 (500 50 10 8 5)
2.36 percent
Double Down Stud
2.67 percent
Roulette
Single Zero
2.70 percent
Craps
Field (3:1 on 12)
2.78 percent
Red Dog
Six decks
2.80 percent
Casino War
Go to war on ties
2.88 percent
Craps
Place (to lose) 4,10
3.03 percent
Three Card Poker
Ante & play
3.37 percent
Let it Ride
3.51 percent
Casino War
Surrender on ties
3.70 percent
Craps
Place 5,9
4.00 percent
Caribbean Stud Poker
5.22 percent
Roulette
Double Zero
5.26 percent
Craps
Field (2:1 on 12)
5.56 percent
Craps
Place 4,10
6.67 percent
Wild Hold 'em Fold 'em
6.86 percent
Three Card Poker
Pairplus
7.28 percent
Craps
Big 6,8
9.09 percent
Craps
Hard 6,8
9.09 percent
Bonus Six
No insurance
10.42 percent
Big Six Wheel
$1
11.11 percent
Craps
Any craps
11.11 percent
Craps
Hard 4,10
11.11 percent
Craps
3, 11, & all easy hops
11.11 percent
Craps
2, 12, & all hard hops
13.89 percent
Baccarat
Tie
14.36 percent
Big Six Wheel
$2
16.67 percent
Craps
Any seven
16.67 percent
Big Six Wheel
$10
18.52 percent
Casino War
Bet on tie
18.65 percent
Big Six Wheel
$5
22.22 percent
Big Six Wheel
$20
22.22 percent
Bonus Six
With insurance
23.83 percent
Big Six Wheel
Joker/Logo
24.07 percent
Pick 'em Poker
0 percent . 10 percent
Slot Machines
2 percent -15 percent
Sic Bo
2.78 percent -33.33 percent
Keno
25 percent. 29 percent
As you can see, many of the more popular gambling options out there – keno, slot machines, and the Big Six Wheel – are ranked near the bottom, with the highest house edges around.
To ensure long-term success as a gambler, you should immediately consider any game or wager with a house edge above 5 percent to be a nonstarter. Those "sucker" bets can be fun in the short term – especially when the longshot comes in on your side – but over the long run you'll lose massive chunks of your bankroll chasing them.
Instead, focus on the top of the table, where the most player-friendly options can be found.
Betting on the odds in craps is the best bet out there, as it holds no house edge to speak of. This is a bit deceptive, of course, because you'll need to place a Pass Line or Don't Pass bet before putting up a wager on the odds. But if you check out the house edge for those two base wagers in craps, you'll find both are eminently reasonable (Pass Line = 1.41 percent house edge / Don't Pass = 1.36 percent).
A word of warning about craps is warranted, because upon closer inspection of the table, many of the "exotic" wagers you'll find at the dice table are definitely sucker bets. So, the best course of action as a craps player is to simply bet the Pass Line or Don't Pass, then bet on the odds to enjoy an extremely low average house edge under 1 percent.
Other games that provide a generous house edge near the 1 percent plateau include blackjack (0.50 percent for basic strategy players), baccarat (1.06 percent on Banker / 1.24 percent on Player), and Jacks or Better video poker (0.46 percent).
By sticking to these player friendly-games at all times, you'll immediately save significant sums in terms of your expected value over the long run.
And if you don't believe me, just try things out for yourself. Take a week and bet exclusively on sucker games, then switch it up the next week and focus on the games offering the best odds.
I'm willing to wager that your bottom line will be much better after the second week when compared to the first.
2. Giving in to Temptation
So now you have an effective game plan with which to map out your next casino gambling session… but you know what they say about people and their plans.
Even if you know exactly which games to play and which ones to avoid, that intoxicating casino atmosphere I described in the introduction can easily lead to a change of plans. Perhaps you notice somebody winning steadily at the roulette wheel, so you decide to take a shot yourself. Or maybe a hot shooter at the craps table is landing Hard 8s like they're easy, so you start splashing around a few chips on the longshot, just in case.
From time to time, the buzz of the casino floor has been known to lead even the sharpest gamblers astray.
As a gambler, you'll inevitably be surrounded by players who are making the "wrong" plays. These are recreational players for the most part, and they're just there to have fun, so that's all well and good. But if you're the type of person to join in with the crowd, it can be tempting to start making the same mistakes as a way of going along to get along.
And that temptation only grows when the "sucker" bets start cashing in. I've been known to chase a longshot here and there, so don't worry if that happens on occasion. But by all means, don't let it become a habit either.
I suggest a style that's familiar to any schoolkid out there: keep your eyes on your own paper.
Don't worry about what the other players are doing, or whether they're winning or losing. Keep your head down, focus on the task at hand, and concentrate on making the correct decisions when it's your turn to wager.
When you develop a certain degree of willpower, the urge to chase longshots will subside, leaving you free to exploit the casino's player-friendly games for all they're worth.
3. Drinking Too Much
On that same note, one of the most notorious bankroll-killers found in any casino costs nothing at all.
In major casinos, omnipresent cocktail servers stroll through the aisles and ask players if they'd like a complimentary drink. That's all well and good, and I'll admit to tilting back a gin and tonic when the mood strikes – but I try to limit myself to a single adult beverage per gambling session.
When it comes to alcohol, I take the conservative route for one simple reason – it lowers inhibitions.
I just advised you to steer clear of temptation when you're in the midst of a gambling run, but alcohol has a funny way of changing those plans. If you're throwing back beers like they're bottled water, chances are high that you'll eventually want to mix things up and take some shots.
Liquid courage can be a powerful thing, but in the gambling world, being brave enough to chase sucker bets doesn't count for all that much.
Save the drinks for the afterparty, when you're celebrating a hard-earned winning session.
4. Skipping the Players Club
This tip used to be a closely guarded secret among casino gamblers, but thanks to literature like Jean Scott's The Frugal Gambler series, the cat is out of the bag.
Even so, many casino rookies walk right past the Players Club in their haste to hit the tables. This can be a catastrophic mistake, especially for folks who enjoy video poker and the slots.
Every casino operates a Players Club or a similar promotion whereby players agree to have their activity tracked by the house. In exchange for that valuable customer data, casinos offer Players Club members several perks, which run the gamut from free play vouchers on your favorite game, complimentary buffet coupons, and weekend stays in a suite at discounted rates, to invitations to in-house entertainment.
As a Players Club participant, you insert your card into a video poker or slot machine, or hand it over to the dealer when playing table games. At that point, the time you spend – and the bets you make – are tracked by the house, which uses the data to help identify regulars who put in a high volume of play.
For the casino, knowing which players put up the most bets or the largest bets over a session is priceless knowledge. They can use targeted marketing to keep those players as loyal customers, rather than losing them to nearby competitors.
But nothing in this world is ever really free, so in exchange for making the house's job a bit easier, casinos use Players Club programs to reward their regulars. And while those rewards don't come in cash form, they're as good as gold for a savvy gambler.
Think about it like a math formula.
If you start your annual trip to Las Vegas with $1,000, and skip the Players Club, every bet you place, meal you eat, and show you see is a direct expense deducted from that budget. Without the benefit of some early winners, your trip may not last very long at all – and even if it does, your profit can easily be subsumed by those expenses.
Conversely, when you choose to join the Players Club, you may receive a $25 free play for the slots to get you started. And after putting in some time in the table game pits, perhaps the pit boss taps you on the shoulder and hands you a couple of buffet vouchers. The next morning, you hit the Starbucks for a vanilla latte, but rather than using cash to pay, you simply swipe your Players Club card to redeem points.
And when it's all said and done, the casino will probably send you an invite for discounted stays to ensure you come back for more.
All told, the second trip will almost always be more profitable than the first, simply because your routine expenses now come with generous rebates. A penny saved is a penny earned, as the old saw goes, and every penny counts for casino gamblers.
5. Playing Poorly
Leaving aside the games of chance, players who prefer skill-based games like blackjack and video poker have a tall task ahead of them, and that's playing well.
Anybody can guess a number on the roulette wheel and hope to hit. That doesn't take any skill whatsoever, so you can't really play roulette well. The odds remain fixed for everyone at the table, and while some bets may be better than others, the eventual outcome is based on random chance alone.
On the other hand, if you're playing a skill-based game and you don't have a firm grasp of proper strategy, those low house edge numbers I discussed earlier are thrown out the window.
Remember, when a casino game or wager is described in terms of house edge, that figure is theoretical in nature. In other words, you'll only achieve the optimal house edge if you're playing the game perfectly. Any deviation from the correct course of action eats into your expected return, thereby tilting the odds back towards the house.
For blackjack players who know basic strategy guidelines, the house edge hovers around 0.50 percent on average. But take a beginner who uses their gut instinct alone, and that house edge triples to 1.50 percent and even higher.
If you've decided to pursue skill-based games, bravo, as that's a wise choice indeed. But your work doesn't end there, as every skill-based game has an optimal strategy that must be memorized and mastered.
For classic games like blackjack and Jacks or Better video poker, the optimal strategy can be pretty straightforward, while the more modern table games have more complicated structures to work around. But no matter which skill-based game you pursue, there's a right way and a wrong way to play.
Do your due diligence and put in the time it takes to learn basic strategies. At first, it may feel like a lot of studying and busywork, but trust me on this – playing well is your best protection against variance.
6. Chasing Losses
Even experts suffer through a down day here and there, and that's to be expected when you gamble on casino games.
The term "negative expectation" may sound like industry jargon, but it's actually an apt description. If you play any casino game for an extended period of time, even with the very best bets out there, the house still holds an edge. That edge may be miniscule on games like blackjack and video poker, but it's an edge nonetheless.
Put another way, over the long run, you'll lose more than you win – and that's simply a fact of life.
Successful casino gamblers take those losses in stride, while striving to minimize the damage whenever possible. That's where rebates from the Players Club and slightly better odds when playing properly come into play.
If you're able to navigate the minefield of variance, absorbing the inevitable losses without letting them get out of hand, the winning sessions that are sure to come will bring you back into the black.
Unfortunately, many players lack the discipline needed to pursue that path. When the "run bad" rears its ugly head – creating crazy losing streaks or miraculous winners for the house – these players just don't know how to handle themselves.
These are the folks you see frantically hitting the ATM machine every few hours, or in the worst cases, hitting up fellow players for a loan. They've become stuck in a vicious cycle known as "chasing the loss," and if they're not careful, a carefree night at the casino can cause major damage by the time the sun rises.
This affliction can happen to anybody, and while it's counterintuitive, skill-based games are more vulnerable than games of chance.
If you guess a few numbers at roulette and come up empty, common sense tells you that the result is out of your control. Lady Luck isn't smiling your way today, so it's time to try something new.
But for a proficient blackjack or video poker player – one who knows optimal strategy like the back of their hand – suffering through a losing streak can be downright maddening. You know what you're doing, you're doubling down in the right spots or making the perfect draw – and yet, you still lose.
Without a certain level of discipline and self-control, a losing streak suffered in a skill-based game can act as a trigger. As the reasoning goes, if the house just took your money even though you made the correct play, it's time to keep pressing until the odds even out in your favor. After all, if you playing properly, the wins have to show up at some point… right?
Technically, this is true – but only over the infinite long run.
Once again, house edge rates and probabilities are theoretical in nature, which means they only apply to the long run. Not a full day's session, or a months' worth of play, or even your entire lifetime as a gambler. No, the long run in mathematical terms covers millions upon millions of trials before theoretical probabilities are realized.
For mere mortals like me and you, the short term is all we have. That means losing streaks that defy the laws of logic will invariably strike – even for experts.
Recognizing this fact of life is essential if you hope to be successful over the long run. Chasing losses with more action than you can afford is akin to bankroll suicide, and many talented players have blown it all because they simply can't accept a rough run.
If you're doing everything right and still losing your shirt, just walk away and find something else to do. Casinos never lack entertainment options, so you'll have plenty of diversions at your disposal. Take that time to reset and recalibrate, then return to the game with a level head.
When you do that, you'll be pleasantly surprised to see that those losing streaks end much quicker than they used to.
7. Taking Things Too Seriously
I've tried to take a serious approach when offering my advice, and that's for a good reason.
Unless you're uber-wealthy and money is no object, the goal for any casino gambler is to win more than they lose – or at the very least, to mitigate losses and break even while having a great time.
To achieve those goals, you'll need to take your craft seriously and approach it more like a job than a hobby.
With that said, many players lean too far toward the serious side of the spectrum. Win or lose, they show no emotion, and they just don't seem to have any fun at all. These are the guys and gals who berate dealers for making mistakes, fail to tip the cocktail waitress, or belittle beginners at the table.
I want to win when I gamble, just like you – but I'm also a realist. I know that losing sessions will happen right around half the time, and if I didn't have the ability to shrug those losses off, I'd never get to enjoy the winning runs when they show up.
When you visit the casino, do everything in your power to increase your chances of success – starting with these seven tips, of course. But along the way, stop to smell the roses, so to speak.
Make some new friends, explore the venue's amenities, and savor the emotional roller coaster that comes with any good gamble. You'll win some, and you'll lose some, but if you keep the right frame of mind, you should always walk out with a smile on your face.
Conclusion
Now that you know these 7 ways casino players sabotage their chances of success, you can avoid these pitfalls. Avoid the sucker games, join the players club, and don't drink too much, and you're well on your way to having fun and having a chance to win.