Hide Bonus Offers
| | | | | |
| --- | --- | --- | --- | --- |
| #1 | Bovada Sports | 50% Up To $250 | Visit Site | Bovada Sports |
| #2 | BetUS | 125% Up To $2,500 | Visit Site | BetUS |
| #3 | MyBookie | 100% Up To $1,000 | Visit Site | MyBookie |
| #4 | Everygame | 100% Up To $500 | Visit Site | Everygame |
| #5 | BetOnline Sports | 60% Up To $1,000 | Visit Site | BetOnline Sports |
Was Stu Ungar the Best Blackjack Player of All Time?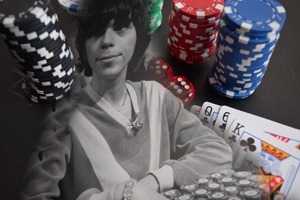 Stu Ungar is a legendary gambler who's best known for his poker and gin rummy feats.
In fact, "The Kid" is sometimes considered the best at both games.
Interestingly enough, though, few people know about his blackjack acumen. The vast majority of discussions about Ungar revolve around his poker and gin accomplishments.
But Ungar was also an incredible blackjack player — maybe even the best ever.
Keep reading as I cover Ungar's life, blackjack skills, other blackjack legends, and discuss where he ranks among them.
Who Was Stu Ungar?
Stu Ungar is arguably the best Texas hold'em and gin player of all time. He dominated numerous gin opponents and is one of only two people to have won the World Series of Poker (WSOP) Main Event three times.
It's little surprise that Ungar became such a great gambler when considering that the activity ran in his blood. He was born in 1953 to a Jewish bookmaker and loan shark, who ran a bar that doubled as an underground casino.
His father, Ido, tried keeping his son away from gambling after seeing what it did to his customers. But these efforts failed, and Stu began spending most of his early teenage years playing gin.
Ungar started skipping classes in seventh grade to gamble and dropped out of school altogether in the tenth grade.
Ido died of a heart attack when Ungar was just 14 years old. His mother was nearly incapacitated by a stroke, which left Ungar on his own.
No longer in school and with no parental guidance, Ungar became a regular in the New York City underground gambling scene. He befriended a local crime figure named Victor Romano, who exchanged tips on calculating gin odds with Ungar.
Stu became a gambling savant who was quickly able to calculate odds and remember cards like no other. His skills allowed him to routinely beat his opponents.
Many fellow gamblers became angry at Ungar's brash table talk. But his friendship with Romano provided him protection against these angry players.
He became well known as one of New York's top gin players and won multiple tournaments. But he was forced to leave the city after racking up huge gambling debts at local horseracing tracks.
Ungar first moved to Miami and started gambling underground there. He then moved to Las Vegas a short while later in 1977.
Ungar's gin success continued at each stop, and he eventually couldn't find any opponents willing to accept his challenge. Word of his accomplishments spread, including when he beat legendary player Harry "Yonkie" Stein 86 games to none.
Some considered Stein to be the world's best gin player at the time, but he eventually left the game for good after being crushed by Ungar.
The Kid began offering his opponents loss rebates and the chance to look at the last card in the deck — all in an effort to get more action.
But even when leaving himself at a severe disadvantage, Ungar still found a way to win the majority of his gin matches. With the pool of available challengers now dried up, he switched to Texas hold'em.
Ungar quickly established a reputation for himself on the Vegas poker scene. In 1977, he won $40,000 off of seven-time WSOP champ Billy Baxter in a heads-up match.
Baxter later recalled that he didn't believe Ungar was really his opponent when the latter entered the room. After all, Stu looked like a kid — hence his nickname — and needed a Coca-Cola crate on his seat to reach the table.
In 1980, he would win the 1980 WSOP Main Event title after defeating poker legend Doyle Brunson in the final. Amazingly enough, this was only the second time that Ungar had played a live tournament.
He went on to win the 1981 WSOP Main Event as well.
Ungar is one of only four players to claim Main Event victories in consecutive years.
Due to drug addiction and a sports gambling problem, Ungar would pop in and out of the poker scene for well over a decade. But he finally returned to the Main Event in 1997 after rededicating himself to the game.
Ungar stayed up for 24 straight hours before the tournament started, trying to raise enough money for the $10,000 buy-in. At one point during the first day, he fell asleep at the table and needed to be woken up.
He made it through the first day and came back rested in Day 2. His play improved greatly as he amassed a big chip lead that he'd carry on to the final table.
This momentum continued as he finished up the final table in record time. He won a $1 million prize, which was split with his backer, Baxter.
Ungar earned the nickname "The Comeback Kid" for this victory. This nickname was in reference to his hard times and how it had been 15 years since his last Main Event win.
Ungar's Immense Blackjack Skills
Earlier, I discussed how Ungar had an uncanny ability to count cards. This helped him immensely in blackjack, where he used his card counting abilities to win a fortune.
Case in point: casino owner and designer Bob Stupak once bet Ungar $100,000 that he couldn't count a six-deck shoe and reveal the final card. Ungar did exactly this and won the $100k wager.
Of course, casinos weren't so impressed with Ungar's abilities. The New Jersey Gaming Commission even fined him for "cheating" in Atlantic City.
One Atlantic City casino claimed that he "capped" bets, which refers to putting extra chips under one's stack after a winning hand.
Ungar vehemently denied capping his wagers and refused to pay the $500 fine. He fought the case in court and won to avoid the fine.
Of course, the legal battle was costly since he spent around $50,000 in travel and legal expenses. He also failed to enter the 1982 WSOP Main Event and defend his title because he was so exhausted from the court case.
In 1997, the nearly broke gambler convinced the Lucky Lady Hotel & Casino to let him play single-deck blackjack. This was a risk for Lucky Lady because the managers knew that he was a card counter.
However, they placed a high and low limit on his bet spread, which presumably made his card counting skills useless.
What they didn't account for, though, is that counting strategy weighs more in a single-deck game than betting strategy. This allowed Ungar to win $300,000 over six months despite the limited bet spread.
The Lucky Lady incident was rare because Ungar was banned from every other casino throughout Vegas. He could no longer win anything at Atlantic City casinos, either, because they changed their blackjack rules in 1982 after losing a card counting case to Ken Uston.
But Ungar had the skills to take advantage of card counting opportunities whenever they did arise.
Other Blackjack Greats That Compare to Ungar
Ungar's blackjack feats are definitely impressive. But he's far from alone in beating blackjack.
A number of other gambling legends have also won a fortune through the game, including Ed Thorp, Al Francesco, the MIT Blackjack Team, Bill Zender, Tommy Hyland, James Grosjean, and more. Therefore, he has a lot of competition with regard to being the greatest blackjack player of all time.
It's also difficult to compare blackjack legends across different time periods because advantage play has evolved.
Thorp is often referred to as the "Father of Card Counting." This doesn't mean that he invented the strategy; players were already using it to some degree of success in the 1950s.
But Thorp greatly improved upon the strategies that were being used at the time. His 10 Count system helped him gain a larger edge than other players in the 1960s.
Thorp essentially blew the top off card counting when he released a book called Beat the Dealer in 1962.
Obviously, Thorp was an exceptional blackjack player in his day. But his 10 Count system doesn't stand a chance in today's casino environment.
Card counting is harder to profit from today than ever before. I'm not saying that you can't still make money as a counter.
But casinos have refined their rules and methods for catching suspected counters. This has led pros to use more advanced techniques like hole carding, shuffle tracking, and ace sequencing.
James Grosjean is the ideal professional blackjack player today. He's especially adept at hole carding and uses this to make a mid-six-figure annual salary.
Grosjean is so good at the game that he's actually banned from competing in the Blackjack Ball's "World's Best Blackjack Player" competition.
He's either won or gotten second place in the competition every time he's entered. The founders of the ball politely asked him to stop competing and named the winner's trophy the "Grosjean Cup" in his honor.
Ungar probably wouldn't stand a chance against Grosjean's blackjack abilities if they competed against each other in the World's Best Blackjack Player event.
Grosjean is the culmination of years of improved advantage play techniques. But Ungar definitely deserves mention as one of the best players of his generation.
It's also important to remember that advanced advantage play methods weren't prevalent in Ungar's day. Furthermore, card counting still worked well enough back then to generate a large profit over time.
It stands to reason that Ungar could've learned and mastered the advanced techniques if his gambling profits depended upon it.
I still have to believe that Grosjean is the best blackjack player of all time, simply because his feats are recorded in actual competitions. However, Ungar certainly deserves special mention as one of the top blackjack players ever.
Stu Ungar's Tragic End
Few gamblers have ever possessed the all-around talent that Ungar did. He crushed high-stakes gin rummy, won a WSOP Main Event title in his second-ever live poker tournament, and was so good at blackjack that he was banned from most casinos.
Unfortunately, he also had a serious drug addiction and frequently abused cocaine. In the 1997 Main Event, he propped blue cobalt sunglasses just above his nostrils to hide the fact that his nostrils had collapsed due to cocaine use.
Ungar said that poker players first gave him the idea to use this drug. They touted cocaine's ability to keep one awake during marathon poker sessions.
He then began using the drug for its ability to keep him awake during late-night gambling sessions. His problem got so bad that he overdosed during the 1990 WSOP Main Event.
Ungar collapsed on his hotel room floor and was unable to return to the tournament. Despite his stack being blinded off while he was passed out, he still managed to finish ninth place and earn $20,500.
Ungar would often get high and lost most of his poker profits by betting on sports or horse racing. He was an action junkie who cared little about the money he won.
Ungar tried getting clean several times, using his daughter, Stefanie, as motivation to get off drugs. But he always managed to relapse at some point.
Even after winning the 1997 WSOP Main Event, he managed to blow all of his money on drugs and sports betting. He spent the next several months living in cheap motels and begging for money from poker buddies.
When somebody did loan him a stake, he used it to purchase crack cocaine instead of actually playing poker. On November 20, 1998, he passed away in the Oasis Motel.
The coroner determined that the cause of death was a heart attack brought on by years of drug abuse. Despite winning an estimated $30 million during his gambling career, Ungar died with just $800 in his possession.
Is Stu Ungar the Greatest Gambler Ever?
Much like trying to determine the best blackjack player, it's hard to definitively label one person as the best gambler of all time. But you can't go wrong by placing Ungar at the top of the list.
He's likely the best gin rummy player ever when considering how he dominated the competition. By the mid-1970s, nobody wanted to play him — regardless of how good they were.
Many also refer to Ungar as the greatest poker player ever. He quickly picked up the game after transitioning from gin and beat Billy Baxter early on.
Just a few years later, he'd enter and win the 1980 WSOP Main Event. Ungar would repeat by topping a field of 75 players in the 1981 Main Event.
He then turned his sights on blackjack and quickly became a master of this realm, too. Ungar could recall every card that was played and won a $100k bet with Stupak after showcasing his skills.
He could never kick his cocaine habit after picking it up in the late 1980s. This would ultimately be his downfall as he spent the bulk of his prime gambling years broke and high.
It's a wonder how many more tournament titles Ungar could've won had he stayed relatively clean and had better bankroll management skills.
He likely would be the unquestioned greatest gambler of all time in this case. As it stands, he's among a handful of great all-around gamblers who could arguably be the best ever.
Conclusion
Stu Ungar is both an inspiring and tragic story. You can be inspired by his advantage play feats, which range from winning three WSOP Main Events to beating the world's best gin player 86-0.
The tragedy comes in when considering that Ungar was heavily addicted to cocaine. He later turned to crack cocaine because his nostrils were so damaged that he could no longer snort drugs.
Ungar's life came to a tragic end at age 45 when his heart gave out after years of drug use. But he's still widely celebrated in gambling circles today as one of the all-time greats.
Part of his greatness can be attributed to how he got into gambling at a young age. He was exposed to the activity early because his dad was a bookie and also ran an underground gambling den.
Ungar combined his early start with the ability to memorize dealt cards and quickly calculate odds to make a fortune.
Few would argue that he's the best to have ever played gin. He may also be the top Texas hold'em player ever and was an extremely skilled card counter, too.