Hide Bonus Offers
| | | | | |
| --- | --- | --- | --- | --- |
| #1 | Bovada Sports | 50% Up To $250 | Visit Site | Bovada Sports |
| #2 | BetUS | 125% Up To $2,500 | Visit Site | BetUS |
| #3 | MyBookie | 100% Up To $1,000 | Visit Site | MyBookie |
| #4 | Everygame | 100% Up To $500 | Visit Site | Everygame |
| #5 | BetOnline Sports | 60% Up To $1,000 | Visit Site | BetOnline Sports |
Warriors vs. Blazers Series Betting – Preview With Odds, Predictions, and Pick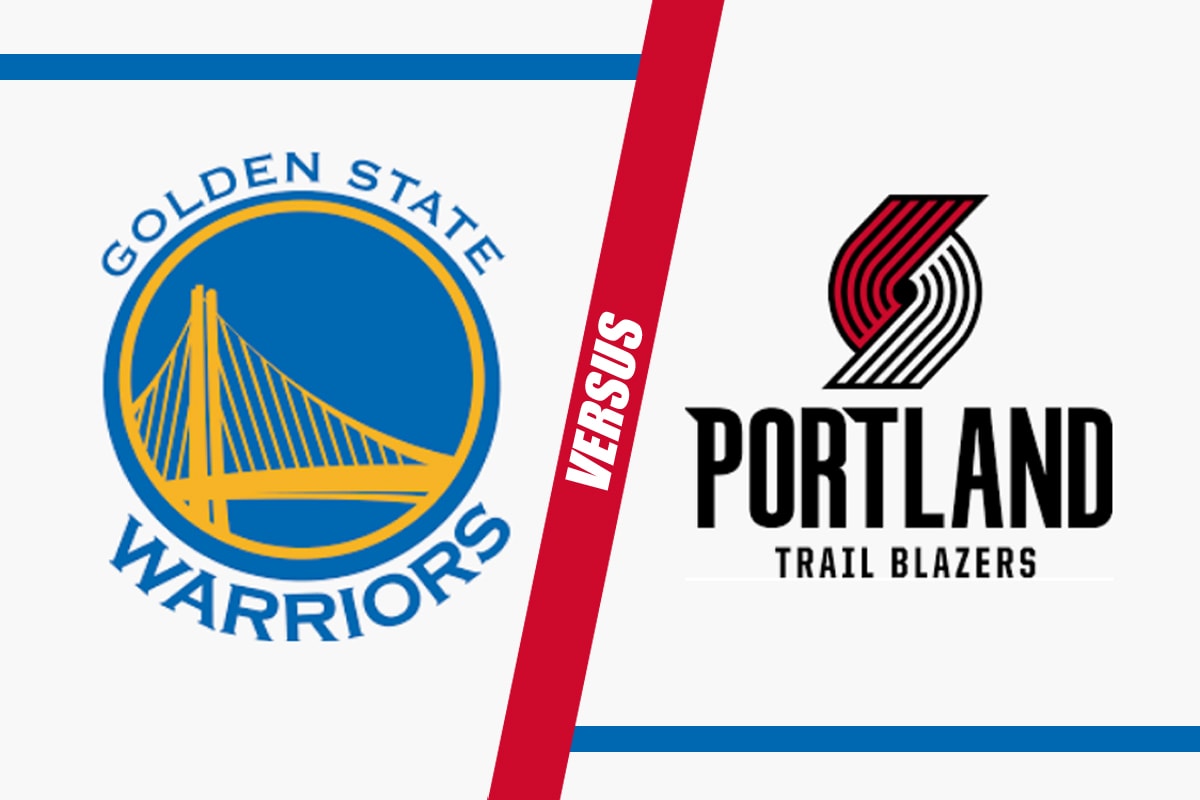 The NBA playoffs tend to feel a bit drab most years. That had been the case in recent seasons, at least, with the Cleveland Cavaliers and Golden State Warriors meeting each other in the NBA Finals.
We knew quite early on that the 2018-19 NBA season would be different.
LeBron James' move to Los Angeles expedited the fall of the Cavs, which borderline guaranteed someone else would emerge out of the east. It temporarily raised concern that Golden State's dynasty could be challenged.
That isn't happening this year from the Lakers, but the Dubs now have to fend off a pesky rival in the Portland Trail Blazers.
This isn't the Western Conference Finals anyone expected or perhaps even pined for. But it's here, and bettors everywhere are wondering if the Blazers can offer elite betting value.
Let's break this thing down and see if the Warriors are the obvious easy pick or if Portland actually stands a chance at dethroning a titan.
Warriors vs. Blazers Series Odds
The first step to gauging how this Western Conference Finals is about to go may be to take a look at the series odds. Golden State is the defending champion, and when healthy, they are as loaded as anyone.
In fact, even when they're not 100%, the Warriors still seem impossible to beat. That's led to top NBA betting sites like MyBookie.ag backing them by quite a bit.
Here are the current Warriors vs. Blazers odds to consider taking advantage of.
Portland Trail Blazers
+405
Golden State Warriors
-555
Nobody should be shocked to see the Dubs favored here. They've been to the NBA Finals in each of the last four seasons, winning three times. Kevin Durant may be on his way out of town, but the plan is for that exit to come with a third consecutive title.
Golden State is understandably favored, and after beating the Houston Rockets with both KD and DeMarcus Cousins in street clothes, logic suggests they're not about to be stopped now.
Of course, we can't instantly shrug off a potentially massive upset.
Portland knows Golden State extremely well and even split the regular season series (2-2) with the Dubs this year. The Blazers also have former player Charles Barkley in their corner, as the former Suns legend previously predicted they'd get to the NBA Finals.
If you love Portland or respect Barkley's opinion, perhaps the Blazers at +405 is too good to pass up.
Before you go placing any bets on the Western Conference Finals, let's dive into this series and see if there's merit to a big underdog play.
How We Got Here
I think every NBA fan and sports bettor alike should be able to appreciate how we got here.
These are the #1 and #3 seeds in the Western Conference playoffs, and both teams have extremely dynamic and explosive offenses and are also able to defend.
Portland admittedly wasn't really on my radar before the season began, but they've turned out to be a worthy foe. They're still a surprise team in my eyes, especially since they've found a way to play even better without star center Jusuf Nurkic.
The Blazers easily ripped through the first round with a 4-1 win over the Oklahoma City Thunder and then leaned on C.J. McCollum to rally them to a game seven win over the Denver Nuggets.
Portland has the talent and star power to give the Warriors some trouble, and their path here proves doubting them could be a mistake.
Golden State's run might be more impressive, of course.
The Warriors "only" won 57 games after winning a second straight championship, but they still nabbed the top seed in the conference and took out the Clippers and Rockets in six games.
That series against Houston is more noteworthy, specifically thanks to Kevin Durant suffering a calf strain in game five. The Rockets probably should have used that opportunity to finally ice Golden State, and few would have been able to scoff at the Dubs.
But Stephen Curry responded with a terrific second half, and that momentous charge bled into a game six where the "old" Warriors showed up and forced their way back into the conference finals.
Blazers vs. Warriors History
This is a very compelling series based on the history between these teams alone. Golden State has largely held the upper hand, but the Blazers have definitely matched up well with them in the past and have given them trouble.
The two sides split their regular season series this year and have had some intense showdowns over the years. Including playoffs, here is how they've fared since 2015.
2015-16: Warriors, 8-2 (including playoffs)
2016-17: Warriors, 8-0 (including playoffs)
2017-18: Blazers, 2-1
2018-19: Split, 2-2
Are you sensing a trend? Golden State has very much held the upper hand since they turned into a title-winning machine, but the gap has slowly been closing over the past two seasons.
That, and it's important to note that a lot of these losses for Portland were still pretty close. In fact, two of these meetings went into overtime.
None of this says for sure that Portland can or will win this series. Golden State still is the more talented team and will probably again advance to the Finals, but Portland is clearly moving in the right direction in virtually every regard.
Why the Portland Trail Blazers Can Win
So, does that mean you can actually bet on the Blazers to beat the Warriors? Vegas doesn't seem to think so, as the Blazers are steep underdogs to win this series and +300 game one underdogs as well.
But it's not impossible.
Damian Lillard and C.J. McCollum can both erupt to match the Warriors offensively, Enes Kanter can fill it up down low, and role players like Seth Curry, Al-Farouq Aminu, Zach Collins, and Rodney Hood all bring different attributes to the table.
As a whole, Portland has been extremely efficient. They tend to slow things down in terms of pace, and they operated the fourth-most efficient offense in the league.
Against Denver, Portland successfully did this multiple times, controlling the tempo of the game and allowing for a gritty defense to shine through. The latter won't be as easy to accomplish against the more talented Warriors, but it's not impossible.
The Blazers do have the defensive tools to give Golden State trouble, but they'll likely need their offense to perform at a high level to have a real shot here. That's not necessarily asking too much, as the Blazers rank inside the top 10 for three-point shooting percentage, points scored, and tend to dominate (5th in points per game) during the third quarters of games.
That, combined with their ability to pull themselves together and rally like they did in their most recent game, has to be especially scary for a team like the Dubs that can be prone to complacency.
On top of it all, Damian Lillard has seemed like a driven player throughout these 2019 NBA playoffs. Lillard hasn't always played his best ball, but he was quite candid in saying Portland was trying extra hard to not just mail it in in series they'd otherwise normally lose.
That sheds some light on how some players may often give in to the draw of an offseason coming early and giving way to vacation. It also suggests a talented and overlooked Blazers team may not be so willing to go quietly into the night.
If Portland fights tooth and nail, defends the perimeter, and hits their outside shots, an upset can't be ruled out here.
Why the Golden State Warriors Can Win
I won't rule out a Blazers upset in this series, but it's still not overly likely. Everywhere you'd point to in order to support an argument for Portland, the Dubs are just as good if not remarkably better.
That third-quarter surge the Blazers can excel at? It could help them combat the Dubs, but it doesn't automatically offset the fact that Golden State ranks even higher than them in that regard.
Nor does it help that Portland has been equal parts bad (22nd) in points allowed during that stretch of the game.
This is also a game of four full quarters, and Golden State can flip the switch at any point. They also have up to six star players that can create offense on their own, attack the rim, pass the ball out, and/or burn you from long range.
Getting healthy studs like Kevin Durant and DeMarcus Cousins back for this series provides a huge lift. Golden State did just get done proving they can win without either of those guys, but getting two more All-Star talents back on their roster only makes things easier.
The talent gap between the Blazers and Warriors is quite large. As good as Portland has been, you could easily argue their path to the Western Conference Finals wasn't nearly as difficult.
Beating the Thunder isn't all that impressive. Paul George didn't seem healthy, OKC has no depth, and they simply haven't been a tough out in the playoffs ever since KD left.
The seven-game series with a clutch win in Denver isn't nothing. However, this is Denver's first playoff run since 2012 and their first season with a playoff series win since 2008.
Denver is good, but they weren't the Rockets or the Warriors.
Golden State just edged out what many felt was the best team in the league in Houston. They did it with two superstars on the shelf, too.
The Warriors have the edge in about every way. They rank #1 in offensive efficiency, #1 in points per game, #1 in overall shooting percentage, #1 in true shooting percentage, #3 in three-point shooting percentage, and #3 in long balls converted per game.
Yeah, they're pretty good.
Golden State's defense isn't as elite as it's been in years past, but it still ranked as the 10th-most efficient unit and averaged more blocks per game than anyone all year.
Using Kevin Durant in their small ball lineup gives them their best overall squad, and as long as he's healthy, all of those numbers the Warriors produced should live on in this series.
Who Will Win the 2019 Western Conference Finals?
If the Dubs are the Dubs, it's tough to see them falling short of the NBA Finals because of the Portland Trail Blazers. I think there is merit in picking the Blazers to steal game one or 1-2 games in this series, though.
The Blazers can potentially slow this series down and make Golden State play a more methodical pace, and considering the Dubs rank third in fastbreak points per game, that's possibly a pretty big deal.
I don't think the Blazers can control the tempo all series long, but doing so at home is not a reach, and if they can do it 1-2 times on the road, an upset isn't out of the question.
Damian Lillard is a man possessed right now, and he knows the Warriors quite well. He also didn't have an amazing series against a stiff Denver perimeter defense, so while the outside assignments don't get easier here, the drive and probability of him getting hot only increase.
Still, the Warriors aren't going to be denied here.
The Warriors still have home court advantage and know the Blazers very well. They also knocked out the second-best team in the conference and will have full confidence in their ability to dispatch the Blazers.
Just don't be shocked if it's not quite as easy as some experts will have you believe. Also, since betting on the Warriors (-555) doesn't bring anything back, a flier bet on the Blazers or picking your spots with individual games is encouraged.
Regardless, Golden State is winning this series, and I think they get it done in six games. The best NBA betting sites will surely have Western Conference Exact Series Outcome wagers, too, so be sure to check that out.
MyBookie.ag is offering exact outcome wagers at the moment, and a game six finish (+250) yields enough value to target. Even better, though, is an exact outcome bet on Golden State in six (+400). That's the best bet I see for this series at the moment, so I recommend that you visit MyBookie.ag and get some money down on this one.
PICK
Golden State Warriors in 6 Games
+400