The Walking Dead's Negan and the 15 Nastiest TV Villains We've Ever Seen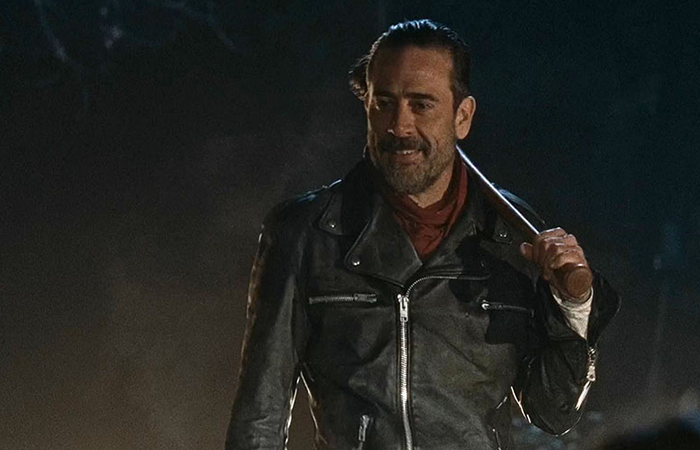 The Walking Dead showed us a brief glimpse of the horrors that new villain Negan brings to the table. More specifically, they drug us through an entire season and built up the anticipation throughout last season's finale, just to make us appreciate how evil Negan was and is going to be.
It didn't disappoint, as the buildup was met perfectly with a flawless performance by Jeffrey Dean Morgan that had us disgusted, yet forever wanting more.
All we really know at this point (sit back down, comic nerds!) is Negan isn't a very nice guy, he wants you to work for him for free and if you cross him, someone's head is getting bashed in.
He's also a bit of a badass, and is already undeniably one of the best TV villains we've ever seen. From carrying around Lucille, his barb-wire covered bat, to drowning himself in leather and neckerchiefs, the guy screams biker badass and you want to see where his story goes and how he got here.
But Negan hasn't gotten to that point yet where we want him to die. That's what a truly brilliant TV villain does to you. He's so damn good at being repulsive, manipulative or flat out cruel, that you can't help but wish for his ultimate demise.
Yet, when that character is finally bleeding his own blood, you start to miss just how awesome of a bad guy they really were.
With that in mind and Season 7 of The Walking Dead set to return on October 23rd, we take some time to reflect on the "worst" best TV villains we've ever seen:
Joffrey Baratheon (Game of Thrones)
You never wanted to smack a kid so badly. The crazy thing is little prince Joffrey was an entitled little brat with a desire for death even before he ever met true power. Once he became king on GOT, though, he abused that power time and time again.
We can't feel good about giving anything away – both bad and good – when it comes to Joffrey's stay on the epic Game of Thrones, but we can say he's all kinds of wicked. Actor Jack Gleeson did a fine dance between Joffrey being a puny wimp and a power hungry turd. It's not a performance to be missed, and he's without a doubt one of the best TV bad guys in history.
Ramsay (Snow) Bolton (Game of Thrones)
Ramsay Bolton is just the worst, people. It takes only a small taste of his savagery to know you want him dead, as Lord Bolton is responsible for castration, torture, various murders and rape.
Oh, and he killed his own dad. If that doesn't get you on a list of the best bad guys on TV, what does?
He's done it all and in an effort to kill boredom, he would think of countless new ways to end innocent lives. Iwan Rheon will hopefully be able to shake the horrors he dished out in Game of Thrones in order to get big roles in the future, but we're not sure it's possible.
Gus Fring (Breaking Bad)
Giancarlo Esposito plays Gus Fring, the nemesis to the equally hateable Walter White. For some odd reason you can't help but cheer on Mr. White throughout Breaking Bad, however, especially when he's going up against chicken/drug pusher, Fring.
Fring is actually the rare TV villain you love and never want to see go, as Esposito masters that stoic evil, with Fring carrying himself in a calm, professional manner in most situations and unleashing the wrath of God when the moment calls for it.
J.R. Ewing (Dallas)
The legendary Larry Hagma, may he rest in peace, played the hell out of the conniving Ewing, who was so good as the main villain in Dallas that he survived the reboot. Ewing's evil stood the test of time, managing to piss us all off via his lying and cheating through two different television series.
Ben Linus (Lost)
Michael Emerson's Ben Linus is without a doubt one of the best TV bad guys we've seen in a while, as he brought utter confusion, intrigue and betrayal to the table as the leader of The Others.
Linus had a way about him that made you want to trust him, but you knew in the back of your mind you never truly could. His exact motives were always cleverly hidden, yet he was so smart that even when things looked to be going horribly for him, it felt like it was simply part of his evil plan.
In the end, Linus wasn't quite as smart as we'd all hoped, but his constant lying and killing made us love to hate him on what of TV's most recently beloved classics.
Frank Underwood (House of Cards)
It's rare that the main character of a show can both impress and disgust, but that's precisely what Frank Underwood does, via Kevin Spacey. Spacey is sharp, witty, intelligent and merciless, all in one. In other words, he's a politician. Zing!
But really, Spacey does a terrific job of filling Underwood's repulsive shoes, a she lies and kills his way to the White House. Oh, we're giving away too much. Point is, Underwood is about power, control and winning. But above everything, Frank Underwood is about Frank Underwood, and that makes him one of the best TV villains ever.
Walter White (Breaking Bad)
There's no denying the aforementioned Gus Fring is the top villain in Breaking Bad, but what about the main character? It's true you can't help but pull for Bryan Cranston's somehow sympathetic and suffering turn as Walter White, but this character is not just one we shouldn't feel bad for – it's also one we can't help but love to loathe.
In the end Walter White isn't a mere science teacher who gets cancer and starts cooking meth to provide for his family before he dies. Instead, he's a ruthless thrill seeker that casts aside anyone and everyone else to gain more power. Going up against the law and other drug lords is one thing, but White's treacherous reach knows no actual bounds. That, and his treatment of Jesse Pinkman throughout the show is regrettable, at best.
The Trinity Killer (Dexter)
This is John Lithgow like you've never seen him before. Those of you that love him for his work on 3rd Rock From the Sun and anything else where he's not a maniacal, bipolar mad man, well, perhaps you need to look away.
But for the fans of the cult hit Dexter on Showtime, Lithgow was perfect as Arthur Mitchell, aka the Trinity Killer. Mitchell is befriended by Dexter who (spoiler) is also a serial killer. Dexter's plan was to get close to the Trinity Killer to see how a guy who must quench his thirst for blood can also live a seemingly normal life.
The answer? He can't:
Sylar (Heroes)
On a show that brought to life the very idea of superheroes, it probably needs a super villain, too, right? Yeah, Sylar sure gave them that, as a murderous fiend who not only could take other hero's super powers, but had to kill them to do it – in ugly fashion, I might add.
Sylar ended up turning over for the better in the end, but before he did, he left behind him an ugly trail.
Lex Luthor (Smallville)
Michael Rosenbaum brought youth and life to the most hated character in the Superman story. Not only was he a close friend and confidant to Clark Kent from a young age, but he unknowingly was constantly trying to take him down.
It didn't get dark until later in the show, but Luthor certainly did his fair share of bad things even before he completely crossed over and desired to bring Kent to his knees. Obviously, as far as the story of Superman goes, this rivalry and Luthor's insanity only gets worse as the story continues.
The Governor (The Walking Dead)
David Morrissey's run as the hated Governor was criminally short, as he perfectly butted heads with Rick Grimes and "the good guys" on TWD. The best part about The Governor is he didn't even seem evil to start, but as you gradually learn about his past and present, you realize he's a man led astray by the shape of the world.
Things get worse for The Governor, but at a certain point he seems to turn a corner and become a good guy again. That journey develops a bitter love/hate feel for this character, but ultimately he's a guy you want gone in the worst way.
Clay Morrow (Sons of Anarchy)
Clay Morrow heads a biker club (how is it not a gang?), he stole his best friend's girl, he runs guns, he kills people and he even tried having one of the Son's' own taken out.
Morrow wants his power, his women and all control for as long as his aging hands can grip the gear on his bike. All the while, he doesn't seem to have any of the cares when it comes to who he has to take out. The weird thing, of course, is that Pearlman displays a softer side, one of a man torn over what he's done, who he wants to be and what he feels he needs to do in the future.
It's all for the sake of the club, but that doesn't make Clay Morrow a good guy – not by a mile.
Lorne Malvo (Fargo)
This one is fairly fresh and Malvo's stay on your TV screen only lasted one season of the anthology series, but it was a truly masterful depiction of a chameleon hit man who didn't see to hold ties to anyone or anything.
Malvo befriends the main character in Fargo, leaves him with a mess to clean up and when everything starts to fall apart, he comes back for his head. Billy Bob Thornton was perfect as Malvo, who likened killing to flossing teeth.
The biggest take away with Malvo, though, is that he didn't look like much, but you knew for sure he wasn't to be messed with. Maybe it's his confidence, tone or overall demeanor. But this cop didn't want to follow through with protocol for very good reason:
Kingpin/Wilson Fisk (Daredevil)
We often become prisoners of the moment when talking about great acting and characters on television, and we aren't too proud to admit that could be happening here with our look at the best TV villains.
However, it's also fair to say that Vincent D'Onofrio knocks it out of the park with his take on Wilson Fisk, aka Kingpin in Netflix's Daredevil. D'Onofrio not only looks like Wilson Fisk physically, but he's a large brute who somehow embodies both raw power, humility and softness, all in one.
There are pieces to Kingpin that we all can relate to and understand, and his story arc definitely shows you why he is the man he's become. That being said, he has an unforgiving temper and his raw strength and violent nature make him someone you don't want to run into on a bad day.
Kilgrave (Jessica Jones)
Kilgrave is a compelling character, as he's actually quite funny and even charming, but he is also completely reckless and is void of empathy. Oh, and he can control everything anyone does by simply speaking.
This makes him quite the menace for normal people, but for the title character in the Netflix hit Jessica Jones, he's basically a rapist via the tongue. He's really a twisted, dark person and while he plays off his actions as simply being a game – a game that involves trying to win the heart of Jones – it just doesn't land with the crowd.
It doesn't hurt that we get to see his backstory and that he certainly has some reason for being the guy he is, but there is no excuse for his horrible actions. His abilities make him feel like he's here to stay for good, while his method of torture makes you want him dead. That being said, he's a fun ride while he's around.
September
Casino of the Month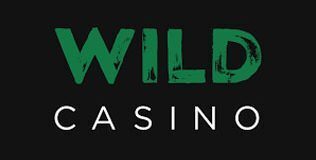 Welcome Bonus
250% up to $5,000