Hide Bonus Offers
| | | | | |
| --- | --- | --- | --- | --- |
| #1 | Bovada Sports | 50% Up To $250 | Visit Site | Bovada Sports |
| #2 | BetUS | 125% Up To $2,500 | Visit Site | BetUS |
| #3 | MyBookie | 100% Up To $1,000 | Visit Site | MyBookie |
| #4 | Everygame | 100% Up To $500 | Visit Site | Everygame |
| #5 | BetOnline Sports | 60% Up To $1,000 | Visit Site | BetOnline Sports |
Wait, You Can Gamble on TV Shows?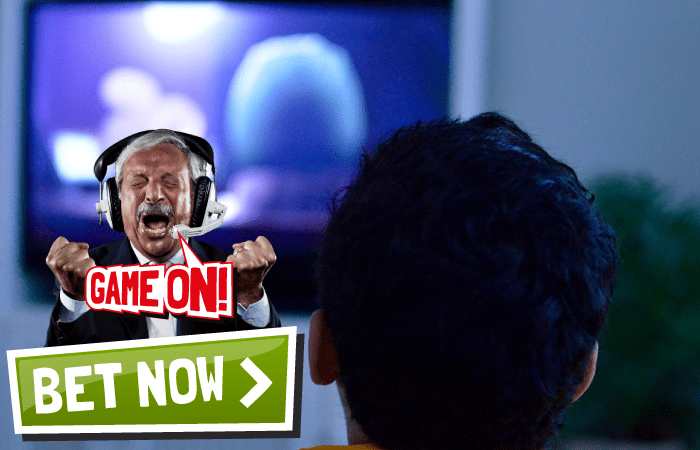 Yes, you read that correctly; online bookmakers are accepting bets on a litany of television programs and events, and it's glorious! These novelty bets were initially offered as quirky entertainment meant to attract attention to online bookmakers. However, the public responded with resounding approval, leading to the explosive growth of the entertainment betting industry.
I remember the first time I was made aware of the possibility of betting on a television show. It was 2007, and the Sopranos was entering its final season. Suddenly I had the ability to gamble on which characters would die and which would survive; gambling and the Sopranos — it was the perfect storm. A match made in heaven.
At that point in my life, predicting how my favorite series would end was already becoming an obsession. I was steadily re-watching episodes, looking for ominous foreshadowing and searching for hints left by David Chase. When I wasn't combing through old scenes, I was discussing the show in online forums. It was all a little obsessive, I know, but nobody ever accused me of being well-balanced.
Here are some of the wagers that were available at the time:
Which character will be the first to get "whacked"?
Will Tony Soprano get "whacked" in season 6 part 2?
Will an immediate member of Tony Soprano's family die this season?
Will Tony personally kill Uncle Junior in Season 6?
Will Tony Soprano sleep with Dr. Melfi in Season 6?
Looking back, the whole concept of betting on people killing each other seems pretty morbid, but oh well, we were all caught up in mafia-fever. Whatever the case, I lost my bet when AJ Soprano survived the season. Too bad, he always annoyed me on that show, and he was paying 13-to-1 odds.
The Options are Endless
No matter what your television viewing habits consist of, there's a wager for you. Are you a reality TV fan? There are online sportsbooks offering odds on Celebrity Big Brother and The Bachelor! Do you prefer watching competition shows? Well, they've got odds on everything from the British Baking Challenge, to Dancing with the Stars, and just about every singing competition in between.
Maybe you're more of an awards season person. If so, you're in luck because there are odds available for every award at the Oscars and the Razzies! If you enjoy watching it, there's somebody out there willing to set some odds. Everything from scripted dramas, to professional wrestling, politics, and even who will be chosen to play both the next James Bond and the next Dr. Who are available!
Let's take a look at some of the current offerings out there. I'll share some of my favorite bets and make a few picks across the many television genres.
Awards Show Season
The Academy Awards – Oscars
It's awards show season again! That wonderful time of year when wealthy people that play make-believe exceptionally well get together and honor themselves while letting us know how important they all are. Here is a list of the bets you can make on The Academy Awards alone:
Best Picture
Best Director
Best Actor
Best Actress
Best Supporting Actor
Best Supporting Actress
Best Animated Short
Best Documentary Short
Best Live Action Short
Best Makeup and Hairstyling
Best Production Design
Best Sound Editing
Best Sound Mixing
Best Original Screenplay
Documentary Feature
Best Adapted Screenplay
Best Animated Feature
Best Cinematography
Best Film Editing
Best Foreign Language
Best Visual Effects
Best Costume Design
Best Original Score
Best Original Song
Isn't that wild?! You can bet on every single Oscar! My favorite of all these wagers is offered under the "Oscar Betting Specials" though. You can currently grab 14-to-1 odds on any presenter announcing the wrong winner. Can't imagine that would happen 2 years in a row, but I like the concept. I'm also strongly considering gambling on "Get Out" to win Best Picture. It's an underdog to Lady Bird and The Shape of Water, but at 20-to-1 odds, it's worth taking a shot.
The Razzies
If you are more of a glass-half-empty kind of person, perhaps you'd enjoy gambling on the Razzies instead of the Oscars. There you can bet on things like Worst Actor, Worst Picture, and Worst Director. Currently, Tom Cruise is the favorite to win Worst Actor, but I refuse to believe that Scientology is going to let that happen. For that reason, pencil me in for Jamie Dornan at 9-to-2 odds for his abysmal choices in that 50 Shades Darker mess-of-a-film.
On the Worst Actress side of things, Paddypower.com is actually taking bets on Tyler Perry for his latest portrayal of his Madea character. Tyler has been playing Madea for so long he is apparently stuck in the persona, landing him in this category. The whole thing just strikes me as so hilariously funny I have to make him my pick at 13-to-2.
Reality Television/Competition Shows
Some of the most popular entertainment wagers are based on reality TV and the multitudes of competition series out there. These shows make the most sense to bet on since they most closely resemble sports betting in that they happen live and are not pre-scripted. Let's be honest, we all sit around with our friends and families making bold predictions when these shows are on clear-cut, you might as well put your money where your mouth is!
At the moment we are between seasons for the majority of competition shows in the US; the Bachelor just ended, and I tragically have yet to find any odds being provided for any Real Housewives franchises, so there are no picks to make in this genre. However, when the show comes back on The Bachelor is one show that many bookmakers allow you to gamble on.
Scripted Television
One of the coolest things about gambling on television shows is that they even allow you to do so on scripted shows. As I mentioned previously, my first experience with entertainment betting came during the last season of the Sopranos. You can find odds on favorite shows like Game of Thrones, Dr. Who, James Bond, and even Stranger Things.
Of all my preferred shows to gamble on, Game of Thrones is number one. Online sportsbooks all across the internet are already offering season 8 odds. You have the option of betting on who will sit on the Iron Throne at the conclusion of the series, who Arya will kill first, and most incredibly which brother will win the CleganeBowl. I wrote more extensively about betting on Game of Thrones here.
James Bond
Now that Daniel Craig is retiring from playing James Bond any longer, the hunt is on for the next Bond. And naturally, we can put some action on that decision as well! Here are some of the current odds for "Next James Bond" available Paddypower:
| Actor | Odds |
| --- | --- |
| Tom Hardy | 2/1 |
| James Norton | 5/2 |
| Jack Huston | 6/1 |
| Idris Elba | 13/2 |
| Aidan Turner | 7/1 |
| Harry Styles | 17/2 |
| Tom Hiddleston | 17/2 |
| Michael Fassbender | 12/1 |
| Jamie Bell | 12/1 |
| Jude Law | 14/1 |
| Henry Cavill | 20/1 |
| Jack O'Connell | 20/1 |
| Cillian Murphy | 25/1 |
There are literally hundreds of more options, ending with the 500-to-1 longshot bet of P. Diddy, but these are the actors the bookmakers are taking the most seriously. I've got to go with Idris Elba here; it's his time! Seriously, why are we even still talking about this? They should just give it to Idris. I'd probably put a little side action on Michael Fassbender as well at 12-to-1 though.
What's really cool is they are also taking bets on which musical artist will record the next James Bond theme song. For anyone wondering, Ed Sheeran and Adele are the two favorites to win those honors.
WWE Wrestling
If you can bet on reality contests, scripted shows, and sports, it only makes sense that you'd also be able to gamble on scripted athletic competitions as well! That's where World Wrestling Entertainment comes in. You can't bet on weekly episodes of their flagship show Raw, but there are odds available for significant events like WrestleMania. These are usually offered in the form of futures bets on who will become the champion.
Here are the lines for "Who will be the WWE Universal Champion after WrestleMania 34?"
| Actor | Odds |
| --- | --- |
| Wrestler | Odds |
| Roman Reigns | 4/7 |
| John Cena | 15/8 |
| Brock Lesnar | 4/1 |
| Seth Rollins | 6/1 |
| Braun Strowman | 7/1 |
| Finn Balor | 10/1 |
| Samoa Joe | 10/1 |
For this wager, the smart money is going to come in on Roman Reigns. The WWE has been setting up this moment for years when someone finally overcomes the unstoppable MMA fighter, Brock Lesnar. I wish you could bet on the stadium booing the wrestlers out of the stadium, because that's precisely what's going to happen if Reigns does win.
Political Entertainment Bets
In 2018, is there anything on all of television that captures people's attention quite like politics and news? The fact is, the news pundits and our politicians now star in the most magnificent reality television show ever created. We have a 24-hour a day news cycle and all of the political divisiveness of even the most ruthless reality TV show contestants.
I suppose it should come as no surprise then that there is a wide range of political bets out there as well. Check out these wagers that you can make just on Trump. Not a single one of these is made up:
Melania to Leave Trump & File for Divorce before Nov. 8th – 16/1
Trump to re-marry before Nov. 8, 2018 – 50/1
White House to confirm Melania is, in fact, a robot during 2018 – 500/1
First of his Children to Condemn a Decision he makes as President
Ivanka – 13/8
Tiffany – 6/1
Eric – 10/1
Donald – 10/1
Barron – 16/1
To have a pet dog, called Donald Jr, during his stay at the White House – 10/1
Trump to withdraw from the UN – 7/1
Mexico to directly fund construction of a border-wall with the US – 25/1
And there are countless more! Perhaps the most absurd political bet is the 500-to-1 bet that Trump will challenge Eminem to a rap battle via Twitter. They've honestly thought of everything.
The Finale
So, as you can see, when it comes to television, there isn't much that you can't gamble on. Online bookmakers have created an incredibly amusing entertainment betting industry that promises to add action to even the most boring shows.
The most popular television show bets center around reality shows and competitions. Whether you want to bet on who will be leaving the British Baking Challenge next season or who will win The Voice, bookmakers are hoping to accommodate your needs. These shows make the most sense to wager on, as they are defined competitions with clear cut winners and losers. Awards shows are similar in that way and relatively straightforward to handicap as well.
Imagine seeing your favorite actor gleefully approaching the stage to accept their Oscar, and you're celebrating just as enthusiastically because you nailed your bet! That's what makes entertainment betting so unique, it raises the stakes and makes shows that you'd otherwise only be watching more interactive.
For me personally, I enjoy betting on my favorite scripted television shows. Maybe it's because I got my start with the Sopranos and wagering on character's deaths. It only makes sense that the fascination would carry over to betting on Game of Thrones, where I have continued to gamble on character's deaths. I just love being invested in the war for the Iron Throne. Gambling on your favorite shows adds tension to an already brilliant series, which I find genuinely exciting.
If betting on television series is too abstract or fake for you, there's always the craziest reality TV show of them all, politics.
Most of the world seems to spend half of their time online arguing about politics as it is, why not put some money on the line with your opinions? Can you imagine cashing out a winning ticket because Melania divorced the President or Ivanka admonished one of his decisions?
It's almost too good to be true. So, while you're watching television tonight, try to consider what aspects of the show you'd like to wager some money on. You may be surprised at the availability of even the most obscure bets.
I'll be watching as well, with my fingers crossed hoping for an emergency broadcast interruption. Why, you might ask? Because I've got some money riding on 2018 as the year that alien extraterrestrial life will be proven. At 8-to-1 odds, how could I resist?