Viva Atlantic City – Where to Eat, Where to Play in South Jersey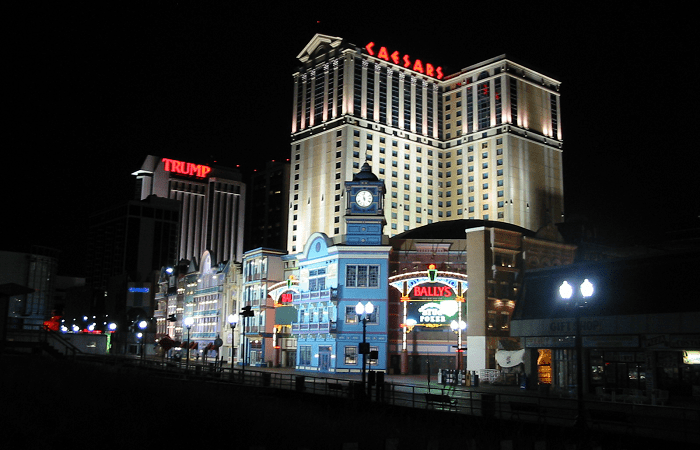 We've all read about the collapse of Atlantic City gambling.
I know that one-fourth of all the city's casinos closed in the last two years.
I know at least popular gambling property in the city is currently considering shutting its doors.
But I still love the place.
I've loved it since I placed my first legal bet there years ago.
I love the boardwalk, the Italian food, the fog coming in off the bay, the lifeboats on the beach.
It appears that the closure of so many competitors has improved business for the casinos that stuck it out. They're all showing revenue gains.
And I can verify that the casinos that remained afloat are going out of their way to treat customers well.
With gaming competition increasing in nearby Pennsylvania (making the extra two hour trip down the Garden State Parkway difficult for some customers to justify), they are doing everything they can to generate customer loyalty.
So I say get down to Atlantic City now, while the iron is hot.
To that end, I want to recommend my favorite spots in the city.
Now I love food and I love to gamble. That's why this list concentrates on the best food and the best casino action in the city.
Let's start with my personal favorite – food.
Where to Eat
Downtown Atlantic City is like a quilt of excellent food from all parts of the world.
Italian food is still a staple, but new cuisines have popped up.
AC is now home to a healthy collection of Vietnamese restaurants, popping up alongside traditional diners, delis, and pizza joints.
Here are my four favorite places to eat when I'm in South Jersey.
Traditional seafood and American cuisine, ranging from ultra-fresh oysters (in season) to traditionally-prepared steaks and sandwiches. Dock's is an absolute institution in and around AC. If Dimitri is tending bar, you're in for a treat.
Chef Vola's
Hidden away just off Pacific Avenue (a cannoli's throw from the boardwalk), Chef Vola's is the ultimate hidden gem of Italian food in all of South Jersey. I can't recommend this place enough. It's exactly like being served in someone's Italian grandmother's kitchen. Make sure you know how to get there before you go – they don't have a sign.
Don't let the fancy-sounding name fool you – this is home-style Dominican food. I can't vouch for its authenticity, having never been to the Dominican Republic. I can vouch for the amazing atmosphere and the delicious food. An off-the-beaten-path gem.
The closest thing to a gourmet experience on this list is this quaint and frankly perfect dinner-only restaurant in Margate, just up the road from AC proper. It has an awesome bayside view and the food is pitch-perfect. The menu is ever-changing, so check the website for specifics. You may pay a little more for your dinner here than at the casino, but the experience is worth it, especially at sunset.
Where to Play
I must admit that on my last visit the streets of Atlantic City near the casinos were just a little dead.
I'm not saying it was scary or that it was a total dead-zone.
But I could see the influence of the casino closures.
It's just not as bustling as it once was.
That said, things are looking up financially for the area, and the casinos on this list are thriving in the absence of some of their old competition.
The casinos here are in alphabetical order.
The Borgata is AC's best spot for poker. Yes, the casino is home to nearly 4,000 slot and video poker games, and the floor is home to more than 180 gaming tables, but the name of the game here for serious bettors is poker. The room has eight-five tables running at all times, making it the most active poker spot in all of New Jersey.
While the Borgata is the traditional home of Jersey poker, Caesars AC is the home of all Jersey-based World Series of Poker circuit tournaments. It may not have the biggest poker room in town, but for right now it might have the most prestige. The rest of the casino is some 145,000 square feet, with 150 gaming tables that just happen to offer the highest limits anywhere in town. On the other side of that coin – be prepared for $25 table minimums on most days.
The Golden Nugget is my favorite of the bayside casinos. It doesn't have a massive gaming floor, coming in at just over 70,000 square feet. If you like table games, you'll be happy to know that a big chunk of that floor is dedicated to blackjack, roulette, craps, baccarat, and six versions of casino-style poker. If you're looking for a photo-op, take a selfie with the world's largest golden nugget, on loan from Golden Nugget Las Vegas.
I have to give some love to Atlantic City's first casino – after all, it all started with Resorts in 1978. While Resorts is nowhere near the biggest property here, it does offer 2,000 slots and video poker terminals and a number of high-limit electronic machines that you can't find much of elsewhere in town. A collection of seventy-five table games (mostly casino-style poker) rounds out their collection.
The "Trop," as locals call it, is roundly-considered to be the "best" casino in town. It got that reputation because of publications like Casino Player Magazine naming it "AC's Luckiest Casino" multiple years in a row. But I enjoy the Trop for a different reason- it's often the quietest casino I've ever been to, with just 130 gaming tables for an increasingly-small crowd finding their way to the big name sites nearby. The two-floor casino is also well-organized, with machines broken up by cost and a few decent spots to sit and watch the boardwalk immediately below.