Are the Vikings Still Super Bowl Contenders Without Adrian Peterson?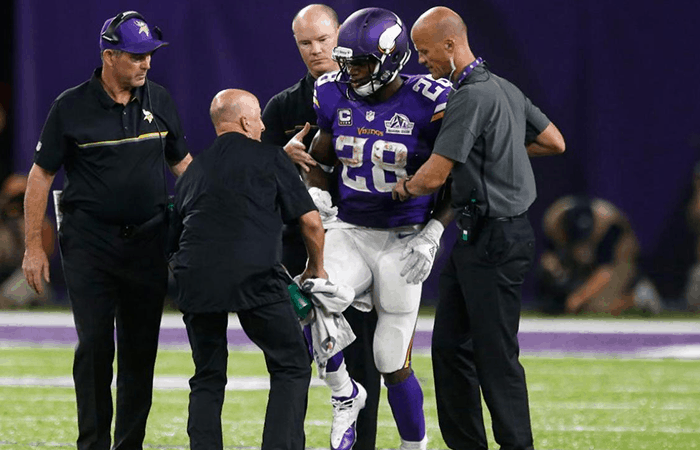 The jury is still out on Adrian Peterson's injury, as the star Minnesota Vikings running back exited his week two game against the Green Bay Packers and was later seen on crutches with his leg in a brace.
Peterson had rushed for just 19 yards on 12 carries before going down awkwardly during a tackle. Unable to put any pressure on his injured leg, Peterson was carried off the field and to the locker room by trainers.
As bad as losing Peterson could have been, Minnesota hung tight and beat the division rival Green Bay Packers 17-14 to remain undefeated at 2-0. In addition to the big win, there remains optimism with the franchise that while Peterson likely suffered some ligament damage, his knee injury isn't overly serious:
Source said there is some ligament damage for Adrian Peterson, MRI Mon will show how much. But there's confidence he'll play again this year

— Jason Cole (@JasonColeBR) September 19, 2016
Peterson is scheduled to undergo an MRI on Monday, which should reveal exactly what Peterson and the Vikings are dealing with.
Should Adrian Peterson's injury cause him to miss significant time (or even the rest of the year), the question grows louder: are the Minnesota Vikings Super Bowl contenders without their lead back?
Surprisingly, the answer could be yes, and here's why:
Sam Bradford Might Be Legit
A lot of people rain down on Sam Bradford for being an average quarterback at best and a former #1 overall bust at worst. What seems to slip between the cracks, however, is the fact that Bradford has suffered two serious knee injuries and spent the majority of his career with a horrid Rams franchise.
This is without a doubt the best situation a 28-year old Bradford has ever found himself in. His coaching, defense and supporting cast all beat out anything else he's ever had with the Rams and Eagles and he now seems to be fully moved on from his latest knee injury that cut his 2014 campaign short.
Bradford is still very much in his prime and while he hasn't played at an elite level prior to 2016, it's arguable that he never really had the chance to. Now that he's in a winning environment, we just might see that Sam Bradford isn't half bad. In fact, he might finally be able to show us that he can be pretty darn good.
We sure saw it on Sunday Night Football, where Bradford impressively gashed the Packers for 286 yards, two touchdowns and zero turnovers in his first start in a new system.
Stefon Diggs Can Ball
Bradford didn't crush the Packers on his own. No, he had some solid weapons in Stefon Diggs, Charles Johnson and tight end Kyle Rudolph. While those guys – not to mention untapped rookie Laquon Treadwell – form a strong supporting cast in the passing game, it's Diggs who specifically has been a terror through the first two weeks of the year.
Diggs can seemingly do it all, as he runs good routes, knows how to work in space, has the control and concentration to make tough catches and has the size and speed to win one-on-one matchups. If he's the do-it-all guy we think he is, Minnesota has a true #1 receiver here and the other guys around him have to merely fill their roles.
Minnesota Has Running Backs
This may be the biggest obstacle for everyone who thinks the Vikings live and die with Adrian Peterson, but let's put things in perspective:
Peterson was averaging 1.6 yards per carry through the first two games, yet Minnesota was able to pass the ball in week two and win two games. They weren't doing well because of an awesome running game, so losing Peterson for any amount of time is not the game changer it sounds like.
If anything, this completely opens up their offense and makes them far less predictable. They even have two able-bodied running backs ready to take on bigger roles, with Jerick McKinnon giving them an explosive options and Matt Asiata giving them a more seasoned option. Individually neither are scary, but together they could give Minnesota a solid one-two punch and give this offense the balance it needs to succeed.
That Defense is Elite
Quite possibly the biggest component of this team is it's defense. Not only did this defense win their week one game by scoring two defensive touchdowns, but they made Aaron Rodgers and the Packers look average in week two.
The Vikings can stop the run, they can rush the passer and they can create havoc. They probably need a healthy Xavier Rhodes to be truly at their best, but here they are, 2-0 without him.
Minnesota boasts excellent coaching, a strong system and loads of talent all over the field on defense. It'd take some serious injuries to rock the foundation of this group – one that has quickly become one of the best in all of football.
Vikings' Super Bowl Odds
There you have; Adrian Peterson simply doesn't mean as much to the Vikings as many would have you think. This is now a well-coached, defensive-minded football team and even had Sam Bradford not been so impressive in week two, this injury still wouldn't completely deflate this team.
Is Minnesota now a Super Bowl 51 lock? No, because nobody is. But their Super Bowl odds could take an initial hit due to this injury, which could make them the perfect bet to make a deep run. Peterson is not a trash player that doesn't matter, but he is not as crucial to Minnesota's success as some believe. Instead, it's the defense and coaching that are top dog for the Vikings and if Bradford can continue to play this well, Minnesota is going to be very tough to stop – with or without Adrian Peterson.