Hide Bonus Offers
| | | | | |
| --- | --- | --- | --- | --- |
| #1 | Bovada Sports | 50% Up To $250 | Visit Site | Bovada Sports |
| #2 | BetUS | 125% Up To $2,500 | Visit Site | BetUS |
| #3 | MyBookie | 100% Up To $1,000 | Visit Site | MyBookie |
| #4 | Everygame | 100% Up To $500 | Visit Site | Everygame |
| #5 | BetOnline Sports | 60% Up To $1,000 | Visit Site | BetOnline Sports |
Uruguay vs. France – Betting Odds, Prediction, and Pick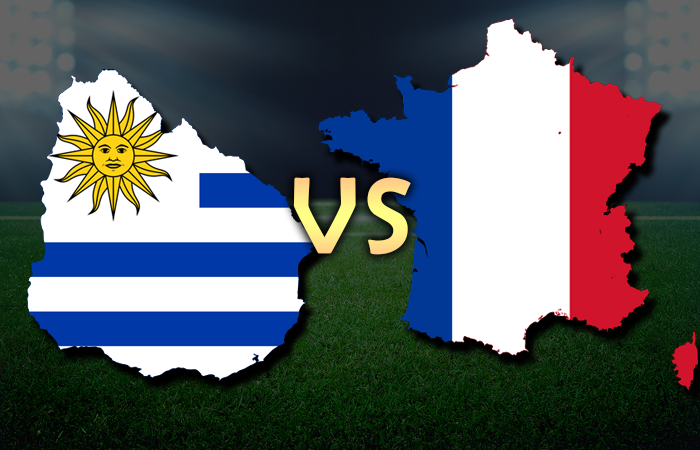 The soccer World Cup has reached the last 8 stage, and things are heating up. There are plenty of surprising results, drama, and most of the knockout games so far have been extremely close.
I expect this trend to continue in the next phase as well. The first game will be between France and Uruguay. The European team is the favorite, according to the bookies, but Suarez and company have won each of their World Cup games so far, so they shouldn't be underestimated.
Let's take a closer look and see if there are some good betting opportunities out there.
Uruguay vs. France Betting Odds
Let's start by checking the main betting odds for this World Cup quarterfinal.
As you can see, the bookies expect France to qualify and give them a solid chance to progress. I agree to an extent, and it's the same with the goals market. The game should be rather tight, so it's likely to be a low-scoring affair.
Still, let's dive a bit deeper and take a look at what to expect of this clash.
Uruguay – Strong at the Back, Deadly Up Front
Not many people are mentioning Uruguay in the conversation about the potential soccer World Cup winner, and I'm not sure why. The country has played 4 games so far and won each and every one of them.
What shines the most is the defense of Uruguay. The team has conceded only 1 goal so far and looks like the strongest at the back in the whole World Cup.
The experienced Diego Godin is the leader of this back line, but the likes of Gimenez, Caceres, and Laxalt are also doing a great job. If you add the constant protection from the midfield and the steady hands of goalkeeper Fernando Muslera, it's easy to see why Uruguay is so good at the back.
The whole team is set up to defend fiercely and works hard. This allows the creative players of the team to comfortably wait for a proper opportunity to score.
And when you have guys like Luis Suarez and Edinson Cavani, you will have some chances.
Both the Uruguayan forwards started slowly in the first match against Egypt, but they have been excellent ever since.
The best example is the last 16 clash against Portugal. The reigning European champion was eliminated after Cavani scored twice. Both goals were of an exceptional quality, and it was the pass of Luis Suarez that created the first and opened the game up.
It's interesting that Portugal then managed to equalize, and this was the first time that Uruguay conceded in this World Cup. To me, it was crucial to see how the side responds.
Well, Cavani scored the second just a couple of minutes later, which was enough for Uruguay to win. It was impressive, especially since Portugal was contained with ease afterward.
The team is certainly designed for knockouts and has a lot in common with Diego Simeone's Atletico Madrid. It might lack the overall quality of the likes of Brazil and France, but Uruguay has the resilience and teamwork that make them a nightmare for everyone in the tournament.
One of the big problems for Uruguay is that Cavani got injured against Portugal. However, he could be fit to face France, and this would be a huge boost for the South Americans.
France – One of the Best Attacks in the World Cup
France was one of my favorites before the tournament started, and I'm quite happy with their performance so far. To be fair, I had some doubts in the group stages, but the side is simply doing enough in pretty much each match up to this point.
I think the first game against Australia was crucial. Didier Deschamps decided to try and play with 3 fast players in attack, selecting Antoine Griezmann, Kylian Mbappe, and Ousmane Dembele. All three of them are exceptional players, but their main strength is pace.
And as we all know, fast forwards need space to excel. This is why Australia has managed to limit the opportunities in front of France. At some point, Deschamps decided to get Olivier Giroud in and work with the same system that led France to the EURO 2016 final.
The Chelsea striker is a typical target man that brought a lot of balance to the team. He is capable of occupying the central defenders of the opponent team and is gifted enough to provide all kinds of flips and passes to Griezmann and Mbappe.
The French attack works much better that way, and you could easily see that against Argentina. France was able to score 4 goals and looked dangerous throughout the whole match. Mbappe was especially impressive and found the net 2 times, while also winning a penalty. The boy is truly a prodigy that could leave his mark on history.
While Giroud and Griezmann didn't shine as much, they played their part, and France looked unstoppable at times.
To be honest, I was very impressed by the character shown by the team. They were playing better and managed to take a deserved lead. And yet, a thunderbolt from more than 25 yards and a stupid deflection turned the game upside down.
It was quite the shock for the French team, and against an opponent like Argentina, many sides will collapse. Instead, the Europeans pushed even harder, created a ton of chances, and managed to win in the end.
I would say that conceding three times is a reason to be concerned, but two of those goals were hard to prevent. You can't really defend a shot from 25-30 yards, and deflections happen in soccer.
This is why I think it's not that big of a deal that Argentina put three past them, and the French team is better at defending than the score suggests. What matters the most is that they have a deadly attack and showed a lot of character to win from a difficult situation.
In a way, I think this game woke up a giant that has been a bit too relaxed in the group stage of the soccer World Cup. France could very well end up winning the trophy, but of course, there's still a long way to go.
Uruguay – France Prediction
If I have to describe what I expect from this match, I would say it will be a close encounter between two strong teams.
Uruguay will mostly defend, but France has too much firepower and should open the scoring. I could also see the Europeans hit another one on the break as the South Americans try to hit back.
I think a scoreline of 2-0 for France is the logical choice here.
Recommended Bets for Uruguay vs. France
It's hard not to select France as the favorite in this match after the fantastic performance against Argentina. However, the price of 2.00 for the team to win against one of the toughest sides in the tournament is a bit short.
Uruguay certainly has the mentality and the quality to make this game a close contest. They will defend in numbers and try to hit France on the counter. The first goal would be absolutely crucial, especially when it comes the chances of the South American team.
If they go behind, coming back would be tough, even if Cavani is fit. Any space left for the likes of Griezmann and Mbappe would lead to more opportunities for France to score. This is why I will go for a pick that's a bit unusual.
France -1 Asian Handicap is priced 2.85, and I like that. If the team is winning in the last 15-20 minutes, there will be plenty of chances to counter and add some goals. At the same time, if France is victorious in the end, but the margin is only a single goal, you get your wager back.
PICK
France -1 Asian Handicap
2.85
BetVictor Million Pound Bet
I will continue adding picks for the BetVictor Million Pound Bet until the World Cup is over, so this game is not an exception. Since the PriceItUp feature is not up yet, I will have to provide the following blind pick.
Half time correct score 0:0
France to win 2:0
Olivier Giroud to score 1+ goals
Kylian Mbappe to score 1+ goals
France over 3.5 corners in both halves
Uruguay under 2.5 corners in both halves
Uruguay to receive over 2.5 cards
Jose Gimenez to get booked
I think it's time for Giroud to score his first goal in the World Cup, and Mbappe will be lethal, too. At the same time, I can see France dominate possession and win a lot of corners, in contrast to Uruguay.
The South Americans will certainly play hard, so a couple of cards are on the line.
Conclusion