Upset Picks for Bettors to Target This Week – Picks for 10/30 to 11/4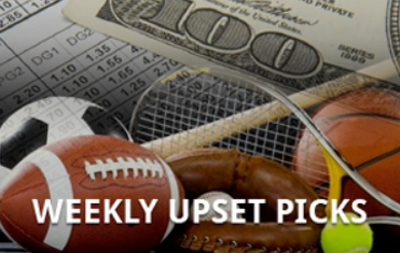 Last week was not a great one for NFL bettors. At least, not if you bet hard on the Los Angeles Rams to cover a rich -9.5 point spread at home against the Green Bay Packers.
I personally never loved that spread. Betting that hard against Aaron Rodgers felt like a mistake, and I even saw an upset brewing. That was one of my underdog picks of a week ago, and while it missed (thanks, Ty Montgomery!), it was awfully close.
In the process, Todd Gurley made an enemy out of quite a few sports bettors, as well as fantasy football players. The stud rusher opted not to score an easy walk-in touchdown, instead deciding to stay in bounds to ice the game.
That gave the Rams a two-point win instead of what was likely to be a 9-point win. Fantasy owners lost out on another Gurley score, and bettors missed LA covering by just a few yards.
It's hard to blame Gurley's team-first logic, though. In fact, you should be applauding it.
Instead of being selfish in his pursuit for LaDainian Tomlinson's touchdown record (just one of many NFL player prop bets worth targeting right now), Gurley took one for the team to help ensure a victory.
Had Gurley punched in that score and the Rams somehow missed the extra point, Green Bay would have had about a minute left to still tie the game and force overtime. By just taking the knee, so to speak, Gurley locked up a win and kept the Rams perfect at 8-0.
That was a bummer for sports bettors, but anyone who bet on Green Bay to beat the spread (or didn't roster Gurley in fantasy leagues) was probably pretty pleased.
It was a fun week for sports betting, but not so much for picking underdogs. Let's recap the week and look ahead to some upset picks worth chasing this week.
All odds referenced for this week's picks were available online on 10/29/2018. They may have changed since the time of writing.
Week in Review
Let's just start with the elephant in the room; I loved the Packers to go into LA and get the win, and for about 99% of this game, they looked like they'd do it.
The Packers jumped out to a 10-0 lead early and were up 13-8 in the third quarter. Even when the Rams fired back and took a 23-13 lead, the Packers refused to give up, scoring two straight times to go up 27-26.
Green Bay was much too conservative on offense early in the game and blew some opportunities, but it's hard not to point to Ty Montgomery's inexcusable kick return fumble with two minutes to go.
Seriously, why would you even exit the end zone at that moment? It was a mind-boggling gaffe and one that robbed me and perhaps you of a sweet +340 underdog. Well, it at least robbed us of the chance at converting that bet.
Here's a quick rundown of how last week's underdog picks fared.
Los Angeles Dodgers over Boston Red Sox

+130

Sacramento Kings over Denver Nuggets

+535

Green Bay Packers over Los Angeles Rams

+340

Carolina Panthers over Baltimore Ravens

+110
The Kings were never a very safe play, but their price was amazing, and they'd been playing surprisingly well. They were worth a roll of the dice.
I had two bets concerning LA-based teams. One was with the Dodgers taking game two to even up the series. They didn't do it (and went on to lose the entire World Series on Sunday), but they were a solid bet at that price.
The Rams were at home and were 7-0, but that was too good of a line to pass up when it comes to Aaron Rodgers. I stand by that pick, and if Montgomery hadn't taken that ball out of the end zone, you may have thanked me for it.
While it was another down week with my upset calls, I did score a win with the Panthers beating the Ravens at home. It was always a great play, as you need to consider home dogs anytime you can get them, and Carolina has been playing well.
I don't love the 1-3 record (44-68-2 on the year), but it was dangerously close to 2-2 with a massive upset. Let's try to get in the winning column again this week with a slew of my favorite underdog plays at GTbets.eu and other betting sites.
Oakland Raiders (+146) over San Francisco 49ers (-165)
Betting in favor of a Jon Gruden team gives me nausea right now, but the Raiders are actually in a great spot. The 49ers are battered by injuries, and both of these teams are hurting on a short week.
The only real edge the Niners have is the fact that they're playing at home. Oakland doesn't have to travel very far for this one, while the 49ers have to come to grips with the reality that they're the type of team that gets swept by the Arizona Cardinals.
Considering those are the only two wins Arizona has in 2018, that's pretty damaging.
San Francisco is operating offensively with a slew of backups, and they just don't have much of an identity right now.
I know the Raiders are having a fire sale with their players, but unless some ridiculous third trade comes out of this roster, I'm going to take the money and run.
The Raiders still have some offensive talent, and as bad as they've been, they showed fight last week. They're finally running into a team that they actually (gulp) might be better than. At a +146 price, I don't mind taking on some risk to find out for sure.
Pittsburgh Steelers (+135) over Baltimore Ravens (-154)
Baltimore comes into week nine as a home favorite against a Steelers team they already beat pretty easily earlier this year. That game was at Heinz Field, so if you want to argue that the Ravens have the mental edge, I'll give you a second to plead your case.
The problem here is that the Steelers are starting to hit their stride, and the Ravens are regressing before our very eyes.
Baltimore does have the home field edge (2-1), but they are reeling right now with losses in three of their last four games. Pittsburgh, meanwhile, is clicking during a nice three-game winning streak.
I note the Ravens are favored and are at home, but nothing else would get me to bet on them. Their once-proud defense just gave up 36 points to Carolina, and I'm not sure they can stifle the Steelers twice in one season.
History has this matchup swinging Pittsburgh's way as well. Pittsburgh has been on a nice three-game tear in the series and should look to get back in the win column.
PICK
Pittsburgh Steelers
+135
Houston Texans (+120) over Denver Broncos (-141)
One other interesting NFL game in week nine is this showdown in Denver between the Broncos and Texans. Houston comes in on fire with five straight wins behind them, while the Broncos limp in with five losses over their last six games.
Again, the only thing to hang your hat on if you're the Broncos is that Vegas likes you, and you're at home. The Broncos should otherwise be on tilt, as they just lost a tight game in Kansas City.
Houston, meanwhile, is down a burner in Will Fuller but has unleashed Deshaun Watson (5 touchdowns last week!) and looks primed to take over the AFC South for good.
This would be a huge win for the Texans and would get people to take them seriously about a potential title run.
Not because they're beating the Broncos, of course, but because they keep winning and don't let themselves get tripped up on the road here.
I like Houston in all facets right now, and I can't say the same of Denver. Give me the +120 price and run with it.
Philadelphia Flyers (+114) over Anaheim Ducks (-126)
I don't suggest NHL picks too often, but this one looks like a good case of "ride the wave." Anaheim has not been in a good way lately, as they've dropped five straight and will host the Flyers tonight.
The Ducks got off to a hot start and are a respectable 2-1-2 at home, but they are in quite the slide. It's not just their last five losses that are alarming, either, as they've looked pretty rough since a 2-0 start.
On the other side are the Flyers, who are in a slide of their own with three straight losses.
They've stolen two road wins already in the young season, however, and in a "something has to give" streak-buster, I'll take the team offering better value.
PICK
Philadelphia Flyers
+114
Washington Wizards (+1) @ Memphis Grizzlies (-1)
I only have the point spread to work with on this game right now. The game goes down tonight, though, so the moneyline will come out before long.
When it does, the Wizards will probably be offering a +100 or +105 bet, and I'm all for it.
The Wizards may have been really bad to start the year, but they can score with anyone and just need to buckle down and close games better.
Despite the Wizards' lack of form, John Wall and Bradley Beal are still tough to take out on a nightly basis. And it's not like the Grizzlies are world-beaters.
Memphis is a surprising 3-2 through five games and is 2-0 on their home floor, but this is a case of talent and urgency trumping home court.
Washington is 1-5 and has dropped three in a row. Road game or not, they need a win, and I think they get it here.
PICK
Washington Wizards
N/A
Summary
Last week wasn't good for converting upset picks, but it was pretty close to panning out beautifully.
I don't see nearly as many high-upside underdog plays this week, but I do like three NFL upset picks, and dabbling in the NHL isn't a terrible idea.
NBA lines are always slow to get out, but for tonight, I really like Washington to return some mild value. They've had difficulty closing games out and just got housed by the Clippers, but they have too much talent to keep losing.
Overall, this gives you five new upset picks to consider mixing into your weekly betting schedule. Good luck with your wagers this week, and enjoy the games!