Updated March Madness Odds Going into the 2022 Final Four

The 2022 NCAA Tournament has brought some surprising results as we move into the Final Four. Kansas, Duke, and even Villanova aren't big surprises, but North Carolina in the Final Four? Not many people saw that coming.
These teams have been impressive in the NCAA Tournament, but only one can win the National Championship. The 2022 Final Four odds will show you who has the upper hand.
BetUS has been on top of updating the 2022 March Madness odds. Let's see how they view the Final Four betting odds.
Latest March Madness Odds for 2022 Final Four
Kansas is the only No. 1 seed remaining, but the latest 2022 March Madness odds have Duke as the favorite. Both teams have looked impressive, but Duke's offense likely gives them a slight advantage.
Villanova and North Carolina are further back, but we've seen many upsets in the NCAA Tournament. The 2022 Final 4 odds have them as longshots.
The March Madness betting sites quickly released the updated March Madness odds for the Final Four. BetUS has also continuously released March Madness odds, and right now they have Duke coming in as the favorite. Whether you want to back the Blue Devils or one of the other teams in the 2022 Final Four, you can visit BetUs now and place your bets.
Bet on March Madness at BetUS

Visit Site
Why Does Duke Have the Best Final Four Odds in 2022?
The 2022 Final 4 odds have Duke as the favorite to cut down the nets. It'd be a storybook ending for Mike Krzyzewski as the Final Four will mark the final games of his coaching career. Krzyzewski has been the head coach of Duke since 1980.
Duke has been top 10 in the AP Poll all season, briefly holding the No. 1 spot. The biggest problem for Duke was consistency. It looked like they would go on a long win streak before having a disappointing loss.
Check out their four losses in ACC play.
vs. Miami (FL): 76-74
@ Florida State: 79-78
vs. Virginia: 69-68
vs. North Carolina: 94-81
Miami and North Carolina aren't bad losses considering their NCAA Tournament run. However, Florida State and Virginia didn't make the NCAA Tournament.
Duke has the best odds for the 2022 Final Four because of their dominant offense. They have 78+ points in all four March Madness games, including 85 in the Sweet 16. Who has been the driving force behind their offense? None other than Paolo Banchero.
West Region All-Tournament Team

JD Notae
Jaylin Williams
Jeremy Roach
Mark Williams
Paolo Banchero

Paolo Banchero earned Most Outstanding Player ? #MarchMadness pic.twitter.com/0p6n9QQ9Ku

— NCAA March Madness (@MarchMadnessMBB) March 27, 2022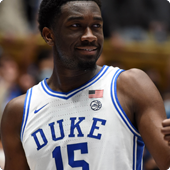 Banchero struggled against Arkansas, but he started the NCAA Tournament with three straight games of 17+ points on 50 percent shooting. The top college basketball betting sites have him among the favorites to win Most Outstanding Player.
Can he join the list of best one-and-done players in college basketball history?
Duke's fantastic offense isn't just Banchero. Jeremy Roach hit multiple big shots against Texas Tech to move Duke into the Elite Eight. Wendell Moore Jr. and AJ Griffin have put up consistent numbers.
Then, you have Mark Williams dominating on defense with 4.0 blocks per game.
Duke would love to send Coach K out on top. They're only two victories away from giving him his sixth National Championship. That'd be the definition of a storybook ending.
Are Kansas or Villanova the Next Best Bets?
Kansas and Villanova come in behind Duke in the 2022 Final Four odds. Let's talk about why each team can win the National Championship.
Is Kansas the Best Value for Final Four Odds to Win?
Kansas is back in the Final Four for the first time since 2018. They're probably the least surprising team in the Final Four. After all, they opened No. 3 in the AP Poll and entered March Madness as a No. 1 after winning the Big 12 Tournament.
The 2022 Final Four odds have Kansas just behind Duke. It's interesting to look at their last two March Madness games because the scores don't tell the whole story.
They had a big lead on Providence but let them come back in the second half. Kansas' five-point victory was closer than the game. Then, they blew out Miami in the Elite Eight, but Kansas trailed by six at halftime.
The big news surrounding Kansas was transferred Remy Martin coming into the season. Martin had high expectations but only averaged 8.6 points and 2.9 rebounds while shooting 46.6 percent. Well, he has flipped a switch in March Madness.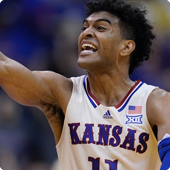 16.8 points
5.3 rebounds
55.8 field goal percentage
Ochai Agbaji and Christian Braun has been Kansas' best players, but Martin has stolen the spotlight. His breakout performance is huge for Kansas' 2022 Final Four odds.
With all their playmakers, it's no surprise that Kansas' offense has been their strength. That offense has continued their strong play in the NCAA Tournament, but their defense has kicked it into high gear.
Creighton was the only team to clear 61 points against them. Kansas' defense took over in their 76-50 Elite Eight victory over Miami. They held Miami to 15 points in the second half.
It's hard to believe a team like Kansas has only won one National Championship in the last 30 years. The 2022 Final 4 odds don't have them as the favorite, but that isn't stopping them. They could be a great value pick.
Should the Final Four Odds Give Villanova More Respect?
Villanova is the ultimate boom or bust March Madness team. Last year was the first time since 2012 they didn't lose on the first weekend or win the National Championship. This year, they're looking for their third title in seven years.
Villanova opened in the top five in the AP Poll, but they spent the season in the 10-15 range. They boosted their 2022 March Madness odds by winning the Big East Championship.
We saw Ohio State and Michigan give Villanova a run, but they prevailed to make the Elite Eight. Villanova managed to defeat Houston despite an atrocious shooting performance.
Villanova shot 28.8% from the field and still won.

Per Stathead, it is just the 2nd NCAA Tournament game since 2010 where the winner managed to shoot 28.8% or worse and still win.

The other: Arkansas (27.5%) over New Mexico State in 2019.

— Simon Gibbs (@SimonGibbs26) March 27, 2022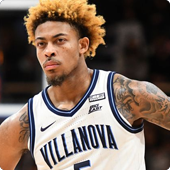 It wasn't pretty, but Villanova is in the Final Four. Unfortunately, Villanova will be without one of their best players, Justin Moore. Moore suffered a torn Achilles in Villanova's Elite Eight victory in the final minute.
Undoubtedly, his absence will hurt Villanova's Final Four betting odds. Moore is their second-leading scorer, averaging 14.8 points on 35.6 percent three-point shooting. He hasn't been great in the NCAA Tournament, but he can put up big numbers.
Moore's injury likely affects a few people's 2022 Final Four prediction. Collin Gillespie will probably take on a bigger workload, but I have my eye on Jermaine Samuels. Here is a comparison of his seasonal average vs. his numbers in March Madness.
| | | |
| --- | --- | --- |
| | 2021-22 Season (37 Games) | March Madness (4 Games) |
| Points | 11.1 | 17.5 |
| Rebounds | 6.5 | 8.5 |
| Steals | 0.8 | 1.7 |
| Field Goal Percentage | 47.4 | 63.7 |
Samuel's emergence has been a big boost for Villanova's offense. He led the team in scoring in their last two games.
Without mentioning their defense, I can't talk about Villanova's March Madness Final Four odds. They've held all four of their opponents under 61 points. I wonder if the latest Final Four odds aren't valuing their defense.
Can North Carolina Win the 2022 March Madness Title?
North Carolina is no stranger to making the Final Four, but this one is a little different. Of their record 21 Final Four appearances, this is the second time they are lower than a No. 2 seed. Coincidentally, their only other appearance lower than a No. 2 seed was also a No. 8 seed in 2000.
The No. 8 seed was indicative of their whole season. However, their final month showed they were a much better team. North Carolina's success in the NCAA Tournament only backed that up.
Their high-scoring offense was on full display against Marquette and Baylor. They cleared 90 points in each game. North Carolina's offense wasn't as strong against UCLA and Saint Peter's, but their defense stepped up.
Someone had to end Saint Peter's Cinderella run. North Carolina achieved that behind a dominant performance from Armando Bacot.
Unreal performance from Bacot Jr. ? pic.twitter.com/eQhoKty0Kx

— NCAA March Madness (@MarchMadnessMBB) March 28, 2022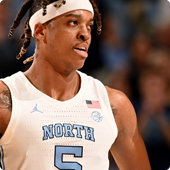 Bacot's 20 points and 22 rebounds capped off an impressive four-game stretch that earned him the Most Outstanding Player in the East Region. North Carolina has plenty of weapons, but Bacot beat them out.
We can't forget about Brady Manek. Manek kicked off March Madness with a pair of 26+ point games while shooting over 60 percent. He wasn't as dominant against UCLA, but he bounced back with 19 points and eight rebounds in the Elite Eight.
I believe North Carolina's 2022 March Madness odds will come down to their defense. Their defense struggled in the regular season, but they've allowed 66 points or fewer in three of their four games.
I doubt many people view North Carolina as a Cinderella team, but their status as a No. 8 seed makes them the biggest longshot. Can they become the second No. 8 seed to win the National Championship?
Predictions for the 2022 Final Four
Kansas Over Villanova
Duke Over North Carolina
We know which teams will play in the Final Four. Let's talk about the matchups, starting with Villanova vs. Kansas.
Villanova came into the NCAA Tournament with a dominant defense. Meanwhile, Kansas was more about their potent offense. Both units lived up to the hype, but Kansas' defense has been better than Villanova's offense.
How will Villanova's offense look without Justin Moore? That's a big loss considering they weren't putting up big numbers. After all, they barely squeaked up Houston after shooting under 30 percent.
I think Kansas will need their offensive stars to step up if they want to play in the National Championship. We haven't seen a big performance from Ochai Agbaji, but we know he's capable.
Remy Martin has been great in March Madness, but what if he struggles? Kansas needs their star player to take down Villanova's defense.
Duke vs. North Carolina is the biggest rivalry in college basketball. It's hard to believe this will be the first time they meet in the NCAA Tournament. Coach K's final game against North Carolina could lead to a National Championship Game or a Final four defeat.
Duke vs. North Carolina in the Final Four in Coach K's final season is the way that it should be.

— Barrett Sallee (@BarrettSallee) March 27, 2022
There will be many storylines surrounding this matchup, but the 2022 Final Four prediction will lead to a pair of dominant offenses.
Duke and North Carolina's offense was great in the regular season, but they've looked even better in March Madness. I want to say this game will come down to who will stop who, but I don't know if it will. This could be one of those 90-85 games.
The Duke vs. North Carolina rivalry has featured many legendary games. They've never had one with these many implications. Will that affect your pick for who will win the Final Four?
Betting on Who Wins March Madness in 2022
The 2022 NCAA Tournament has brought so much excitement. We are down to four-storied college basketball programs, but only one can cut down the nets. I'm going with the favorite and picking Duke to win the National Championship.
Duke has been among the best teams all season. Their inexperience was in question, but their ceiling was as high as anyone. They've lived up to the hype and looked poised to send Coach K out on top.
Now it's time for you to make your Final 4 prediction. Check out the guide for 2022 March Madness for more betting information.
2022 March Madness Guide