Latest Odds, Analysis, and Prediction for the 2022 Kentucky Derby

Remember when Seattle Slew won the 1977 Kentucky Derby and then swept the Preakness and the Belmont Stakes for the Triple Crown? Remember how that was just the final three wins on a nine-win streak and that Seattle Slew won 14 of his 17 starts in his career?
Yeah, me neither, fellow kids. I bring up Seattle Slew to highlight an important fact about the 2022 Kentucky Derby – it's not going to be pretty.
Not a single horse currently lined up for a starting-gate post is a titan, none with the mettle of a Seattle Slew. No horse is anointed as the "mortal lock" victor earlier Derbies have hosted.
This Class of '22 is very different. These are scrappers, rough – and – tumble fighters that have experienced defeat along with victory. Who will win the Kentucky Derby is always a game of statistics, but uncertainty will reign supreme this year?
And that's very good news for punters. If you're game for betting on the big race in May, visit the best Kentucky Derby betting sites, and then look at the latest odds and analysis below.
Current Odds for the 2022 Kentucky Derby
The odds will change dramatically as the final weeks before the 2022 Kentucky Derby passes into history. Below are the latest Kentucky Derby odds for the top twenty contenders right now. Be sure to keep track of the latest changes at SportsBetting.ag.
| | | |
| --- | --- | --- |
| Horse | R2KD # | Odds |
| Epicenter | 1 | +450 |
| Messier | 16 | +700 |
| Taiba | 8 | +700 |
| Zandon | 2 | +700 |
| Mo Donegal | 4 | +1200 |
| Smile Happy | 10 | +1200 |
| White Abarrio | 3 | +1200 |
| Charge It | 19 | +1600 |
| Cyberknife | 6 | +2000 |
| Simplification | 9 | +2000 |
| Early Voting | 14 | +2500 |
| Morello | 15 | +2500 |
| Tiz The Bomb | 5 | +2500 |
| Zozos | 17 | +2500 |
| Barber Road | 12 | +3300 |
| Classic Causeway | N/A* | +3300 |
| Crown Pride | 7 | +3300 |
| Slow Down Andy | 11 | +3300 |
| Doppelganger | N/A* | +5000 |
| Golden Glider | 30 | +6600 |
Classic Causeway has been withdrawn from contention by his trainer. While Doppelganger appears to have earned 60 R2KD leaderboard points, the official KD website does not list him as such, most likely due to him formerly being in training with Bob Baffert.
That said, these updated 2022 Kentucky Derby odds offer some nice value, starting with the favorite.
Why Is Epicenter the Oddsmakers' Favorite?
That's an easy question to answer – his trainer is National Racing Hall of Famer Steve Asmussen. His owner, Winchell Thoroughbreds, LLC, is no stranger to top-end stakes races, having fielded horses in the Preakness Stakes and the Kentucky Oaks and Breeders' Cup competitions.
And then, there's Epicenter himself. Son of Not This Time and Silent Candy (by Candy Ride), the bay colt has one of the best records in the biz: five money finishes in six career starts, four of them wins.
He whiffed his initial maiden attempt last September, graduated on his second attempt, and then won all but one of his next four races.
Sure, he placed second in the Lecomte Stakes (losing to Call Me Midnight by ahead), but he won the Risen Star Stakes (Grade II) in February and the Louisiana Derby (Grade II) in March. He's currently at #1 on the Road to the Kentucky Derby (R2KD) leaderboard with 164 points.
Other 2022 Kentucky Derby Hopefuls to Watch For
It's one thing to simply look at the latest Kentucky Derby 2022 odds. It's another to know how to take advantage of them. Beyond just betting on the Kentucky Derby favorite, how should you proceed?
Let's look at some other Kentucky Derby contenders that could make an impact.
Taiba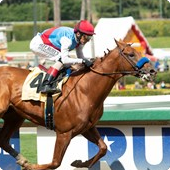 The chestnut colt Taiba looks like something of a wunderkind, even with only two races under his belt.
In March, he won his initial maiden attempt by seven-and-a-half lengths (posting a triple-digit speed figure). In early April, he aced the Santa Anita Derby (Grade I).
Taiba is trained by Tim Yakteen, who, the owner of Zedan Racing Stables, Inc., recently chose to take over those duties from Bob Baffert. Taiba is the son of Breeders' Cup Classic and Pegasus World Cup Winner Gunrunner and Needmore Flattery (by Flatter).
He's #8 on the R2KD leaderboard with 100 points.
Messier
Interestingly, another of Bob Baffert's former students — Messier — is on my list of serious contenders.
Messier only has 40 R2KD points on the R2K leaderboard. The ten points he earned winning the Robert B. Lewis Stakes back in February and the four he earned last December finishing second in the Los Alamitos Futurity are disallowed because he was in training to Baffert at the time.
The scion of Empire Maker and Checkered Past (by Smart Strike), Messier has moneyed all six of his career starts, splitting them evenly between first and second-place finishes. With his R2KD 40 points, he's #16 on the leaderboard, so he's virtually assured a post in the starting gate for the Kentucky Derby.
Virtually everyone in California owns Messier. Okay, that's an exaggeration, but only just a little.
His owners are SF Racing LLC, Starlight Racing, Madaket Stables LLC, Robert E. Masterson, Jay A. Schoenfarber, and Waves Edge Capital LLC, Catherine M. Donovan, Golconda Stable, and Siena Farm LLC.
Zandon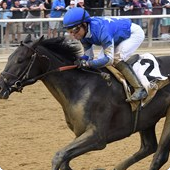 Already a top-earner, this dark bay son of Upstart and Memorials Prevail (by Creative Cause) jumped to #2 on the R2KD leaderboard with his recent win in the Blue Grass Stakes (Grade I) at Keeneland.
Zandon fought his way from the back of the pack to join the leaders, then drew clear in the final stretch to finish the Blue Grass two-and-a-half lengths ahead of his nearest competitor.
In December, he scored his first four R2KD points in the Remsen Stakes (Grade II), then picked up another ten points with a third in the Risen Star Stakes. Triple Crown and Breeders' Cup veteran Chad Brown trains Zandon for owner Jeff Drown.
White Abarrio
The #3 position on the R2KD leaderboard is White Abarrio, son of Race Day and Catching Diamonds (by Into Mischief). Like Zandon, this gray roan colt changed his future with a single win, in White Abarrio's case, the Florida Deby (Grade I) in early April.
That single win was worth 100 R2KD leaderboard points. Last November, White Abarrio first picked up two points in the Kentucky Jockey Club Stakes(Grade II). That third-place finish is the only time White Abarrio has missed the winner's circle in five starts.
In February, he acquired ten more leaderboard points with a win in the Holy Bull Stakes (Grade III) at Gulfstream Park.
Trained by Saffie A. Joseph, Jr., White Abarrio is owned by C2 Racing Stable LLC and La Milagrosa Stable, LLC.
Smile Happy
Son of Runhappy and Pleasant Smile (by Pleasant Tap), Smile Happy is currently #10 on the R2KD leaderboard. He earned his 70 points the hard way, picking up ten with a win in the Kentucky Jockey Club Stakes last November, then another 20, finishing second in the Risen Star Stakes in February.
In April, he added another 40 points to his leaderboard score with a second-place finish in the Blue Grass Stakes. Ken McPeek trains him for Lucky Seven Stable (Mackin).
Sleepers for the 2022 Kentucky Derby
Kentucky Derby odds are about as fluid as things get in the betting world. Horses that were frontrunners on the Road to the Kentucky Derby just a month ago are now back-benchers with something to prove.
If you like betting on Kentucky Derby sleepers, here are three of the most likely surprise victors.
Slow Down Andy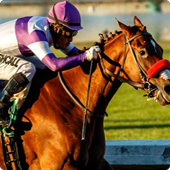 The oddsmakers don't think much of Slow Down Andy, but he's earned his #11 spot on the Kentucky Derby leaderboard.
The son of 2016 Kentucky Derby winner Nyquist and Edwina E (by Square Eddie), this chestnut colt won the Los Alamitos Futurity and the Sunland Park Derby. Still, he missed scoring R2KD points with a mid-pack finish in the bellwether Risen Star Stakes at Fair Grounds.
He has 60 R2KD leaderboard points. For the record, he's won three of his five career starts. He's got a chance among the contenders in this year's Kentucky Derby.
Crown Pride
Crown Pride didn't do so well on the Japanese Road to the Kentucky Derby, but he managed to pick up a ticket to Churchill Downs with a first-place finish at the UAE Derby (Grade II) in Dubai. That win put him at #7 with 100 points on the R2KD leaderboard.
The dark bay son of Reach the Crown (JPN) and Emmy's Pride (JPN) (by King Kamehameha (JPN)), Crown Pride is trained by Koichi Shintani for owner Teruya Yoshida. Crown Pride has won three of his four career starts for the record.
Tiz the Bomb
When looking at the odds for a 2022 Triple Crown winner, I ultimately landed on Tiz the Bomb just last week — probably because it was just last week. My, how soon we forget, eh? My opinion hasn't changed—I still think Tiz the Bomb has a chance.
He's dropped from #3 to #5 on the KD leaderboard, and the oddsmakers seem to have forgotten he exists.
But the horses he bested in the Jeff Ruby Steaks (Grade III), the John Battaglia Memorial Stakes (Black Type), and the Castle & Key Bourbon Stakes (Grade II) will remember him.
A bay colt out of Hit It a Bomb and Tiz the Key (by Tiznow), Tiz the Bomb is trained by longtime Breeders' Cup veteran Ken McPeek for owner Magdalena Racing, Lessee.
Updated Prediction for Who Will Win the 2022 Kentucky Derby
This Kentucky Derby odds update for April is a bit of a catch-22. We're closing in on the final Kentucky Derby field and we know which horses we like, but the top portion of the field lacks a true heavy-hitter to confide in.
I suspect the lack of any clear leaders among this year's crop of Kentucky Derby hopefuls will mean that odds on some very real possibilities will be longer than usual, meaning if you pick the right underdog, you could clean up.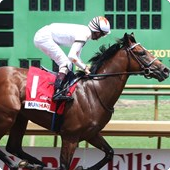 That said, I'm still backing Tiz the Bomb. His record hasn't changed. He's won five of his eight starts, including his two most recent races, which gave him his #5 position on the R2KD leaderboard.
It helps that the performance of all the contenders this year has been uneven at best. Against a stronger field, Tiz the Bomb might not have as much of a chance.
Still, make no mistake – the three-year-old's in the 2022 Kentucky Derby represent the best-thoroughbred racing has to offer. But the lack of superstars will probably encourage much longer odds, offering opportunities for profit to careful punters.
Be sure to check the action at one of our best horse racing wagering sites below.
Top Horse Racing Betting Sites