Hide Bonus Offers
| | | | | |
| --- | --- | --- | --- | --- |
| #1 | BetOnline Sports | 60% Up To $1,000 | Visit Site | BetOnline Sports |
| #2 | Bovada Sports | 50% Up To $250 | Visit Site | Bovada Sports |
| #3 | BetUS | 125% Up To $2,500 | Visit Site | BetUS |
| #4 | Everygame | 100% Up To $500 | Visit Site | Everygame |
| #5 | MyBookie | 100% Up To $1,000 | Visit Site | MyBookie |
Updated AFL Coleman Medal Odds and Prediction – Who Will Kick the Most Goals in 2022?

Betting on the 2022 AFL Coleman Medal winner is proving to be a difficult task.
As we approach Round 11, the top five goalkickers are separated by just five goals. Consequently, the odds for the 2022 AFL Coleman Medal are extremely tight, with the five favorites priced between 3.00 and 6.00.
With almost half of the home-and-away season in the books, it feels like the perfect time to assess the latest 2022 AFL Coleman Medal odds and search for the best possible value at this point in time.
Not only will I be breaking down the current Coleman odds, but I will also be analyzing the top contenders and sleepers. Once I've covered all the potential winners, I will provide my 2022 AFL Coleman Medal prediction.
Let's start with the latest odds for the Coleman Medal and go from there.
Latest 2022 AFL Coleman Medal Betting Odds
Having kicked 33 goals across the opening ten matches, Carlton's Charlie Curnow (3.00) is the AFL's top goalkicker. Naturally, he is also the bookmakers' current Coleman Medal favorite.
The top Aussie Rules betting sites can't separate Tom Lynch (5.00), Jeremy Cameron (5.00), and Tom Hawkins (5.00) at this stage. Richmond's Lynch is only two goals behind Curnow, while the Geelong duo of Cameron and Hawkins are in hot pursuit.
As you can see, St Kilda's Max King (6.00) completes the bookies' five-man group of Coleman Medal favorites. The 21-year-old sits just four goals shy of Curnow after booting six against Adelaide in Round 10.
The current odds for the 2022 AFL Coleman Medal jump to Aaron Naughton (12.00) and Peter Wright (15.00) before climbing furth to Mitch Lewis (34.00) and Bayley Fritsch (34.00).
There are some notable names in the second half of the top 20. Lance Franklin (41.00) is a four-time Coleman Medalist, while Jack Riewoldt (51.00) claimed the award on three occasions between 2010 and 2018.
We need to examine the current Coleman leaderboard to make complete sense of the latest 2022 AFL Coleman Medal betting odds.
Current 2022 Coleman Medal Leaderboard
Who has kicked the most goals in the AFL this season? It's time to check out the AFL's top goalkickers in 2022.
TOP AFL GOALKICKERS (2022 SEASON)
Player
Club
Goals
Charlie Curnow
Carlton
33
Tom Lynch
Richmond
31
Tom Hawkins
Geelong
29
Max King
St Kilda
29
Jeremy Cameron
Geelong
28
Charlie Cameron
Brisbane
26
Aaron Naughton
Western Bulldogs
25
Peter Wright
Essendon
25
Lance Franklin
Sydney
23
Mitchell Lewis
Hawthorn
22
Curnow is the leading goalkicker in the AFL in line with the latest Coleman odds. Last time out, the Carlton star booted six against Sydney to snatch the lead from Lynch, who failed to add to his tally in Round 10.
Hawkins and King are locked on 29 goals, with Jeremy Cameron on 28. Another Cameron, Charlie, has climbed the sixth on the Coleman Medal leaderboard after kicking three goals against Hawthorn in the previous round.
The Coleman Medal race is heating up 🥵

Check out this season's top goalkickers so far, thanks to Aqium. pic.twitter.com/O932YW2Oea

— AFL (@AFL) May 23, 2022
Naughton was also a big mover in Round 10, climbing to seventh via three goals against Gold Coast. Wright, Franklin, and Lewis complete the top ten, while nine other players have kicked 20+ goals this year.
So, who will win the 2022 AFL Coleman Medal? Let's take a closer look at the favorites.
Top AFL Coleman Medal Contenders for 2022
If the current Coleman Medal odds are to be believed, Curnow, Lynch, Cameron, Hawkins, and King are the favorites to scoop the prize. Priced between 3.00 and 6.00, they all stand an excellent chance of kicking the most goals this year.
It's time to analyze the leading AFL Coleman Medal contenders.
Charlie Curnow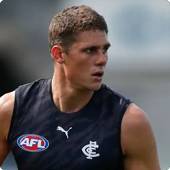 2022 AFL Coleman Medal odds: 3.00
Goals: 33
Shots: 48
Shot %:8
When Curnow booted five goals against the Western Bulldogs back in Round 2, the best betting sites Australia swiftly altered their Coleman odds.
As per my pre-season Coleman Medal betting preview, Curnow was priced at 51.00 to win the award. Fast-forward to today – Carlton's key forward is the bookmakers' favorite after enjoying a stellar start to the campaign.
Following the five goals against the Dogs, Curnow kicked three against Hawthorn before adding another five to his tally against Port Adelaide in Round 5. Across the past three rounds, he has notched two six-goal hauls!
Having booted 5+ goals on four separate occasions this year, Curnow is in pole position to clinch the Coleman Medal at the end of the season.
It is no coincidence that Curnow's teammate, Patrick Cripps, is the bookies' current Brownlow Medal favorite. Curnow and Cripps are two of the biggest reasons the Blues find themselves third on the AFL ladder.
Tom Lynch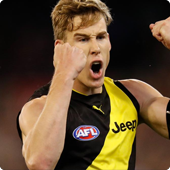 2022 AFL Coleman Medal odds: 5.00
Goals: 31
Shots: 49
Shot %:3
Between Round 7 and Round 9, Lynch racked up a colossal 17 goals. Granted, he faced some favorable opponents during that period. But he took no prisoners.
After kicking seven goals against West Coast, the Richmond forward kicked six against Collingwood before chalking up four against Hawthorn. As a result, he sits just two goals shy of Curnow on the Coleman leaderboard.
Lynch looks set to miss Round 11 with a hamstring injury, but the 29-year-old is expected to return in Round 12. He will be hoping that his Coleman rivals don't enjoy too much success this weekend.
Jeremy Cameron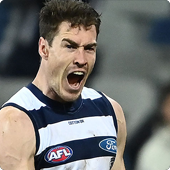 2022 AFL Coleman Medal odds: 5.00
Goals: 28
Shots: 43
Shot %:1
Unlike Curnow and Lynch, Cameron knows what it takes to kick the most goals in an AFL season. "Jezza" clinched the Coleman Medal back in 2019, edging out Ben Brown by three goals that year.
During his Coleman Medal-winning season, Cameron kicked 67 goals in 23 games, averaging 2.9 goals per game. Having booted 28 goals in ten games this year, he currently averages 2.8 goals per game. Is that some kind of omen?
The Carlton forward has notched 5+ goals on three occasions in 2022, including six against Collingwood in Round 3 and seven against North Melbourne in Round 6. However, he has also kicked fewer than three goals on five occasions.
Of course, there is no doubting Cameron's ability. But if he wants to pick up his second Coleman Medal, he may have to discover a greater level of consistency in front of the posts.
Tom Hawkins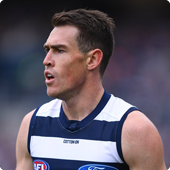 2022 AFL Coleman Medal odds: 5.00
Goals: 29
Shots: 47
Shot %:7
On the topic of consistency, let's talk about Hawkins.
The 2020 Coleman Medalist headed into the 2022 season with six straight top-eight finishes in the bank. If he carries on the way he's going; there is no reason why he can't compete for the award once again.
TOM HAWKINS' COLEMAN MEDAL RANKINGS (PAST 6 YEARS)
Year
Ranking
2016
6th
2017
8th
2018
3rd
2019
6th
2020
1st
2021
2nd
After finishing third in 2018, Hawkins scooped the prize in 2020 before finishing second in 2021. That's three top-three finishes in the past four seasons!
The super-consistent Geelong full-forward has kicked 3+ goals in six of his ten appearances this year. If his early-season performances are anything to go by, Hawkins could prove to be an excellent AFL Coleman Medal pick.
Max King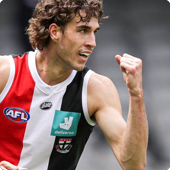 2022 AFL Coleman Medal odds: 6.00
Goals: 29
Shots: 50
Shot %:0
It is easy to forget that King is still only 21. It feels like the St Kilda prodigy has been around for years. But in reality, he only has two full AFL seasons under his belt.
The young gun has already established himself as one of the league's top goalkickers. He booted 38 goals in 20 games last year (1.9 goals per game). This season, he has booted 29 in ten (2.9 goals per game).
King notched four goals in Round 2, Round 3, and Round 4 before kicking six in the Saints' Round 10 victory over Adelaide. He now sits just four goals behind Curnow.
2022 Coleman Medal Outsiders to Keep Tabs On
I strongly recommend keeping a close eye on potential sleepers if you're betting on the 2022 AFL Coleman Medal winner. Sure, the favorites are the favorites for a reason. But there is plenty of value elsewhere.
Here are three players who have the potential to upset the 2022 AFL Coleman Medal betting odds.
Aaron Naughton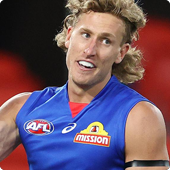 2022 AFL Coleman Medal odds: 12.00
Goals: 25
Shots: 43
Shot %:1
Naughton kicked off the campaign with a tasty four-goal haul against Melbourne in Round 1. Since then, the 22-year-old has produced a series of standout displays.
After booting five against North Melbourne in Round 5 and four against Port Adelaide in Round 8, he chalked up back-to-back three-goal hauls against Collingwood and Gold Coast. That means he has notched ten goals across the past three rounds.
Last year, the rising Bulldog kicked 40 regular-season goals. We are only ten rounds into the 2022 campaign, but he already has 25 goals to his name.
Charlie Cameron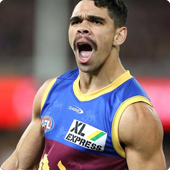 2022 AFL Coleman Medal odds: 41.00
Goals: 26
Shots: 38
Shot %:4
I'm struggling to figure out why Cameron is priced at 41.00. I mean, the Brisbane forward is only seven goals shy of Curnow in the Coleman Medal race – and there is still more than 50% of the regular season remaining!
Thanks to Cameron's sharpshooting, the Lions have racked up more points than anyone else in 2022. In fact, the Queenslanders are the only team with 1,000+ points in the bag.
MOST POINTS SCORED (2022 AFL SEASON)
Brisbane – 1,065
Richmond – 979
Melbourne – 938
Sydney – 937
Carlton – 932
It is worth noting that Cameron was Brisbane's leading goalkicker in 2019, 2020, and 2021. With that in mind, you would be foolish to write him off when making your AFL Coleman Medal pick.
Lance Franklin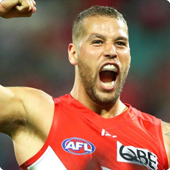 2022 AFL Coleman Medal odds: 41.00
Goals: 23
Shots: 32
Shot %:9
Let's face it – Franklin needs no introduction.
The four-time Coleman Medalist first claimed the award all the way back in 2008. Following triumphs in 2011 and 2014, he reclaimed the AFL's goalkicking crown in 2017.
Despite having played one game fewer than his current Coleman rivals, "Buddy" has chalked up 23 goals in nine outings this year. If he clinches a fifth Medal in 2022, he will surely be one of the greatest AFL players of all time.
My 2022 AFL Coleman Medal Winner Prediction
As it stands, Curnow is in the driver's seat. The Coleman Medal race is heating up, but Carlton's key forward remains in pole position – at least for now.
Having registered six-goal hauls against Adelaide and Sydney earlier this month, Curnow is arguably in the form of his life. Still, a lot can change between now and the end of the season. That's why I'm not excited by Curnow's price of 3.00.
Since Lynch is only two goals behind Curnow, backing Lynch at 5.00 makes a lot more sense right now. King's odds of 6.00 are also worth taking advantage of, given that he finds themselves just four goals shy of the frontrunner.
If you're looking for an outsider to back, I recommend opting for Charlie Cameron. As I already mentioned, Cameron has finished as Brisbane's leading goalkicker in the past three seasons and is only seven goals behind Curnow on the current Coleman leaderboard.
Oh, and did I mention that he is priced at 41.00!?
You will be pleased to learn that I have already published my Round 11 AFL predictions and picks. Find out who I'm backing this weekend.