Hide Bonus Offers
| | | | | |
| --- | --- | --- | --- | --- |
| #1 | Bovada Sports | 50% Up To $250 | Visit Site | Bovada Sports |
| #2 | BetUS | 125% Up To $2,500 | Visit Site | BetUS |
| #3 | MyBookie | 100% Up To $1,000 | Visit Site | MyBookie |
| #4 | Everygame | 100% Up To $500 | Visit Site | Everygame |
| #5 | BetOnline Sports | 60% Up To $1,000 | Visit Site | BetOnline Sports |
Updated 2019 Golden Globes Odds and Other Entertainment Betting Markets to Look At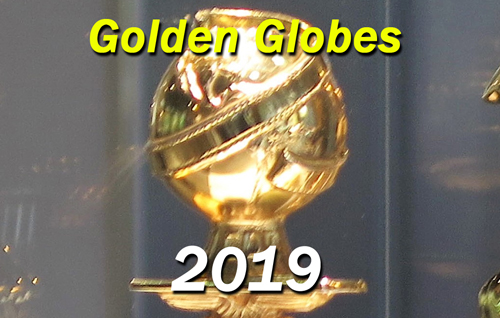 Cinema fans still have over two months to prepare for the 2019 Oscars. The act of "getting ready" for the greatest movie awards shows in history can mean a number of things, of course.
Perhaps you need to brush up on the biggest movies and revered acting performances. Maybe you need to start planning your Oscars party at your house.
Or if you like dabbling in entertainment betting, you could be trying to gauge how you can profit off of the 91st installment of the Academy Awards.
You can attempt to do so, but right now, the only Oscars prop bet you'll find is for Best Picture.
I actually took a second to break down the Best Picture odds back in November, but a lot has changed since then.
Things are a little clearer when it comes to the nominees and odds and, well, we're one month closer to this actually going down. But nothing is set in stone.
While betting on Best Picture isn't a waste of time right now, it might make more sense to first see what happens in the 2019 Golden Globes.
The nominees won't be exactly the same, but the films and actors that win here could end up dictating how the Oscars unfold.
There's more than just the Golden Globes or Oscars wagers to consider, though. Now is the time of year when a lot of novelty bets catch fire, and if you bet at the right time, you can maximize value.
Join me as I take a look at all of the major Golden Globes categories as well as some other entertainment prop bets to enjoy this week.
Latest 2019 Golden Globes Odds
We'll start things off with the Golden Globes, which goes live on January 6th. While no scrub event, this serves as a warm-up for the Oscars in many people's eyes.
I'd agree, but this is still a high honor, and whether the winners here go on to be crowned at the Academy Awards or not, it should shed some light on how things could shake out at the Oscars.
Best Actor Odds – Drama
First up is Best Actor, which Bradley Cooper figures to dominate after an impressive run in A Star Is Born.
Cooper channels his inner Jeff Bridges in this one, and his ability to pull off such a frayed character while also directing is all the more impressive.
Bradley Cooper – A Star Is Born
-250
Rami Malek – Bohemian Rhapsody
+225
John David Washington – BlacKkKlansman
+1000
Willem Dafoe – At Eternity's Gate
+1000
Lucas Hedges – Boy Erased
+1400
Cooper is the obvious favorite, but bettors should always be looking for some extra value. I don't think you're getting any here, though, at least not the way the Golden Globes have split the categories up.
Rami Malek played a pretty convincing Freddie Mercury, and John David Washington told a story that was both hilarious and disgusting. The latter would be my pick at +1000, but I'm not seeing an upset here.
Best Actor Odds – Musical/Comedy
I was noting that these categories could be a lot different if the names were swapped, and that has everything to do with Bale, who may have delivered a career-defining performance by taking on the persona of former US Vice President Dick Cheney.
These awards shows seem to be big fans of actors taking things that extra mile, but it's even better when they deliver an awesome performance. Bale really hit the nail on the head here, and I'm not sure anyone in this lineup can challenge him.
Christian Bale – Vice
-135
Viggo Mortensen – Green Book
+150
Robert Redford – The Old Man & the Gun
+700
John C. Reilly – Stan & Ollie
+1200
Lin-Manuel Miranda – Mary Poppins Returns
+1200
This is the second time in three years where Mortensen handed in a killer performance – one that will not only go overlooked by the masses but ultimately under-appreciated by the top awards shows.
There is something to be said about Robert Redford taking over the screen at age 82, and the fact that this is about the best actor in a comedy/musical does shake things up a bit.
Ultimately, Bale takes this one running away, and if he's in the same slot at the Oscars as Cooper, we're going to have a really close call.
Best Supporting Actor Odds
The big stars always get the huge lead roles, but that doesn't necessarily always mean they catch the audience's eye. It also doesn't always mean they played the best character their film had to offer.
It's not easy to nail a supporting role, but it's clear that Mahershala Ali has the art down. He was a scene-stealer in the early days of House of Cards and went on to do the same as the Best Supporting Actor winner for his performance in Moonlight.
Soon to be featured in the third installment of True Detective, Ali could precede that with another big supporting actor win.
Mahershala Ali – Green Book
-145
Timothee Chalamet – Beautiful Boy
+175
Richard E. Grant – Can You Ever Forgive Me?
+450
Adam Driver – The BlacKkKlansman
+2000
I'd argue that someone needs to get high-level recognition for Green Book. Whether it's the director, Ali, Mortenson, or the movie itself, someone better win something.
That being said, Ali doesn't have imposing odds because he's actually got some competition here. Chalamet has proven to be just as radiant on the screen, and his take on a teen addict in Beautiful Boy is both authentic and revealing.
He was a near-winner for Best Actor last year and may be coming at Ali hard for this year's Best Supporting Actor nod.
Sam Rockwell is also a mild threat for his fun take on former US president George W. Bush, while Adam Driver proceeded to dominate every role he's come across, and in BlacKkKlansman, he's simply hilarious.
I'd personally go with Driver here, but I don't see much in the way of Ali. He's set to make a historic run with his second win in three years.
Best Actress Odds – Drama
Lady Gaga leads the way as the top threat to take home Best Actress honors, and no, that's not a misprint. As shocking as it is to see/hear those words, it's really not that surprising if you watch A Star Is Born.
This woman recreates herself on the screen, portraying someone both vulnerable and powerful at the same time. Her chemistry with Bradley Cooper puts it over the top, while she's obviously an exceptional musical talent on top of it all.
While Lady Gaga did a fine job, she's also admittedly benefiting from a down year from the women's side. Glenn Close is her only viable contender at the moment, and Nicole Kidman may be the only legit sleeper in this category.
Lady Gaga – A Star Is Born
-275
Glenn Close – The Wife
+250
Nicole Kidman – Destroyer
+900
Melissa McCarthy – Can You Ever Forgive Me?
+1000
Rosamund Pike – A Private War
+1200
If I had full control here, this is Kidman's award to lose. You'll have to see her in Destroyer to believe it, but if you want a transformation and complete captivation on the screen, you're going to get it with her.
The logic points to Gaga, and that's where the smart money lies. However, I wouldn't mind throwing some change on Kidman, as well as re-watching that performance again and again and again.
You're just not getting enough value with Gaga, though, so I say aim high and cross your fingers the Golden Globes honor the truly best female performance of the year.
Best Actress Odds – Musical/Comedy
This is the other half of the Best Actress odds, and if it were all one big list, I don't know if anyone here would really rival Gaga, Close, or Kidman.
Olivia Colman opens things up with a -150 price, and so far, there's little reason to go against her.
Olivia Colman – The Favourite
-150
Emily Blunt – Mary Poppins Returns
+150
Charlize Theron – Tully
+1000
Elsie Fisher – Eighth Grade
+1000
Constance Wu – Crazy Rich Asians
+1200
I'm always game to root for Charlize Theron, who transforms herself about as well as anyone. I'm honestly a little shocked her odds are so low, as she was exceptional in a role that was highly relatable and also a little out there.
From a sheer acting perspective, Theron is the winner in my eyes. If the price for Colman was any worse, I might consider taking another deep dive like I did with Kidman.
Colman smashed as Queen Anne, but she did benefit from an amazing film and a star-studded supporting cast. Is that enough to tear her down from her pedestal? Probably not.
Best Supporting Actress Odds
You can also wager on who will win Best Supporting Actress, which Regina King presently looks to be the favorite to do. She's far from alone, though, as the always present Amy Adams looks like a fine challenger for her role in political hit Vice.
Regina King – If Beale Street Could Talk
-150
Rachel Weisz – The Favourite
+1000
Claire Foy – First Man
+1400
Emma Stone – The Favourite
+1400
If you look only at the odds, this is a two-woman race between King and Adams. However, Weisz, Foy, and Stone are all powerhouse actresses that have either taken home big awards in the past or have been in the running.
King is probably the safe play, and the price is nice, but you could honestly go as far down as Stone at +1400 and have a chance.
Best Director Odds
The actors tend to get all of the attention, but they'd often be nowhere without elite direction. This year, Alfonso Cuaron looks to be the leader of the pack for Best Director, as Roma has drawn rave reviews.
Cuaron last impressed with the emotional Gravity, and for Roma, he both wrote and directed a beautiful story. He's the heavy favorite here, although he does have some competition around him.
Alfonso Cuaron – Roma
-250
Bradley Cooper – A Star Is Born
+250
Spike Lee – The BlacKkKlansman
+900
Peter Farrelly – Green Book
+1600
Bradley Cooper took on a remake this year, but it turned into an absolute gem thanks to the chemistry between him and Lady Gaga, his acting, and of course, his impressive direction.
Cooper is the easy challenger here, and you're getting him at value thanks to +250 odds. I honestly love everyone here in terms of odds, as all of these movies were fantastic and dealt either with ensemble casts or tense material.
Everyone deserves a look here, and you could aim high, but the momentum is very much working toward Cuaron.
Best Picture – Comedy/Musical
Bettors can then move on to the two best picture categories for the 2019 Golden Globes, starting with the best movie in the comedy/musical genre.
I don't exactly understand how they separate films into these genres, as some comedies aren't included (or aren't appreciated), or they're slid into the drama section for some reason.
Green Book could really go either way, but it's still a viable favorite at +150. Those odds are pretty stellar for a favorite, but it also suggests this genre is wide open. That's a rarity this year at the Golden Globes, but it's something bettors may want to consider embracing.
Every movie right down to Crazy Rich Asians at least has a slim shot here, but Green Book had the fantastic duo of Mahershala Ali and Viggo Mortensen. Those two are in line for awards on their own, and their elite chemistry pushes this film over the top.
Vice might be my favorite pivot here at +200, but Green Book is a solid bet as the favorite.
Best Picture Odds – Drama
I'd like to see how the odds would adjust if all of these movies were rolled into one betting category, but nevertheless, here we are.
A Star Is Born opens as a massive favorite going into the 2019 Golden Globes, and I'm not sure adding 20 more movies to the pile would change that.
If Beale Street Could Talk
+500
There is momentum cooking for If Beale Street Could Talk, and BlacKkKlansman is absolutely a fun sleeper at +750, but the gap appears to be far too wide.
I personally wouldn't vote for A Star Is Born to take the cake, but in this category with these contenders and these odds, that does look like the winner.
2019 Oscars – Updated Best Picture Odds
Why spend all this time puffing up the Golden Globes and not stop by the latest Oscars odds and kick the tires a little? The only active Oscars wager you'll find is for Best Picture, but a lot has changed since the last time I considered where the best bet lied.
For instance, First Man was my favorite pick in November, and the odds for that film have dropped from +1000 to +3300.
It might be time to embrace A Star Is Born as the natural leader in this category or perhaps find yourself another Best Picture sleeper to root for. Either way, here are the latest Best Picture odds, along with my favorite picks.
If Beale Street Could Talk
+1200
The list is pretty long for the Oscars this year, but the actual threats are small in number. I felt First Man was a threat a month ago, but judging by the latest Best Picture odds, I'd be wrong.
I still think that's a solid flier bet at this +3300 price, but it's clear that Ryan Gosling's turn as Neil Armstrong didn't resonate with the Academy quite enough to get the sportsbooks to back it even remotely.
Based on odds and the Oscars rumor mill, I think the best plays are A Star Is Born, Roma, Green Book, Vice, and BlacKkKlansman. I think all five are solid options, and it's quite likely the Golden Globes gives us a closer look at who could pull away.
Right now, that's clearly A Star Is Born. The performances by Bradley Cooper and Lady Gaga were incredibly authentic, and the only thing causing me to hesitate here is the fact that this remake has been done more than once. That, and there's some stiff competition here.
Green Book is in the running, but Vice and BlacKkKlansman are a little more powerful. The latter would be one of my favorite sleepers at a cool +1200, but I don't see much point in fighting it.
Everyone has been parading A Star Is Born as the next instant classic. I'll admit Bradley Cooper experiences a bit of a transformation (and also kills it as director), and Lady Gaga is unrecognizable.
You would have never seen the chemistry between these two coming, either. It's there, though, and as much as I want to seek value and ignore the obvious, A Star Is Born is the favorite for a reason. You can follow this pick right now by visiting SportsBetting.ag.
Game of Thrones Betting
I told you I wasn't stopping at just the movie award props. There are other entertainment prop bets to chase down this week, and even though these GoT wagers are old by name, the odds have been updated since I last checked in on them.
That was all the way back in June, and since the final season of your favorite fantasy thriller doesn't return until April of 2019, entertainment betting sites haven't had much incentive to take them down.
They've been updated, however. Check out the latest props and odds for the next Game of Thrones season.
Who Will Die First?
You never want to think about your favorite Game of Thrones characters dying, but this is most certainly a show where you can't get attached to people.
Not only have you seen some of the show's most beloved characters come and go in the past, but the fact that we're entering the final season of the series suggests nobody is safe.
Perhaps everyone dies, but the question the top entertainment betting websites are asking is who dies first?
I'll hear an argument for just about anyone on this list, especially since we really don't know how the show will kick off season eight. With little to go on, I can only imagine how things unfold based on logic and perhaps the direction the story is headed.
For me, all roads lead to a Greyjoy being the first to go. Yara was taken captive by her uncle at the end of season seven, but why go through the trouble of seeing a spirited Theon convince his men to go rescue her?
That was for a reason, which will set up a pretty intense showdown between Theon and Euron. Maybe Yara meets her maker, but I think Theon may be on a path of redemption.
Step one is not being a coward, followed by taking out an evil presence and saving the sister he's literally left hanging twice now. Besides, there is a greater evil awaiting these characters and only so much time to tell the story.
Euron was a fun bad guy, but he can't last much longer. Back during the summer, I thought maybe Theon would die being the hero, but to help pick this story up, I think it makes more sense to get rid of Euron now.
Look for Theon to exact some revenge and have his uncle be the first to go.
Who Will Rule Westeros?
There's quite a large difference between who dies first when season eight of Game of Thrones rolls around and who will be the ruler when it concludes.
Breaking: I don't think Euron Greyjoy gets the throne.
In all seriousness, it could be Euron, and if the shot-callers at HBO want to troll us, it literally could be anyone on this list over at the SportsBetting online sportsbook.
It was Khaleesi who had the best odds back in June when I went over this same exact Game of Thrones wager. She also ended up being my pick.
Several months have passed, however, and I've slowly started to realize it might not be any of the top favorites. I noted Gendry was the current rightful heir to the throne, and the fact that the show has kept him around to this point either means they're totally trolling us or that he plays a big role as the series winds down.
You can take shots at Snow, Daenerys, and Bran Stark, but I'm warming up to Gendry. Let's face it, if he wasn't going to factor into the end of this series, why wasn't he killed off or just phased out of the show?
GoT creators made us think that was the case, but he's been brought back into the fold. When the dust settles, there's a pretty decent chance he gets the opportunity to rule.
Let's throw caution to the wind and bet on Gendry. Just make sure you throw around a few other flier bets, largely on Stark, Snow, and Targaryen.
Celebrity Boxing Odds
I'm not one to condone violence, but I have to admit I love these celebrity spats. They're mostly catering to their fans' interest in social media fights spewing out into the streets, while there is also going to be the monetary upside if they turn into big events like Paul Logan vs. KSI.
Two in particular stand out right now. First is Kevin Hart against Antonio Esfandiari.
Then we have Bob Menery vs. Barstool Dave.
As you can see, Vegas is heavily favoring Hart and Menery in their respective hypothetical boxing matches. It should be known that these aren't the same type of "celebrity boxing" matches, and it remains to be seen if either ever actually happen.
The one that seems to be a lock is Hart vs. Esfandiari, and for whatever reason, the top sports betting sites are all in on Hart. He's regarded as a good athlete and could have a little more pop than some may think, but he's small in stature and isn't likely to have much of a reach.
I wouldn't classify Esfandiari as a weakling, so with superior size and reach, he's not the worst bet with these +300 odds.
The Menery vs. Barstool Dave fight is very much in doubt, which is why SportsBetting.ag also included a prop asking if they'd even touch gloves (Yes, +2000).
That's a lot of green just for the bout to happen, and with no other side to that bet, I see no reason not to toss a mild amount of cash on it and hope for it to come to fruition.
For what it's worth, though, Barstool Dave has been reluctant to take Menery's bait, even posting to Twitter that he'd require $1,000,000 to make it happen.
Due to language, I won't be posting the exchange, but Menery later responded by saying he had a backer that would pay Dave Portnoy that cash to make the fight happen. Because of that, I don't mind throwing a few shekels on the "yes" side, and if the fight does happen, I'm backing Menery at -200.
Summary
I know, we got a little out of control here. What started as a wholesome look at the Oscars and Golden Globes descended into the depths of TV show props and celebrity boxing.
Just be glad I didn't dive into El Chapo prop bets or start looking to politics wagers. Those types of novelty bets are for another day, I'm sure, but we've covered enough here to keep you busy for the rest of the week – if not the rest of December.
I only really stop in with a look at the best entertainment wagers when things are really popping, so be sure to take advantage of these bets while they're still out there.
In due time, both the Golden Globes and Oscars will be a thing of the past, and season eight of Game of Thrones will be gone as well. Entertainment wagers are fleeting, so even as odds and options change, we need to maximize value while we can.
Hopefully, this breakdown assists you in some way. Happy betting, and enjoy the holidays!