Hide Bonus Offers
| | | | | |
| --- | --- | --- | --- | --- |
| #1 | Bovada Sports | 50% Up To $250 | Visit Site | Bovada Sports |
| #2 | BetUS | 125% Up To $2,500 | Visit Site | BetUS |
| #3 | MyBookie | 100% Up To $1,000 | Visit Site | MyBookie |
| #4 | Everygame | 100% Up To $500 | Visit Site | Everygame |
| #5 | BetOnline Sports | 60% Up To $1,000 | Visit Site | BetOnline Sports |
Unveiling the New York Yankees and the Boston Red Sox Ahead of MLB London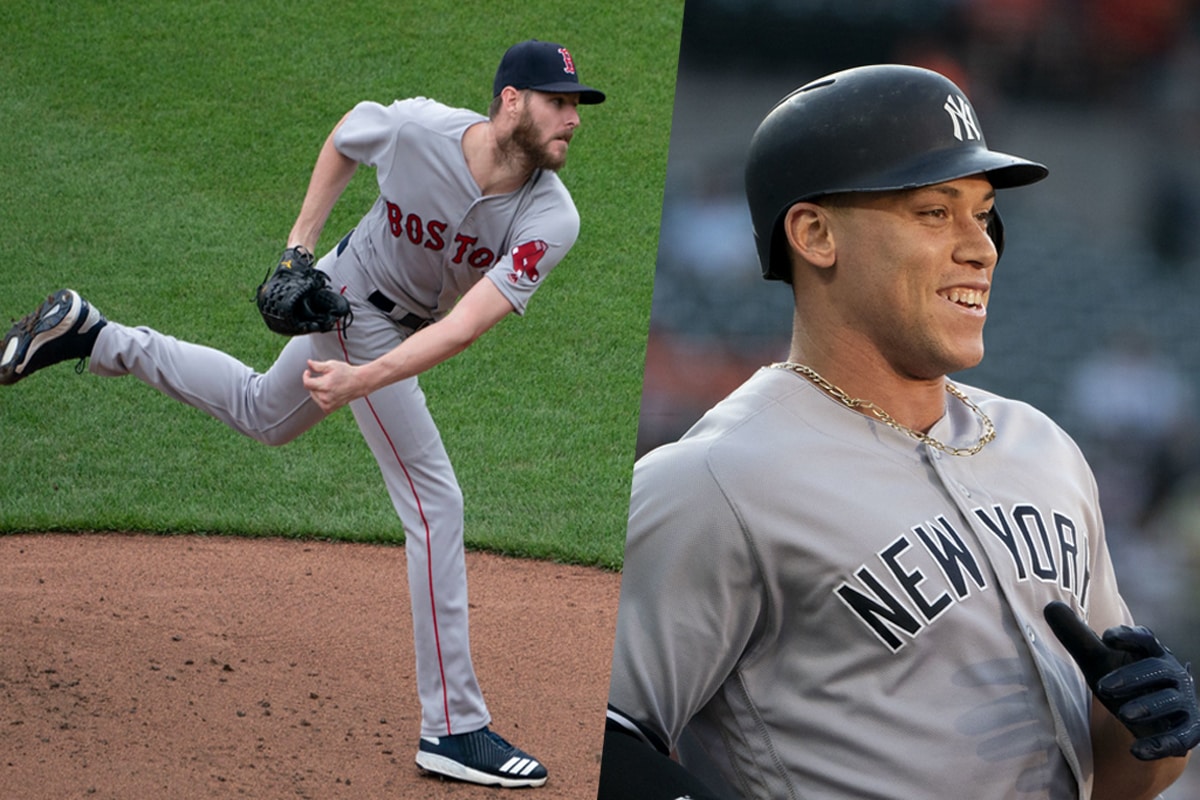 For the Yankees, Giancarlo Stanton has missed 68 games, and Luis Severino has yet to throw a single pitch.
Boston has also had some setbacks. Pitcher Chris Sale began the year 0-5, and Mookie Betts is hitting a paltry .264.
You'd think the Yankees and the Red Sox would be struggling to win games in the AL East, yet somehow and someway, New York and Boston are right where they need to be.
The Bronx Bombers have already won 46 games (through June 20th) and are leading the division, almost as if they haven't dealt with a single injury. The BoSox seem to be hitting their stride and have been shooting up the standings, well within reach of the first-place Yankees.
As the MLB rivals embark on their two-game stint in London, it's clear that fans in the UK will be treated to at least 18 innings of high-quality baseball.
Those of you interested should check out my guide to betting the MLB London games that I prepared last week. You'll find everything you need to know in terms of what types of wagers will be available to place.
However, this post is strictly dedicated to educating you about the two teams on hand. That way, you are informed and prepared when June 29th finally arrives.
On Friday, June 28th, I'll release an official betting guide for the two games between the Yankees and Red Sox at London Stadium. This page should tide you over until then.
Introducing the New York Yankees
The New York Yankees know what's at stake. They haven't won the AL East since 2012 and are getting sick and tired of watching the Red Sox celebrate. Perhaps this is the year they'll finally break through and get back to the World Series.
Considering how well New York has played even with so many key members of their team sidelined, a trip to the World Series in October might very well be in their future. Their impressive record is a direct reflection of skipper Aaron Boone and his staff doing a tremendous job while playing without a "full deck."
Giancarlo Stanton and Aaron Judge were supposed to be blasting homers in the middle of this lineup, but instead, we've seen Aaron Hicks and Gary Sanchez man the "3-4" spots in the batting order for the better part of the last month.
New York did recently acquire the American League leader in home runs when they surrendered minor league pitching prospect Juan Then, although Edwin Encarnacion isn't exactly a game-changer. At 36 years old, Edwin is batting .237 and will be relegated to a designated hitter role on most nights.
Let me show you what a recent lineup card looked like for New York before Stanton was activated from the injured list.
D.J. LeMahieu 3b
Luke Voit 1b
Aaron Hicks CF
Gary Sanchez C
Edwin Encarnacion DH
Didi Gregorius SS
Gleyber Torres 2b
Cameron Maybin RF
Brett Gardner LF
That's not exactly what most people envisioned back in March.
LeMahieu arrived in the Big Apple during the offseason and was supposed to assume a platoon role as an infielder. Fast forward to now, and D.J. has unequivocally been the Yankees' most consistent and reliable hitter. The former cornerstone in Colorado leads the team in at-bats, batting average, doubles, and most importantly, WAR (WAR = Wins Above Replacement).
Clint Frazier had provided a nice spark in the absence of Stanton and Judge but was demoted to the minors to make room for new blood. With Stanton returning and Encarnacion entering the fray, Frazier and his curly locks suddenly become expendable.
Look for general manager Brian Cashman to swap Frazier for a big-time arm to bulk up his pitching staff sometime next month before the MLB trade deadline (July 31st).
Yankees Pitching
Let's transition into studying the pitching rotation. Pitching coach Larry Rothschild knew other guys needed to step up when it was announced that Luis Severino was going to miss a massive chunk of time. Southpaws James Paxton and J.A. Happ have filled in nicely, but the positive progression of Domingo German has been clear. Currently shelved with a hip flexor strain, it's important for the NYY that he doesn't try and rush back too quickly. They'll need him to eat up innings down the stretch in August and September.
As for Masahiro Tanaka, he has been nothing short of fantastic. The 30-year-old Japanese-born right-hander is in the midst of pitching the best he has pitched since he first entered the league back in 2014. Tanaka turned in an absolute gem against the Rays on June 17th, striking out 10 batters and allowing just two hits en route to a complete game shut-out (CGSO).
With C.C. Sabathia's dependability waning day by day, it's evident that adding one more starter before the summer ends is the logical thing to do.
In terms of the bullpen pitchers, New York is sitting pretty thanks to four men in particular.
Aroldis Chapman is the hard-throwing left-handed closer who comes in to shut down the shop in the ninth inning. Tommy Kahnle and Zack Britton have been tremendous, while newcomer Adam Ottavino has been nothing short of phenomenal.
If and when the Yankees build a lead by the 6th inning, it's typically "lights out" for their opponent thanks to the strength of their closing pitchers.
Getting to Know the Boston Red Sox
A recent six-game winning streak propelled the Red Sox to their 40th win of the season. They're staring up at the Tampa Bay Rays and Yankees in the division standings but still have plenty of time to catch up.
Mookie Betts is the reigning MVP, and J.D. Martinez nearly won the Triple Crown, although it's actually Xander Bogaerts and Rafael Devers who are leading the team in runs batted in. Xander leads the American League in doubles and sports a team-high .389 OBP (on-base percentage). Devers is playing like an All-Star third baseman and won't turn 23 until the end of the season.
These are really good signs for Boston.
It's only a matter of time until Mookie's bat heats up, and there's nothing to be concerned about with J.D. Martinez. I'm a bit perplexed that Andrew Benintendi isn't playing better after such a solid 2018 campaign, but he is hitting .301 with runners on base and .327 with runners in scoring position.
Since Alex Cora bumped Andrew down in the order from the leadoff spot into the two-hole, he seems to be swinging the bat better.
The Red Sox have gotten a huge lift from Michael Chavis, a 23-year-old kid who can play all over the infield. Due to the struggles of Mitch Moreland (.225 BA) and Steve Pearce (.180 BA), Michael's ability to plug in at first base has been clutch.
Jackie Bradley Jr. is still playing outstanding defense in center field, and Christian Vazquez is having his best year as a big-league catcher. The offense in Boston can definitely improve, but it won't be the thing that holds this group back.
It's the question marks in the back end of the relief pitching roster and uncertainty surrounding the starting rotation.
Red Sox Pitching
Chris Sale got off to a rocky start and had fans in Beantown seriously worried about what was going on. His velocity was down, and he was having a hard time getting guys out. Fortunately, Sale has rebounded brilliantly and is back to being a dominant ace.
Over his last three outings (22 innings pitched), Chris has allowed just 12 hits and two runs while striking out 32 batters.
There's a good chance that David Price will take the hill in one of the two London games. However, how many innings he can log is anybody's guess. Boston is obviously trying to limit Price during the regular season, having allowed him to reach 100 pitches just twice in 13 starts.
Rick Porcello and Eduardo Rodriguez have been mediocre at best, which begs the following question.
When is Nathan Eovaldi going to return, and how effective will he be?
Anyone who watched the Red Sox beat the Dodgers in the 2018 World Series remembers how good Eovaldi was, especially in the pressure-packed moments. We won't see Nathan in the UK, but he should hopefully rejoin the rotation sometime soon after the Mid-Summer Classic.
Regardless of when Eovaldi is healthy, we'll see Dave Dombrowski and the rest of Boston's front office brass undoubtedly be in the market to add depth to their rotation.
Seven-time All-Star Craig Kimbrel decided to join the Cubs, which leaves the BoSox still searching for a full-time closer. Ryan Brasier and Matt Barnes have had their opportunities, but neither man has taken the reigns. Brandon Workman is one of the better setup men in the league, as evidenced by his 12 holds and a 1.82 ERA.
I'll give credit where credit is due and commend relief pitcher Heath Hembree for his work thus far, but pitching coach Dana LeVangie is going to need more.
Get Ready for a Clash
Aaron Judge is going to be back in time for London.
Giancarlo Stanton is finally healthy, and Edwin Encarnacion knows how to use the barrel of the bat. If you don't want to see powerful home runs and a whole bunch of drama, don't tune in when the Yankees and Red Sox clash at London Stadium.
Once the pitching matchups are set in stone and the players are airborne on their way to Queen Elizabeth Olympic Park, I'll create a detailed betting guide for both of the London games.
Bookmarking our blog page is the safest way to ensure that you don't miss out!