Hide Bonus Offers
| | | | | |
| --- | --- | --- | --- | --- |
| #1 | Bovada Sports | 50% Up To $250 | Visit Site | Bovada Sports |
| #2 | BetUS | 125% Up To $2,500 | Visit Site | BetUS |
| #3 | MyBookie | 100% Up To $1,000 | Visit Site | MyBookie |
| #4 | Everygame | 100% Up To $500 | Visit Site | Everygame |
| #5 | BetOnline Sports | 60% Up To $1,000 | Visit Site | BetOnline Sports |
2017 NBA Draft: 5 Underrated Players That Could Go Undrafted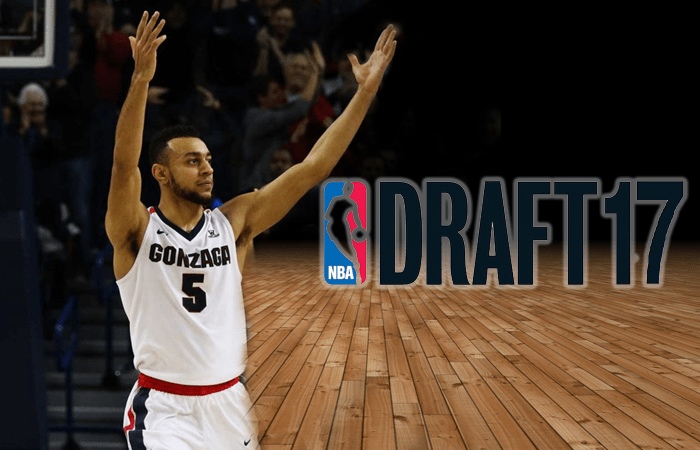 Go visit any of the hundreds of NBA mock drafts on the Internet, and you'll find overwhelming consensus on the first 5 or 10 projected selections.
Everyone expects Markelle Fultz to go first overall, regardless of whether the Celtics trade that pick or not, and Fultz is a -1200 favorite at BetOnline to have his name called first. Lonzo Ball and Josh Jackson are widely considered locks to go next (though the order of when they do is up for debate), while Jayson Tatum, De'Aaron Fox, Lauri Narkkanen, Malik Monk and Dennis Smith are virtually guaranteed to be off the board before the draft moves past the lottery picks.
After that, however, things get really interesting. There are lots of differing opinions about who will go where in the rest of the first round. The picture gets even muddier in the second round, when teams might feel they can afford to take a gamble on flawed players with high ceilings.
Here's a list of 5 players who will be biting their nails throughout the evening, not knowing for certain when their names will be called – or if they even will be at all.
1. Nigel Williams-Goss
The chances of Williams-Goss getting drafted aren't much better than 50/50 according to BetOnline, which has a prop on whether the Gonzaga guard will be selected. (The Yes pays -145 odds while the No comes in at +115).
If you bet on the Yes on that prop, be prepared to have to sweat it out until late in the second round. Williams-Goss isn't exactly the prototypical NBA point guard, lacking in both size and quickness when compared to the typical floor general in the Association.
What you can't take away from Williams-Goss, however, is how he led Gonzaga to its first-ever appearance in the national championship game. The Bulldogs ran a fast-tempo attack to utilize its weapons in both the paint and on the perimeter, and Williams-Goss picked it up quickly in his only season with the team after transferring from Washington.
He averaged 16.8 points, 6 rebounds and 4.7 assists, and got a ton of exposure from the Bulldogs' runner-up finish in the NCAA Tournament. Was it enough to push Williams-Goss over the hump and onto an NBA team? We'll have to wait until Thursday to find out.
2. Frank Mason III
C'mon, right? It seems ridiculous to be doubting the draft chances of Mason, a 4-year point guard out of Kansas who was the NCAA National Player of the Year in 2016. This past season, his final year with the Jayhawks, Mason averaged 20.9 points and 5.2 assists to help Kansas go 31-5 overall and reach the Elite Eight in the NCAA Tournament.
But it's interesting to note that of all the players BetOnline is listing Over/Unders for when it comes to draft position, Mason is the lowest at 49.5. Even though he reportedly showed well in 5-on-5 play at the NBA combine, where he also posted the fourth-best vertical leap and seventh-best standing vertical, NBA teams appear to be less and less sold on Mason as the draft approaches.
Maybe that's because the best-case scenario for Mason appears to be as a backup point guard, not a starter. You can overcome a 5-foot-11 stature and 185-pound frame in the college game, but being that small is a huge disadvantage in the pros, whether it's fighting through screens or trying to avoid shot blockers in the paint.
3. Sindarius Thornwell
Mock drafts are all over the map on Thornwell. Some suggest the South Carolina senior shooting guard could go in the first round, but there are others who project Thornwell as a late second-rounder (DraftExpress has him going 57th overall to the Nets), opening up the slim possibility that he doesn't get drafted at all.
Thornwell is selling himself as a "glue guy (who) can come in right away and produce on both ends of the court, but most importantly, the defensive end." That will probably be his greatest appeal to NBA teams, who saw the shooting guard help the Gamecocks post the 32nd-best scoring defense in the nation last year.
Not that Thornwell can't score the ball. We all saw it during the NCAA Tournament, when he averaged nearly 24 points per game during South Carolina's stunning run to the Final Four. But he's also considered an older player, was suspended by the Cocks in December after being arrested for marijuana possession, and is not as athletic or explosive as most other players at the 2, having testing poorly in strength and agility at the NBA combine.
It's likely that Thornwell gets picked in the draft, and it's possible that he goes in the first round. BetOnline has set the Over/Under on his draft position at 38.5, suggesting he'll go fairly early in Round 2.
But don't be stunned if he doesn't get selected at all.
4. Jonathan Jeanne
There's no sadder story in this year's NBA Draft than the one of Jeanne, a French center who was projected to go as high as 20th overall.
The 7-foot-2 center saw his draft stock plummet earlier this month following the discovery that he has been diagnosed with Marfan Syndrome, a condition that affects the body's connective tissues and is considered a potentially career-ending disorder. His ailment was discovered during the draft combine after an MRI showed an abnormality in his spine and led to further examinations.
Jeanne, 19, has played professionally overseas for the past 4 years. This past season, he averaged 3.7 points and 3.9 rebounds per game competing in Ligue Nationale de Basket, the top Pro-A league in France.
Though Jeanne is reportedly hopeful that he will one day be able to resume his basketball career with close medical supervision, his condition is almost certain to scare away NBA teams in the draft. Just 3 years ago, Baylor product Isaiah Austin was diagnosed with the same disease and went undrafted.
However, Jeanne's potential upside may be enough for a team to roll the dice late in the second round. For the kid's sake, I'm hoping that someone does.
5. Nigel Hayes
The senior power forward showed flashes of great potential during this year's NCAA Tournament, averaging 19 points and 8 rebounds per game while shooting 52.8% from the field in the Badgers' 3 March Madness contests.
Unfortunately, Hayes didn't play at that elite level consistently enough during his 4 years at Wisconsin (his highest single-season average in rebounds was 6.6) to be assured of going in the draft. The big knock on him is his jump shot, which improved in his final year of college but still isn't good enough to be considered NBA caliber. He's also considered undersized at his position.
Still, Hayes was a key cog on a Badgers team that made the Sweet 16 in each of his 4 seasons and reached the national final in 2015. He averaged 12.4 points per game in his career in the Big Ten, was the conference's preseason player of the year going into this past season, has a great presence around the rim and was once a projected first-round pick.
Mock drafts are split on the likelihood of Hayes being selected. If his name does go uncalled, don't be surprised to see him in the NBA at some point in the future as an undrafted free agent.