The Ultimate Golf Vacation is Bandon Dunes-Here's Why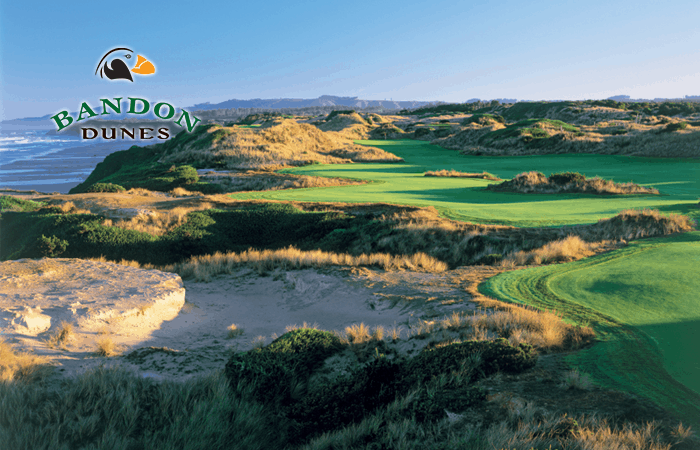 Planning your next golf trip? Do you and your buddies want to have the most fun you've ever had playing golf? Look no further, you stumbled into the perfect blog. I am going to dive into all the ins and outs of what makes Bandon Dunes on the Pacific coast of Oregon the ultimate golf destination. Then I will tell you exactly when to go and how to get there!
Why am I Qualified to Talk About This?
I am certainly no expert on life. But when it comes to being an expert on great golf courses around the globe, I happen to fit the bill. I have been extremely fortunate in my life to have traveled to and played several of the best courses in the world, including 7 of the top 10.
As a former collegiate golfer at San Diego State University, I certainly understand what makes a golf course championship quality material. As a fan of the game who has taken many trips with my father, I understand what makes a golf destination stand out.
Bandon Dunes doesn't just check both lists. It absolutely smashes them out of the park.
When Did I Go?
My first time at Bandon was in June of 2010. Pretty nice college graduation present from my dad if I might add. A father/son 3-day journey with nothing but golf. We even played 36 holes (2 rounds) the second day alone.
The second time was In July of 2012. I qualified for The Pacific Coast Amateur, a big amateur golf tournament being held at Bandon Dunes and was so excited to get back. This time I was there for 6 days with 2 other golfers from Las Vegas. Walking 6 rounds in 6 days in the windy and rainy conditions was something I will never forget.
Bandon Dunes-The Four Courses
This is the first of many amazing foundations that make Bandon Dunes the ultimate golf destination. The property has four 18-hole golf courses. And not just any four. It has four of the top seventy courses in the entire country according to the latest 2017-2018 Golf Digest America's 100 Greatest Golf Courses rankings.
I can assure you no other golf property can make a statement like that.
Pacific Dunes
The 18th ranked course in the nation offers the toughest test of golf of the four layouts. It was designed by the celebrated golf architect Tom Doak in 2001. When I was there I was told Pacific Dunes was discovered more than it was built. The holes are carved right out of massive sand dunes nestled amongst the cliffs of the Pacific Ocean.
Make sure you have plenty of battery on your phone. You will need it for all the pictures you will be taking!
Bandon Dunes
The original course at the property is simply named Bandon Dunes. It all began in 1999 when Scotsman David Kidd transformed the dunes and natural vegetation into a place to play golf. The 36th ranked course is set right up against the Pacific Ocean, with breathtaking views the entire way around.
Make sure to pack rain gear and extra layers as the weather can change in the blink of an eye. I went from a sweater and rain jacket to short sleeves and sunglasses in the matter of two holes in my last go around at the Dunes course.
Old Macdonald
The newest addition to the property came in 2010. It won best new course in America that year and currently clocks in at 47 in the latest rankings for greatest courses in America. With the help of Jim Urbina, Tom Doak created this masterpiece in honor of famous golf architect Charles Blair Macdonald.
"Old Mac" as it's called, offers a different kind of feel than the either of the Dunes courses. Not every hole is designed on a cliff or sand dune. Some offer a more traditional look with flatter grounds. Old Mac without a doubt tests every part of your game.
Bandon Trails
The 70th ranked course in the country might just be my favorite one on the property. This is a one-of-a-kind experience very different from the other three. Added to the prestigious property in 2005, Bill Coore and Ben Crenshaw uncovered this special piece of land and turned it into something remarkable.
The holes aren't set atop of massive cliffs overlooking endless blue ocean waters. Instead, holes appear to be carved out of the mysterious Oregon forest of trees. GOLF Magazine said it best when they said, "Bandon Trails…takes its rightful place on the short list of pilgrimages all golfers must take before they die-because odds are golf in Heaven can't compare."
It is also worth mentioning that in late 2012, a short-ish 13-hole Par-3 course was created called, Bandon Preserve. After you and your pals finish your round on one of the four tracks, head in and have a cold beer. A few stories later and you guys will be sure to wind up playing the Preserve course before it's time for dinner!
The Property Itself
This blog wasn't designed to just to talk about great golf courses. It was to explain what makes Bandon Dunes the ultimate golf destination for a group of avid golfers. My favorite part each time I visited the grounds was the convenience factor.
Never Have to Leave the Gates
Anyone who travels can tell you how clutch this is. During my most recent trip to Bandon, we arrived at the property gates on a Monday. I never left the gates until Saturday night when it was time to head home to Las Vegas.
The place is huge. From casual eats to super fine dining-it is packed with 6 full restaurants, shops, and a spa. Safe to say I was pretty content just hanging out.
The theme of the property and the camaraderie taking place just stand out. After the round, I would be inside eating dinner. Next thing you know I am chatting with 8 other golfers I just met and I feel like they are my friends I have known for years.
Lodging
Five different lodging options within the property give the consumer choices. They vary in size and price but are all stylish and super comfortable. A single room in The Lodge can be booked for as low as $100 per night during the winter months. The 4-bedroom cottages can be as high as $1,900 per night during the prime summer months.
I recommend going with two or three other golfers. Sharing a room at the Lily Pond or a loft at Chrome Lake and splitting the costs is the way to go. I ended up using the fireplace each night to dry off all my gear. The complimentary maid service provided extra towels and kept the room clean and in order while I was out playing.
Free Transportation
Super handy! Bandon Dunes always has several shuttles running around the property. Just pick up the phone and press the shuttle service button and poof! The Bus will appear directly outside your door in a few moments. Picture the shuttles at Walt Disney World-minus the waits and crowds of people.
How Do I Get There?
Bandon Dunes is located in Bandon, Oregon. The easiest way is to fly into the airport in North Bend, OR. A short 30-minute drive from the airport will have you inside the gates. Unfortunately, this is the most expensive way.
The airport in North Bend is very small and only supports smaller aircrafts. The first time I went with my dad, we had to fly to San Francisco. We then hopped on a 15-seater plane and took the short flight into North Bend, also known as Coos Bay.
The second time I went we flew into Portland, OR and rented a car. The four and a half hour drive may have been long but it sure was beautiful. Thin highways with endless, enormous lush green trees on both sides painted the scenic view for the drive into Bandon.
When Is the Best Time to Go?
The weather in Bandon can be dicey, to say the least. 30 mph winds and sideways rain are common, especially in the fall and winter. Bandon Dunes offers price discounts during these months because of this. The green fees and room rates gradually increase as the calendar goes. The peak prices fall between July-September.
It is up to you. If you want to save costs, I'd aim for April or May right before the prices get jacked up. You can still catch warm sunny spring days but not pay the premium price for it.
If you want the best chance at the great weather, July or August makes the most sense. Temperatures can get up towards 70 degrees Fahrenheit and it stays light till almost 9:30 pm!
Summary
The intention of this blog was not an attempt to convince you or sell on Bandon Dunes so I can make any profits. The purpose for me writing this is to share and explain how special and great of a golfing destination Bandon Dunes has become. Everything the company does resembles the true definition of first-class and top-notch.
If you are truly an avid golf fan, I would do everything in my power to make it a point to visit and play at the Bandon Dunes property before your golfing days are behind you. You will not be disappointed. You will just share laughs, make new friends, and have some memories that will last you a lifetime!