Betting on UFC Vegas 53 – Predictions, Odds, and Top Picks

Are you looking to win some money betting on UFC Vegas 53? Me too! Hence this preview.
Before I get to the UFC Vegas 53 odds, predictions, and picks, allow me to address some of the confusion surrounding the name of this event. It is also known as UFC on ESPN: Font vs. Vera and UFC on ESPN 35, and I'll occasionally be referring to it by those names below.
On Saturday, April 30th, the fights are scheduled from the UFC Apex in Las Vegas. Headlining the card is a bantamweight matchup between Rob Font and Marlon Moraes. Although it's not the most stacked card in history, I see opportunities to win some bets. And that's what we're here for, right?
Here's how we are going to do things. I'll be covering the odds for the fights before moving on to my predictions for UFC Vegas 53 and picks for all the fights. But first, here's a look at the full card for the next episode at the Apex.
Full Fight Card for UFC Vegas 53
With UFC 274 set for Saturday, May 7, this event was never going to be wall to wall with talent. Although that may be the case, again, a so-so card can be good for those looking to win money.
So, before I get to the UFC Vegas 53 odds, predictions, and picks, here's a chance to familiarize yourself with who is fighting this Saturday night.
UFC Vegas 53 Main Card
Bantamweight – Rob Font vs. Marlon Vera
Heavyweight – Andrei Arlovski vs. Jake Collier
Featherweight – Andre Fili vs. Joanderson Brito
Lightweight – Jared Gordon vs. Grant Dawson
Featherweight – Darren Elkins vs. Tristan Connelly
Middleweight – Krzysztof Jotko vs. Gerald Meerschaert
The big one is Font vs. "Chito" Vera at 135-pounds. Those betting on UFC Vegas 53 will likely want a piece of that pie. It's a very good fight, all things considered, even if it doesn't have a title on the line.
A win for Font could push him closer toward contention for a shot at Aljamain Sterling's title, while victory for Vera might see him replace Font as #5 on the bantamweight rankings list.
Former UFC heavyweight champion, Andrei Arlovski, takes on Jake Collier in the co-main. Other than that, Jotko vs. Meerschaert will probably be among the best fight to wager on this weekend. I'll be covering predictions for UFC Vegas 53 later, so stick with me for those.
You can find UFC Vegas 53 odds for this heavyweight clash, as well as the other UFC on ESPN: Font vs. Vera main card matches, on the best UFC betting sites.
Prelims Fights at UFC Vegas 53
Heavyweight – Alexander Romanov vs. Chase Sherman
Flyweight – Daniel Lacerda vs. Francisco Figueiredo
Welterweight – Gabriel Green vs. Yohan Lainesse
Lightweight – Natan Levy vs. Mike Breeden
Women's Flyweight – Gina Mazany vs. Shanna Young
Flyweight – Tatsuro Taira vs. Carlos Candelario
If you're looking for betting picks for UFC Vegas 53, rest assured that I'll be including the prelims in mine.
Again, the fights here are decent but not mind-blowing by any means. The one that stands out the most for me is Romanov vs. Sherman, which was scrapped from last week's card.
When you have taken in the full fight card for UFC on ESPN 35, check out the odds for the fights this Saturday!
Latest Odds for UFC on ESPN: Font vs. Vera
If you're hoping to win money from your UFC Vegas 53 picks, you'll need a top betting site to get them down. I've taken the odds below from BetOnline.
Font (-135) vs. Vera (+115)
Arlovski (-143) vs. Collier (+123)
Fili (-250) vs. Brito (+210)
Gordon (+140) vs. Dawson (-160)
Elkins (-162) vs. Connelly (+142)
Jotko (-170) vs. Meerschaert (+145)
Romanov (-2500) vs. Sherman (+1200)
Lacerda (-113) vs. Francisco Figueiredo (-113)
Green (-145) vs. Lainesse (+125)
Levy (-188) vs. Mike Breeden (+163)
Mazany (-174) vs. Young (+149)
Taira (-240) vs. Candelario (+205)
As you can see, the UFC on ESPN: Font vs. Vera odds indicate that most fights on the card are fairly contested matchups.
All except for Romanov vs. Sherman, of course. That's about as lopsided a fight as you will ever see in this promotion, and I don't think anyone placing real money bets on UFC Vegas 53 will be interested in the moneyline.
My first impressions of the Font vs. Vera odds were positive. That is, for someone backing the American to come out on top in my UFC Vegas 53 predictions. If you feel the same way, get your bets down right now. Or, you could hang around to hear my thoughts about who wins this weekend's UFC fights and why.
Let's start from the top.
Predictions and Pick for Font vs. Vera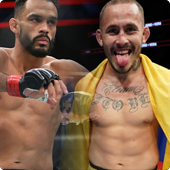 Division: Bantamweight
Betting Favorite: Font (-135)
Predicted Winner: Font
Rob Font headlines for the third consecutive time on a UFC card.
In December, the American saw his four-fight win streak snapped by former featherweight kingpin Jose Aldo. He will be looking to get back to winning ways this Saturday, with UFC on ESPN: Font vs. Vera odds making him a slight favorite for the victory.
Vera lands his first-ever headline slot as he continues his attack on the 135-pound division.
Although once considered a one-dimensional scrapper, victories over Sean O'Malley, Davey Grant, and Frankie Edgar have seen him catapulted up the bantamweight ladder.
Currently sat at sixth place in the official UFC rankings, Vera has his eyes on edging closer to title contention.
Font vs. Vera – Form in Last Three Fights
Matchup
Fight
Result
Jose Aldo – Loss by Decision
Last Fight
Frankie Edgar – Win by KO
Cody Garbrandt – Win by Decision
Fight Two
Davey Grant – Win by Decision
Marlon Moraes – Win by TKO
Fight Three
Jose Aldo – Loss by Decision
Interestingly, both guys' only losses have come against Jose Aldo in their last three.
Font is 4-1 from his last five, with Vera 3-2. Song Yadong, one of the UFC fighters set for a breakout year in 2022, is the other fighter to have resigned the underdog, according to UFC Vegas 53 odds, to defeat.
As alluded to above, my UFC on ESPN 35 predictions for Font vs. Vera are in favor of the American winning this fight. I don't expect a finish in this one, given both guys have yet to be stopped in a combined 12 losses. The most likely way this one ends is by a decision.
There are two UFC Vegas 53 betting picks for this fight that I would recommend. One is Font to win. Or, if you would like to better the odds at your disposal, you can back him to win by decision.
Prediction: Font by Decision
Pick: Font by Decision (+162)
Who Wins the Arlovski vs. Collier Fight?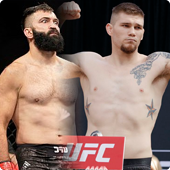 Division: Heavyweight
Betting Favorite: Arlovski (-143)
Predicted Winner: Arlovski
An unremarkable fight, sure. But one that needs to be addressed in this betting preview for UFC Vegas 53.
Arlovski is a legend of the game that rejected multiple calls for his retirement. He underwent a pretty shaky patch between 2016 and 2017, dropping five on the bounce. Unperturbed, he got back on the horse and beat Junior Albini and Stefan Struve, both by decision, after that skid.
The Belarusian has since put quite the run together. Although there were serious questions about his durability, "The Pitbull" has only been knocked out once since meeting Francis Ngannou during that torrid patch. That loss came to the heavy-hitting Jairzinho Rozenstruik at UFC 244 in December 2019.
Arlovski is on a run of 5-1 from his last six, with a submission to Tom Aspinall his only defeat in that frame. He's somewhat reinvented himself as a careful and patient decision fighter and has reaped the benefits.
Andrei Arlovski hasn't been knocked out since Jairzinho Rozenstruik…Habulla got him sadly#UFC27 pic.twitter.com/HKViuWOopM

— Alex Behunin (@AlexBehunin) October 30, 2021
On the other hand, Collier is far from elite competition, which is pretty much the level that the former champ has been fighting at. Although he is capable of springing a surprise, I don't see him getting to Arlovski in the same way that a Rozenstruik or Aspinall can.
Collier's best chance of winning this fight is a slow, plodding puncher by catching an overconfident Arlovski on the way in. But again, the 43-year-old's measured approach indicates that he won't be leaving anything to chance.
Although my UFC Vegas 53 predictions and pick for Arlovski vs. Collier aren't that exciting, they are realistic. I have to take The Pitbull by way of decision.
Prediction: Arlovski by Decision
Pick: Arlovski by Decision (+150)
Betting on Fili vs. Brito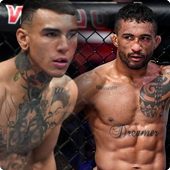 Division: Featherweight
Betting Favorite: Fili (-250)
Predicted Winner: Fili
Having chosen arguably the greatest moniker in fight history, Andre "Touchy" Fili proves he has a sense of humor.
Although that is the case, his UFC Vegas 53 odds show he is no laughing matter for Brazil's Joanderson Brito. Coming in at -250 in this featherweight clash, the American is being tipped for the win by many. I agree that he deserves to be the favorite on Saturday night.
Fili is winless from his last two. An accidental eye poke ended his contest with Daniel Pineda in June 2021. Before that, he dropped a loss to the impressive Bryce Mitchell, who defeated Edson Barboza in his last fight.
Brito is 12-3-1 as a professional.
The Contender Series graduate lost to Bill Algeo by decision in his promotional debut back in January. And while I wouldn't base my UFC on ESPN: Font vs. Vera betting picks exclusively on that performance, by the same token, it can't be ignored.
Fili has the better CV and has faced a better caliber of opponents over the past few years. He may be winless from those last two matchups, but I predict he'll be back in the win column this weekend.
Prediction: Fili by Decision
Pick: Fili by Decision (+150)
More UFC Vegas 53 Predictions and Picks for the Main Card
With the top three fights on the card covered, let's move on to more UFC on ESPN: Font vs. Vera predictions. There is a six-fight main portion to look forward to. If you are indeed betting on UFC Vegas 53, you have options.
I'd keep this in mind, especially if you're not too sold on the fights above these. Let's make some more picks!
Jared Gordon vs. Grant Dawson
With four stoppages from his last six fights, Dawson appears to be one of the best betting picks for UFC Vegas 53.
Can Jared Gordon stop him in his tracks? He's not to be ignored, of course. Dawson drew his last fight against Ricky Glenn, which snapped a streak of eight straight wins. Gordon, on a three-fight streak of his own, will be confident of getting the measure of his man.
Dawson excels on the floor, but he also has power. Providing if he can get his man to the mat, I see a submission win for "KGD" this Saturday. The UFC Vegas 53 props have him at +700 to tap his man out, which is well worth a shot!
Prediction: Dawson by Submission
Pick: Dawson by Submission (+700)
Darren Elkins vs. Tristan Connelly
Elkins vs. Connelly is a fairly interesting fight. I'm not convinced that there is much between the two, who come in at 37 and 36, respectively. They size up well, both standing at 5'10" but with Elkins holding a three-inch reach advantage over his Canadian opponent.
????? count out @DarrenElkinsMMA ?

[ #UFCVegas53 | Saturday | LIVE on @ESPN & @ESPNPlus ] pic.twitter.com/Clo6f4MEeO

— UFC (@ufc) April 25, 2022
Elkins has the better reputation, given his resume features better wins. That makes sense. But I don't think he will come into this fight and dominate from the get-go. A knockout is achievable in the later stages of the fight, however.
Elkins might pull it out of the bag. But the UFC Vegas 53 odds for the win are good enough.
Prediction: Elkins by KO/TKO
Pick: Elkins to Win (-160)
Krzysztof Jotko vs. Gerald Meerschaert
One of the most underrated fighters on the roster, Meerschaert, has commonly featured as one of my top UFC sleepers over the years.
The 34-year-old has rarely let me down when I have backed him.
This weekend, the American faces Poland's Krzysztof Jotko as he attempts to land his fourth consecutive submission win and the 27th of his career. Crazy numbers. But what's crazier is that the bookies are making him the dog. Again!
Jotko is a solid, industrious fighter. But he doesn't have the type of stopping power to trouble "GM3." Add that to his inferior jiu-jitsu, and we could be looking at another sub victory for the 34-year-old.
Jump on Meerschaert to beat Jotko by submission at odds of +340. They are seriously good odds.
Prediction: Meerschaert by Submission
Pick: Meerschaert by Submission (+340)
UFC Vegas 53 Predictions for the Prelims Portion
You can bet on the prelims and find UFC Vegas 53 odds for all fights over at the top MMA betting apps.
In addition to moneyline prices, you will also find UFC on ESPN: Font vs. Vera props. These can help you potentially increase your winnings, should you correctly pick both the winner and the method of victory. There are also odds for round betting and more.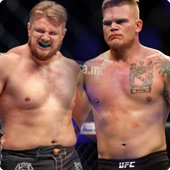 Romanov to Beat Sherman by KO/TKO
Lacerda to Beat Figueiredo by Decision
Lainesse to Beat Green by KO/TKO
Levy to Beat Breeden by Decision
Mazany to Beat Young by Decision
Taira to Beat Candelario by Submission
As you can see from my UFC Vegas 53 picks for the prelims, I'm backing Romanov to stop Sherman. At -2500, Romanov's are stratospherically prohibitive. You would have bet $2500 to win $100 potentially.
However, you can bring these odds down by targeting the props markets. Whether you are betting on him to win by KO/TKO, submission, or even a first-round stoppage, the price will be much better for all those wagers.
I'm backing Lacerda to beat Figueiredo. Although he is the brother of the reigning UFC flyweight champion, Deiveson, he's nowhere near his level.
The last of my UFC Vegas 53 predictions for the prelims is Taira to score a win over Candelario by submission.
How many of these projections will make it into my top betting tips for UFC Vegas 53? Let's find out.
Top Bets for UFC on ESPN: Font vs. Vera
For those looking for the best UFC on ESPN: Font vs. Vera betting picks, allow me to share my top three.
Font to Win (-135) – The first of three straight-up bets here. Although Font by decision makes sense, I'd recommend taking him to win the fight. At -135, he's one of the top bets for UFC Vegas 53. Of course, you could ignore my UFC betting advice for this weekend and get him at +162 for the decision.
Dawson to Win (-150) – Another case of playing it safe here. Dawson could get the KO/TKO, but he's a good shout at -150 to win. If you're looking to keep things conservative, he offers decent value. Alternatively, should you go that way, he makes a nice addition to a UFC Vegas 53 parlay.
Fili to Win (-250) – Fili could potentially get his man out of there early. At the same time, I wouldn't be shocked to see him go the distance. I said as much when making my predictions for UFC on ESPN 35 earlier and will stick with that line of thought.
So, here are three top picks for UFC Vegas 53. Let's see what's out there for anyone looking for better odds!
Best UFC Vegas 53 Sleeper Picks
Well, bigger odds don't always mean better odds. If that were the case, we'd all be backing Sherman to destroy Romanov. However, you can often find some exceptional betting value if you look hard enough and know what looks like a great wager.
Here are my top UFC Vegas 53 sleepers and value bets.
Dawson by Submission (+700) – The best of my UFC Vegas 53 sleepers in terms of odds. Dawson is an exceptional grappler and has four submission wins from his last five victories inside the Octagon. Although betting your house on this one would be silly, it's certainly worth a few dollars!
Elkins by KO/TKO (+450) – Before being wheel kicked into defeat against Cub Swanson in his last bout, Elkins had a submission over Eduardo Garaggori and a TKO over Darrick Minner. I like his chances to score the stoppage if he brings the same intensity on fight night.
Meerschaert by Submission (+340) – Although this wager has the lowest odds of my top UFC on ESPN: Font vs. Vera sleepers, it's the best. Time after time, GM3 gets slept on by bettors. I like him to score his 27th career submission this Saturday.
That's both the best picks and sleepers for UFC Vegas 53 covered. That brings us to the end of the line for this week's UFC betting preview.
More Potential Bets for UFC on ESPN: Font vs. Vera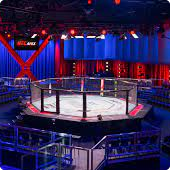 That's about it for my predictions and picks for UFC Vegas 53. You have the odds and top bets at your disposal, so feel free to get on them!
If you're not feeling the wagers available in this betting preview for UFC on ESPN: Font vs. Vera, there are potentially other opportunities to make money. Our sports betting blog has plenty of other games, matches, and events for which you can find odds and gambling advice.
I think it is one of the better UFC cards to bet on, where the fights aren't exactly top drawer. But I can see why some might not be too enthused with the prospect of risking their bankrolls on fights that don't get them excited.
As usual, you have options. So, check out what else is coming up in the world of sports betting this week.
For example, the biggest female boxing match in history goes down on Saturday night in New York. You could bet on Katie Taylor vs. Amanda Serrano?
Placing wagers on the NFL draft is another option if boxing doesn't do it for you!
2022 NFL Draft Betting Guide
September
Casino of the Month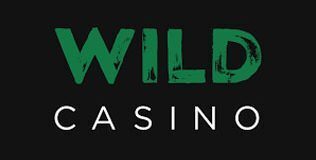 Welcome Bonus
250% up to $5,000