Hide Bonus Offers
| | | | | |
| --- | --- | --- | --- | --- |
| #1 | Bovada Sports | 50% Up To $250 | Visit Site | Bovada Sports |
| #2 | BetUS | 125% Up To $2,500 | Visit Site | BetUS |
| #3 | MyBookie | 100% Up To $1,000 | Visit Site | MyBookie |
| #4 | Everygame | 100% Up To $500 | Visit Site | Everygame |
| #5 | BetOnline Sports | 60% Up To $1,000 | Visit Site | BetOnline Sports |
UFC Vegas 51 Betting Preview with Odds, Predictions, and Picks

What's the difference between betting on UFC Vegas 51 and wagering on UFC Fight Night: Luque vs. Muhammad?
There's none. These are two names for the same event, which goes down at the UFC Apex this Saturday, April 16.
Now, I know that's probably a little confusing if you're not used to making UFC picks or new to the promotion in general. But you'll get used to it as your experience of betting on the fights grows with time.
This weekend's fights are not as high-profile as last Saturday's UFC 273. However, a quick look over the latest UFC Vegas 51 odds shows that there are a few real gems to wager on. I'll be commenting on those below and providing predictions and betting picks for the fights.
I'll use both terms for this card when I make my UFC Vegas 51 predictions. Or should I say predictions for UFC Fight Night: Luque vs. Muhammad?! Hopefully, that will help you remember that this is, in fact, the same event!
Let's get to the odds for this weekend's UFC fights!
Latest UFC Fight Night: Luque vs. Muhammad Odds
Vicente Luque (-170) vs. Belal Muhammad (+140)
Caio Borralho (+110) vs. Gadzhi Omargadzhiev (-140)
Elizeu Zaleski dos Santos (-185) vs. Mounir Lazzez (+155)
Mayra Bueno Silva (-380) vs. Wu Yanan (+305)
Andre Fialho (+150) vs. Miguel Baeza (-180)
Pat Sabatini (-350) vs. T.J. Laramie (+275)
Drakkar Klose (-400) vs. Brandon Jenkins (+300)
Chris Barnett (+160) vs. Martin Buday (-200)
Rafa Garcia (-120) vs. Jesse Ronson (+110)
Lina Lansberg (+240) vs. Pennie Kianzad (-300)
Istela Nunes (-210) vs. Sam Hughes (+170)
Heili Alateng (-185) vs. Kevin Croom (+155)
Trey Ogden (-130) vs. Jordan Leavitt (+100)
Devin Clark (-170) vs. William Knight (+140)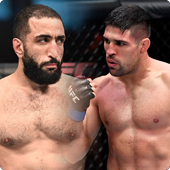 Before we move forward in this guide to betting on the fights, let's see the odds for UFC Vegas 51. I've taken the prices from MyBookie.
For the most part, the odds above are what you would expect from your average UFC Fight Night card.
Drakkar Klose comes in with the shortest odds for UFC Vegas 51, with a $400 stake required to win $100. The Michigan lightweight goes up against Brandon Jenkins in the closing fight of the prelims unless the order is changed.
A big time rematch in the welterweight top 5 ??@VicenteLuqueMMA vs @BullyB170 goes down THIS WEEKEND!

[ #UFCVegas51 | Saturday | LIVE on @ESPN ] pic.twitter.com/Cr7rg5DJHf

— UFC (@ufc) April 11, 2022
The biggest odds for potential outside bets for UFC Vegas 51 is Wu Yanan at +305. The bantamweight faces off with Brazilian submission artist Mayra Bueno Silva on the main card. Can she prove the bookies wrong and come through with the win?
You have options for betting on UFC Fight Night: Luque vs. Muhammad. If you have already decided who to bet on at UFC Fight Night: Luque vs. Muhammad, you can find plenty of markets at MyBookie!
If, on the other hand, you are unsure, stick with me, and I'll give you my top predictions and picks for the fights.
Bet on UFC Vegas 51 at MyBookie
Visit Site
UFC Vegas 51 Full Card with Event Details
Date: Saturday, April 16, 2022
Location: UFC Apex, Las Vegas
Headliner: Vicente Luque vs. Belal Muhammad
Prelims Start Times: 2 pm (ET) – ESPN
Main Card Times: 5 pm (ET) ESPN+
This weekend's UFC is available to watch on ESPN and ESPN+.
For anyone outside of the United States, I'd recommend looking up where to watch UFC Fight Night: Luque vs. Muhammad for details.
Oh, and remember to check the schedule in your time zone. Some fans must stay up until the small hours to watch the bouts, making you feel blessed if you're tuning in from North America!
Here is the lineup for both portions of the event.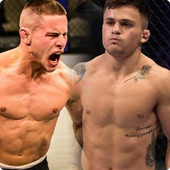 UFC Vegas 51 Main Card Fights
Welterweight – Vicente Luque vs. Belal Muhammad
Middleweight – Caio Borralho vs. Gadzhi Omargadzhiev
Welterweight – Andre Fialho vs. Miguel Baeza
Welterweight – Elizeu Zaleski dos Santos vs. Mounir Lazzez
Women's Bantamweight – Mayra Bueno Silva vs. Wu Yanan
Featherweight – Pat Sabatini vs. T.J. Laramie
Prelims Fights for UFC Vegas 51
Lightweight – Drakkar Klose vs. Brandon Jenkins
Heavyweight – Chris Barnett vs. Martin Buday
Lightweight – Rafa Garcia vs. Jesse Ronson
Women's Bantamweight – Lina Lansberg vs. Pennie Kianzad
Women's Strawweight – Istela Nunes vs. Sam Hughes
Bantamweight – Heili Alateng vs. Kevin Croom
Lightweight – Trey Ogden vs. Jordan Leavitt
Heavyweight – Devin Clark vs. William Knight
UFC Vegas 51 Predictions for the Top Main Card Matches
Before revealing my top bets for UFC Vegas 51, let's break the main card down.
As mentioned earlier, Vicente Luque and Belal Muhammad meet again following the Brazilian's victory at UFC 205 in November 2016. That was the night a certain Conor McGregor made history by becoming the promotion's first-ever "Champ-Champ."
Will things be different this time around for Muhammad?
Predictions for Luque vs. Muhammad 2 with Pick
Vicente Luque is one of the scariest UFC fighters on the roster.
Besides being an absolute savage on the feet, as evidenced by his 11 career KOs, he is also a demon on the floor. With eight submission wins, including back-to-back subs in his last two fights, "The Silent Assassin" is due a cage name change.
Muhammad is a better fighter than he was in 2016. But to break the Brazilian's four-fight streak, he will need to put on a masterclass in fighting efficiency. Is that enough to bet UFC Vegas 51 ends up in a win for the Chicagoan? I don't think so.
Luque sits #4 in the latest UFC rankings, just one spot above his rival. But I believe there is a wider gulf between these two than the ratings indicate. The UFC Vegas 51 odds for Luque to beat Muhammad make this pick even more enticing, with a straight-up win attractive at -170.
I can't see how Muhammad keeps Luque off him. A knockout win for the favorite, who is the only man to stop "Remember the Name" in his career, looks like a solid pick in this five-round fight. Luque will not be taking him lightly but should get the win.
Prediction: Luque to Win
Pick: Luque by KO/TKO (+135)
Borralho vs. Omargadzhiev Pick and Preview
A pretty solid matchup in the middleweight division sees Contender Series graduates Caio Borralho and Gadzhi Omargadzhiev facing off.
If you're betting on UFC Fight Night: Luque vs. Muhammad, this is a fight that is worth a look. Both guys are evenly matched at the same age and with similar attributes. However, the Russian's venomous style might give him the edge this weekend.
Barralho's odds for UFC Vegas 51 make him the slightest of underdogs on the night. A native of Sao Paulo, he looks to make a name for himself on the card. But that task will be difficult given the man he has been paired up with.
Both of these fighters will put on a show. But I have more questions over Barralho's effectiveness against a guy that will land and push him back.
Neither man is exactly what you would call proven in the promotion. Debuts under the bright lights can be difficult to handle, and a lot can be said for the competitor with the mental edge.
I'd say this is a 60/40 fight in favor of Omargadzhiev. My UFC Vegas 51 predictions are with the unbeaten man scoring a late stoppage, but I'm happy to settle for the moneyline odds.
Prediction: Omargadzhiev to Win
Pick: Omargadzhiev to Win (-140)
UFC Vegas 51 Pick for Filaho vs. Baeza with Prediction
Another interesting UFC Vegas 51 fight to bet on sees Portugal's Andre Fialho take on Miguel "Caramel Thunder" Baeza.
A look at the odds for UFC Fight Night: Luque vs. Muhammad with the best MMA betting apps shows the American is favored to win. You can get odds of -180 for Baeza to beat his man, but I'm not feeling them.
Yes, Baeza is the better mixed martial artist. But he's on a two-fight skid against solid boxers. And when you consider Fialho's boxing ability, it's hard to see how the favorite can get inside that jab and real havoc.
UFC Vegas 51: Andre Fialho Wants Six Fights In 2022, Looking to Knock Miguel Baeza Out via @Alexbehunin #MMA #UFC #UFCVegas51 https://t.co/esmIPS0NFG

— Cageside Press (@Cagesidepress) April 11, 2022
I like the dog in this fight. Fialho is better suited to this type of matchup, in my opinion. The fighter has been around the block, competing under multiple promotions, including the PLF and Bellator.
Although his hopes of establishing himself among the best Bellator fighters of 2022 didn't work out, he finds himself with an opportunity to make an impression on Saturday night.
My UFC Vegas 51 predictions for this one are a win and a late stoppage win for Fialho. But again, his moneyline odds fit nicely into my pocket!
Prediction: Fialho by KO/TKO
Pick: Fialho to Win (+150)
More UFC Vegas 51 Fight Predictions
That's the top three UFC Vegas 51 predictions and picks in the books. What about the other fights? Well, funny, you should ask! I've provided predictions for UFC Vegas 51 for the other matches on the card. Here they are, in all their glory.
More Main Card Predictions for UFC Vegas 51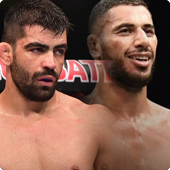 Elizeu Zaleski dos Santos to Beat Mounir Lazzez by KO/TKO
Mayra Bueno Silva to Beat Wu Yanan by Decision
Pat Sabatini to Beat T.J. Laramie by Submission
Making predictions for the UFC Vegas 51 main card is a little tougher than it was to do the same with last weekend's fights.
There are more evenly matched bouts than on the upper portion of the UFC 273 card, with some potential banana skins to mark. I believe the easiest of my UFC Vegas 51 picks above is Silva to beat Wu, and the odds for the fights this weekend back up my claim.
Prelims Fights for UFC Vegas 51
Drakkar Klose to Beat Brandon Jenkins by Decision
Martin Buday to Beat Chris Barnett by KO/TKO
Jesse Ronson to Beat Rafa Garcia by Decision
Pennie Kianzad to Beat Lina Lansberg by KO/TKO
Istela Nunes to Beat Sam Hughes by Decision
Heili Alateng to Beat Kevin Croom by KO/TKO
Jordan Leavitt to Beat Trey Ogden by Submission
William Knight to Beat Devin Clark by KO/TKO
As stated earlier, the order of the fights to bet on UFC Vegas 51 is subject to change.
I wouldn't be surprised to see one or two of these bouts promoted to the main portion. For example, you could easily slip either the Klose vs. Jenkins match or the Clark vs. Knight fight to the main card.
Of course, that might mean the odds for UFC Vegas 51 change for any reshuffled fights. Joe Public always has more interest in matches that appear higher up in order. So, I'd recommend getting your UFC Vegas 51 wagers down right now if you are looking to gamble on the prelims.
All Swedish matchup! ??@LinaLansberg vs @PannieKianzad is official for #UFCVegas51 next week! pic.twitter.com/4GBbMKXN6X

— UFC Europe (@UFCEurope) April 7, 2022
For instance, the all-Swedish clash between Kianzad and Lansberg might be a contender if a fight falls off the card. It's something to think about!
Let's get to those if you want a breakdown of the best bets to place on UFC Vegas 51!
Top Betting Picks for UFC Fight Night: Luque vs. Muhammad
What are the best bets to place on UFC Vegas 51? Answer — the ones that come in!
Of course, there is no such thing as a sure thing in the fight business. Just one stray shot or lapse in judgment can be enough to change the trajectory of a competitor's night. But the bets below are the ones that I am most confident in.
Mayra Bueno Silva to Win (-380) – Silva has the tools to cruise to win against Wu. If the price is a little too short, you can get Silva to win by decision at -140. That's something to think about.
Vicente Luque to Win (-170) – Luque has beaten Muhammad once and should do so again. At odds of -170, you are getting some decent betting value while sparing yourself the additional risk of nailing the method of victory.
Omargadzhiev to Win (-140) – As mentioned above, the unbeaten Russian should be too much for his Brazilian opponent to handle. These odds are pretty good, but feel free to compare them across more top UFC betting sites.
Best UFC Vegas 51 Sleepers and Value Bets
Are you looking for some super longshot odds for UFC Vegas 51? There ain't many I'd recommend.
Perhaps a few sleepers and value picks for UFC Fight Night: Luque vs. Muhammad are in order, however. But if you think I'm backing against Drakkar Klose, my top three value wagers will prove you wrong!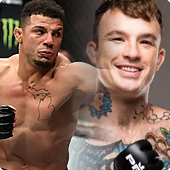 Alateng vs. Croom Under 2.5 Rounds (+145) – I'm not a huge believer in Kevin Croom's place in the UFC. Alateng can bang, and I think Croom will find himself in the wrong place at the wrong time. But backing this market also allows for other scenarios that could win you money on UFC Vegas 51.
Fialho to Win (+150) – One of my top predictions for UFC Vegas 51 is Fialho to use his superior boxing skills to beat Baeza. At +150 for the victory, that's a good value!
Knight to Win by KO/TKO (+230) – Sometimes, betting the line makes sense. When it comes to odds for UFC Vegas 51, it does not, in the case of William Knight. He'll swing like a demon and catch Clark cold. I don't see him winning on points.
Wrapping Up My Predictions and Picks for UFC Vegas 51
That's about it for my guide to betting on UFC Vegas 51.
Or you are betting on UFC Fight Night: Luque vs. Muhammad if you prefer the old way of labeling the "non-numbered" cards in the promotion.
Whatever way you approach these fights, make sure to play smart when you have the opportunity to do so. There are some very close matches on the line-up and some that are probably better avoided.
You can bet on the fights detailed in this UFC Fight Night preview, but just know that there's still a lot coming your way this month. To stay ahead of things, feel free to check out my breakdown of the best UFC fights worth betting on in April below.