Hide Bonus Offers
| | | | | |
| --- | --- | --- | --- | --- |
| #1 | Bovada Sports | 50% Up To $250 | Visit Site | Bovada Sports |
| #2 | BetUS | 125% Up To $2,500 | Visit Site | BetUS |
| #3 | MyBookie | 100% Up To $1,000 | Visit Site | MyBookie |
| #4 | Everygame | 100% Up To $500 | Visit Site | Everygame |
| #5 | BetOnline Sports | 60% Up To $1,000 | Visit Site | BetOnline Sports |
UFC Fight Night 119 Predictions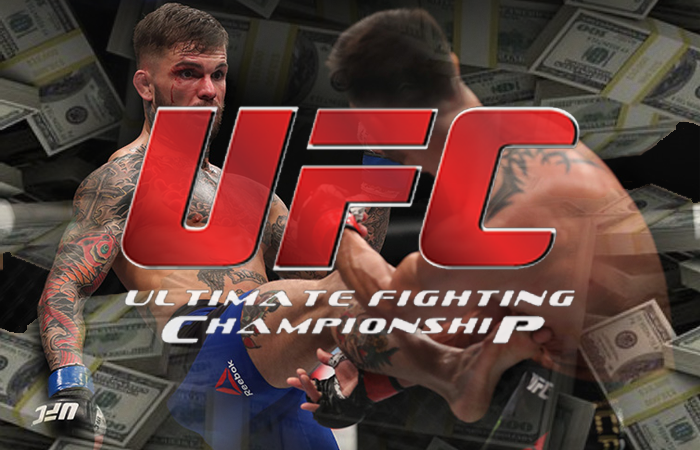 The UFC has called Las Vegas home for almost 20 years now. If Las Vegas is home than Brazil would have to be the promotion's second home. Not only have many of the early pioneers of mixed martial arts come from Brazil, but the level of fandom for MMA in Brazil is something that has to be seen to be believed.
The main event features a hometown favorite in Kyoto "The Dragon" Machida looking to get back into the win column against the #7 ranked middleweight Derek Brunson. As is usually the case when the UFC heads to Brazil, the card is packed with fighters who will be draped in the home country's flag. 11 of 12 fights feature a fighter fighting out of Brazil.
With UFC 217 around the corner, Fight Night 119 has flown under the radar. That doesn't mean that there isn't some nice money to be made on the fights, however. Here's how I see the fight card breaking down…
Main Card
#7 Derek Brunson (-170) vs. Lyoto Machida (+150)
Lyoto Machida (22-7) is making his return to the octagon for the first time since June 27, 2015, after serving an 18-month suspension at the hands of USADA. Prior to his suspension, "The Dragon" found himself on the losing end of 3 of his last 4 fights. So this truly is a must-win right for Machida.
Derek Brunson (17-5) on the other hand has been really bringing it. Over his last 8 fights his hand was raised 6 times. During that span he notched 4 first round finishes and one very controversial loss to Anderson Silva. Many thought he won the fight, but unfortunately for Brunson the judges saw it the other way.
I know they are fighting in Brazil and Machida is a legend there, but he's also pushing 40 and hasn't seen the cage in nearly 28 months. Brunson's star is rising and this is just the type of fight that a solid performance could land him a title shot.
I think Brunson's first round fury continues and he's able to land on Machida and finish this one early.
#7 Colby Covington (-135) vs. #3 Demian Maia (+115)
This could very well be the toughest fight on the card to call. Demian Maia (25-7) is coming off of a loss against UFC welterweight champion Tyron Woodley after an impressive 7-fight win streak. Colny Covington (12-1) currently finds himself on a 4-fight win streak with impressive performances along the way.
What makes this one so tough to call is that it comes down to whether or not Covington can neutralize the expert level jiu-jitsu of Maia that has brought him this far. Covington is 10 years younger and a whole lot faster than Maia. Not only that, but he has a Division I wrestling background, something that we know gives Maia trouble.
When Maia can play his game he is unstoppable. But much like Machida, he's knocking on the door to 40, and even though he doesn't get hit much, the body certainly slows down. This fight card has all the makings of the younger guys claiming their place in their respective weight divisions and I think that Covington's youth, not to be confused with inexperience, plays a huge role here.
#13 Rob Font (-190) vs. #12 Pedro Munhoz (+130)
When you have two fighters that are pretty evenly matched as is the case with Rob Font (14-2) and Pedro Munoz (14-2-0, 1NC), you really have to look at some of the physical differences in the fighters to find an edge. With that, we see that Font has a 2-inch height and 7-inch reach advantage.
That might not sound like much to the untrained ear, but wait until you see them face off in the ring and how much bigger Font will look.
Francisco Trinaldo (-190) vs. Jim Miller (+165)
Francisco Trinaldo (21-5) and Jim Miller (28-10-0, 1NC) are both looking to get back into the win column Saturday. While Miller might be a more familiar name to fans, I think come Saturday they are going to get very familiar with the tenacious style of Trinaldo.
Even though he is another aging fighter, coming into this bout at 39 years of age (to MIller's 35), his nickname "Massaranduba" translates to "Brazilian Redwood" for a reason.
Jack Hermansson (-145) vs. #15 Thiago Santos (+125)
Jack Hermansson (16-3) is coming off of 2 straight 1st-Round KO victories heading into Saturday night's matchup. If there's on thing that does for a fighter, it gives them confidence. Thiago Santos (15-5) on the other hand is riding the same winning streak, with his KO's coming in the 2nd-Round.
While they may sound pretty close, I would also factor in that Hermansson has won 11 of his last 12 fights and is a more adept all-around fighter. I see this fight being yet another one on the card that leaves the hometown fans speechless.
#5 John Lineker (-450) vs. Marlon Vera (+360)
This is the biggest line on the card, and with great reason. John Lineker (29-8) is an absolute bomb throwing beast of a fighter. Marlon Vera (10-3-1) isn't necessarily a bad fighter, he's just not on par with Lineker. You're not going to win a lot here, but it's the surest bet on the card.
Preliminaries
Vincente Luque (-145) vs. Niko Price (+125)
The only bout on the card that doesn't feature a Brazilian fighter pits Vincente Luque (11-6-1) against Niko Price (10-0-0, 1NC). Nothing against Luque, but I think the price is right for Niko in this fight. He's coming off of a big win against Alan Jouban and is going to really start making some noise going forward.
Antonio Carlos Junior (-360) vs. Jack Marshman (+300)
Another big line on the card has Antonio Carlos Junior (9-2-0, 1NC) pitted against jack Marhman (22-6) in the middleweight division. A heavy line plus a 6-inch reach advantage for Junior is all you need to know about this matchup.
Pick: Antonio Carlos Silva
Jared Gordon (-150) vs. Hacran Dias (+130)
Jared Gordon (13-1) has monster tendencies. Hacran Dias (23-5-1) is strong in his own right, but I want to look at the stats on this one. Gordon lands 7.13 shots per minute while Dias absorbs 2.82 per minute. If we find a happy medium that means we see Gordon landing about 5 shots a minute on Dias. Considering about half of his wins have come by way of knockout I can't help but like that math.
Elizeu Zaleski dos Santos (-185) vs. Max Griffin (+160)
So many of the fights on this card are close calls and Elizeu Zaleski dos Santos (17-5) versus Max Griffin (13-3) is no different. Elizeu is coming in after being victorious in his last three, and if there's one thing that really factors in when it comes to the fighters on the early fights it's momentum.
Pick: Elizeu Zaleski dos Santos
Jarred Brooks (-175) vs. Deiveson Figueiredo (+155)
Even though it is early on the card, the flyweight matchup between Jarred Brooks (13-0) and Deiveson Figueiredo (12-0) has potential fight of the night quality. Flyweights are known for fast paced fights and this one could end up looking like lit dynamite. Again, when the fights are this close and I see one guy with a 6-inch reach advantage, as is the case here with Figueiredo, that's where I'm laying my money.
Pick: Deiveson Figueiredo
Marcelo Golm (-170) vs. Christian Colombo (+150)
In the lone heavyweight bout on the card Marcelo Golm (5-0) makes his UFC debut against Christian Colombo (8-2-1). There always seems to be something magical about a fighter making their UFC debut in their own backyard and this fight is poised to get the fans in the mood for the rest of the night.
*Odds via Westgate Sportsbook*
*Card still subject to change*